24 November (Week 7 Term 4)
Monday 27 – Wednesday 29 November
Music Tutor Concerts (allocated time slots)
Monday 27 November – Friday 8 December
Year 7-10 Art Exhibition (Opening Event: Mon 5.30pm)
Wednesday 29 November
Year 9 Formal Dinner
Thursday 30 November
Year 10 River Cruise
Tuesday 5 December
Kindy Party Day
Wednesday 6 December
Junior School Party Day
Thursday 7 December
Kindy Presentation Assembly
Friday 8 December
Junior School Presentation Assemblies (PP-Y2 and Y3-11), Term 4 concludes at 12.30pm
Tuesday 12 December
College offices close at 12.30pm
Wednesday 13 December
College closed
12pm Friday 22 December 2023 – 4pm Friday 1 January 2024
Christmas and New Year closure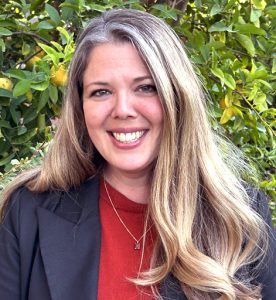 From the Principal (Acting)
It is hard to believe that by the time you are reading this newsletter, there is only two weeks of the College year left!
At this point in the calendar, the College is as busy as ever with many events, exhibitions and concerts demonstrating the excellent achievements of our students.
Recently, I had the privilege of attending both the Junior School and Year 11 and 12 Art Exhibitions held at the Rockingham Library. It was exceptionally impressive to see the Junior School display a piece of work for every single student. This is no small feat!
What amazing works were exhibited. The Year 11 and 12 exhibition presented thought-provoking and poignant works, demonstrating artistic talent beyond the students' years. From the smallest hands in Junior School to the budding talents of our Year 11 and 12 students, each piece told a unique story, showcasing the incredible artistic journey of our students.
These exhibitions not only dazzled us with the beauty of creativity but also prompted us to reflect on the profound impact the Arts have on a child's development. It goes beyond the strokes of a brush or the melody of a song – it's about fostering skills that extend far into their future.
The Arts can provide a canvas for children to explore their imagination and express themselves in ways words often cannot.
Whether it's through visual arts, music or drama, these mediums empower our students to communicate their feelings, thoughts, and experiences.
Participating in artistic endeavour nurtures a sense of accomplishment and boosts self-esteem. When a child sees their creation displayed for the world to admire, it instils a confidence that transcends the art studio or the stage.
The Arts encourage students to think critically, make decisions and solve problems creatively. It's not just about creating something aesthetically pleasing – it's about the thought process, the choices made and the problem-solving skills developed along the way.
Through artistic expression, children learn to navigate and understand their emotions. Whether it's the joy of creating, the patience required for intricate details, or the resilience to overcome challenges, the arts provide a holistic emotional education.
In group projects or performances, students learn the value of collaboration, one of the Tranby values.
The Arts teach them to work together, share ideas, and appreciate the diversity of thought and talent within a team.
As we recognise our students' success, it would be remiss not to acknowledge the hard work and dedication of the Arts staff at Tranby College. Their dedication, enthusiasm, talent and encouragement of our students is second to none, and we know that our students' lives are richer for their efforts.
I look forward to seeing you all at the many culminative events planned at the College over the coming weeks.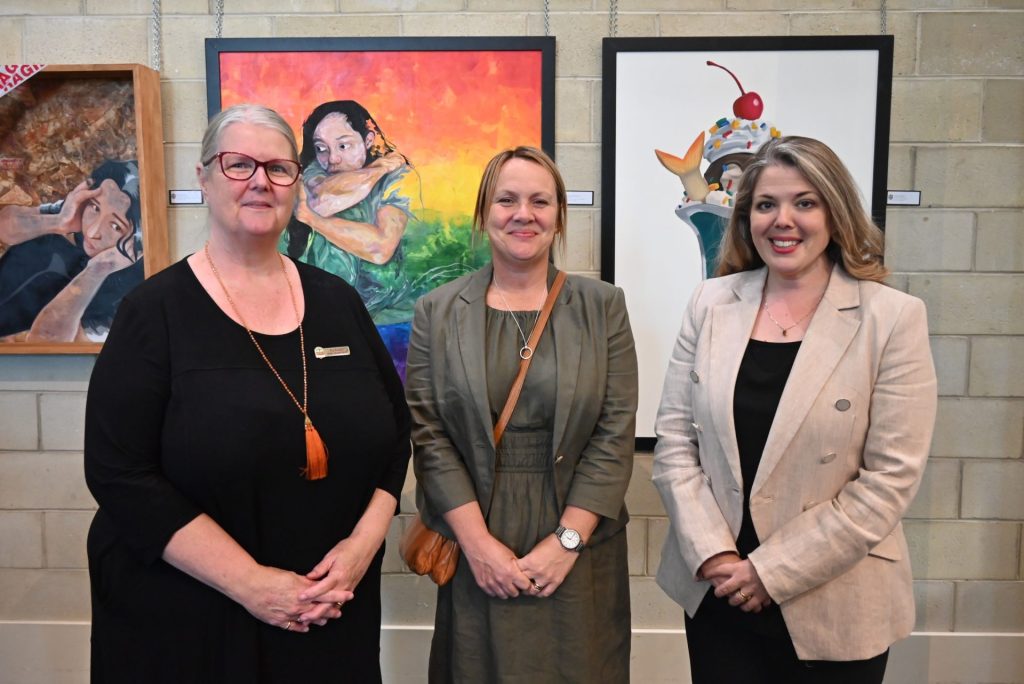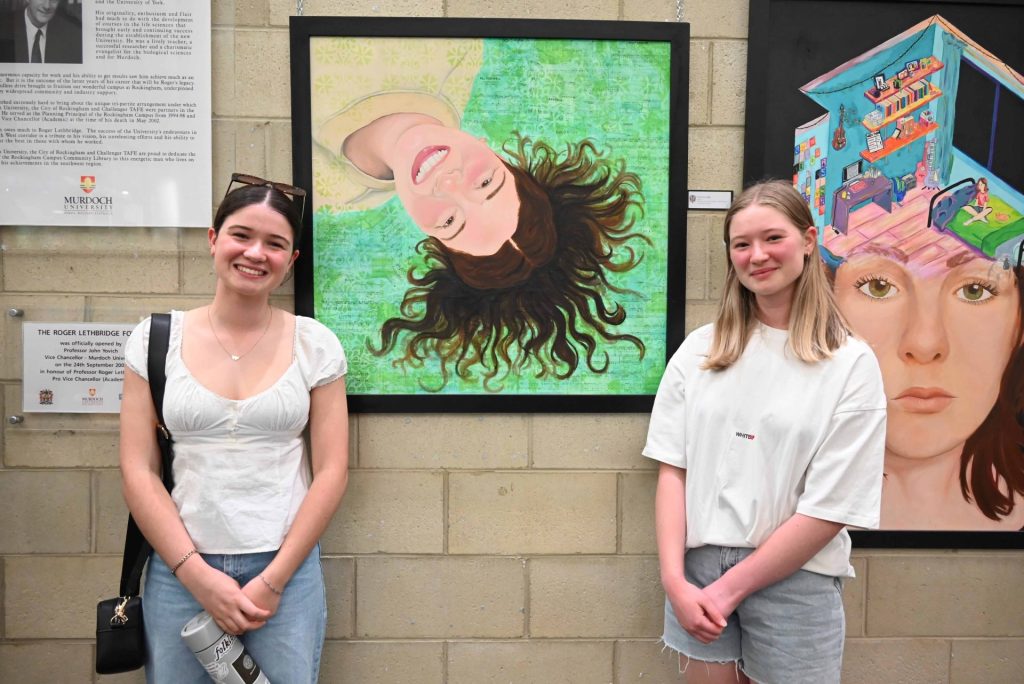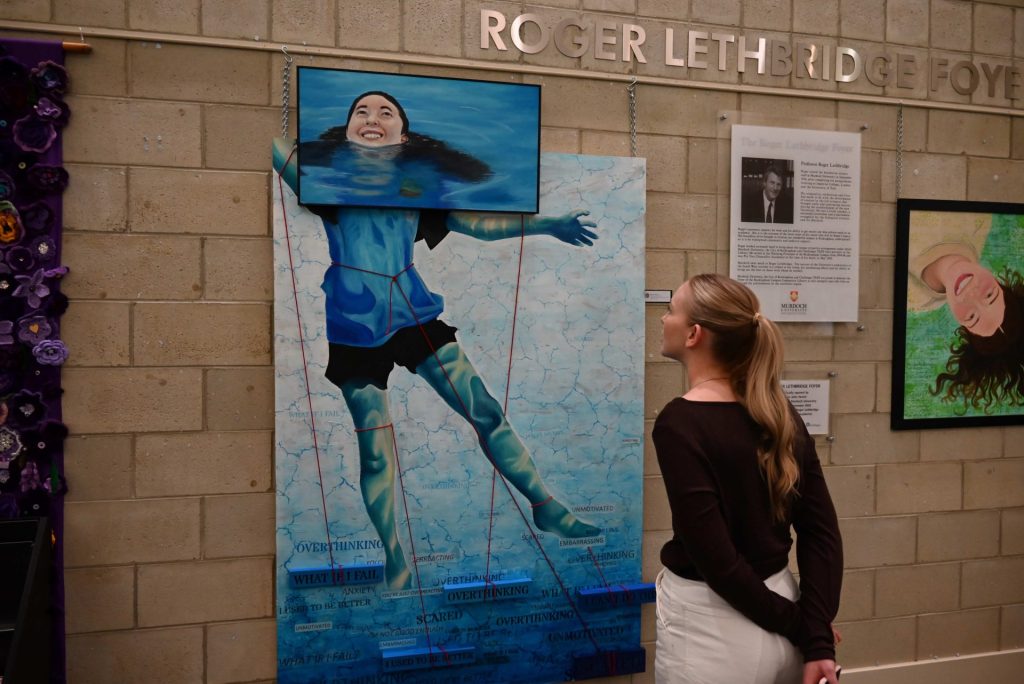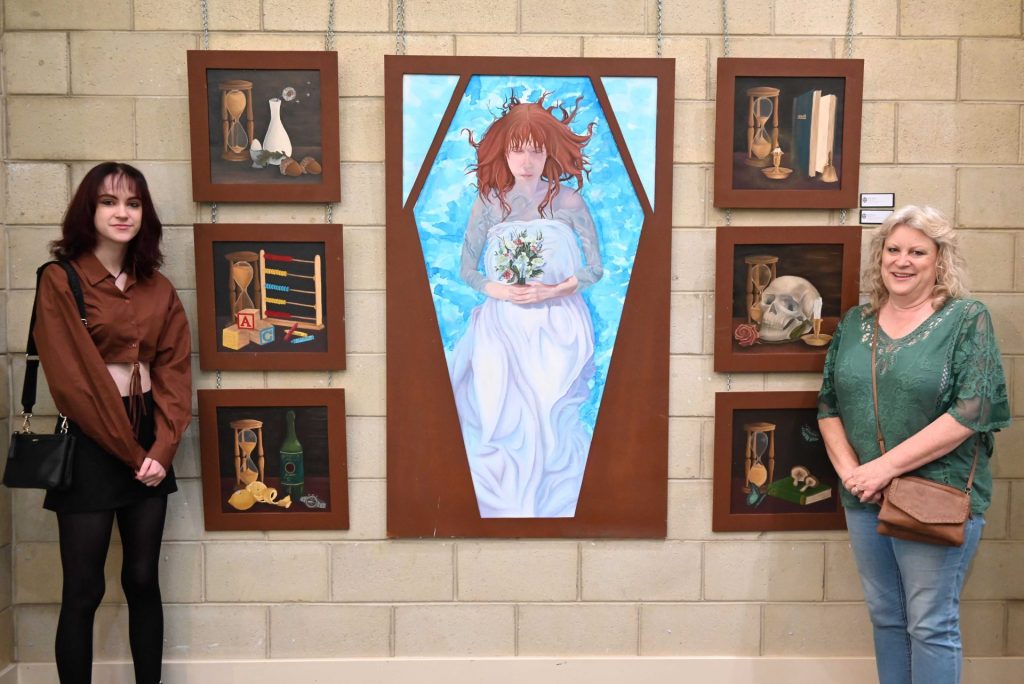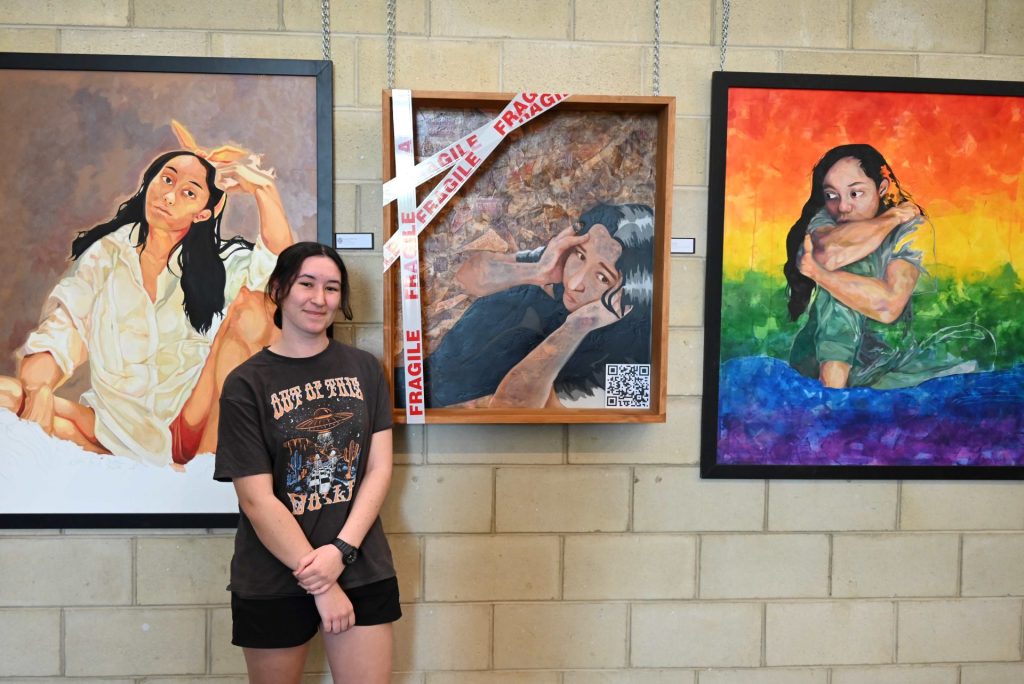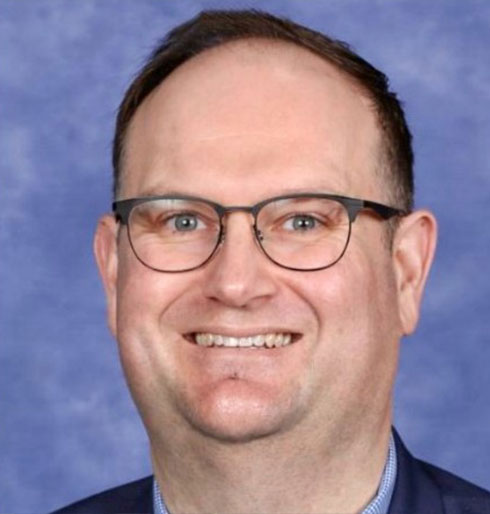 Deputy Principal (Acting)
Entering the enchanting month of December immerses us in the spirit of Advent, a four-week period preceding Christmas that holds profound significance for Christians – symbolising the anticipation of the birth of Jesus Christ.
Like the doors of an Advent calendar unveiling daily surprises, this season encourages us to open our hearts to the joy and excitement before Christmas Day.
Personally, reveling in this anticipation, my Lego Star Wars Advent calendar at my household adds a touch of magic to the holiday season. While this amusing tradition counts down to the arrival of Father Christmas, it also emphasises the joy of anticipating the celebration of the birth of Jesus.
Approaching the culmination of the College year, marked by project completions, assignments and tests, reflection becomes crucial.
Reports soon convey the highlights and hurdles of the academic year, yet the end of the College year does not signal a halt to learning. Instead, it marks the beginning of a lifelong journey of discovery.
Students, your College year does not stop yet – you still have a few days of learning to go!
At Tranby College, we embrace the guiding philosophy of 'This is the Tranby Way'. 
Drawing inspiration from The Mandalorian, we can creatively adapt its iconic line as a beacon to steer all members of our College community. It signifies more than just a path, it encapsulates our commitment to doing things the right way – with dedication, service, and a collaborative spirit. As the College year concludes, let us reinforce to our students that 'This is the Tranby Way', a compass directing us in our pursuit of excellence and fostering a thriving, supportive community.
In the spirit of this ethos, let us encourage our students to persist in their efforts, embodying the values of Respect, Integrity, Service, Commitment, and Collaboration – the foundation of the Tranby  Community.
Parents and guardians, your involvement is paramount in nurturing your children's learning journey. 
Engage in conversations that spark curiosity, listen to their ideas, and share your perspectives. Encourage critical thinking through complex discussions about the world they envision for themselves as they grow older. Consider fostering a unique Advent calendar of learning, where each day brings a new opportunity to explore diverse subjects, acquire new skills, or contribute to the community through acts of service.
As the College year draws to a close, remind our students that the journey of learning is a continuous adventure, extending far beyond the classroom. Keep trying your best, set challenging goals, learn from each experience, and continue to embody 'The Tranby Way' in every endeavour.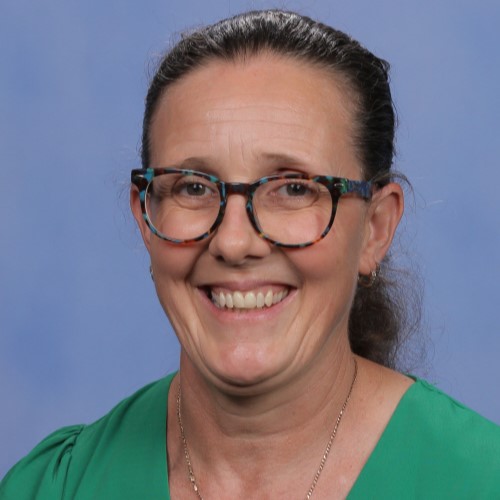 As we bid farewell to another busy yet rewarding academic year, we find ourselves at the crossroads of accomplishment and anticipation.
This week marks the completion of Year 9, 10 and 11 exams, a testament to the hard work and dedication of our students.
We congratulate each student on their efforts and commitment throughout the examination period.
We welcomed our future Year 7 students as we hosted the Transition Day on Friday 17 November. This day offered an exciting opportunity for incoming Year 7 students to familiarise themselves with our Senior School environment, meet their teachers, and make new friends. The students embraced this day with enthusiasm and curiosity as they took their first steps into the exciting journey of Senior School.
For those students finishing this academic year, the last two weeks of College provide a chance to reflect on the challenges and triumphs experienced throughout the year. It's a time to celebrate friendships, acknowledge academic achievements, and express gratitude for the unwavering support of teachers, staff, peers and family.
As we approach the end of the school year, let's cultivate a positive atmosphere that encourages collaboration, kindness, and shared memories. Teachers and students alike, are encouraged to engage in positive interactions, fostering an environment that celebrates the unique strengths and contributions of each individual. Whether it's a small act of kindness or a shared accomplishment, let's make these last weeks memorable and uplifting.
As we close the chapter on this College year, we eagerly anticipate the opportunities and adventures that the next year will bring. Thank you to the entire Tranby Community for your continuous support, dedication, and resilience. Together, we have navigated challenges and celebrated achievements, creating a vibrant and thriving educational community.
Here's to a positive finish to the College year and a bright beginning for the Year 7 students joining our Community in 2024. Wishing everyone a wonderful conclusion to the College year and a restful holiday season ahead.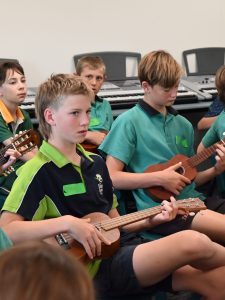 Deputy Head of Junior School
Term 4 is drawing to a close, with the Christmas holidays just around the corner. It has once again been a busy term with many exciting events in the Junior School.
On Monday 13 November we held our annual Remembrance Day Service which included students across Years 3 – 10. It was a humbling experience to take a moment to pay our respects and honour armed forces members who died in the line of duty. Our Junior School ensemble did a beautiful performance, and I would like to thank Mrs Morrison for her work in this space.
Recently we held various Orientation events for students and families, providing parents and guardians with the opportunity to ask questions, and for new students to familiarise themselves with the school and to get to know future classmates.
Over the past few weeks, our focus has turned to our Year 6 cohort. Earlier in the Term, they attended the much-anticipated Year 6 Camp at Fairbridge Village, Pinjarra. Over four days students took part in an array of team building activities where some new friendships were forged, and existing connections solidified.
Recently, they enjoyed a jam-packed Year 7 Transition Day, where they built on the momentum gained at camp. Our Senior School staff planned a day full of activities where students had a taste of what to expect next year, and when I checked in on them, they were all buzzing with excitement!
During the day students also had the opportunity to meet some of their new teachers, including their Heads of House who will, as their pastoral care support person, assist each child as they navigate Senior School.
Last week, we had our Farewell to Year 6 Assembly. It was a bittersweet moment as we farewelled this amazing group of students. During the Assembly, each student was presented with a Certificate and House tie as part of their transition into Senior School.
We wish them all the best in their future endeavours.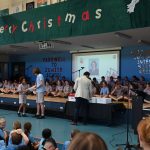 IPSHA Touch Football Carnival
On Thursday 9 November, selected Year 6 students travelled to John XXIII College for the annual IPSHA Touch Football carnival. There were nine schools in attendance and this year, Tranby entered two mixed teams.
Team A managed to secure comfortable wins across all seven games, whilst Team B won five and drew two. Both of our teams were outstanding in terms of their performance and teamwork. On the day, they were commended by others on the level of skill they demonstrated.
Overall, our students had a wonderful experience showcasing their talent and it was a great day for all involved. Thank you to Mr Turner and Mr Pleydell for coaching our two teams on the day.
Congratulations to the following students for your participation and efforts on the day.
Patrick Anderson
Xavier Bogg
Lexie Conrad
Jesse Diamanti
Brandon Fearn-Wannan
Benjamin Gordon
Kobi Green
Kai Keswick
Eloise Krokosz
Isabella Locker
Joel McMillan
Rivka Napitupulu
Daniel Newland
Devon Robinson
Alayla Schmid
Ava Steward
Briella Ugle
Heidi White
This week some of our High-Performance Cricket students attended an excursion to Meulemans Cricket and the WACA. 
The day started with a visit to Meulemans Cricket in South Perth where store owner, Justin Meuleman, spoke with students around what to look for when selecting a cricket bat. His colleague, Scott Meuleman then demonstrated how to repair cracks and rehandle a bat. 
From here, we moved across the river to the WACA where they settled in to watch the WA v South Australia Marsh One Day Cup match. 
Students were met by former Tranby student and WA player, Teague Wyllie, who played some cricket with them on the backs of the WACA. 
It was a great day out and a nice reward for all the hard work and early mornings students have put in throughout the year.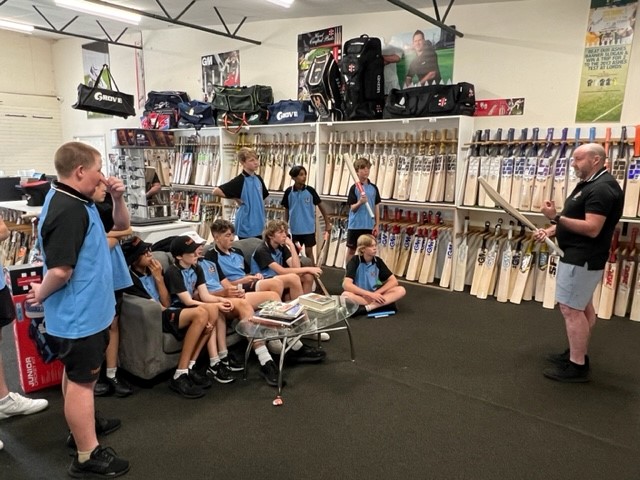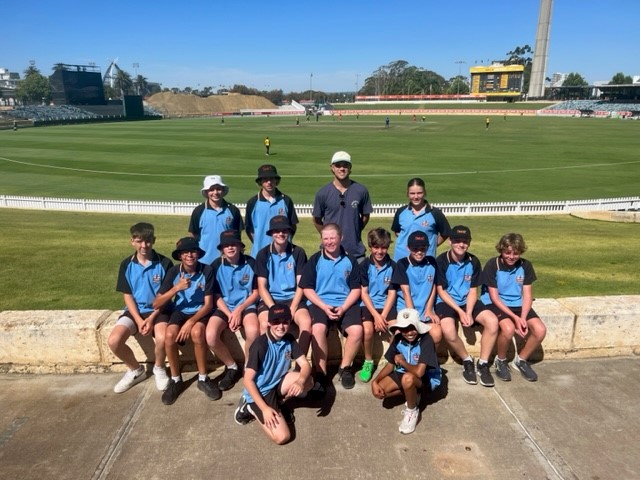 Junior School Hockey Program
During the final weeks of Term 3, students in Year 3 and 4 participated in Hockey clinics during their PE lessons. Based on their performance, a small group of students were selected to continue the Hookin2Hockey program over a 4-week period on either a Tuesday or Thursday afternoon. The aim of the program was to focus on the development of basic skills and to introduce players to more complex skills through game play.
Our wonderful Hockey Coach Jennifer Lear (also known to our students as 'Jenni' or 'Grandma') was blown away by the growth and overall skill level of our students. We would like to thank her for volunteering her time coaching our students throughout the 4-week program, and hopefully we see her back again next year!
Well done to the following participants.
Year 3
Darwin Alchin
Matilda Brumby
Shiloh Cochrane
Gabrielle D'Cruz
Luca Di Lallo
Donovan Elbers
Alby Green
Theo Kenny
Milly lee
Deegan Meldrum
Kapish Sharma
Year 4
Eamon Amin
Lenieke Badenhorst
Alexandra Grant
Benjamin King
Eithan McKechnie
Jai Saieesh
Flynn Schmid
Lily Sobey
Kai Storer
Did you spot our Kindy students sporting some crazy hairstyles recently?
Never fear, we haven't changed the College dress code! Instead, we gave some of our youngest students (or should we say, their parents!) the chance to get creative, be silly and show off their wild side with some wacky hairstyles. 
From rainbows to cupcakes, and pigtails to mohawks there was an impressive display of inventive styles to enjoy! 
Better still, our Kindy students were celebrating the letter 'C' that week, so the day even contributed towards their learning.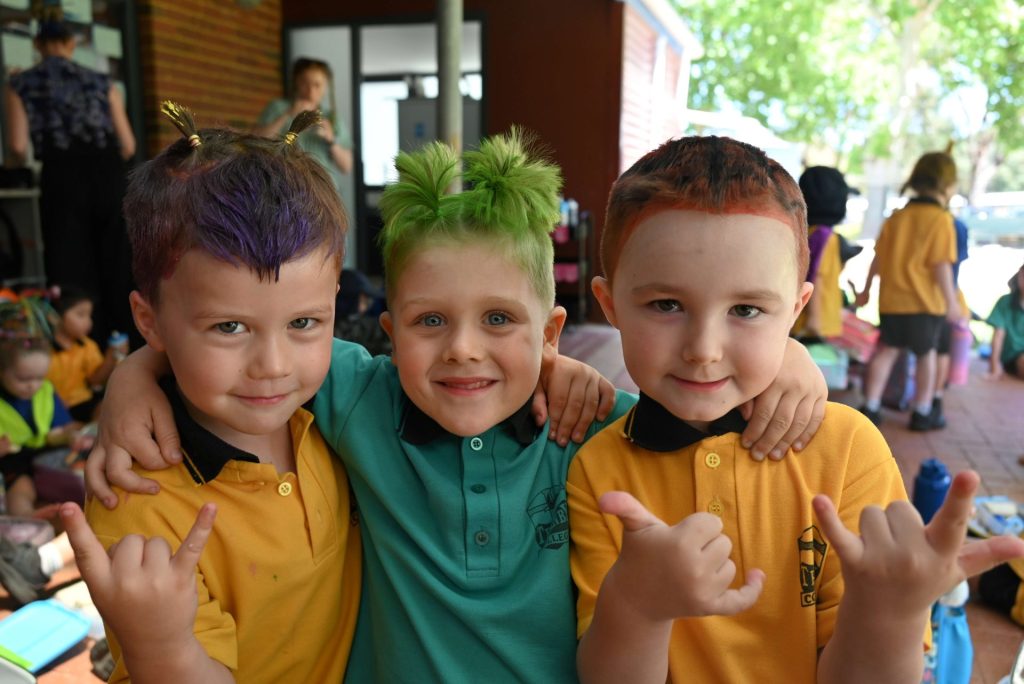 Harper Marais And Michael Le Page (Yr 2)
Two of our Year 2 students have been selected to represent Secret Harbour Pirates Tee Ball club at the 2024 TBAWA State Championships in March.
Both students, who currently play in the U9 competition, were selected as part of the 11-person squad after demonstrating a range of skills during a set of trials.
With this being the start of only their second season at the club, we are very proud of their selection and wish them both luck in their preparation for the State Championships in March.
Flynn Schmid (Yr 4) and Alayla Schmid (Yr 6)
Brother and sister duo, Flynn and Alayla Schmid have had a whirlwind of a year competing in various cycling events at both State and national levels. Listed below is an overview of their outstanding achievements throughout the season from March until November of this year.
Flynn
Dwellingup 100 MTB – 1st place and fastest time for U15 Male category (Flynn is only 9 years old by the way!)
Won every event for Cross Country (XCO) mountain bike series U13 male category – undefeated
U13 Male WA State Champion Cross Country (XCO) mountain bike
U13 Male WA Runner-up State Champion Cyclocross (CX)
Flynn's goal is to become the youngest rider to win both the short and long course at the XCO National Championship in NSW next March
Alayla
Dwellingup 100 MTB – 1st place U15 Female category (Alayla is only 11 years old by the way!)
U13 Female WA State Champion Cross Country (XCO) mountain bike
Won 5 out of 8 Gravity Enduro events and collected most points for the series in her age group
U13 Female WA State Champion Gravity Enduro – winning the championship round secured her an invitation to Nationals, in Melbourne
U13 Female Bronze medalist at Australian National Championship Gravity Enduro in Melbourne
Alayla will attend the National Cross Country (XCO) Championships in NSW next March
Flynn and Alayla, your passion and dedication is a credit to your success and the college is extremely proud of you both.
We wish you all the best for your future endeavors in your sport and can't wait to celebrate your achievements.
Students in our Gifted and Talented program have been engaged in an 'Eco Writers' project. They were required to work on the driving question, 'How can we teach young children to be stewards of the environment?', writing their own story book to share with younger children.
Prior to writing the book, the students worked through a process that required them to learn about a specific ecosystem and the human impact on the environment. The students then shared their stories with some very enthusiastic Year 2s. As part of the sharing session, the Year 2 students provided feedback. They shared information about their favourite parts, identified the underlying message of the story and they also provided feedback on how the story could be improved.
It was a wonderful session and provided an opportunity for the GATE students to share their work with a real audience.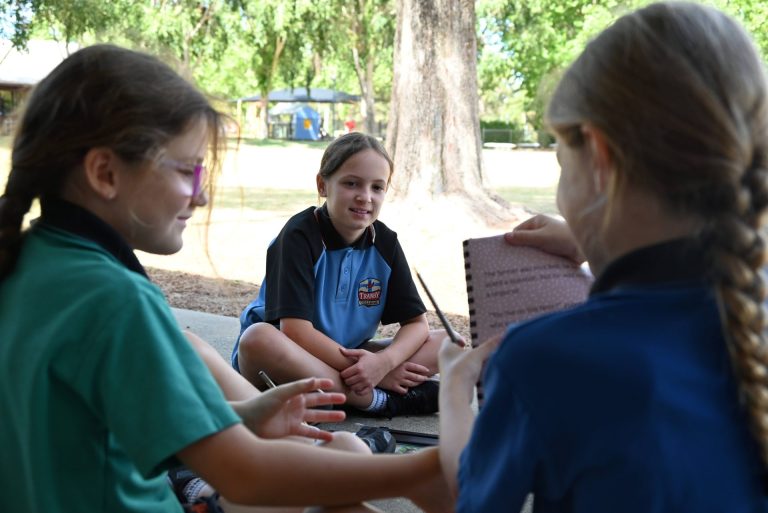 Our Book Fair, held in the Junior Library last week, was an outstanding success. We had a steady flow of very enthusiastic customers from the time of opening on Tuesday afternoon to its close on Friday.
We raised funds for our Story Dogs program and added some lovely new books to our library collection.
To coincide with the fair, we held a raffle for a beautiful Hungry Caterpillar Cot Quilt and board book.
The winner of the prize is, Karen Forsyth. Congratulations Karen!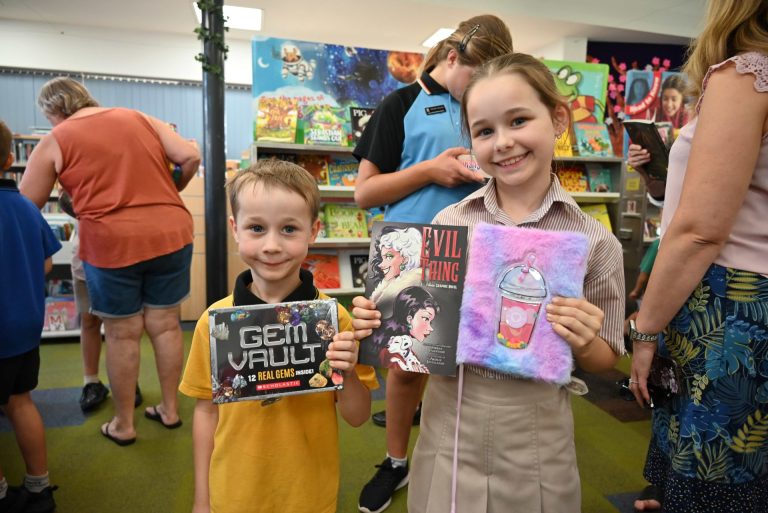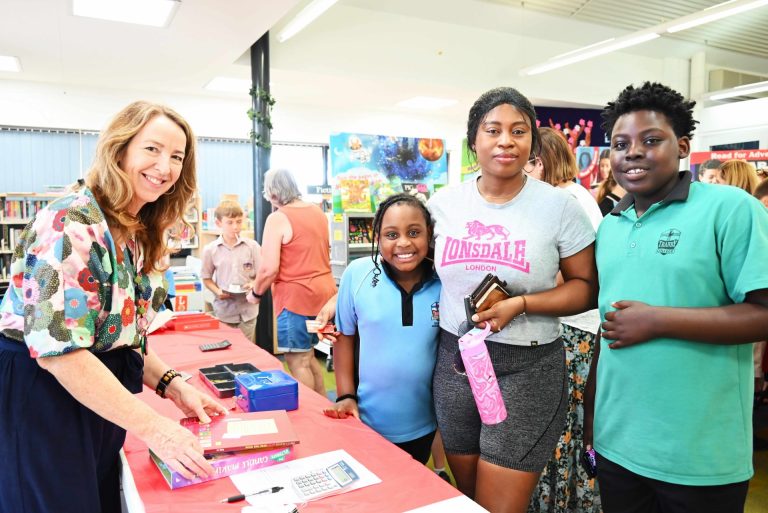 Senior School Staff Update
We are delighted to announce that after months of dedicated service, Hayley Holtham, Sally Case and Michelle Ribeiro, have been officially appointed to the substantive roles they've been acting in since earlier this year, being Head of Bilu House, Deputy Head of Senior School and Head of Senior School respectively.
Collectively, they provide excellent leadership to our College and we thank them for their hard work and commitment.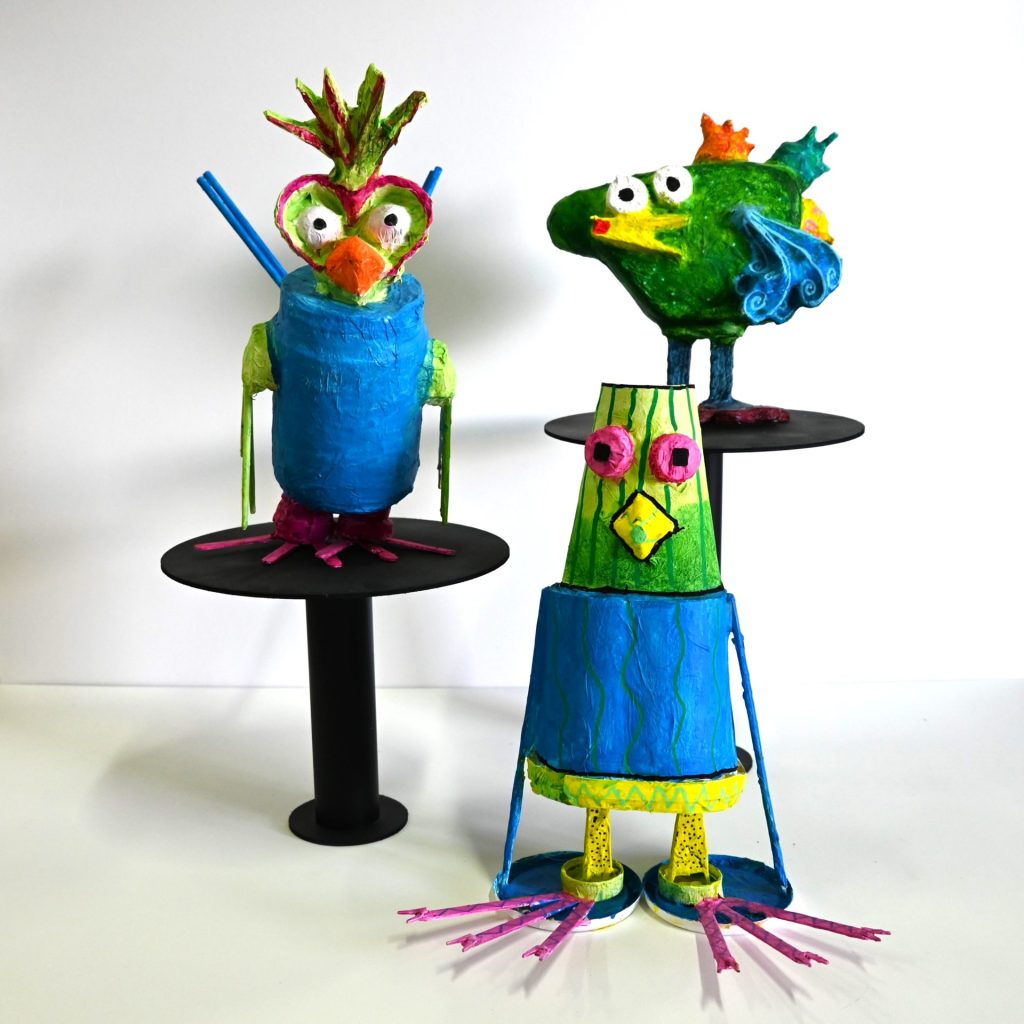 Our final Art Exhibition for 2023 showcases an impressive display of artworks from students in Years 7 to 10. This FREE public exhibition is open as follows:
Monday 23 November – Friday 8 December 2023
Rockingham Library, Murdoch University Campus, Dixon Road
During library opening hours
As part of Service Year 9 and 10 students worked industriously for three weeks making delicious chocolate-chip muffins on Friday afternoons.
This week, Mrs Bowen and Mrs Hilbers dropped the muffins off at Coastal District Care Centre Emergency Relief to be distributed to families in the community who require food parcels.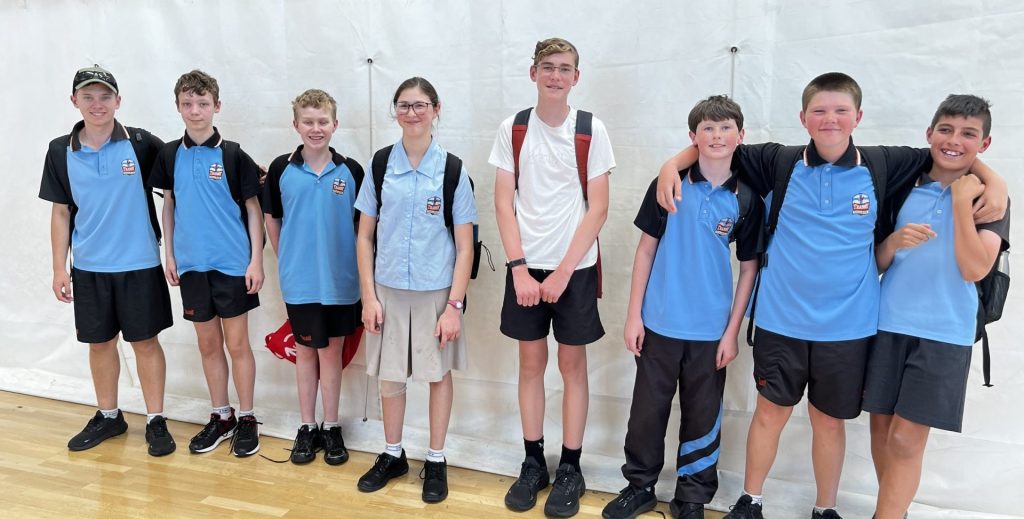 Congratulations to our Robotics Club students who competed at the FIRST Lego League Challenge last Sunday. Feedback they received on their performance was as follows:
TEAM 1 – Nicole Ferentsev (Yr 7), Charlie Edwards (Yr 7), Caden Smith (Yr 9), Aaron Schewtschenko (Yr 9)
Robot design: Fantastic robot and code! Love the different attachments.

Core values: Great job in explaining the problem solution process.

Innovation project: Everyone in the team was very interested in the project.


TEAM 2 – Benjamin Berkey, Kaelan Krivda-Jones, Cooper Hewitt, Chase Papworth (all from Yr 7)
Robot design: Persevering through the challenges of delivering.

Core values: Great job in explaining the problem solution process.

Innovation project: Deliver presentation with confidence.
Great effort everyone! You make us proud.
Recently, students with family members in the Australian Defence Force (ADF) were invited, along with their families, to an after-College Sausage Sizzle at Steel Tree Reserve. 
The event was arranged so that Tranby ADF families could connect with each other, and with other ADF families in the local community. It was a wonderful afternoon where families chatted and new friendships were forged. Thanks to everyone for attending.
In other news, during our recent Remembrance Day Assembly, ADF students proudly represented the College and their family members currently serving in the ADF. We thank them and their families for service.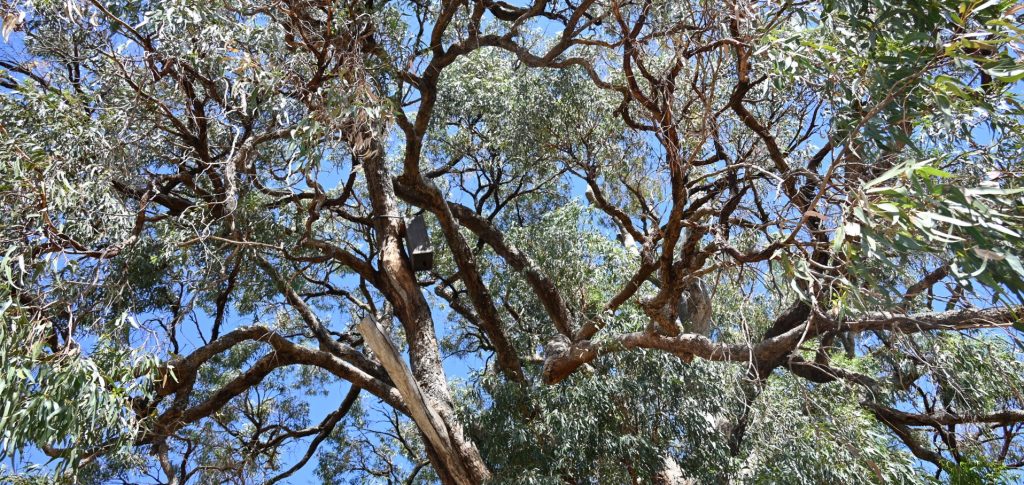 Some mornings I get to the College before the alarms are turned off and can't get into the building. Not being able to get in has been a blessing, as it has given me the opportunity to walk around Tranby's beautiful campus.
Walking is great because as well as getting fresh air, sunshine and light exercise, I can also drop past Tranby Childcare and catch up with the Director, Robyn, and also chat with the Tranby Maintenance team, Rox, Cam and Duane.
Although doing these things are enjoyable, the real joy has been finding treasures on Tranby's campus.
I am naturally curious, which is what led me to find Tranby's Tuart.
As I was walking around the inside of the perimeter fence, I was drawn to look closer at this massive tuart tree and was surprised to find it had its own plaque. According to the plaque, the tree is called Tranby's Tuart and if you are interested in checking it out, it can be found along the north-western fence on Clyde Avenue (about 200m down from Arpenteur Drive).
From the plaque I have learnt that Tranby's Tuart is tree number two on the Settler's Hills Tree Walk (which I can't find any further information about), it is 26m tall, almost 200cm wide and 289 years old (at the time the plaque was made).
Not only is Tranby's Tuart majestic in size, it's also home to a wide range of large and small birds, reptiles and marsupials.
The other thing I noticed was that the sign required some restoration.
As I continued my walk around the campus, I contemplated the need for the plaque to be restored and wondered how I could help.
This sparked an idea. I asked Mrs Goforth if I could organise a staff conservation and restoration working group. She kindly gave me permission, which led to me sending an all-staff email to ask for expressions of interest to be a part of the inaugural Tranby Conservation and Restoration Working Group (TCRWG).
Not surprisingly, given how passionate, kind and generous Tranby staff are, we have been able to create the TCRWG.
Although I will write more about the group in future newsletter articles, in a nutshell, TCRWG's purpose is to restore, promote and conserve the beauty of Tranby's campus.
The group will also engage with our wonderful students to give them an opportunity to contribute to the legacy of Tranby.
Projects will include
• Restoring signage around Tranby.
• Conserving the Tranby native garden.
• Graffiti proofing boundary walls.
• Using art to beautify storage containers.
• Celebrating and promoting Tranby's history.

If you have any questions or suggestions feel free to contact me via morrisons@tranby.wa.edu.au
Special Uniform Shop Opening Hours
Open for walk-ins and appointments (book online):
Tuesday 5 December: 8.00am – 4.00pm
Friday 8 December: 8.00am – 12.00pm (closed in the afternoon)
Tuesday 12 December: 8.00am – 4.00pm
Friday 15 December  8.00am – 4.00pm
Available for walk-ins:
Monday 15 January:  8.00am – 4.00pm
Tuesday 16 January:  8.00am – 4.00pm
Wednesday 17 January:  8.00am – 4.00pm
Thursday 18 January:  8.00am – 4.00pm
Friday 19 January:  8.00am – 4.00pm
Available for walk-ins:
Monday 22 January: 8.00am – 4.00pm
Tuesday 23 January: 8.00am – 4.00pm
Wednesday 24 January: 8.00am – 4.00pm
Thursday 29 January: 8.00am – 4.00pm
Friday 30 January:  8.00am – 4.00pm
Term 1, 2024 Opening:
Wednesday 31 January: 8.00am – 4.00pm
Friday 2 February: 8.00am – 4.00pm

IF YOU HAVE ANY QUESTIONS, SUGGESTIONS OR FEEDBACK PLEASE LET US KNOW.