Friday 3rd June 2022 (Week 6 Term 2)
Monday 6th June – WA DAY
Tuesday 7th June – Friday 10th June – Year 11 Outdoor Education Camp
Tuesday 7th June – Friday 10th June – Year 10 Exams
Friday 10th June – Year 1 Assembly
Sunday 12th June – Short & Sweet Perth Play Festival (Years 9 and 10)
Tuesday 14th June – South of the Swan Dance Festival (Years 11 and 12)
Friday 17th June – PUPIL FREE DAY
Tuesday 21st June – Careers & Pathways Expo at Tranby
Friday 1st July – KG – Year 12 3 Way Conferences
Friday 1st July – FINAL DAY OF TERM 2
Monday 25th July – TERM 3 COMMENCES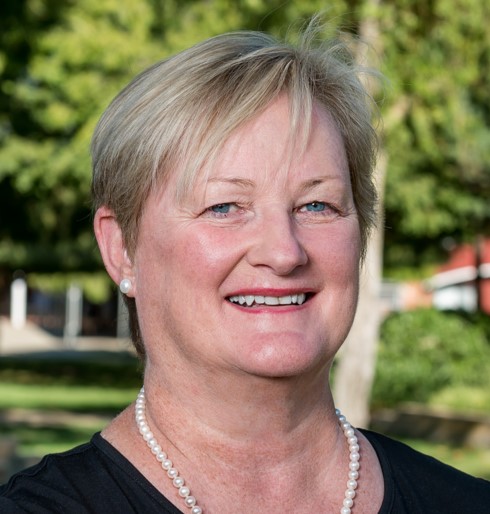 Reasons to be cheerful
I expect that there are not too many of you who will know the 1979 pop song, "Reasons to be Cheerful", by Ian Dury and The Blockheads. As someone who has been around awhile, the lyrics of this song resonate in my head; particularly as the days get shorter and nights colder! At Tranby, we have reasons to be cheerful every day, so thankfully motivation is much easier for our staff and students to find. As we move into winter, we continue to work our way constructively through the challenges of COVID-19, even with students and staff needing to isolate, recover and return to study and work. We aim optimistically to offer as much of 'business as usual' as we can for our students and, we are succeeding in this.
It was wonderful to be able to hold our Inter-house Cross Country Carnival recently, despite the morning rain and having to postpone races for our younger cohort. It was also quite a triumph to be able to field a large Cross Country Team at the ACC Inter-school Carnival yesterday. Congratulations to all competitors and a big thank you to our sports staff, and especially Miss Holtham for organising our participation in that demanding event.
This week we ran a modified Year 12 Retreat experience with students attending as 'day' participants in team building activities along with a raft of physical challenges. I thank the Year 12s for their flexibility and understanding in adapting to the changed format and offer my thanks to Mrs Lewis and all Year 12 mentors who supported this event.
Last week we were excited to have Years 5 and 6 students 'step up' into the Senior School to get their taste of secondary school learning. Both days were hugely popular and successful on all fronts. The external students in Year 6 who joined us for the day formed great friendships and were extremely excited about joining Tranby in 2023. It has been an absolute pleasure for me to meet all incoming students as part of their enrolment application process. The quality of these new students is as high, as is their enthusiasm for learning and for what Tranby is going to offer them. Interestingly, the families I am meeting have visited other schools and have intentionally chosen Tranby because of the strength of our reputation, personalised approach, and breadth of offering.
Demand for places at Tranby remains high and we are receiving a lot of interest in our 2023 Scholarship opportunities. We now have 'wait lists' on more than half the year levels in the College. Next year we are intending to grow the school incrementally but not at such a pace or an extent that we lose sight of our commitment to existing students. A question that I am increasingly being asked at events and in interviews is – 'how big will the school grow?' The answer is – a little bigger than now but not big overall. In Tranby's history, the College was over a thousand students and now as we head back towards that kind of number, it is important to know that there is no desire to become a 'super' large school. Tranby is renowned for its relationships and keen sense of community and these elements, bound by our common commitment to values, are crucially vital to define who we are and what we want to offer students and our families.
Have a wonderful long weekend and keep warm!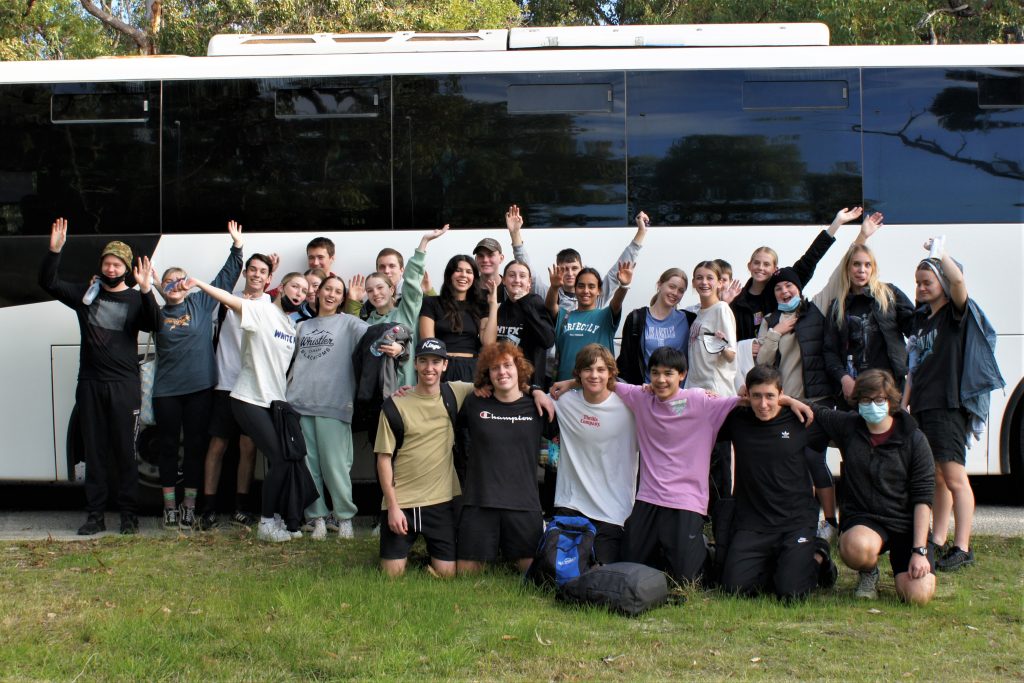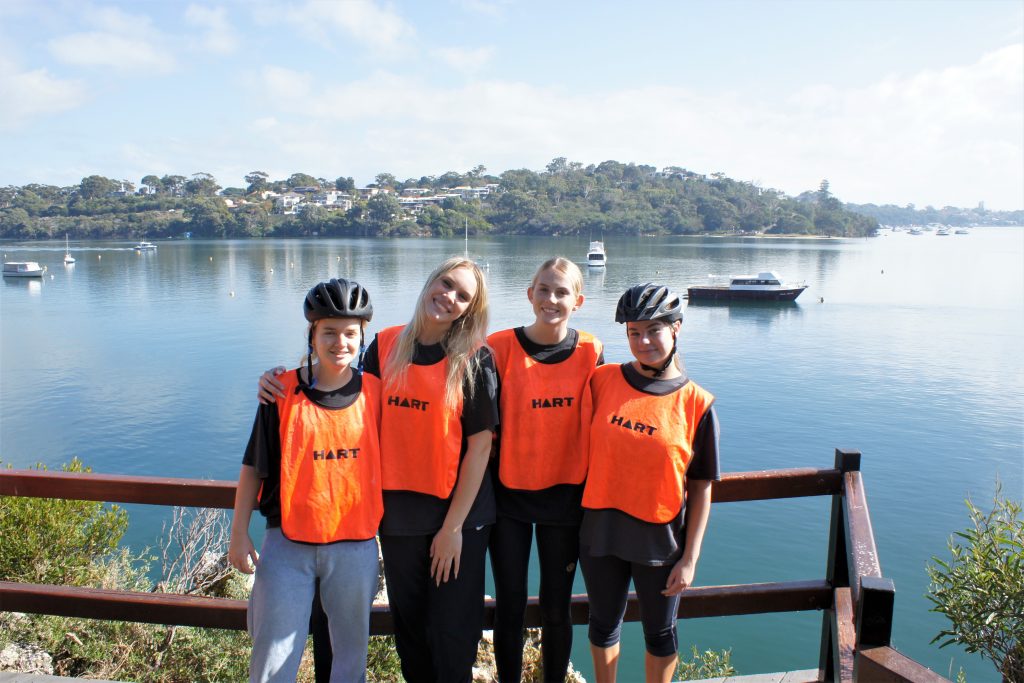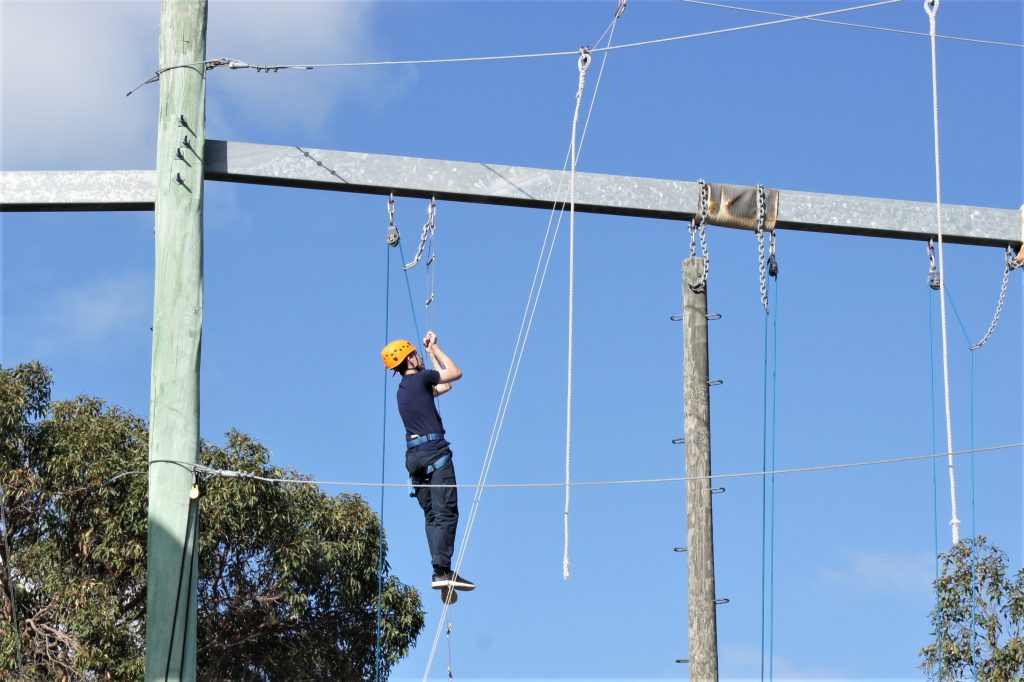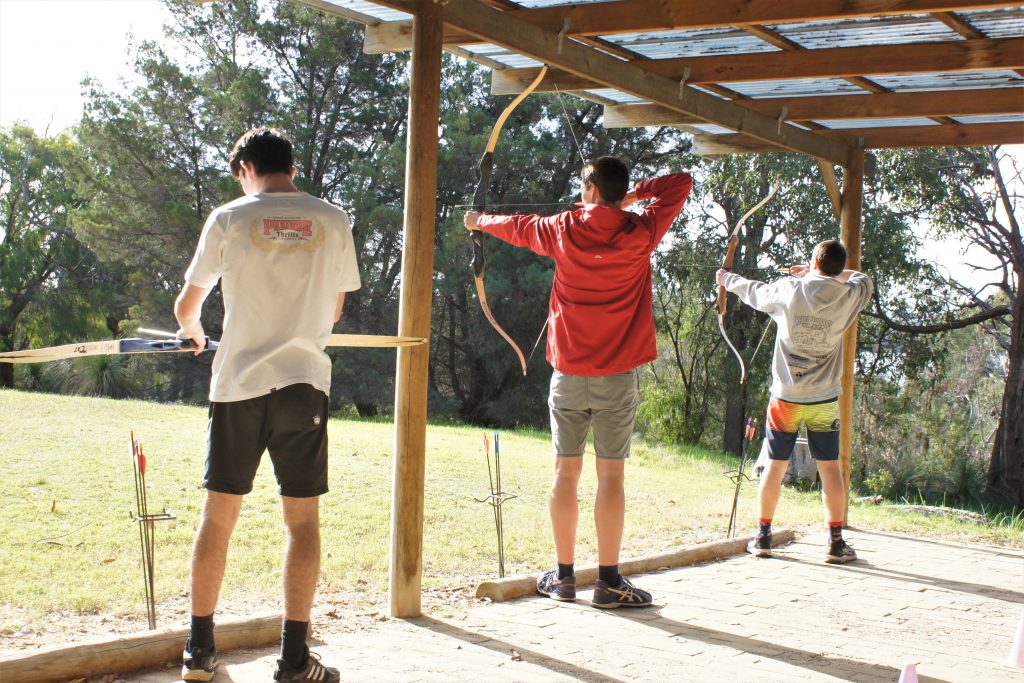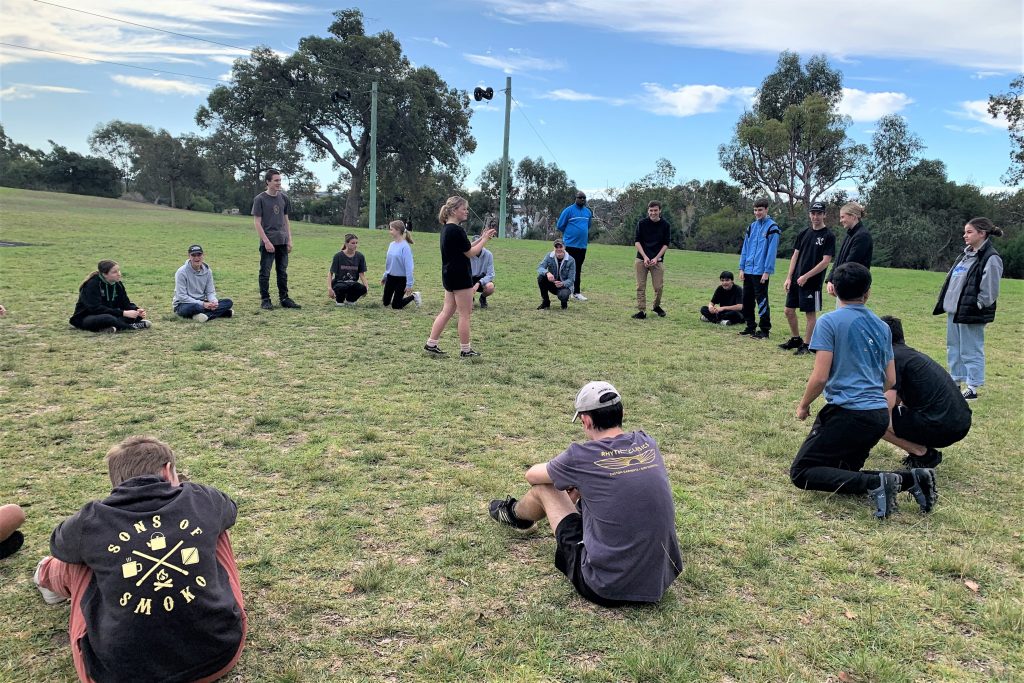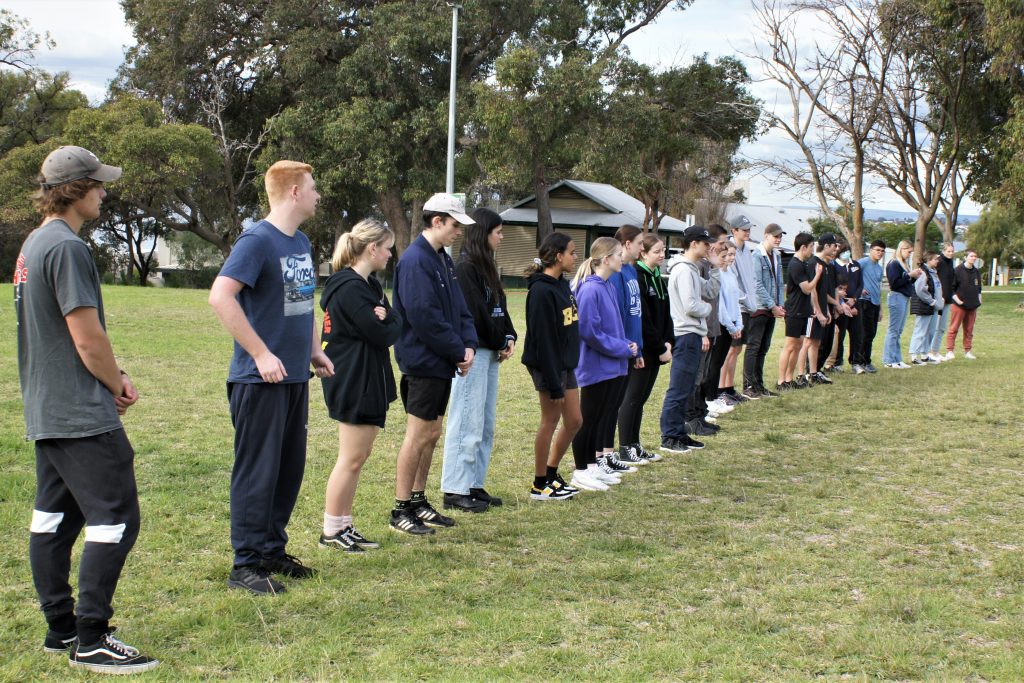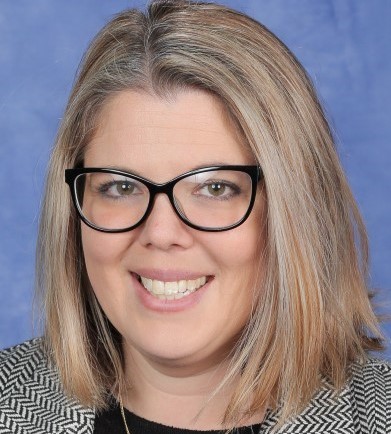 This week I am taking the opportunity to share more components of The Resilience Project. With information from The Resilience Project, we focus on Gratitude and Empathy.
Gratitude is paying attention to the things that we have right now, and not worrying about what we don't have. We practise this by noticing the positives that exist around us.
Research shows that practicing gratitude rewires our brains to overcome the negativity bias (which can lead to anxiety and depression) and see the world for what we are thankful for. It is also shown to broaden thinking and increase physical health through improved sleep and attitude to exercise.
View Part 2 of the series here – Gratitude 
Empathy is our ability to put ourselves in the shoes of others, to feel and see what they do. We practise this through being kind and compassionate towards others.
Brain imaging data shows that being kind to others registers in the brain as more like eating chocolate than like fulfilling an obligation to do what's right. Research shows that practising empathy, such as performing acts of kindness, taps into our brain's 'mirror neurons', builds compassion and our behaviour becomes more social, and community based.
View Part 3 of the series here – Empathy
The images below demonstrates ways to practice Gratitude, Empathy and Mindfulness in our everyday lives, and builds Emotional Literacy.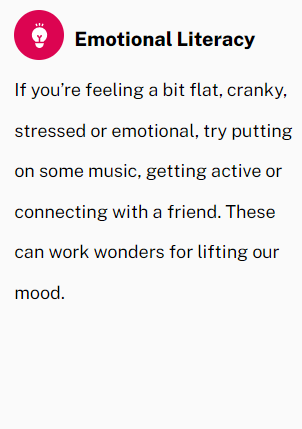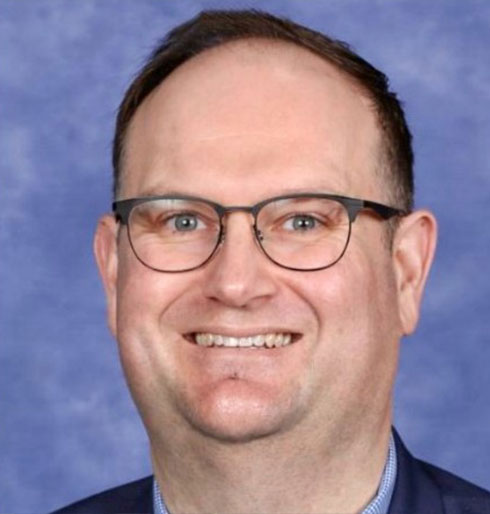 Director of Learning and Innovation
Why not start your university studies early at Tranby?
Over the past few years, I have worked closely with Curtin University to establish a relationship that benefits our students. Our first collaboration was the UniReady in Schools Program, which gave our students entrance to almost 80% of Curtin's degree programs without undertaking ATAR. This immensely successful program is in its third year and goes from strength to strength as a genuine pathway for our Years 11 and 12 Students.
Now, we are embarking on our second collaboration with Curtin. We are pleased to be able to offer our able students in Years 10 – 12 the opportunity to study up to four first-year university units. Currently, twelve of our students have applied to study a range of units from 'Human Structure and Function', 'Introduction to Biostatics and Epidemiology', 'Introduction to Psychology', 'Discovering Marketing' and 'Planetary Sciences'. These units are offered as a scholarship, and our students only need to cover the cost of any resources. In addition, they can choose to do the classes online or in a face-to-face manner on the Curtin University campus. Our students can complete up to four of these units, which is generally equivalent to a full semester's load.
Opportunities like this, as well as our VET partnerships with TAFE, the College of Electrical Training, and the Fremantle Education Centre, allow our senior students to undertake a personalised learning pathway that prepares them for their future study and work, while completing their formal schooling within our excellent wellbeing and academic care and support structures.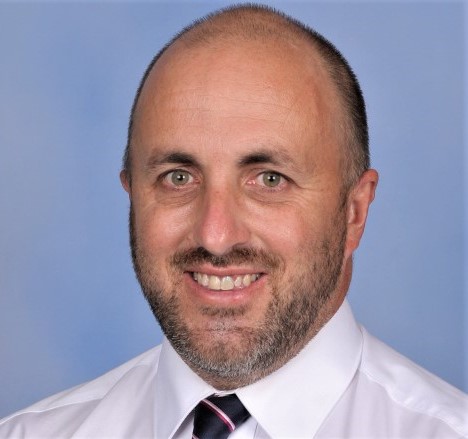 In the blink of an eye, we find ourselves at the end of Week 6! Where did that time go! For our Year 11 and 12 students, congratulations on completing your Semester 1 Examinations, I trust that you shopped early to avoid the rush, as I alluded to in my last newsletter. The feedback mechanism for your examinations is a crucial learning process as you continue to strive for personal excellence.
On the opposing end to our senior examinations, it was a delight to see so many students in Years 5 and 6 enjoy the recent Taste of Senior School days as well as attending Senior School Revealed. With enrolments continuing to rise at Tranby, it is evident that families are making the most of these excellent opportunities to experience the Tranby community. My thanks to everyone involved in all the arrangements. We look forward to welcoming these new students in the coming years.
As we continue to navigate the ever-changing COVID-19 environment, it has been great to see some of our events and excursions recommence. Despite adverse weather impacting participation for our younger students, our Inter-house Cross Country Carnival was a fantastic day for students. These events take considered planning and execution, I'd like to pass on my gratitude to the HPE, maintenance and Heads of House for their roles within this Carnival. This week, I was fortunate to also visit the Associated and Catholic Colleges Cross Country Carnival at Perry Lakes Reserve. Approximately 70 students between Years 7-11 competed for Tranby with distinction and vigour. Many thanks to Miss Holtham, Miss Mabarrack, Mrs Miller, and Mr Withers for their assistance on the day.
An integral part of our Year 12 Journey is the annual Retreat. Under revised conditions, our Year 12s and some staff spent two days located at Point Walter Recreation Camp participating in a range of activities designed to bring our cohort together and experience unfamiliar settings. Of the 5 love languages, our students learnt to express words of affirmation – a common task which is, at times, difficult to do. Through positive affirmations, people are likely to strive for excellence. My thanks to Mrs Lewis for her organisation and to Mrs Case, Mrs Hartstonge, Mr Kanini and Mr Kenny for their supervision.
On the topic of excellence, this week saw a number of our Humanities and Social Science (HASS) classes participate in the Education Perfect Humanities Championship under the guidance of Ms Florance. Our students performed extremely well, finishing 5th in the WORLD out of 2068 competing schools. Furthermore, Tranby finished 4th in Australia, 2nd in Western Australia, but 1st in our category of student enrolments!! This is such a fantastic result – congratulations to all involved.
Next week will see me travel to Kalbarri with our Year 11s on an Outdoor Education Expedition where the group will camp at Murchison House Station prior to canoeing along the Murchison River and hiking through the Kalbarri gorges. It is anticipated that the students will learn leadership, independence, and weather forecasting, as well as physical performances. My preliminary thanks to Mr Withers and Miss Mabarrack for their planning and considered thoughts.
I trust that you will all enjoy the pending long weekend.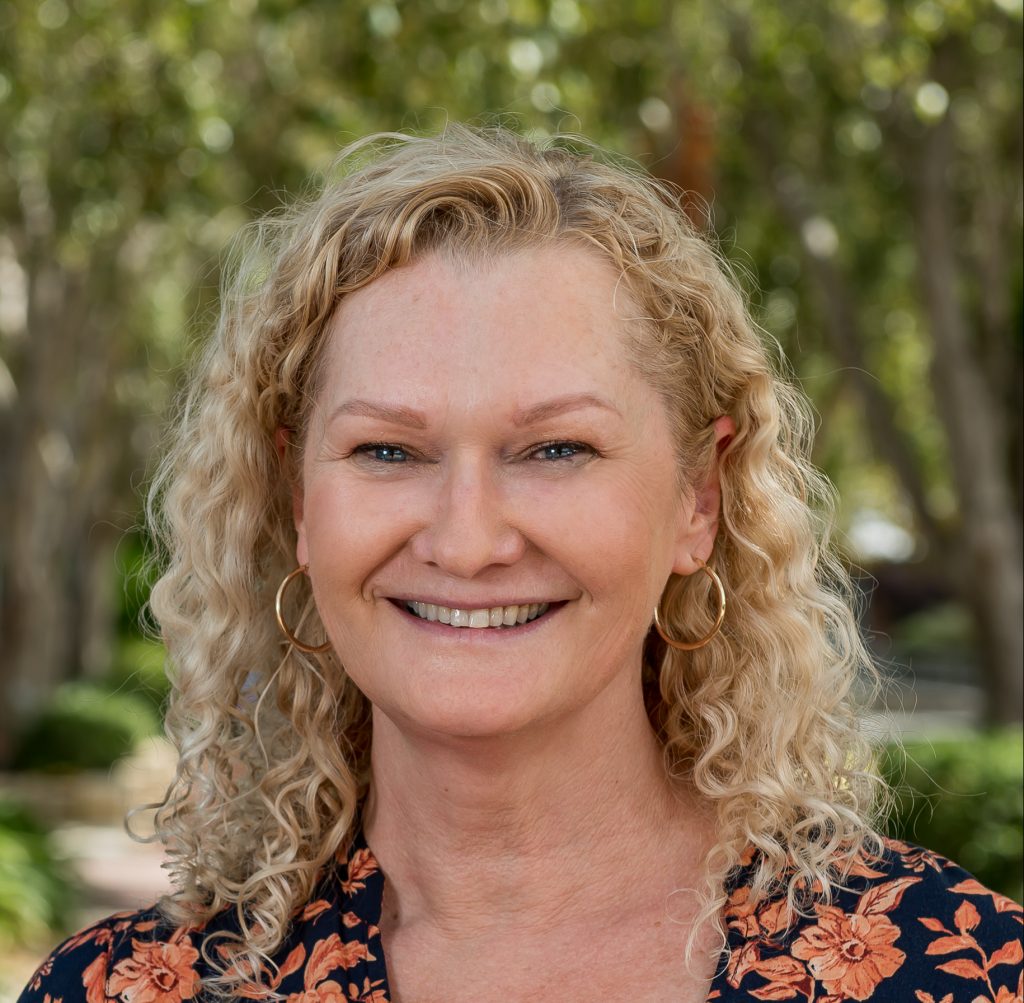 Assemblies are back!
It was with great excitement when last week we welcomed back our families to the Multi-purpose Hall for class assemblies. All who attended were thoroughly entertained by our Year 5 cohort. The assembly covered the theme of Anzac Day, and the students sang a moving song to commemorate this important part of our history. In addition, they shared their learning about the power of persuasion through their very entertaining 'Shark Tank' skit.
This event also provided an opportunity for our students from Pre-primary – Year 6 to come together to enjoy the experience, and our Pre-primary students are to be congratulated for their attention throughout, as this was the very first time they have attended a class assembly.
The assembly also enabled families to share in the enjoyment and acknowledgment of student's individual achievements through the presentation of Junior School Merit and GEM certificates. Our Merit Certificates recognise the student's efforts and are aligned with our College Values and our GEM certificates recognise the attributes of Gratitude, Empathy and Mindfulness and are aligned with The Resilience Project.
The Year 5 families enjoyed a cuppa and biscuit at the conclusion of the assembly and the return of our community spirit was evident.
We look forward to coming together again next week when our Year 1s will lead the assembly.
Deputy Head of Junior School
Year 4 Camp
The Year 4 cohort had their much anticipated Outdoor and Recreation Excursion at the Bickley Outdoor Recreation Camp School on Friday 13th May. It is fair to say that they were excited beyond words as we departed Tranby College.
Not only were we blessed with sunshine after inclement weather was predicted but our students gave everything a go! The day provided students with an opportunity to engage in activities that were both educational and challenging. They displayed our College values of commitment and collaboration as they overcame specific challenges set by the instructors. In addition, I was extremely proud of how they conducted themselves throughout the day. Please see below students' quotes:
"I really enjoyed the Year 4 Day camp because I loved canoeing and I enjoyed working with others in the team game." Marshall
"The Year 4 camp was great! I really enjoyed canoeing, team building and the bush hut challenge. Lunch was good to!" Harper
"My favourite part of the camp was hut building because we were able to work co-operatively to achieve our goal of making our hut waterproof and windproof. Lunch was yummy!" Taylah
"I enjoyed talking to my friends on the long bus trip to camp. I really liked hiking up the giant hill to find the bush hut building area. We got to build our hut with a certain time limit. It was great fun and challenging." Chloe C
"On camp, I enjoyed the canoe races. Neve and I were super-fast and managed to tag the canoe champion, Dan. Hut building was great when we worked together. We used a tarp, sticks and rocks to build our hut." Ethan
"At camp, canoeing was great and there were lots of canoe games. Lily and I raced in the challenge and it was such fun." Ansuri
"At the Year 4 Day camp, hut building was my favourite because we had to work as a team. It was great to be out in nature. We also got to have delicious subway for lunch." Hudson.
I would like to say a huge thank you to our teachers; Mrs Barber for all her diligent planning in the lead up to the day and Mr Taylor, Mrs Bray, Mrs Pokia and Mrs Bullock for their support and enthusiasm.
Community event
This morning around sixty of our Pre-primary – Year 6 students, along with their parents/guardians, took up the challenge to make an active effort to consider our transport habits and participated in the 'Walk Safely to School Day'. Although the weather was not ideal, it has provided us with much needed rain. There were plenty of brollies about, and every attempt was made by our families to lessen our impact on the environment. Being conscious about incorporating more walking and bike riding into our daily commute to school, is a step in the right direction!
On arrival an energetic bunch of staff were awaiting families, with a smile and a cooked breakfast. I would like to thank everyone who pitched in, without you this would not have been possible.
It is community events such as this that brings us all together where we establish good relationships and build on our amazing Tranby culture that we should all be proud to be a part of.
During this term, Year 10 Humanities students have been learning about systems of government, the electoral process and comparing it to other countries.
On Tuesday 17th May, in the lead up to the federal election, we were lucky enough to have a policy advisor, Naomi Brooks and community advocate, Kim Smith from the Greens Party visit our College and discuss their portfolios in government, disability, defence and healthcare.
They also spoke about understanding how laws are made and how the Senate functions. An interesting story told to us was how Jordan Steel-John became senator. It was not your typical manner of getting in! The original senator had dual citizenship which was an issue that occurred for many politicians at the time, and he ended up replacing that senator.
We were also able to apply our knowledge of preferential voting to a mock election where we voted for what was the best ice cream flavour.
Alex Smith and Hannah Awang, Year 10
Senior School Sport Update
RKAS
This term students have the opportunity to participate in Netball or Basketball competitions across Years 7-9 in a 5 round fixture playing against local schools within the community. Students have competed in two rounds at this stage and Tranby College is currently sitting in 5th place across both Netball teams and 6th place for the Year 8/9 Basketball.
There are still vacancies in the Year 7 Netball team, please forward an expression of interest to Miss Holtham if your child would be interested in participating.
ACC Super Series Netball
On Monday 9th May, we competed in the West Coast Fever Shield at the ACC Year 7 Super Series in Netball. The girls were excited to compete in their newly formed team and showed great enthusiasm throughout the day.
The team competed in Pool A against Emmanuel Catholic College, Peter Carnley Anglican Community School and St Stephen's School. They played a great game against Salvado Catholic College in a final, but unfortunately had a loss. The girls competed fiercely in each game, worked cohesively, and experimented with different positions on court.
Thank you to Miss Holtham for organising the girls prior to the event and to Mrs Miller for accompanying the girls with Ms Mabarrack on the day.
ACC Super Series Basketball
On 9th May our Year 7 Basketball team competed in the ACC Super Series Basketball competition. The boys participated in 6 games showing amazing teamwork and enthusiasm. The results didn't go our way, but they played every game to the best of their ability and didn't give up all day. The team represented the College extremely well and should be applauded on their efforts.
Run Club
If you love running Year 7-12 students, please join us on the Senior School oval on Thursday mornings from 7.30am – 8.30am. You can run as many or as few laps of the Oval as you wish. Each lap is recorded on QR Laps and the distance accumulates each week. Our current leaders have clocked up over 50kms since last year. If any student wishes to join the early morning club, please let Miss Holtham or Mrs Lewis know and we will generate a code for the scanner. Exercising in the fresh air over the cooler months is most invigorating and sets you up well for the day! What better way to start the day, than with a run with your friends?
Badminton Club
Badminton Club is underway once again this term with a mix of regulars and new participants. The atmosphere is one of fun and enjoyment, with everyone challenging each other and relaxing at the end of the week. Depending on the soundtrack, players are known at times to have a bit of a dance, trying out some new moves! At some point each seek we play 'Around the World' where each player takes it in turn to hit the shuttle and run around the net until the last two players remain. At times this game becomes incredibly fast, exhausting and competitive. Last week we played to the soundtrack of 'Around the World' by Daft Punk.
Currently the club is full, but if students would like to join, they are more than welcome to place their names on a waitlist.
"Badminton club is an enjoyable experience. It is a fun activity to do after school on Friday with friends. It is good practice and 'Around the World' is great. The atmosphere is bright and friendly too." By Jimmy and Corbin
Year 7 and 8 Cadet Excursions
Our Year 7 and 8 Emergency Services Cadets went to Swan Valley Adventure Centre on 26th and 27th May.
They had the most amazing time! All Cadets challenged themselves to their limit! I was very proud watching them, as they took themselves out of their comfort zones.
Our student's behaviour and engagement was the best part of my day. Special thanks to Ms Florance and Mr Coughlin.
Mrs Miller – Cadet Leader
STUDENT PERSEPECTIVES:
The high ropes course was awesome! Zavier
The blackout zone was very challenging. Elliott
The Jacobs ladder was lots of fun. Eloise
The food was very good. Emily
There was a lot of team work on the ladder. Tarick
Everyone was very co-operative. Chloe
It was so much fun and very enjoyable. Matilda
Overall it was the best day and a great experience. Eva
It was really good, I enjoyed the spring rolls. Lucas
Everyone had a go even when they were frightened. Chloe
I really loved the burgers. Alfie
I really liked the fun challenge of Jacob's ladder. Daniel
High ropes was very scary but worth it in the end. Michiel
The instructors were very kind. Jade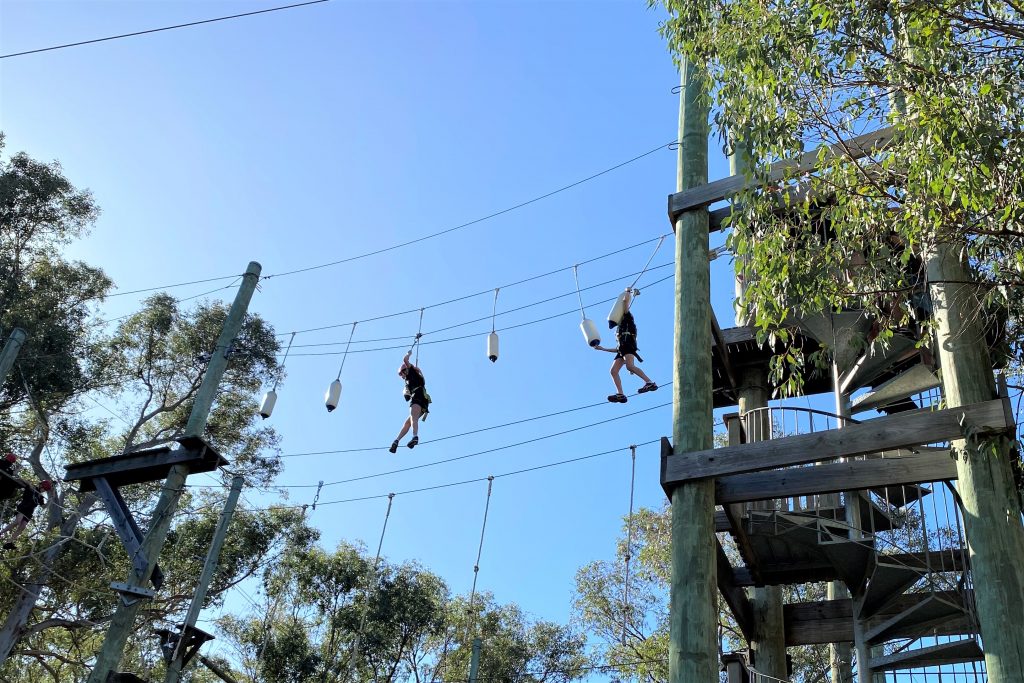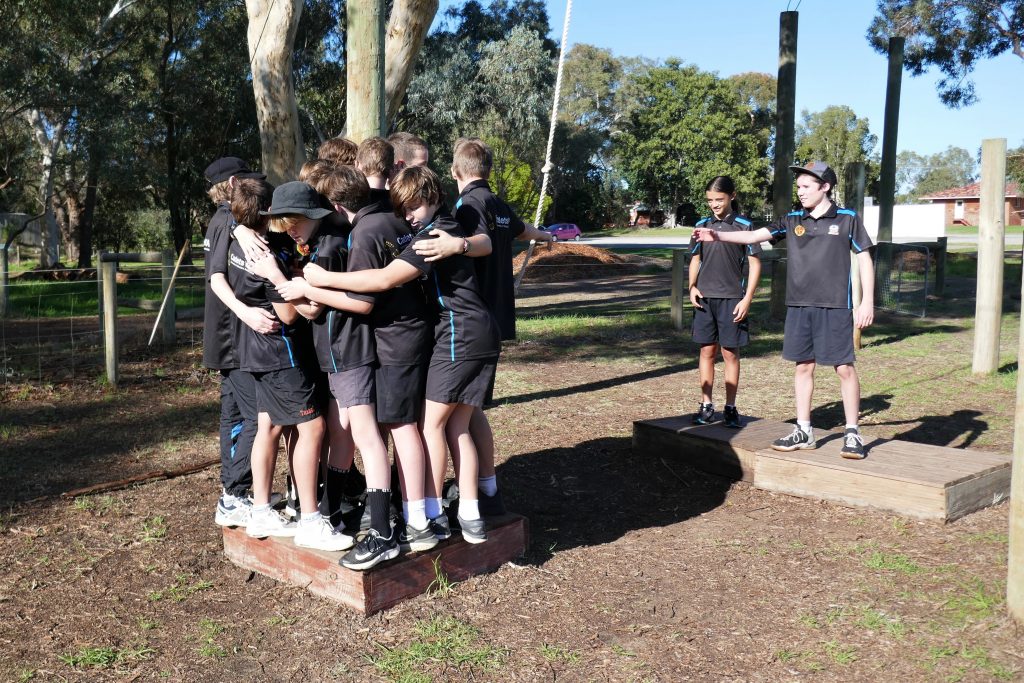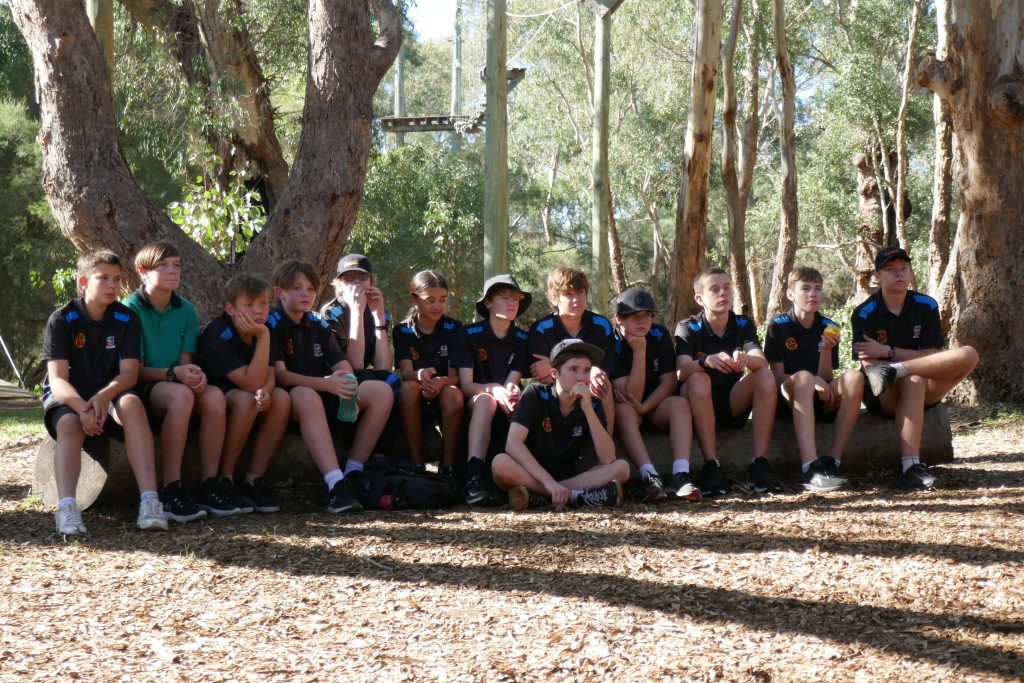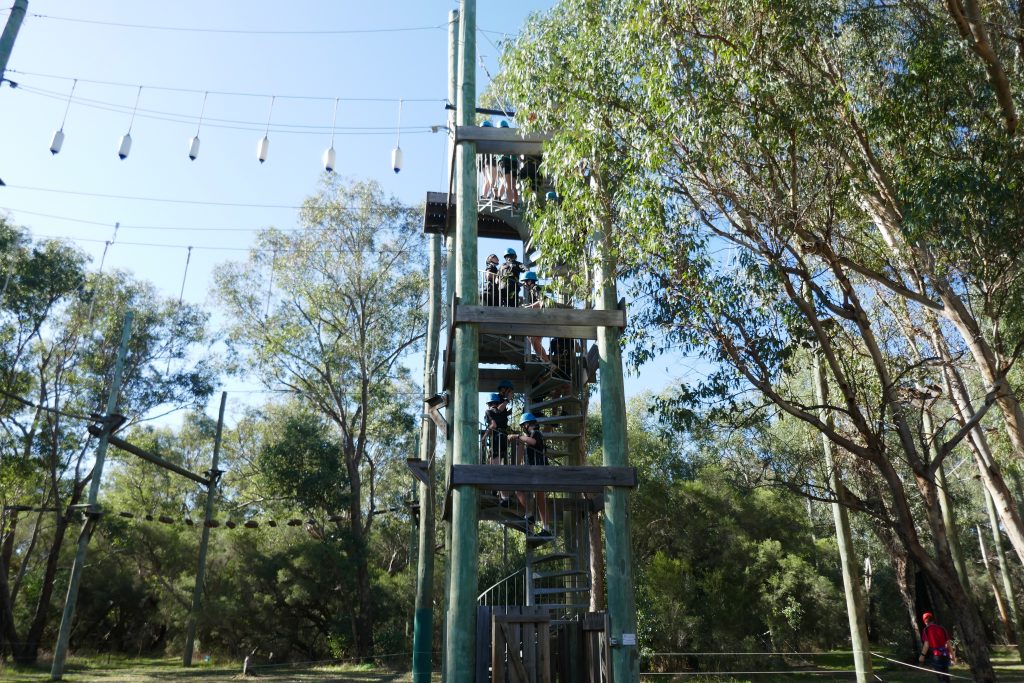 Materials Design & Technology Woodwork
The Materials Design and Technology Woodwork Department has been a hive of activity. A large component of the subject (approx. 50%) is the theory aspect, which covers occupational safety and health, wood as a material, adhesives and finishes, fixings and fittings, hand tools, power tools and portfolio design using the design process.
The Year 7s have designed and made storage boxes, Year 8s are making paper towel holders and the Year 9s and 10s have designed and are now making hallway tables. We hope to build more projects this year under the theme HOUSEHOLD. The College is committed to replenish the wood workshop tools inventory to give capacity for the students to produce more artefacts and exciting projects.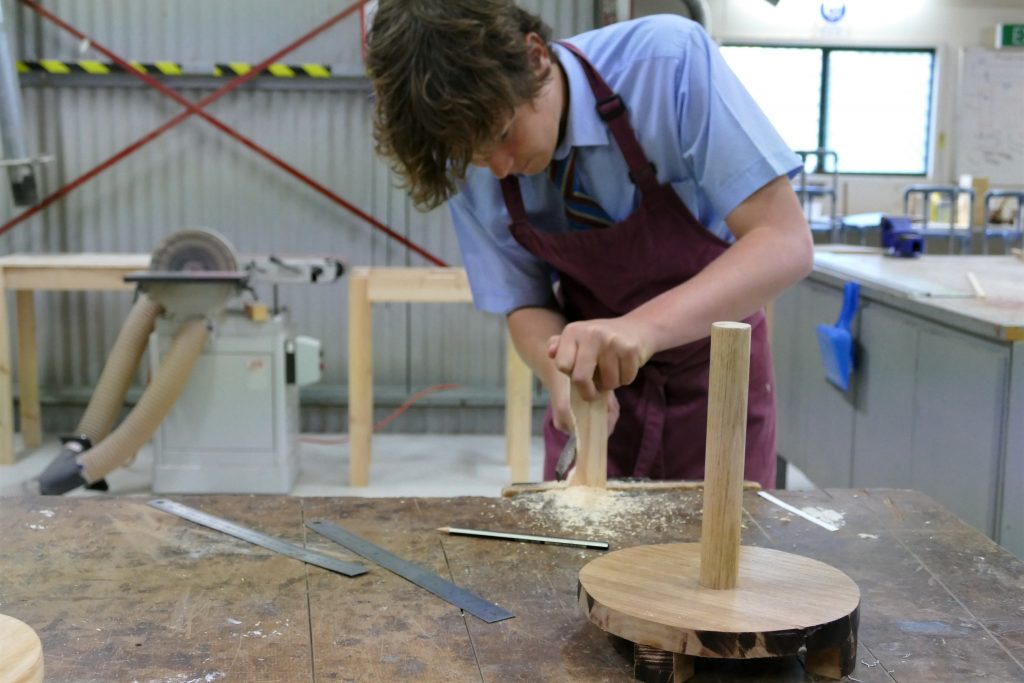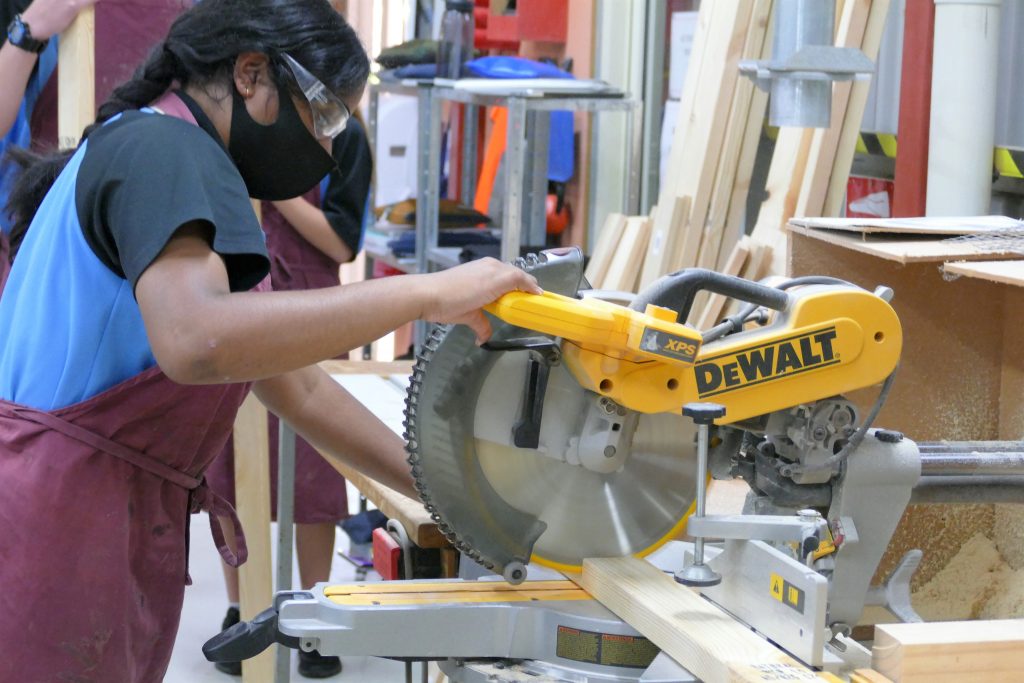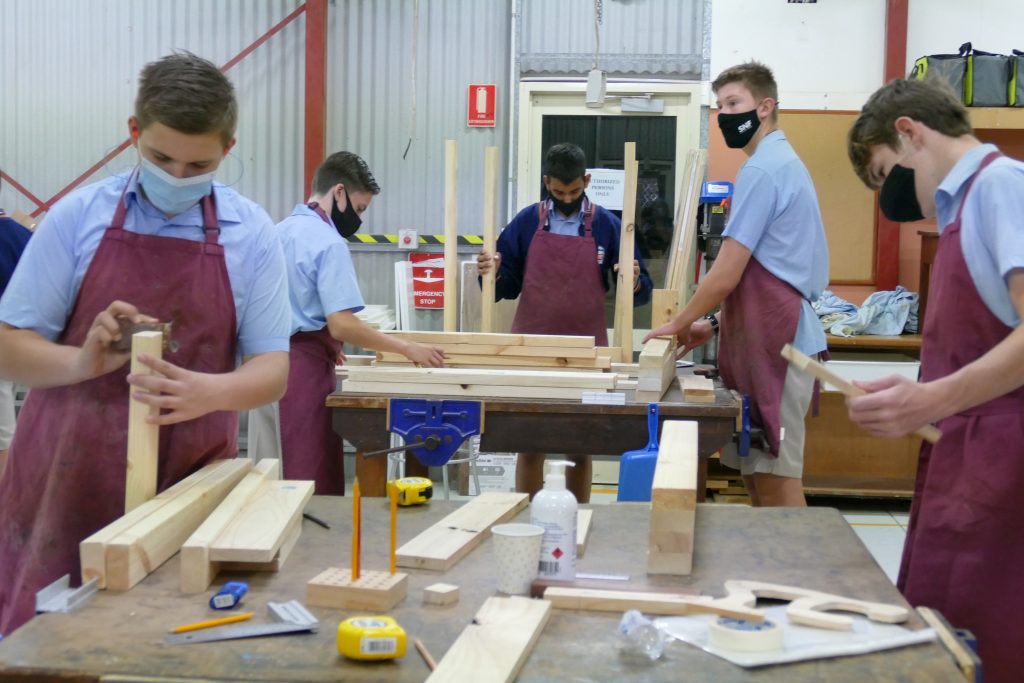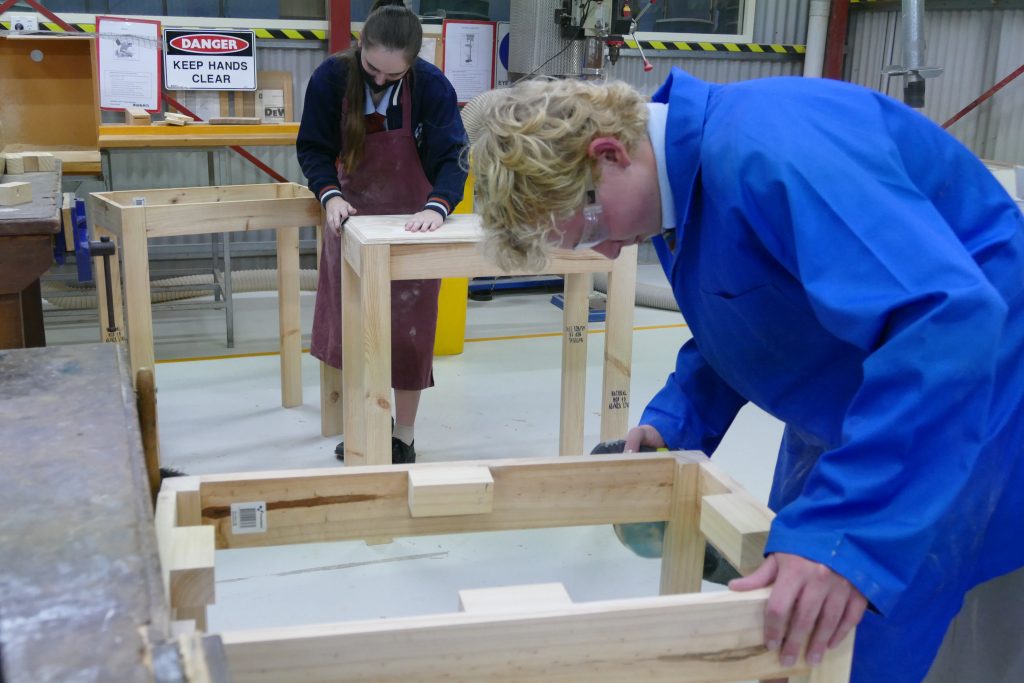 On Friday 20th May, students from Years 3-12 participated in the combined Inter-house Cross Country Carnival. The changes incorporated into this year's event made it one of the most exciting carnivals to date. It was lovely to see students from both the Junior and Senior schools cheering each other on and supporting one another out on the track.
The House spirit among students was electric, and runners from all age groups were enthusiastically cheered on during their final leg of the course, as they crossed the finish line. A special mention to the Senior School students for attempting this year's new 4km course!
Below is a breakdown of the overall house points from the carnival. Congratulations goes to the winning Houses for their dedication to get a large number of participants out on the course.
Years 3-6 House Results:
1st – Karla & Budjar 103 points
3rd – Bilu 67 points
4th – Marra 63 points
We are still awaiting the results from our PP-Year 2 Cross Country event to determine the overall Junior School winning House.
Years 7-12 House Results:
1st – Bilu 140 points
2nd – Karla 107 points
3rd – Budjar 96 points
4th  – Marra 92 points
Congratulations to all students who participated on the day. We would like to acknowledge the following students who excelled in their age groups and who were awarded with a Champion or Runner Up medallion.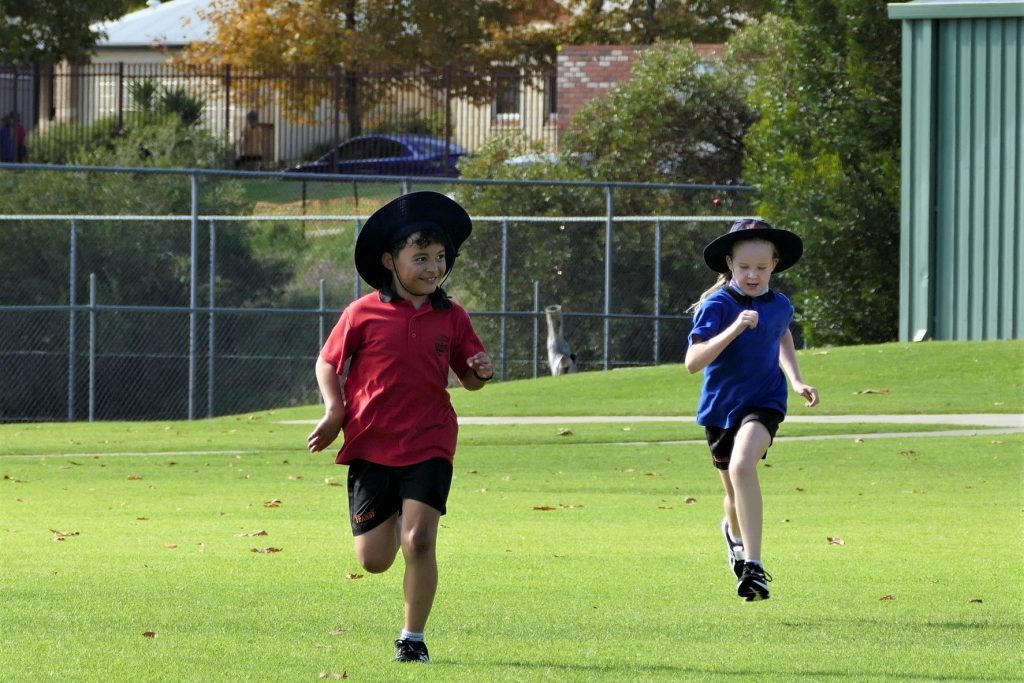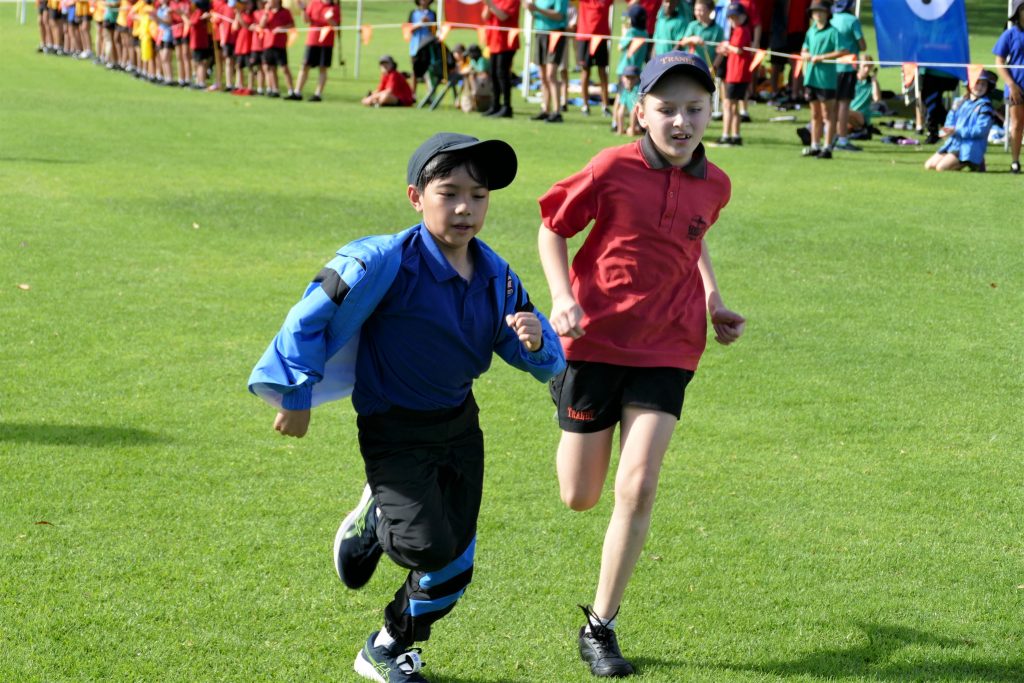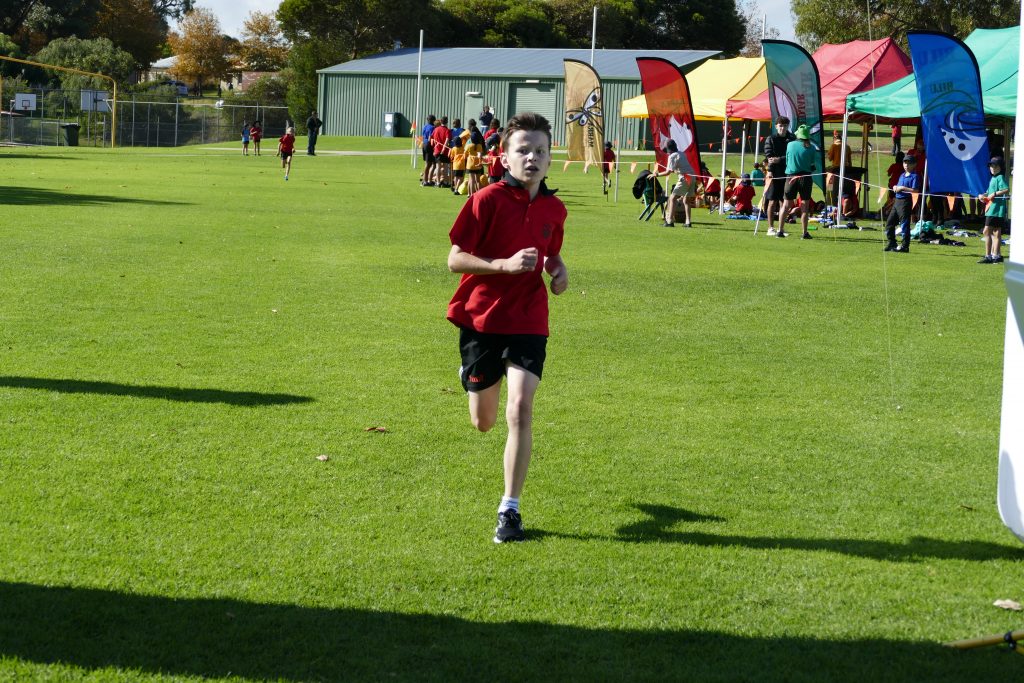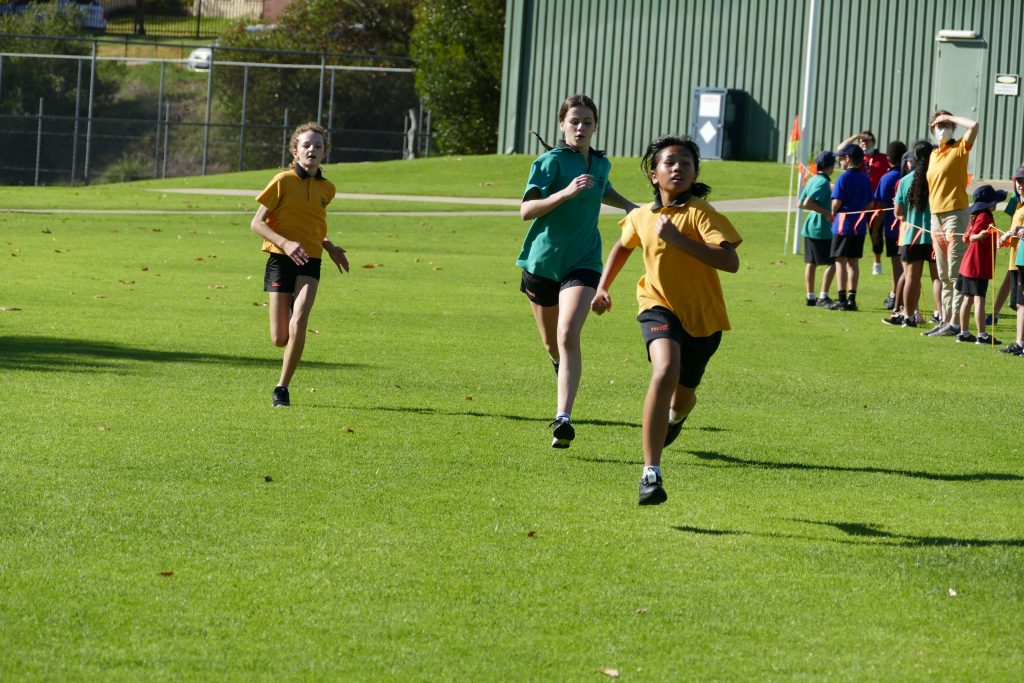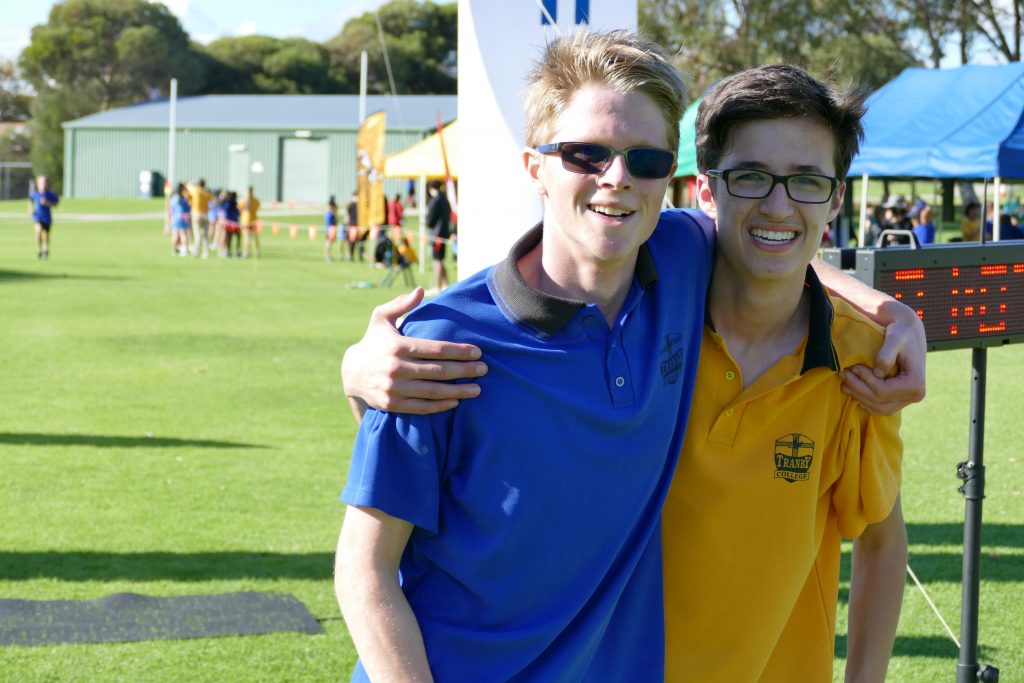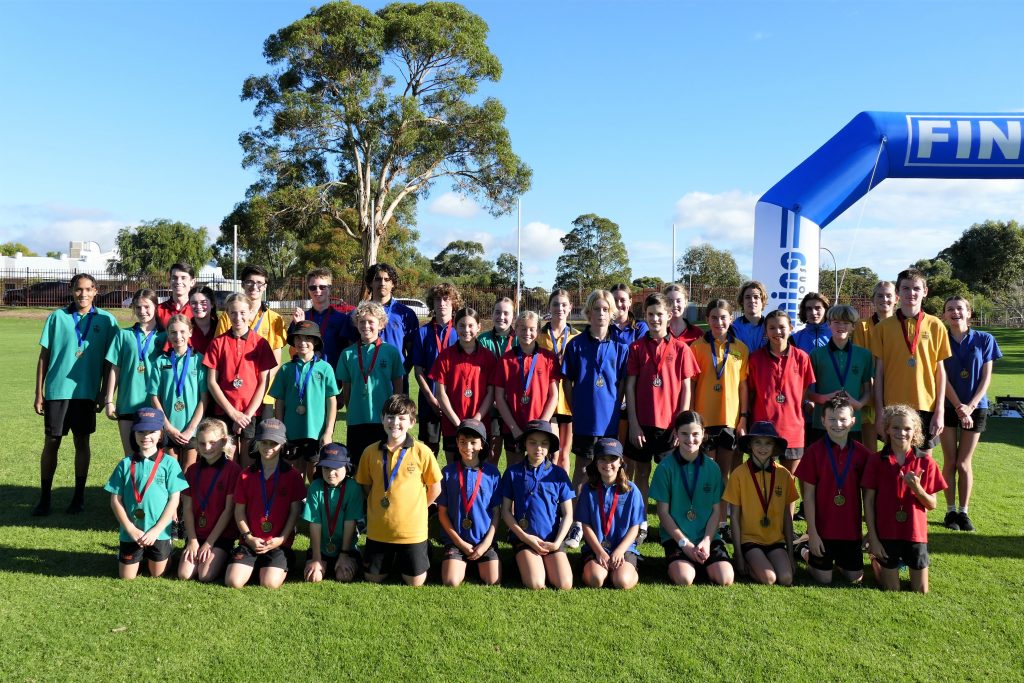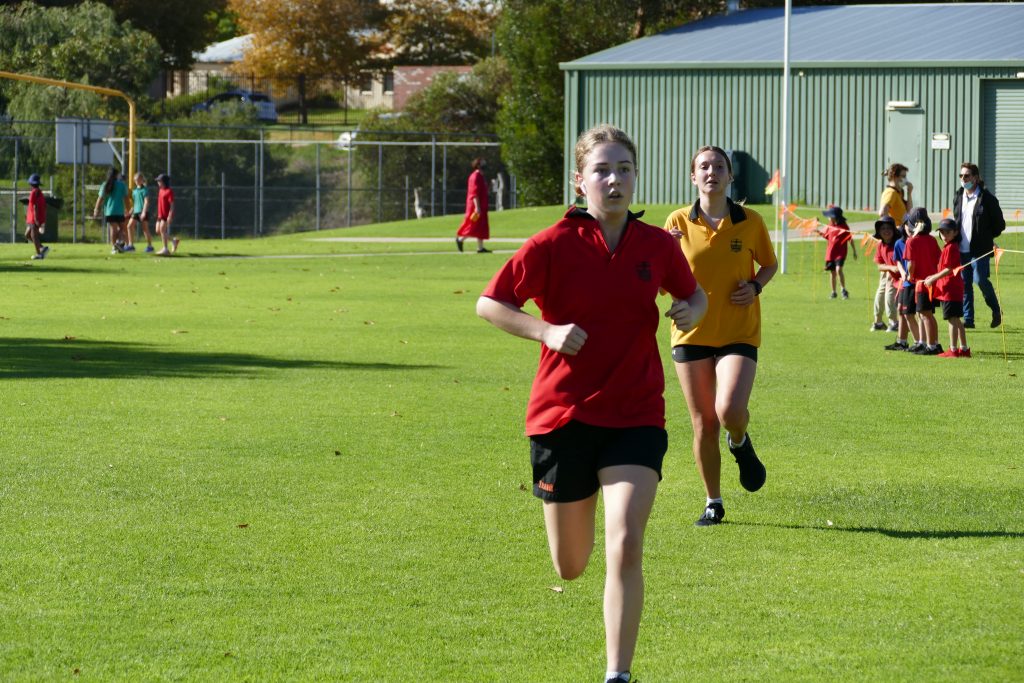 Tranby College Careers and Pathways Expo (Years 10 to 12)
Tuesday 21st June, 5pm - 7pm
Jump Rope for Heart update, keep jumping!
Our students in the Junior School have been busy learning new skills and participating in weekly skipping challenges as part of the Jump Rope for Heart program. Students have been skipping during recess and lunch, at home and within their PE lessons.
We currently have 63 students from Years 1 – 6 who have registered and are fundraising in support of the Heart Foundation. As of  Friday morning (3rd June 2022), the Junior School at Tranby had raised a total of $6,263.00. That is nearly 80% of our $8,000.00 goal!
We are almost halfway through the program, however, there is still time to register and start fundraising! Please head to https://www.jumprope.org.au/parents to register online today.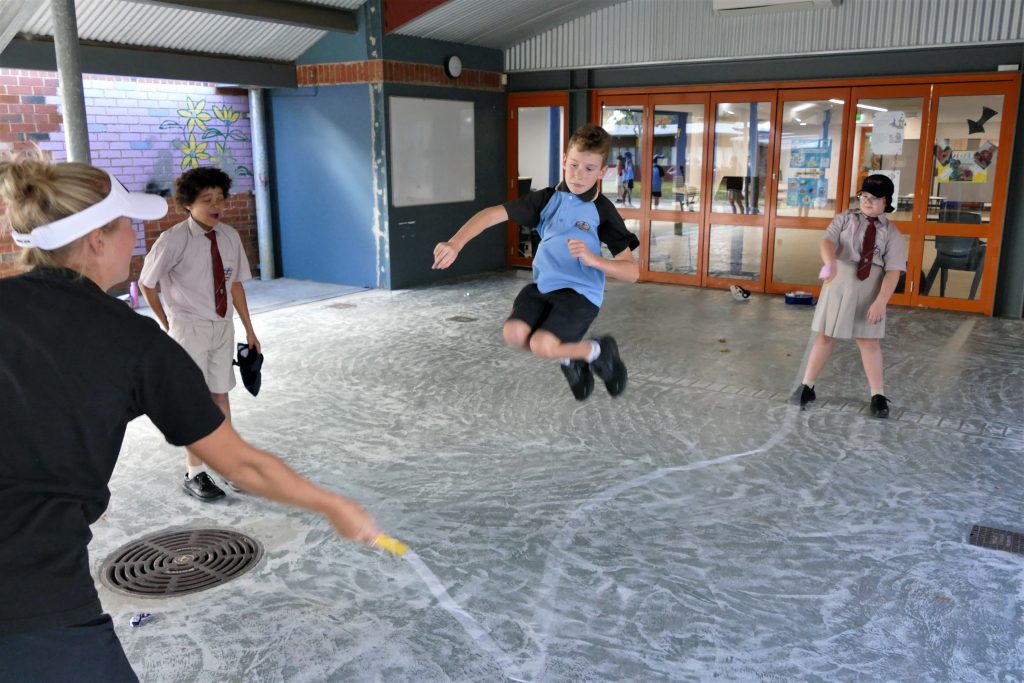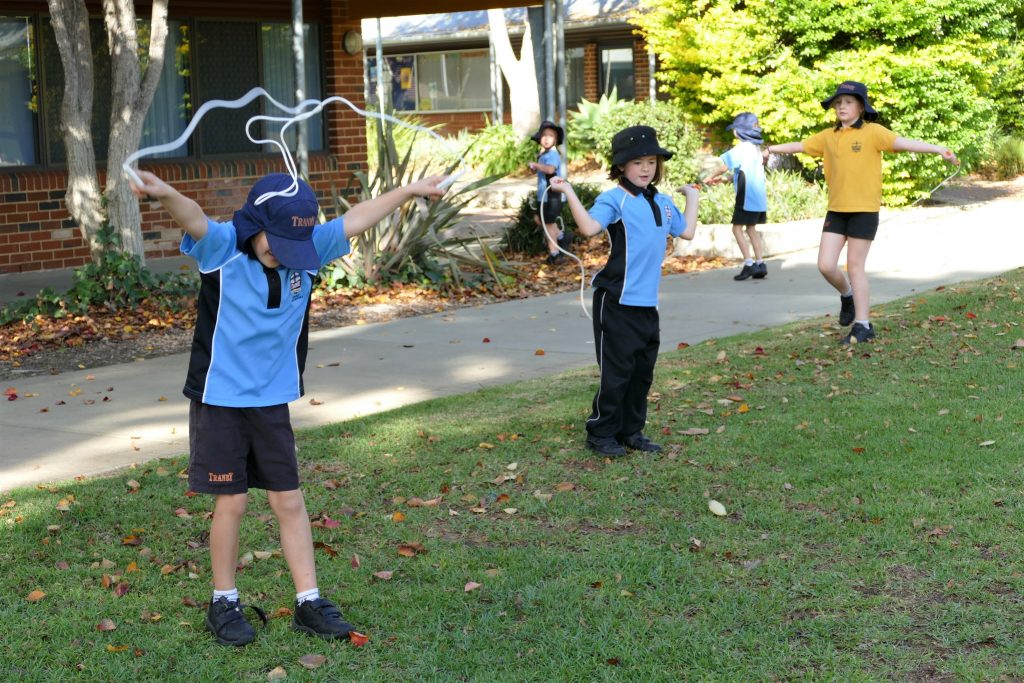 Years 3-6 IPSHA Cross Country Team announced
Congratulations on the following students who have made the IPSHA Inter-school Cross Country Team for 2022. The following students will travel to John XXIII College next term to compete on Thursday 11th August. Participants will receive information regarding upcoming Inter-school training in the coming weeks.
YEAR 3 GIRLS: Indiana Mathers, Stella McKenzie, Tia Samuel-Oparah, April Bell, Lenieke Badenhorst & Sienna Johnson.
YEAR 3 BOYS: Flynn Schmid, Austin Eaton, Eithan McKechnie, Kobi Waddell, Oliver Brumby & Leo Carr.
YEAR 4 GIRLS: Mali Caruana, Zoe Wallace, Lylah Walz, Ansuri Badenhorst, Helena Kamran & Georgia Robertson.
YEAR 4 BOYS: Jobie Martin, Ethan Urbano, James Wesche, Tyler Bradley, Samuel Kenny & Hunter Suckling.
YEAR 5 GIRLS: Heidi White, Eloise Krokosz, Isabella Locker, Alayla Schmid, Felicity Riley & Ava Steward.
YEAR 5 BOYS: Patrick Anderson, Luca Mathers, Alexander Vreeken, Daniel Newland, Jesse Diamanti & Benjamin Gordon.
YEAR 6 GIRLS: Chanelle Maxwell, Martha McClements, Agatha Coombs, Emiliyah Urbano, Cooper Carr & Niamgh Harrington.
YEAR 6 BOYS: Lachlan Morris, William Hughes, Troy Rocke, Kai Chester, Tyson Musiwa & Hamish Reddall.
On Tuesday 17th May, the Kindergarten children enjoyed a visit from Roger Perry, one of Australia's leading authorities on boomerangs. The children were captivated by the stories about the history of the boomerang. They were also shown a great variety of boomerangs from Roger's collection. Everyone had a go at drawing their our own boomerang and then they were lucky enough to be taught how to throw one. The incursion finished with us all trying to catch a kangaroo with a hunting stick. The children and teachers had a blast!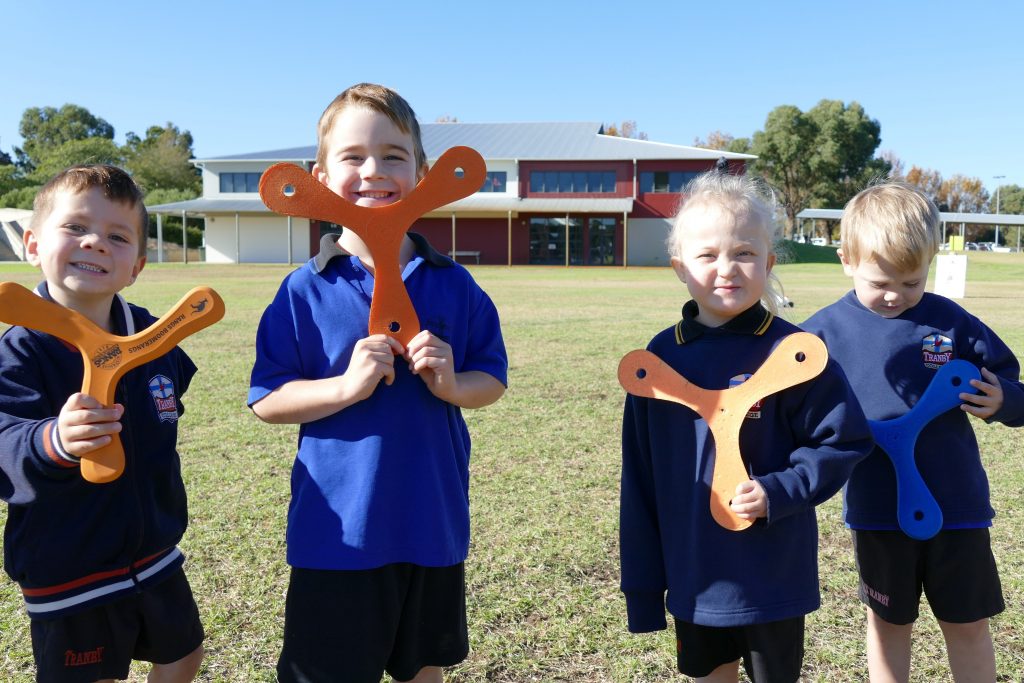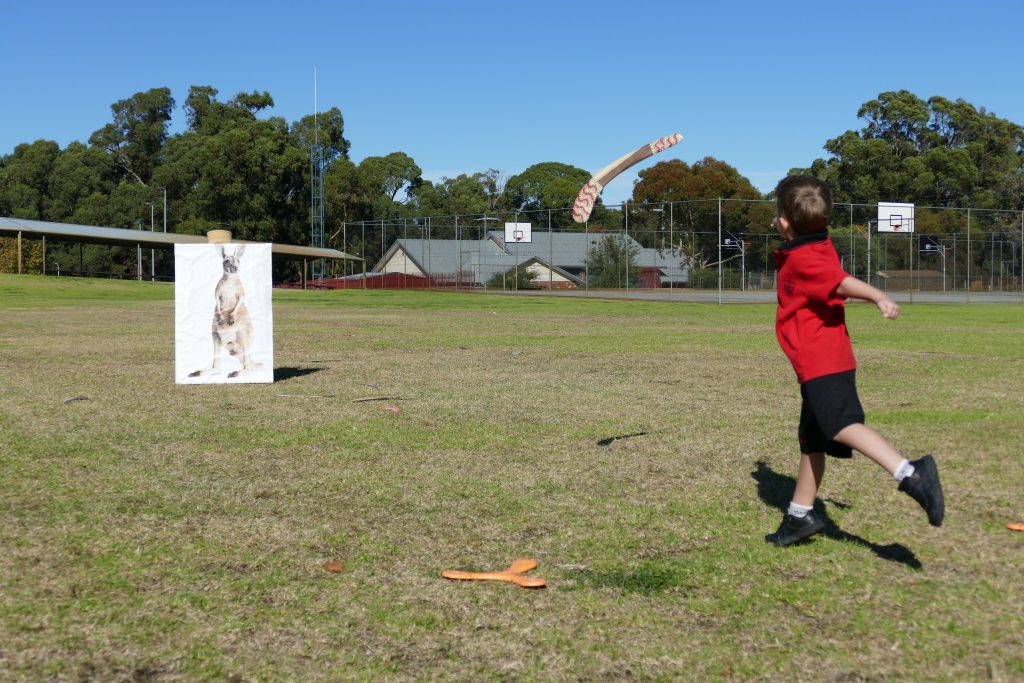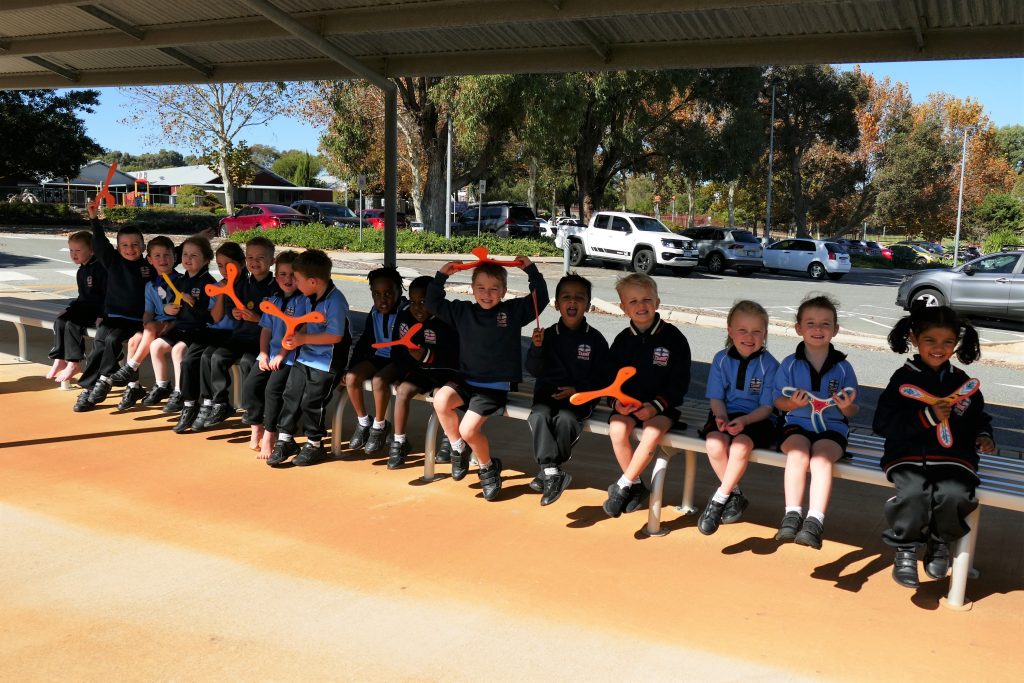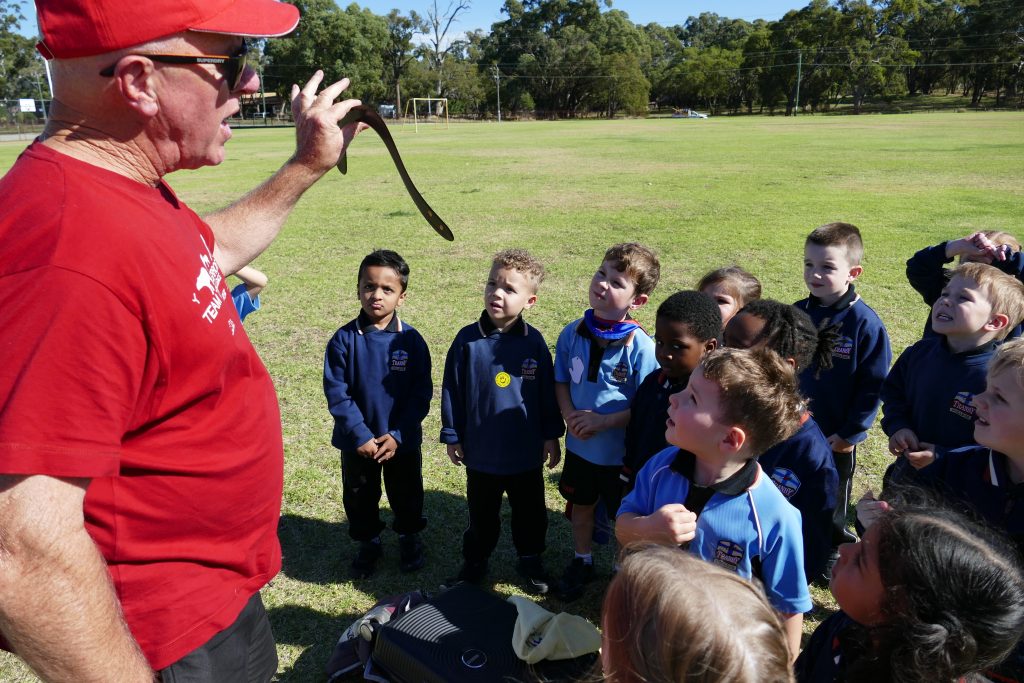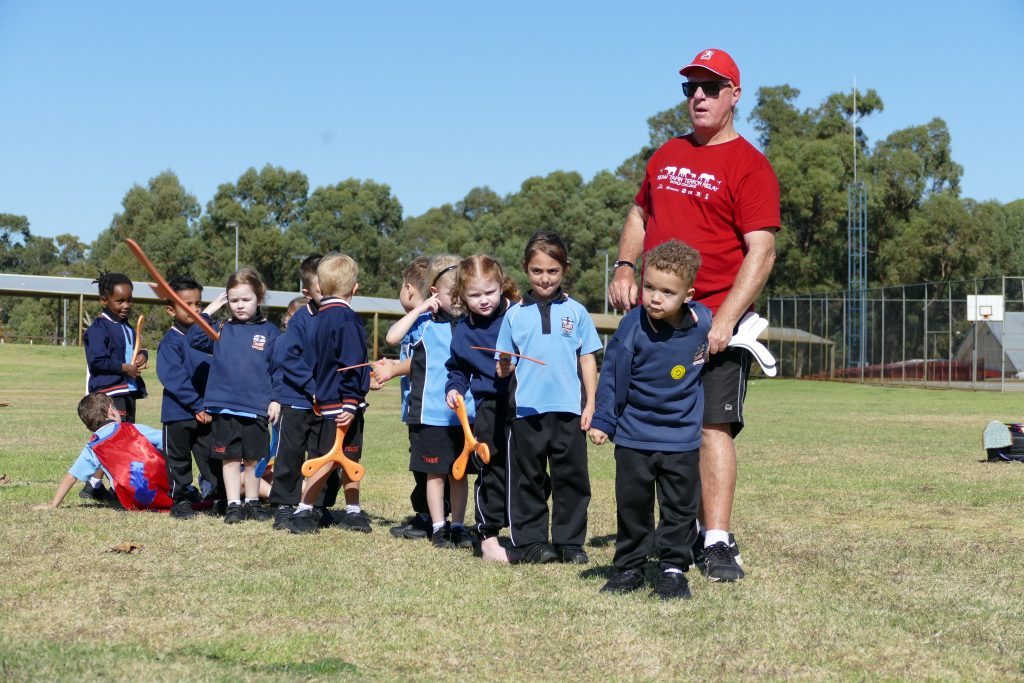 Important notice for visitors to the College
A gentle reminder that all visitors on campus, including parents, must always sign in at either Junior School or College Reception other than at normal drop off and pick up times. This includes when dropping off lunches or other forgotten items to students throughout the day. This enables the College to efficiently identify risks to children's safety. Your co-operation in this matter is greatly appreciated.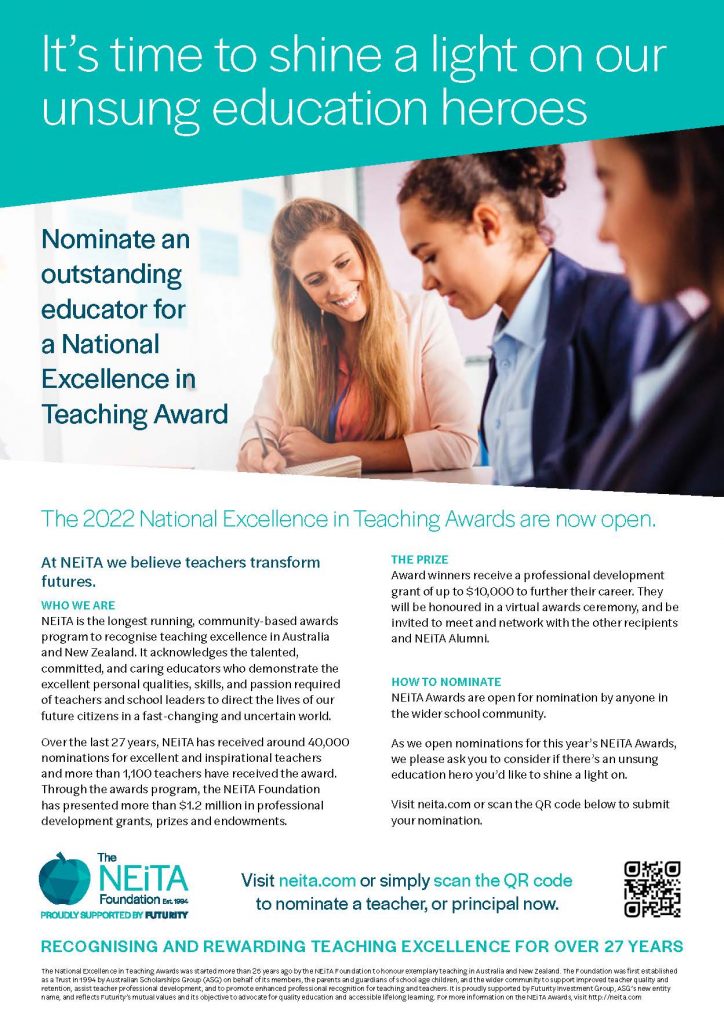 Support Tranby College - Give Mum even more this Mother's Day with an Entertainment Membership!