Tuesday 24th May – Year 5s – Taste of Senior School Day
Wednesday 25th May – Year 6s – Taste of Senior School Day
Thursday 26th May – Year 7 Cadets Activity Day 
Friday 27th May – Year 5 Assembly
Friday 27th May – Year 8 Cadets Activity Day
Friday 27th May – College Tours – 9.00am – 10.30am
Saturday 28th May – College Tours – Junior School – 9.00am 
Saturday 28th May – College Tours – Senior School – 10.00am 
Monday 6th June – WA Day
Friday 17th June – Pupil Free Day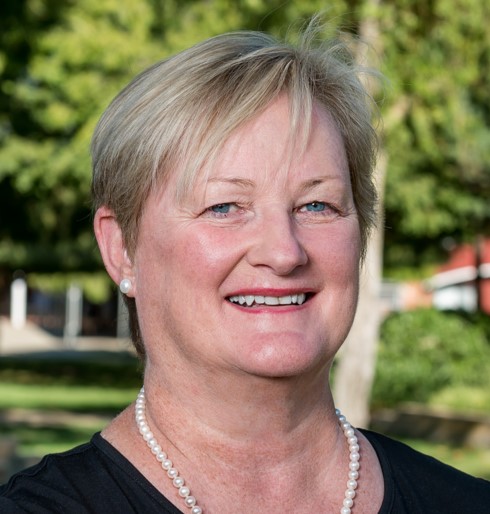 A birthday to remember
On Wednesday 18th May, we celebrated the official opening of Tranby College 25 years ago, to students and families in Baldivis and surrounding areas. Although we are still such a young school, this makes Tranby one of the most established in our region. Twenty-five years ago, the ambition of its founders was to create a school community, based on the values of the Uniting Church in Australia, which offered high quality education at an accessible price for local families. To the credit of all of Tranby's founders and early educators, staff, parent volunteers, school leaders and Board members, the maturity of their dream can be seen today in the current offering at Tranby College.
As a Uniting Church school, I was delighted to receive a letter of congratulations on behalf of the College from the Synod. The letter noted the ambition of the founders, who were 'united' by their faith and values.
Over the last 25 years, the council, staff, students, parents, and community of Tranby College have faithfully and sacrificially lived out God's call and the college motto, Uniting in faith and service. Children from as young as six weeks through to completing Year 12 have been blessed to be a part of the College community and by extension, the Uniting Church WA family.
I am proud to be the fifth Principal of Tranby College and excited to guide it on its trajectory to excellence, progressiveness, and the continued amazing care of its students and community.
Senior School Revealed
On Wednesday night I was delighted to share details on the inspired learning opportunities that await our Year 4 to 6 students in our Senior School. The 'Senior School Revealed' evening was well attended by both parents and students, despite the challenges of COVID-19. It set the scene for two energising days next week, when we invite Year 5 and 6 students respectively to join us in the Senior School for a day. These immersive days proved to be great fun last year, and they go a long way to allay fears and doubts among students about what 'High School' might be like and what each subject area involves.
Currently enrolment places at Tranby are in high demand so if you know families who are considering enrolling their children, please let them know that we have 'wait lists' at multiple levels and so there is urgency in having them act on their plans.
Managing COVID-19
Thank you for your support of our changing settings regarding face masks and alterations to programs and approaches. We are holding up well as a College but, as you will appreciate, there are challenges to negotiate each day. I remind parents, that it is our strong preference that students from Year 3 up, wear masks while in class. This is to protect our students and teachers who work in close proximity of others throughout the day.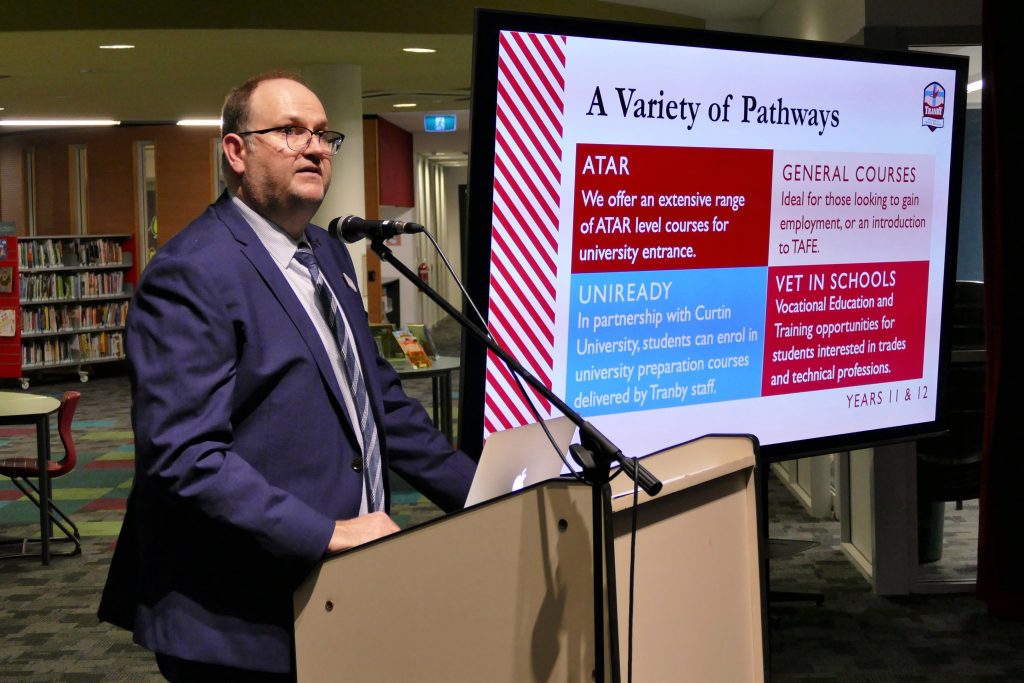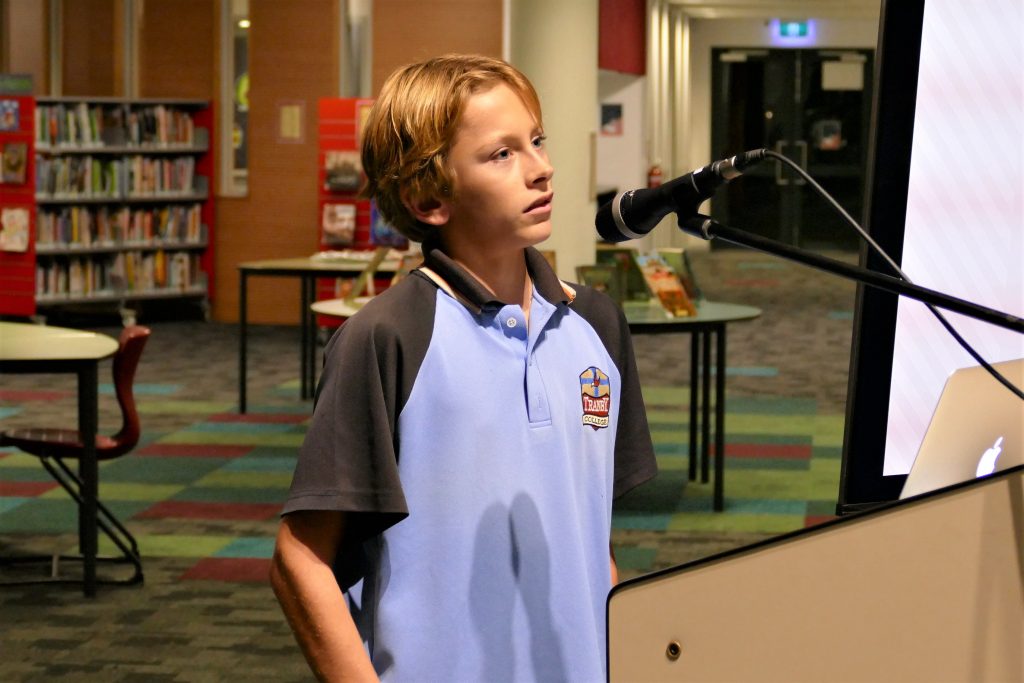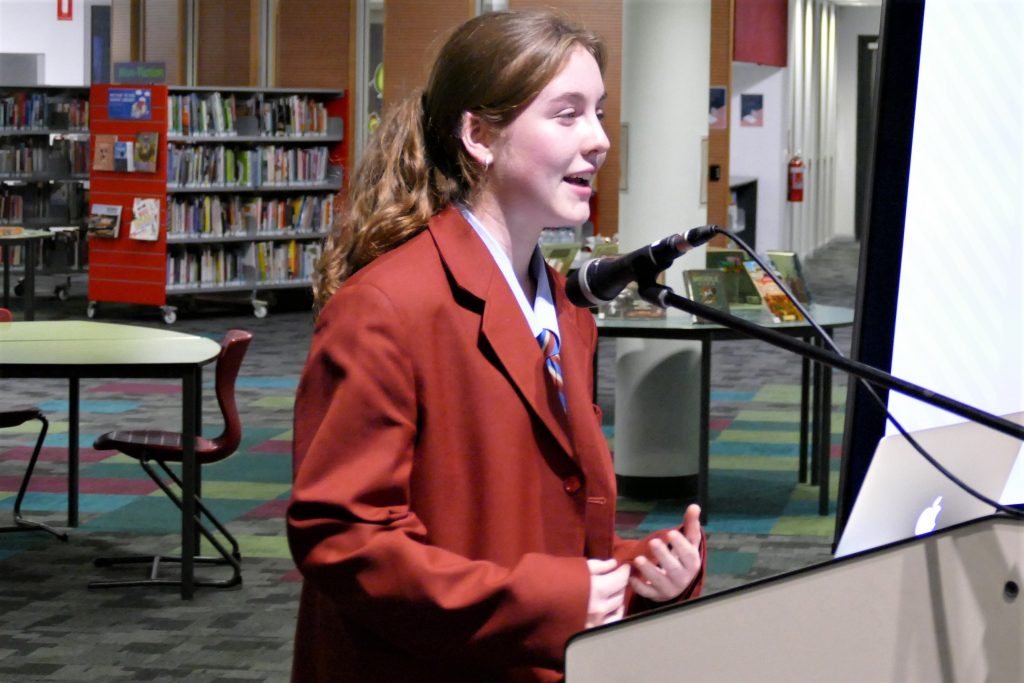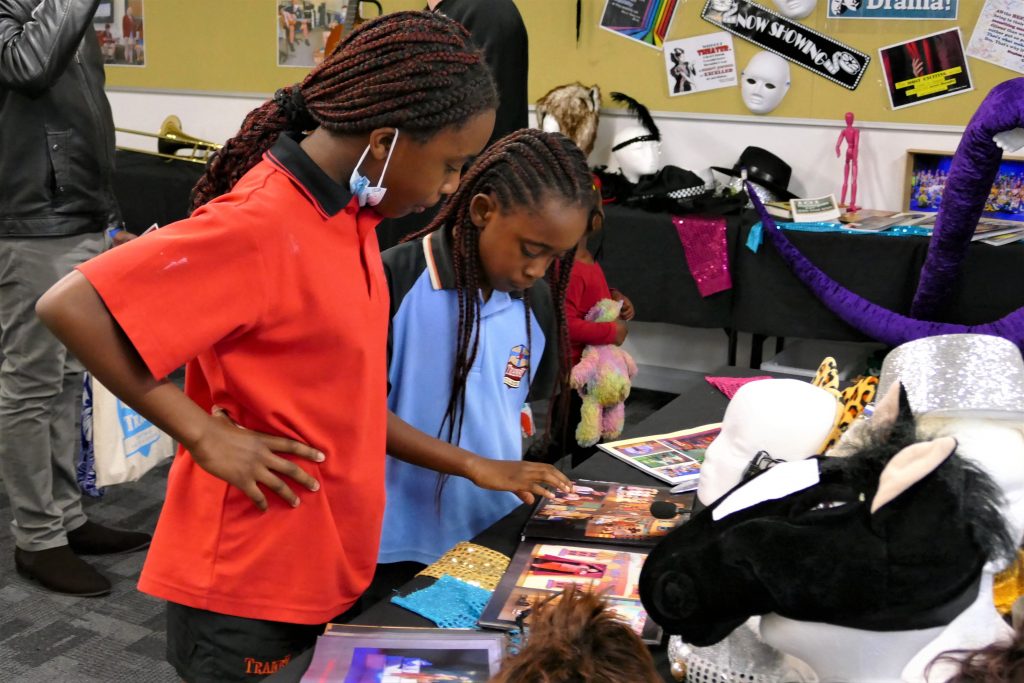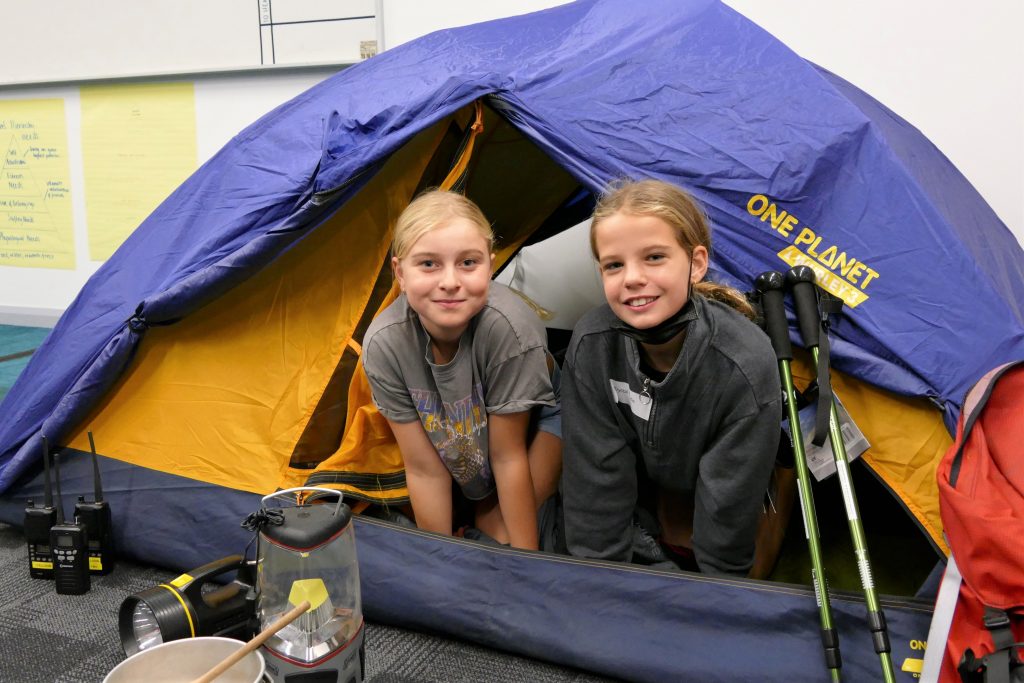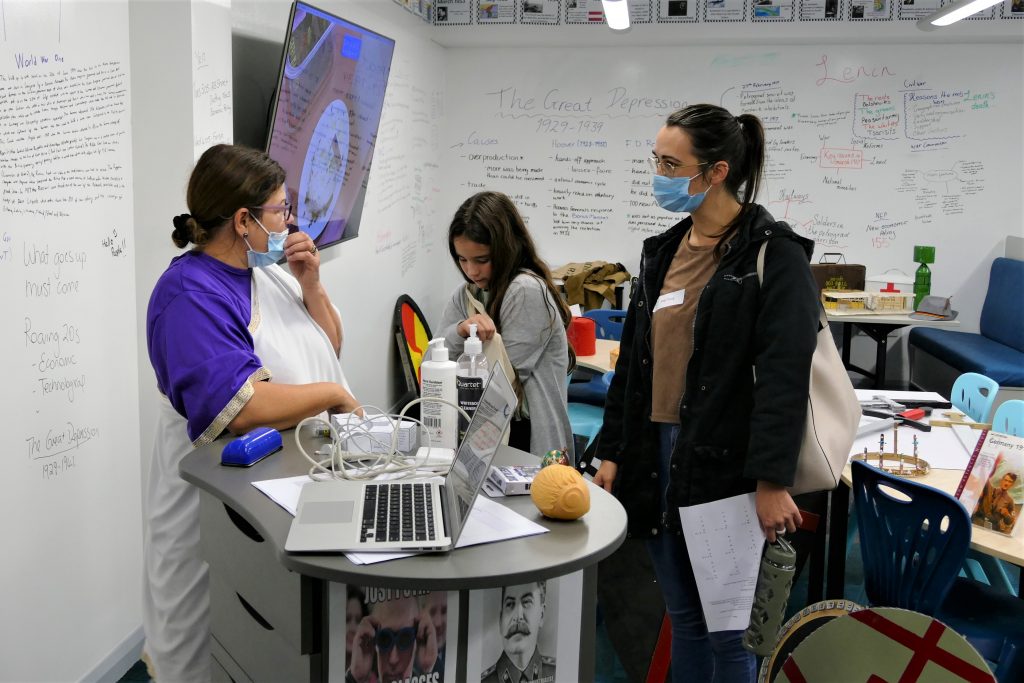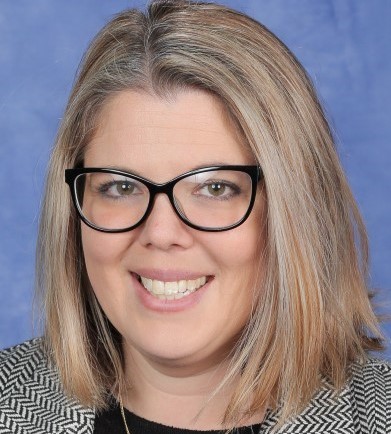 Previously I have written on the benefits of sleep. I do not think that this is a ground-breaking topic, as we all know we feel better after a good night's sleep. However, what is concerning, is some of the latest data we have on sleep and sleep interruptions for students across Australia and at Tranby College!
In research released by The Resilience Project, they have found the following:
One in four Australian primary school students are losing sleep through worry.
One in three Australian senior school students are losing sleep through worry.
One in seven Australian primary school students use their phone between 10pm and 6am three or more times per week.
One in three Australian secondary school students are using their phone between 10pm and 6am three or more times per week.
At Tranby College, through the Resilient Youth Survey conducted earlier this year, the following results have been found in relation to texting between 10pm and 6am.
Tranby College Average:
Year 3 – 18%
Year 4 – 11%
Year 5 – 25%
Year 6 – 32.5%
Year 7 – 28.5%
Year 8 – 38.5%
Year 9 – 44%
Year 10 – 51%
Year 11 – 46.5%
Year 12 – 54%
Table 1: Percentage of Tranby College students per year group reporting they are texting online between 10pm and 6am.
So what can be done to help our children get a good night's sleep without the interruption of devices?
The Resilience Project suggest the following:
All children should have notifications turned off on devices, particularly during sleep hours.
Rearrange the device home screen, so social media is not as immediately visible.
Schedule time for phone usage.
Role model the behaviour you would like to see in your children.
Do not be afraid to set limits and stick to them. For example, turning the Wi-Fi off and having all devices on the kitchen bench (or another set area) helps remove temptation.
Technology and devices are not the enemy. In fact, they can be the complete opposite. Devices have allowed us to remain in contact with family and friends in a way that would not be possible without them. However, the cost that this accessibility can have on sleep needs to be considered. Children need sleep to cement knowledge, rejuvenate and grow, in addition to creating healthy and happy minds. None of us are perfect with our use of technology, I know I definitely have room for improvement. Hopefully, this is just a little reminder to take stock of the usage of devices and the impact they can have on children. More information in relation to the trends and influences displayed in the data will be further discussed in upcoming newsletter articles.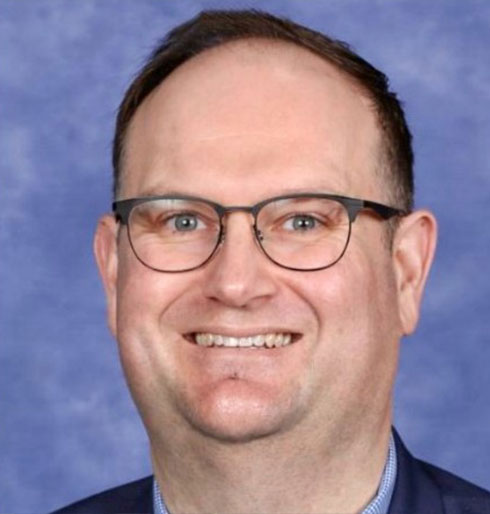 Director of Learning and Innovation
NAPLAN
On Tuesday, Wednesday, Thursday and Friday next week, students in Years 3, 5, 7 and 9 will be participating in the National Assessment Program Literacy and Numeracy (NAPLAN), and it will be undertaken as an online format by the students, except for Year 3 Writing, which remains a pen and paper based test.
A reminder that students doing NAPLAN must bring their headphones and fully charged devices to each test session.
One of the main benefits of NAPLAN online is that it uses tailored (or adaptive) testing. This means that students receive questions better suited to their abilities, so they can show what they know and can do. Online testing also allows us to provide a wide range of accessibility options to support students with disability in accessing NAPLAN.
Feedback from students is that they find the online test more engaging.
For more information about NAPLAN Online, please go to https://www.nap.edu.au/online-assessment.
NAPLAN assesses literacy and numeracy skills that students are already learning at school. On its own, NAPLAN is not a test that can be studied for, and students are not expected to do so.
NAPLAN is just one aspect of a school's assessment and reporting process – it does not replace ongoing assessments made by teachers about student performance; however, students and parents may use individual results to discuss progress with teachers. At Tranby, we use the information from NAPLAN to help with our ongoing review of teaching and learning.
We expect that our students give their best efforts on the day, but for them to understand that one single assessment does not define them or their future. We value the whole child and that their success will come from them trying their best in all things made available to them at Tranby.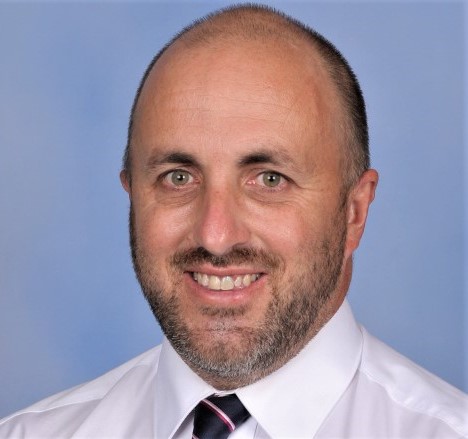 Welcome back to our Senior School community for Term 2 in what is traditionally a very busy term for our families. Couple this with the recent liftings of COVID-19 restrictions, introduction of the Inter-house Arts Cup, the return of an extensive co-curricular program, all whilst academic assessments increase in vigour, it is going to be a very big 10 weeks.
Earlier this week, all students, staff and parents took part in a Cyber Safety presentation, through industry leading facilitators, ySafe. The Tranby community learnt about digital footprints, cyberbullying, respectful relationships as well as the internet and the law. Part of our desire to holistically develop the students of Tranby is to also provide resources for families. The presentation students took part in has led ySafe to generate a Cyber Safety Hub. Parents of Tranby students can now visit a live website Tranby Online Hub I encourage all parents to head to this free resource and have a look at the various pieces of information.
On the back of the highly successful Inter-house Sports, Term 2 sees the launch of the inaugural Inter-house Arts Cup. This program is being led, initially by Ms Hutchinson, and facilitated by our House Captains to draw students into the Arts domain. Thanks to the Arts team for their preparation of material and willingness to promote the learning area.
Our revised Co-curricular Program will commence in Week 3 with opportunities for students to participate in a range of activities including: sport, arts, drama, music, academic enrichment, gardening, and robotics to name a few. More information on these activities will be made available to students in due course. As mentioned earlier, the new health restrictions will see a return to our camps program. Please note, these programs will be communicated with all families once availability of venues become clear.
On the academic front, there are a few areas of interest this term:
Week 3: Years 7 and 9 – NAPLAN
Weeks 5 & 6: Years 11 and 12 – Exams
Weeks 6 & 7: Years 9 and 10 – Exams
In an interesting metaphor, I encourage our students to "shop early to avoid the rush". As a husband and father, I regularly leave Christmas shopping until the last minute – it's always busy and I don't execute as well as intended. This year, I intend on getting to the shops earlier to avoid the rush and ensure I get the best results for the family. I advised students that this is the same with their examination blocks – by commencing their exam study early, they will avoid the disappointment of not receiving the marks they may be capable of.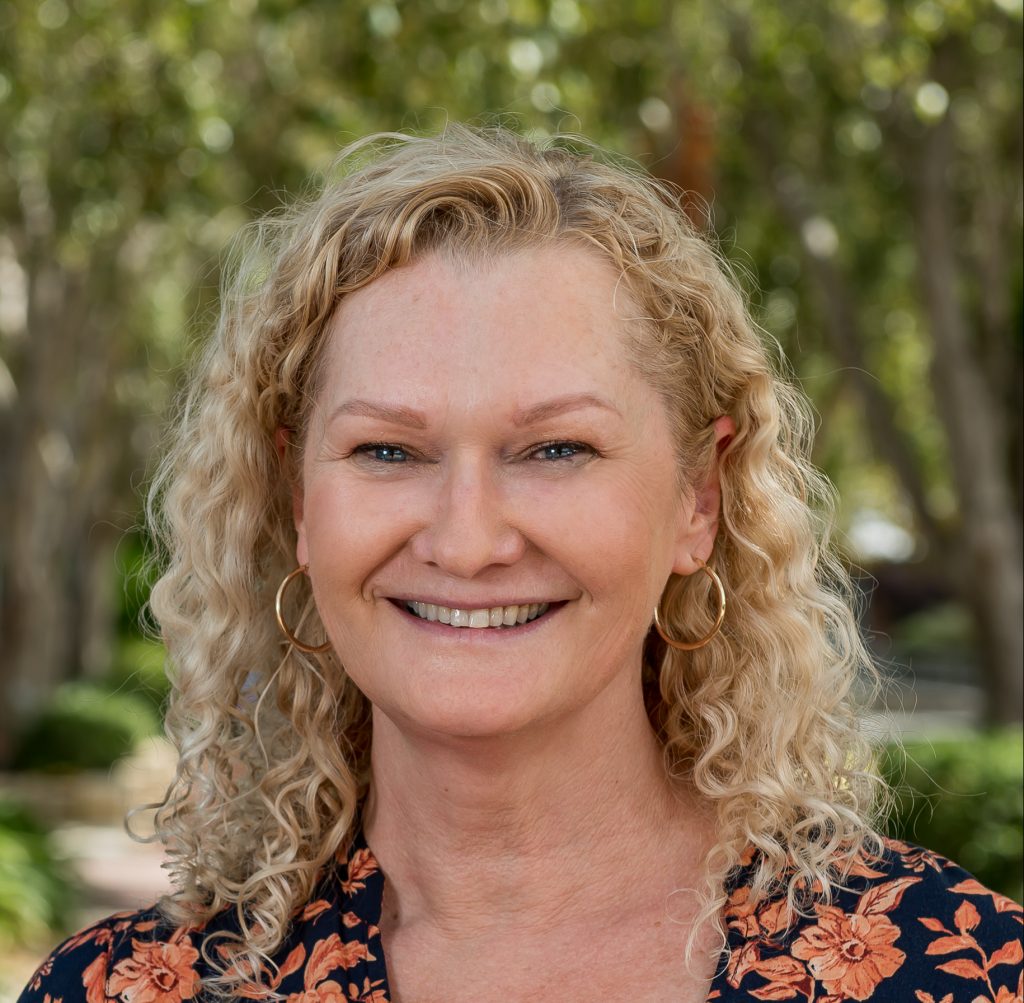 New Play Equipment
Welcome back everyone! It is with great excitement that I share with you our new additions to the Pre-primary playground. During the holiday break a giant gumnut, springy raft and climbing log were delivered. These additions to the play space have been very well received by our Pre-primary students who have been enjoying creative play in and on the new equipment. We have also received other fun and interactive pieces which will be placed in the Pre-primary playground, and in the Year 1 and 2 play space. Many thanks to Stockland Shopping Centre for their kind donation of the items.
Clubs and Activities – Term 2
This week saw the return of our Co-curricular Clubs and Activities for Term 2. New regulations now permit us to run the clubs with mixed ages and year groups which enables us to extend our offerings. Just a reminder that placements in clubs end at the end of each term (excluding choir and cheerleading). Parents are required to contact the relevant staff member for a place and priority will be given to students who missed out on a place in Term 1. You will be advised if your child has secured a spot.
Mother's Day Stall
The Mother's Day stall was held earlier in the week in the Junior School. Students from Kindergarten – Year 6 visited the stall to purchase a gift for their mothers and/or mother figures in their lives. The children thoroughly enjoyed the experience of choosing a special gift and it also provided an opportunity for the students to use money for a real-life purpose. Some even managed to go home with change in their pockets! Many thanks to Mrs Stacey for co-ordinating the event this year and to our helpers, including the Year 12 Prefects who assisted on the day. I would like to take this opportunity to wish all mothers and mother figures a wonderful Mother's Day and I hope whatever you do that you are thoroughly spoilt.
Deputy Head of Junior School
Year 4 Camp
The Year 4 cohort had their much anticipated Outdoor and Recreation Excursion at the Bickley Outdoor Recreation Camp School on Friday 13th May. It is fair to say that they were excited beyond words as we departed Tranby College.
Not only were we blessed with sunshine after inclement weather was predicted but our students gave everything a go! The day provided students with an opportunity to engage in activities that were both educational and challenging. They displayed our College values of commitment and collaboration as they overcame specific challenges set by the instructors. In addition, I was extremely proud of how they conducted themselves throughout the day. Please see below students' quotes:
"I really enjoyed the Year 4 Day camp because I loved canoeing and I enjoyed working with others in the team game." Marshall
"The Year 4 camp was great! I really enjoyed canoeing, team building and the bush hut challenge. Lunch was good to!" Harper
"My favourite part of the camp was hut building because we were able to work co-operatively to achieve our goal of making our hut waterproof and windproof. Lunch was yummy!" Taylah
"I enjoyed talking to my friends on the long bus trip to camp. I really liked hiking up the giant hill to find the bush hut building area. We got to build our hut with a certain time limit. It was great fun and challenging." Chloe C
"On camp, I enjoyed the canoe races. Neve and I were super-fast and managed to tag the canoe champion, Dan. Hut building was great when we worked together. We used a tarp, sticks and rocks to build our hut." Ethan
"At camp, canoeing was great and there were lots of canoe games. Lily and I raced in the challenge and it was such fun." Ansuri
"At the Year 4 Day camp, hut building was my favourite because we had to work as a team. It was great to be out in nature. We also got to have delicious subway for lunch." Hudson.
I would like to say a huge thank you to our teachers; Mrs Barber for all her diligent planning in the lead up to the day and Mr Taylor, Mrs Bray, Mrs Pokia and Mrs Bullock for their support and enthusiasm.
Community event
This morning around sixty of our Pre-primary – Year 6 students, along with their parents/guardians, took up the challenge to make an active effort to consider our transport habits and participated in the 'Walk Safely to School Day'. Although the weather was not ideal, it has provided us with much needed rain. There were plenty of brollies about, and every attempt was made by our families to lessen our impact on the environment. Being conscious about incorporating more walking and bike riding into our daily commute to school, is a step in the right direction!
On arrival an energetic bunch of staff were awaiting families, with a smile and a cooked breakfast. I would like to thank everyone who pitched in, without you this would not have been possible.
It is community events such as this that brings us all together where we establish good relationships and build on our amazing Tranby culture that we should all be proud to be a part of.
Lachlan Morris – Year 6 has been invited to compete in the 2022 UCI BMX World Championships France in July. This is an opportunity of a lifetime for him and a testament to his hard work and dedication to riding.
He will also be competing in the French Nationals in France and UEC European Championships in Belgium during July.
On 6th May Lachlan competed in the North West Super Series Round 1 at East Pilbara BMX Club, Newman. There were 212 riders in total with most riders from Newman, Karratha, Port Hedland and Tom Price BMX Clubs. Lachlan was 1 of 5 riders who travelled from Perth, representing the Rockingham BMX Club.
He entered 3 divisions totalling 15 races, showing the North West what he was made of and battled hard to earn podium positions in all 3 divisions:
20″ Challenge Class – 2nd Place (Medal)
24″ Cruiser Class – 2nd Place (Medal)
20″ Voucher Class – 3rd Place ($30 prize money)
Jump Rope for Heart kicks off this term!
This term, the Junior School will be participating in the Heart Foundation's Jump Rope for Heart program.
Jump Rope for Heart is a fantastic physical activity and fundraising program that has been run by the Heart Foundation for over 36 years. It's a great way for your child to keep fit and learn new skills, but it also helps raise funds for vital heart research and education programs.
Since Jump Rope for Heart started in 1983, schools like ours have raised more than $104 million for the Heart Foundation's lifesaving work.
It's important you register your child online, so they can receive the full benefits of the program and participate in online fundraising, simply follow the link to get started, www.jumprope.org.au/parents
Students will be skipping throughout the term in PE lessons, during lunch break times and during morning fitness sessions. Throughout the term you can share their online fundraising page with family and friends to help raise money for this great cause.
Thank you for supporting the Jump Rope for Heart program!
Thursday afternoon we held our second Robotics Club session with nine super excited Senior School students coming along. During the session, the students programmed their robots (built previously) to move around and to react to distance, colours and sounds.
Congratulations Rayan, Aaron, Zac, Rajdeep, Liam, Lewis, Matilda, Lucas and Michiel. Great job!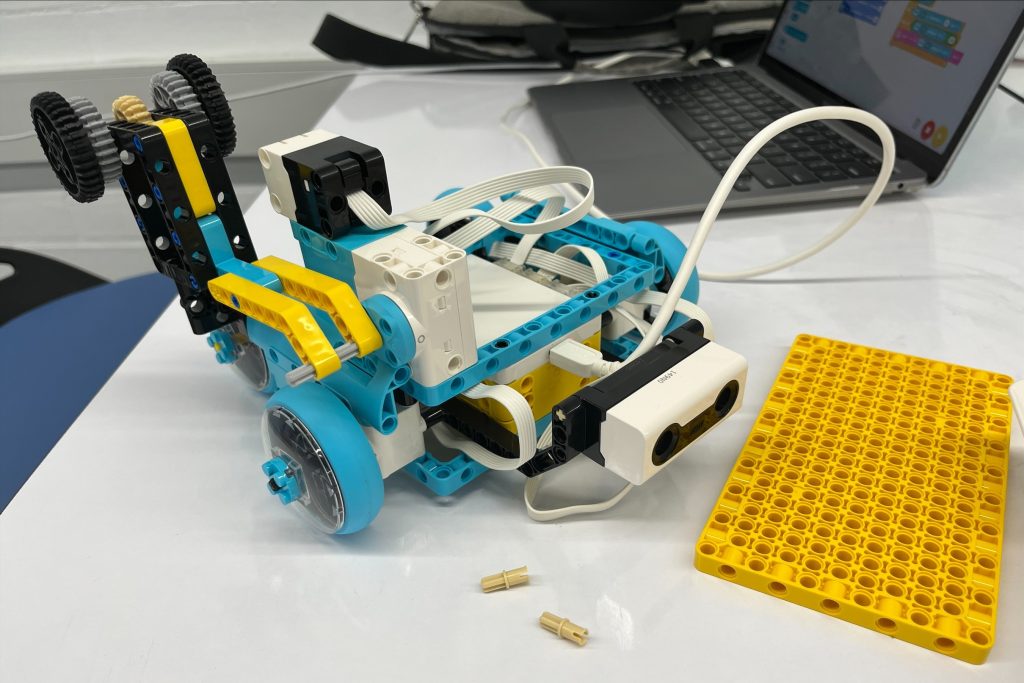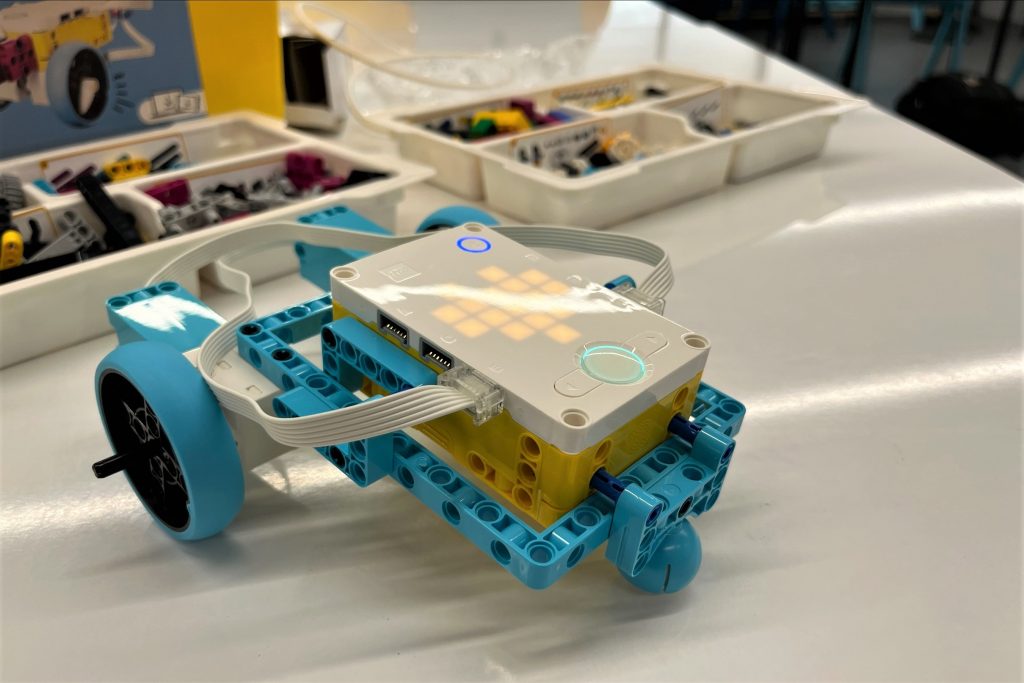 COVID-19 Close Contacts Update
With recent changes to isolation mandates, the requirements around reporting have changed. As a result, we are no longer required to advise families of class cohorts when cases have been identified. Whilst this is the case, we will continue to publish key information regarding COVID-19 and the related safety requirements on our College website.
On Thursday 5th May, we celebrated Mother's Day with the special ladies in our life. We sang songs and treated them to a pamper session. We enjoyed painting their nails, brushing their hair, giving them pedicures, painting pictures of them and playing games. But most importantly, we enjoyed spending quality time with our Mummy's. It was such a special day!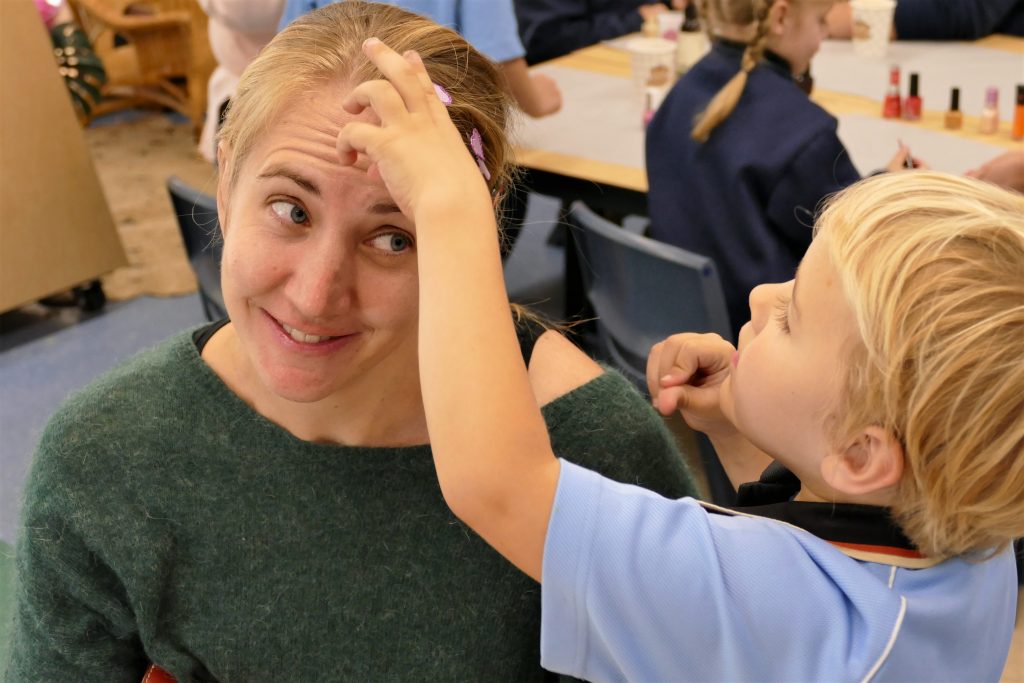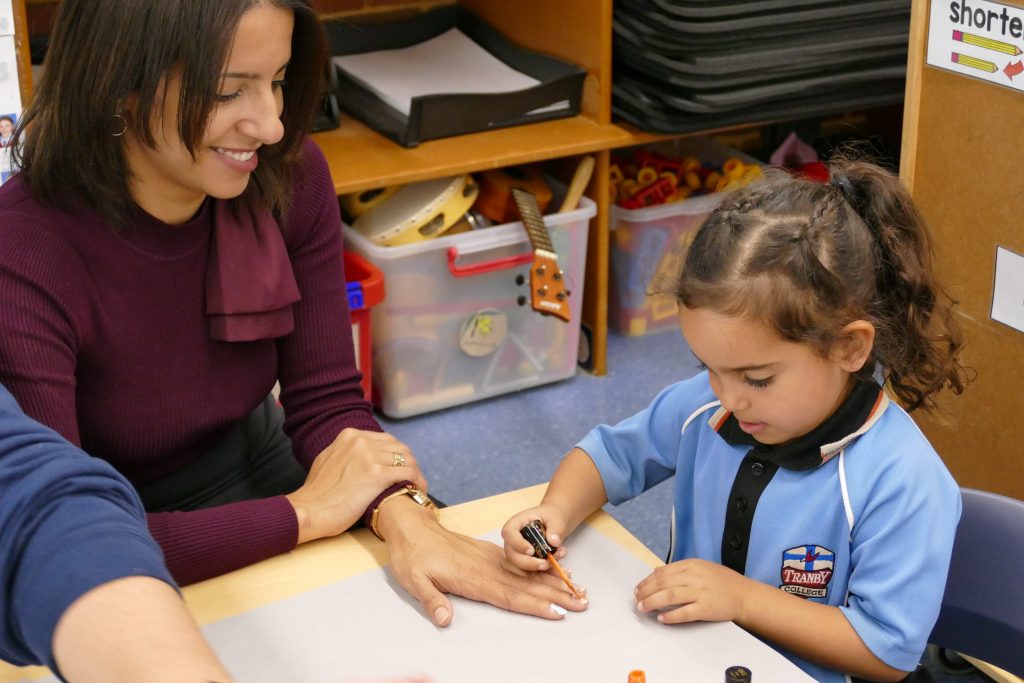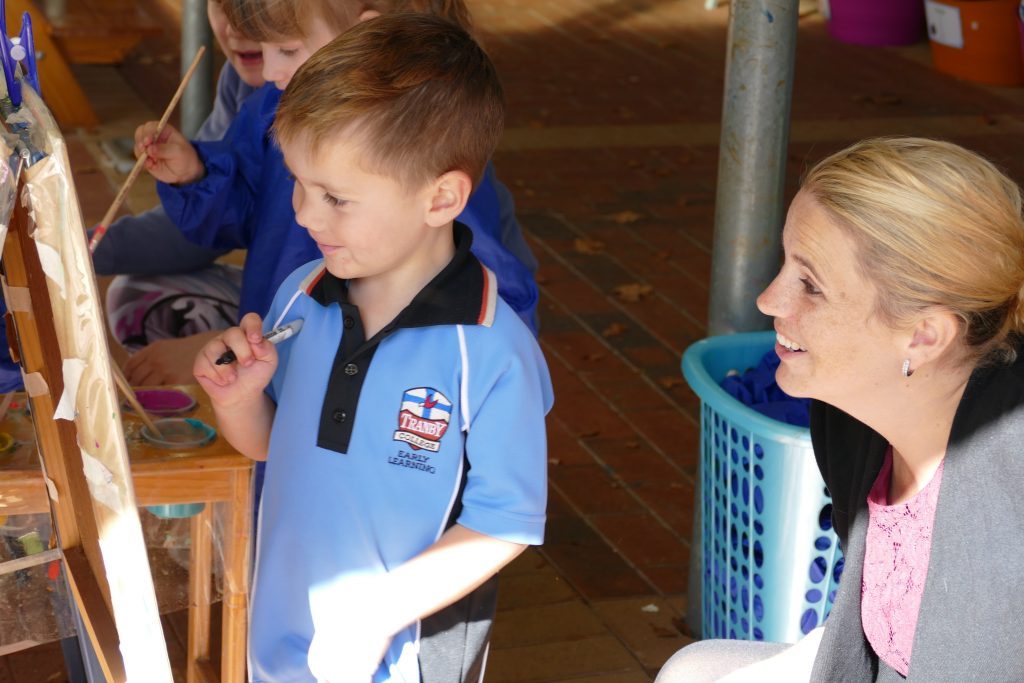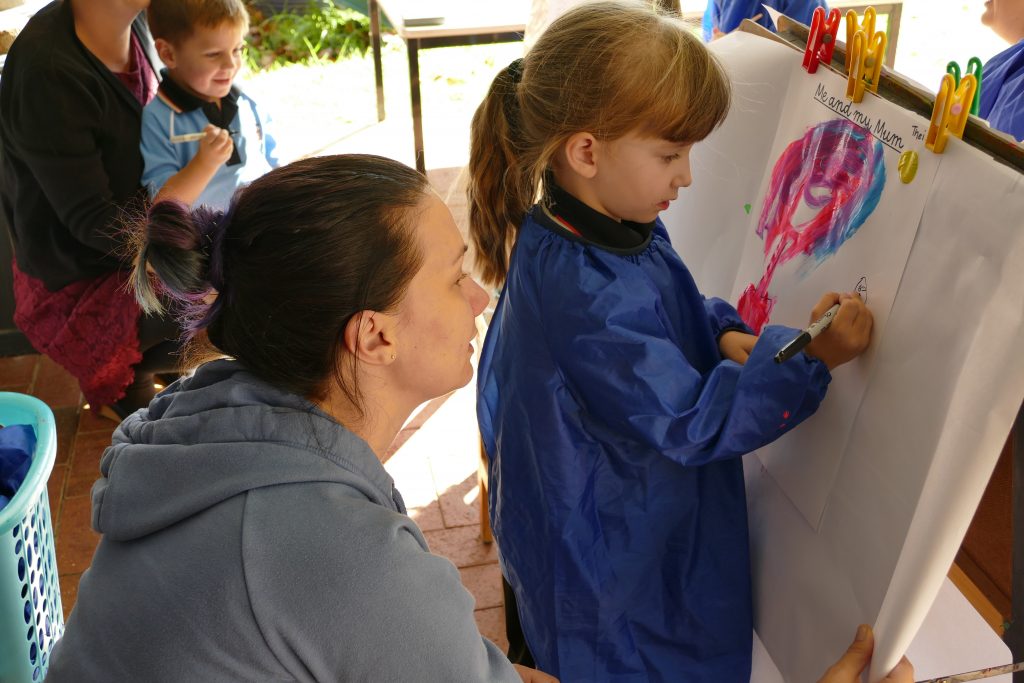 Stephen Morrison – College Counsellor
CONSIDER THE CONTEXT
How do we learn coping strategies?
What we have tried ourselves.
What we have learnt from others.
If we have not had the experience in the past, we may not know how to cope with it. Additionally, if we have not had people in our lives to model healthy and appropriate coping strategies, then we may choose harmful ones, while we are trying to learn what works for us. To complicate the matter further, all of us have individualistic needs when it comes to our distress.
For example, when distressed: I may crave food, you may not. I may socialise, you may not. I might hate exercise, you may love it. I may stay at home, you may go out. I might hate sand, you may go to the beach. I might listen to music, you may prefer quiet. I might want screen time, you may avoid it. All of this may change over time, sometimes with no predictable or consistent pattern.
WHEN IS THE BEST TIME TO LEARN?
The best time to learn our coping strategies is generally not when we need them. However, the paradox of distress is that when everything is going well, exploring how we cope is not likely to happen, due to not being relevant, therefore not compelling enough for us to give it any attention. To summarise I am going to offer you a light-hearted example of what I mean:
Mr Morrison: 'What helps when you are sad?'
Student: 'I don't know what helps when I'm sad, but can I tell you what I was just thinking about?'
Mr Morrison: 'Sure, what were you thinking about?'
Student: 'Funny cat and dog videos on YouTube!'
Suffice to say this conversation veered a little off track, but we got there in the end. I often say that if we are distressed, we need comfort (whatever that is for you), though if we are too comfortable we need some distress (burpees?). If you are currently feeling 'comfortable' (hard with so much going on around us), I believe that spending time reflecting on how we cope with challenging situations and emotions, even though it may hurt, will allow us to function better in the future. If you are willing and able to do some of this difficult work, here are some things to consider:
What do I need if I feel angry, anxious, ashamed, rejected, lonely, grieving etc.?
If I feel down what helps to bring me up?
If I feel escalated what helps to bring me down?
If I'm distressed, what do I find comforting?
If I'm distressed what are some harmful behaviours/activities that I need to be cautious of?
If I'm distressed, do I want:
People or not?
Quiet or noise?
Inside or outdoors?
Activity or stillness?
Sleep or awake?
Food or not?
City or nature?
None of this is learnt over night and a lot of us have not had the experiences or guidance to know how to cope effectively. Though if we can all do some of this difficult work we will be better equipped to model and teach a range of healthy coping strategies so others can learn from us. The better we all cope with hurt, pain, suffering and distress the less damage will be done as a result.
It is important for me to say that our ability to cope with distress is, and always will be, a work in progress. I am not perfect. I hate when I project my distress onto others. Though the least we can all do is reflect and work on it to make it less likely in the future and become better people as a result.
Term 2 School Fees are overdue.
If you have any queries or would like to make a payment, please contact our Finance Department on 9523 3108.
ACC SWIMMING RESULTS
Our Senior School students had the opportunity to participate in an Inter-school Swimming Carnival that was conducted by ACC in an alternate format this year. Students had to be registered members of a swimming club and meet specific cut off times to be nominated into this event. Congratulations to the following students who represented our College incredibly well in their Age Championship Carnival: Charlotte Vreeken & Imogen McRae – Year 7, Toby Hughes & Jamie McRae – Year 8, Alyssa Shackles & Aaron Rocke, – Year 11, Zoe Shackles – Year 12.
This carnival removed the barriers of divisions and allowed students to swim in a highly competitive carnival. A special mention to Aaron Rocke who put Tranby College in 5th place with 36 points across his events and Zoe Shackles collecting 8 points with her events allowing the College to sit in 10th place in the U17 women's team scores.
ACC ALL STARS SWIMMING TEAM
Due to Aaron's achievements at the ACC Swimming Carnival he has now been identified as an ACC All Stars Swimming Team member for 2022. This is a tremendous achievement and we congratulate him on his efforts.
ACC REPRESENTATIVE CRICKET
Corey Wasley was not only selected into the ACC Representative Cricket Team but was nominated as the Captain. The ACC team played the Combined Government Schools' team at Murdoch University Cricket grounds on Thursday 17th March and Corey performed to a very high standard, he took 3 wickets and made 114 runs.
INTER-HOUSE SPORT
Students have been participating in a variety of sports on Wednesday afternoons playing: badminton, basketball, volleyball, spikeball, lacrosse and ultimate frisbee. This was a fantastic opportunity to not only enhance physical, social and emotional health but also allow students a change to connect as a year group and build a sense of House Spirit.
To conclude the Inter-house sporting competition the overall House order is:
1st Bilu – 247 points
2nd Budjar – 234 points
3rd Karla – 215 points
4th Marra – 193 points
Congratulations to Bilu for winning the Inter-house Sport tournament.
Support Tranby College - Give Mum even more this Mother's Day with an Entertainment Membership!