9th December 2022 (Week 9 Term 4)
Friday 27th January – Year 12 Ball
Monday 30th January – New Students Orientation Day
Wednesday 1st February – ALL Students Commence
Friday 3rd February – FRINGE WORLD Festival
Saturday 4th February – FRINGE WORLD Festival
Wednesday 22nd February – Years 7-12 Inter-house Swimming Carnival
Wednesday 1st March – Years 3-6 Inter-house Swimming Carnival
Friday 3rd March – Pupil Free Day
Monday 6th March – Labour Day Public Holiday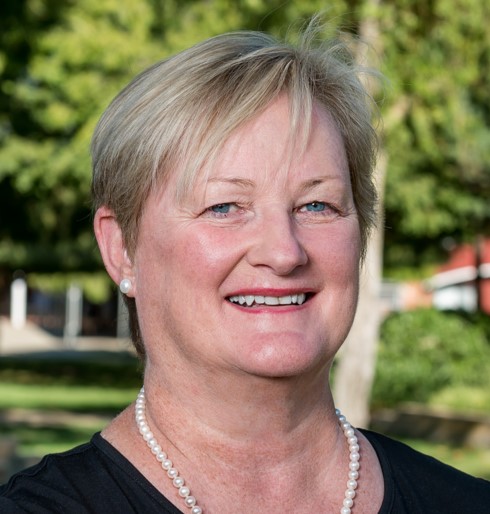 Landing Well
Imagine if you can, the College as a gymnast, balancing delicately, stretching and pivoting, negotiating a narrow beam or a challenging set of bars. After a completing a complex routine all year, our efforts have finally landed.
Now that the year is over for our students, families can take stock of holiday plans and engage in final Christmas shopping. On Monday and Tuesday, our teachers will be finalising their professional learning and then they too, will enjoy well-earned down time.
As a school, Tranby has landed well in terms of its ability to navigate COVID as a community, working together and with care. Living our values with gusto, we relished our community events, loving the chance to collaborate and celebrate 25 years of history through a myriad of events. Thank you to all families who supported our Tranby 25th Anniversary Fair, Colour Run, Carnivals, Information Nights, and performances of Madagascar JR. Huge thanks to our students and staff who demonstrated incredible commitment in their participation and execution of these events.
Our enrolment position is now strong with 'wait lists' established at a number of levels and with a bumper intake for Year 7, commencing 2023 with 4 streams. We anticipate starting the year with well over 800 students with the goal of growing steadily without changing the intimacy of our relationships and focus on personalisation.
Perth FRINGE WORLD Festival
I am excited about next year. We will welcome new, first-time families into Tranby and are keen to return to our favourite events and activities (COVID allowing). An exciting new addition to our calendar will be the Perth FRINGE WORLD Festival, which is being hosted by us on the first weekend in February.
Look out for further information about the fabulous program on offer with singing, comedy, plays and dance. (A link to Tranby events is included later in this news letter.) Led by our newly appointed Director of Performing Arts, Erin Hutchinson, this event will place Tranby firmly on the map of arts in Perth.
Staff Update
Finally, it is my immense pleasure to announce the appointment of a new role, the Deputy Head of Senior School. Intended to assist Mr Bolton and Mr Britza with the academic administration and provision of care to students in the Senior School, this role will be pivotal to the smooth running of the Senior School. I welcome to the College, Ms Michelle Ribeiro who is a deeply experienced leader and administrator. Initially from WA, Michelle has been working in NSW for the last 13 years where she is currently the Head of Operations (Years 11 and 12) at All Saints College in Sydney. We look forward to her joining us.
Sadly, I must also share that three long standing members of staff are also concluding their time at the College. Mr Derry Smith who has been the IT Manager at the College for 11 years, is finishing at Tranby after taking all this year on leave to travel extensively around Australia. Derry's humour and gentle manner are his hallmarks, and we wish him well. Mrs Debbie Mason has been our Payroll Co-ordinator and Accounts Clerk for 9 years. Her commitment to the College, diligence and loyalty have been clear to colleagues over the years. And, Mrs Julie Robinson, a former parent and longstanding member of staff for 13 years will also conclude her time, we thank her for her endeavours in several roles in the College.
In a year where we have all been challenged, it is not surprising that individuals reflect on life and their goals and sometimes seek to make a change.
In addition to Amanda Davidson is taking a year of leave, Robyn Day is also taking extended leave and we wish her a restful and rejuvenating break. Keely Mabarrack and Marinella Piccirillo are concluding their contracts at Tranby we thank them sincerely for their energy and enthusiasm and wish them all the very best for the future. Our wonderful Marketing Manager, Alison Kelly, will conclude her contract with us in mid-February next year as she seeks a shift back to the fast-paced corporate world. Her contribution has been amazing.
Thank you again for your support of the College this year. I wish you all a very merry and restful Christmas.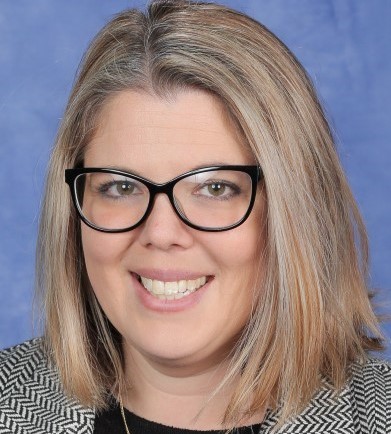 Christmas and mental health support
As we head off on summer holidays and another year has passed, it is often a time of celebration and acknowledging the achievements of the year. Students have learned a plethora of new concepts and information, College staff have given their all to provide the best environment for our students to thrive, and families have supported their children and the College throughout these endeavours. Now our thoughts turn to spending time with loved ones, and Christmas-related social events. For some people, it is the most exciting time of the year. For other people, the holidays, and Christmas, can be quite isolating and daunting when the regular routine of life disappears, and the festive season descends. If this is the case for you or any of your family members or friends, it is important that you know where to turn.
Your doctor is often a great place to start and can provide referrals for extra support if required. If the situation is more urgent the Child Adolescent Mental Health Service has a Crisis Connect service contactable on 1800 048 636 with information available from their website – www.cahs.health.wa.gov.au/CAMHS-ETS.
Additionally, there are a number of helplines available including:
I wish you all a very merry and joyful Christmas and a rejuvenating New Year.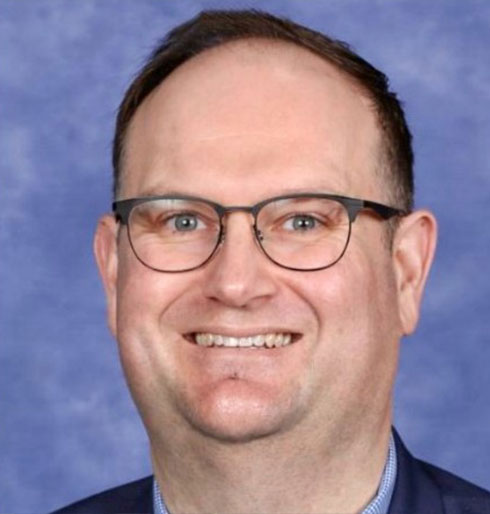 Director of Learning and Innovation
Future Leaders Program and Innovation in Education Festival
Hopefully our parents are aware that Tranby College is considered one of Perth's leading innovative schools. We are recognised as by various organisations such as Curtin University, the Australian College of Educational Leaders, and other schools. A couple of weeks back, Ms Jenny Florance (Head of Karla House and HASS Subject Lead Teacher) and I joined our peers from Perth and across the country at the Innovation in Educational Festival. I was invited to participate in the inaugural Innovation in Education Round Table with other leading schools, researchers, and companies to discuss future trends and best practices in education. It was great to share what we have been doing and hear how other schools are innovating teaching and learning.
Another part of this year's festival was the inaugural Future Leaders Program at UWA. Tranby was invited to take nine students to join nine other schools to talk about what it means to be a future-focused leader. Our students engaged in various thought-provoking activities to generate solutions to problems that face our young people. Tranby's students considered how to make access to study materials and resources more equitable. They then undertook a personal branding workshop where they identified their key values, strengths, and dreams to write their personal mission statement. In addition, they heard current young leaders talk about their work. The presentation on the metaverse was interesting, and I cannot wait to see what it will allow us to do in education and the wider world, even if I don't quite understand it all yet.
Senior School Booklists
This is a reminder to all our families that in 2023, Tranby will continue our journey into using more digital resources. A part of our move is to adopt the Box of Books platform to ensure a seamless experience for our students, as they move from hardcopy paper textbooks to digital resources. As textbook publishers transform their industry, we are seeing more and more titles move to digital only. In doing this, we have access to richer interactive resources, regular updates to content and more engaging activities.
Parents and guardians you need to go to Box of Books and sign in to access your child's 2023 Booklist to purchase the required materials. If you need help, please go to How to Purchase Resources.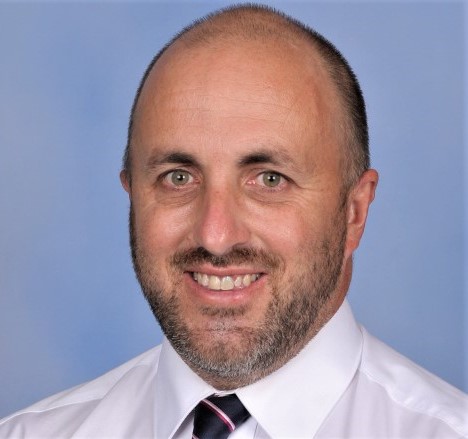 Dear parents and members of the Tranby College Community, it might be hard to comprehend, however, we have arrived at the end of the year. I wanted to take this opportunity to share with you some essential information regarding the end of 2022 as well as the commencement of 2023.
2022 Academic Reports
On Friday, student Semester 2 Academic Reports were released to families, these reports are available via SEQTA Engage. When reviewing these, I was impressed on a multitude of levels. Not only for the academic achievements of our students, or their persistence in attaining personal best results but also for the insightful comments made by our subject teachers. Please consider this feedback with the intent that it is designed – to assist our students in further progress. I look forward to seeing the continued progress by all our students as they strive for their Personal Goals.
I encourage our students to have a break after what has been yet another exceptionally challenging and rigorous year.
2023 Timetable Alterations
Each year, Tranby College reviews its academic programs and timetable options aimed at optimising the education model for our families. This year during COVID, we adjusted programs, whilst maintaining the consistency that students required.
A popular inclusion in 2022 was the introduction of the Inter-house Activities program which resulted in well-being improvements, increased social development, and an uplift in House culture. Further to this, the options provided in our Service Learning sought to do this on a larger scale. As such, these two programs – Inter-house Activities and Service Learning – will now have a permanent inclusion in our Years 7-10 timetabled classes.
Following a review of our pastoral care program, more time is being allocated to this area to enable stronger relationships among all staff and students. Furthermore, the ability for mentor teachers to facilitate a personalised learning environment with their students will be beneficial for all members. To further enhance this, 'Mentor time' will return to the commencement of each day, at 8:40am for 20 minutes.
This program will become a pivotal part of each day for teachers and students.
Key times for the 2023 timetable are:
Commencement of day (Mentor): 8.40am
Period 1: 9.00am
Period 2: 9.55am
Recess: 10.50am
Period 3: 11.10am
Period 4: 12.05pm
Lunch: 1.00pm
Period 5: 1.30pm
End of day: 3.20pm
Whilst there is a 5-minute extension to the day, this enables the extension of our pastoral care program at the start of each day. As with all inclusions, these will be reviewed throughout the year.
2023 Information
Prior to the end of the year, I will communicate with all families all the essential details you will need in preparing for the 2023 Academic Year.
Whilst it is time to say farewell to the families who are leaving the Tranby College community, it is also time to welcome our newest families. I would like to pass on my best wishes to all families. I would also like to take this time to thank each family for your ongoing support throughout 2022. It is increasingly evident that education of Senior School students is a partnership between parents and the College.
In closing, may you all have a blessed Christmas and a Happy New Year. I look forward to seeing you and your family in 2023.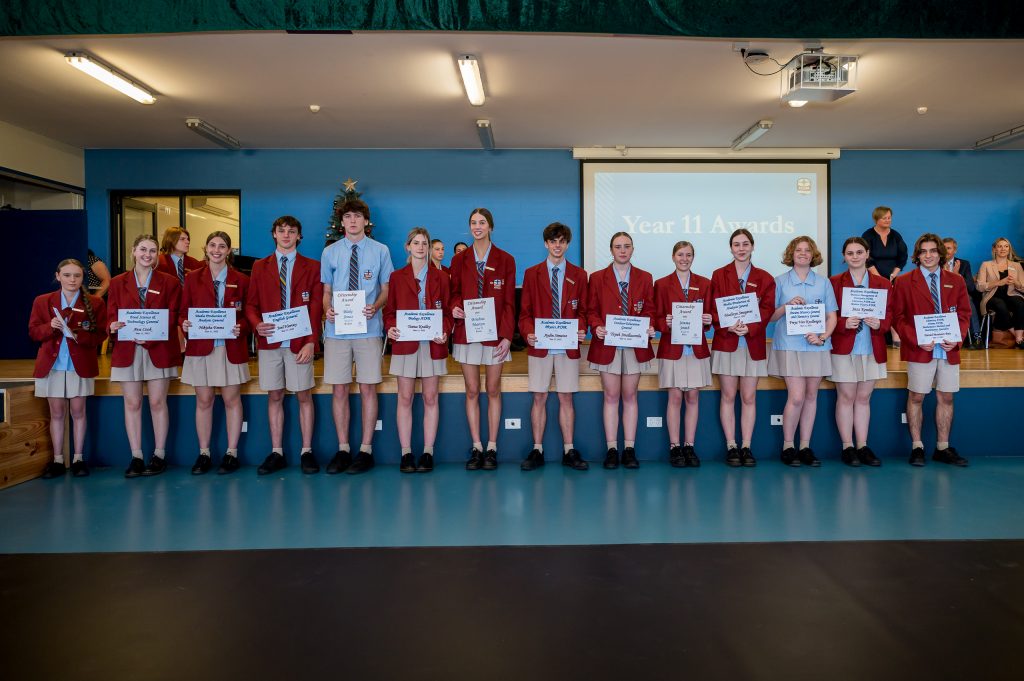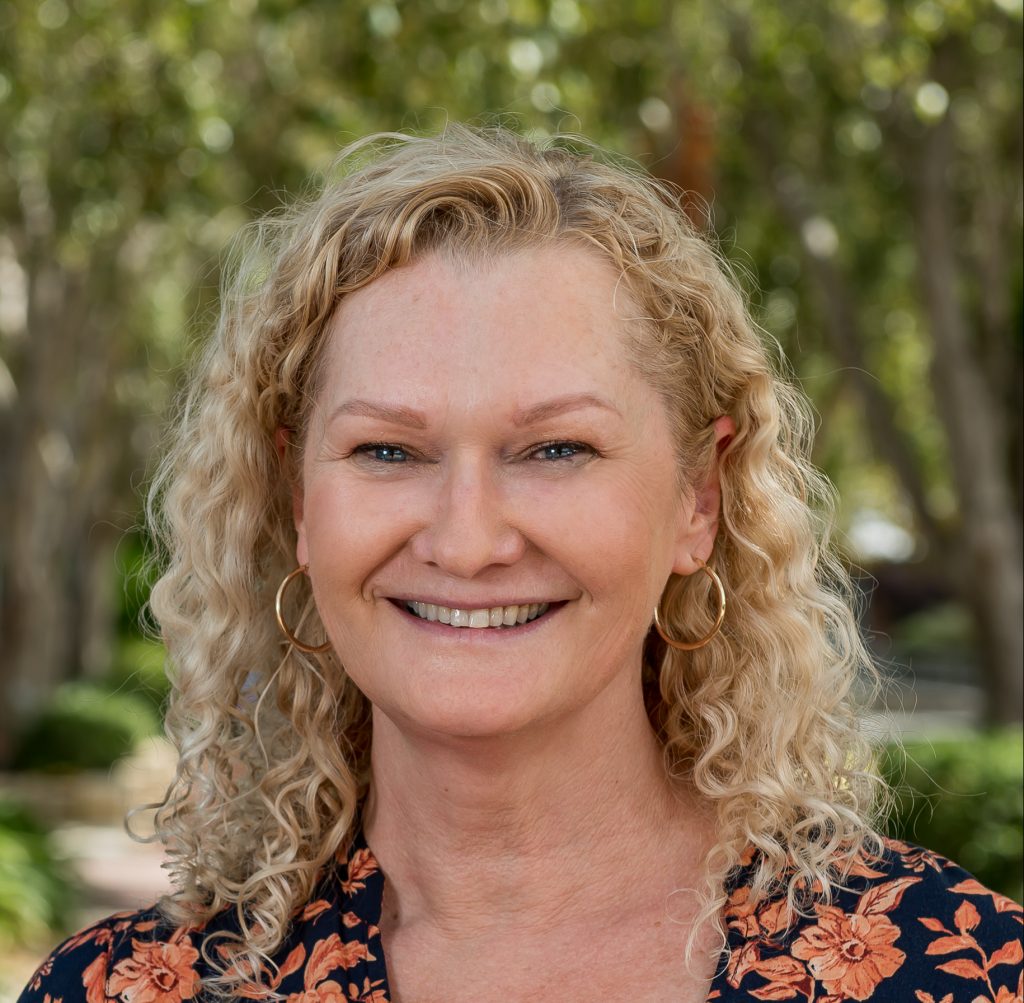 Happy Holidays
As I am writing this article, I, like many others, cannot believe we are now at the end of the year! Schools are busy places, and this year has been no exception. Term 4 has been a whirlwind of activities, from our performing arts production, to camps, excursions, and co-curricular activities. There certainly has been no shortage of amazing opportunities provided for the students and I'm sure they are all now pretty tired and looking forward to their holiday break.
Last week, I also had the opportunity to celebrate with the Semester 1 and Semester 2 Student Leadership Group for 2022. The students thoroughly enjoyed their shared lunch, and it was wonderful to hear their thoughts about what they enjoyed and learnt from their position. Some shared that they loved the chance to talk at assemblies and improve their public speaking skills and the additional responsibilities, whilst others enjoyed meeting new people and working with younger students. Overall, it was agreed that they enjoyed and appreciated the opportunities the positions provided. It was a pleasure to work with them all during the year and I thank them sincerely for their commitment and service to the role.
As the 2022 school year draws to a close, I would like to thank all our wonderful families for your ongoing support. The power of teamwork can never be underestimated and when we work together, so much can be achieved. I wish you all a wonderful Christmas and restful break and I hope you all have time to connect with your loved ones over the holiday season.
Junior School Student Leadership Shared Lunch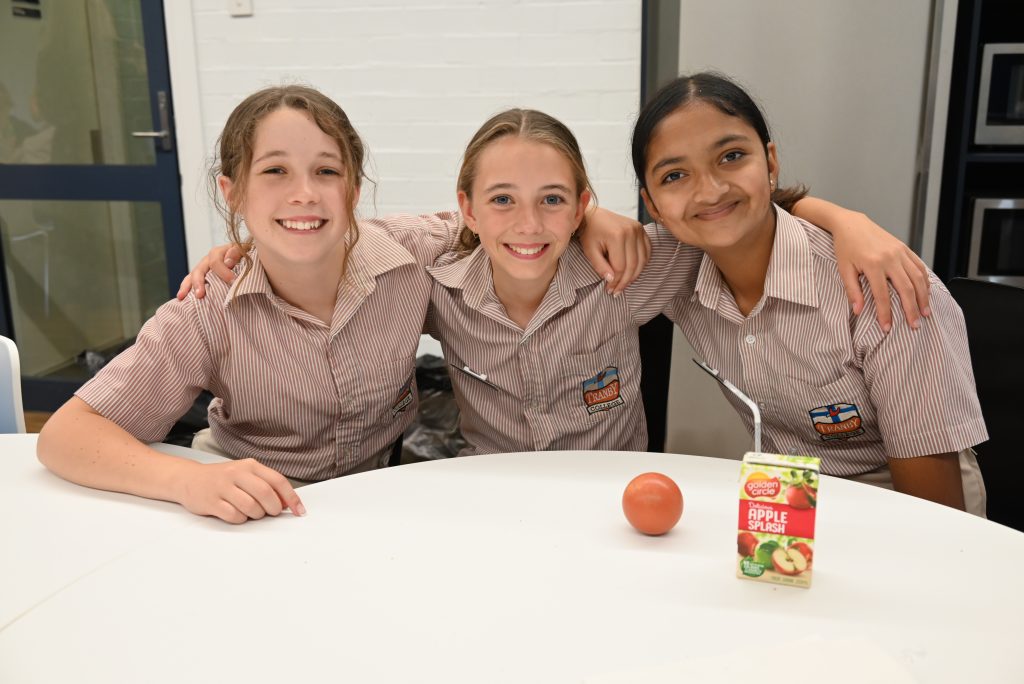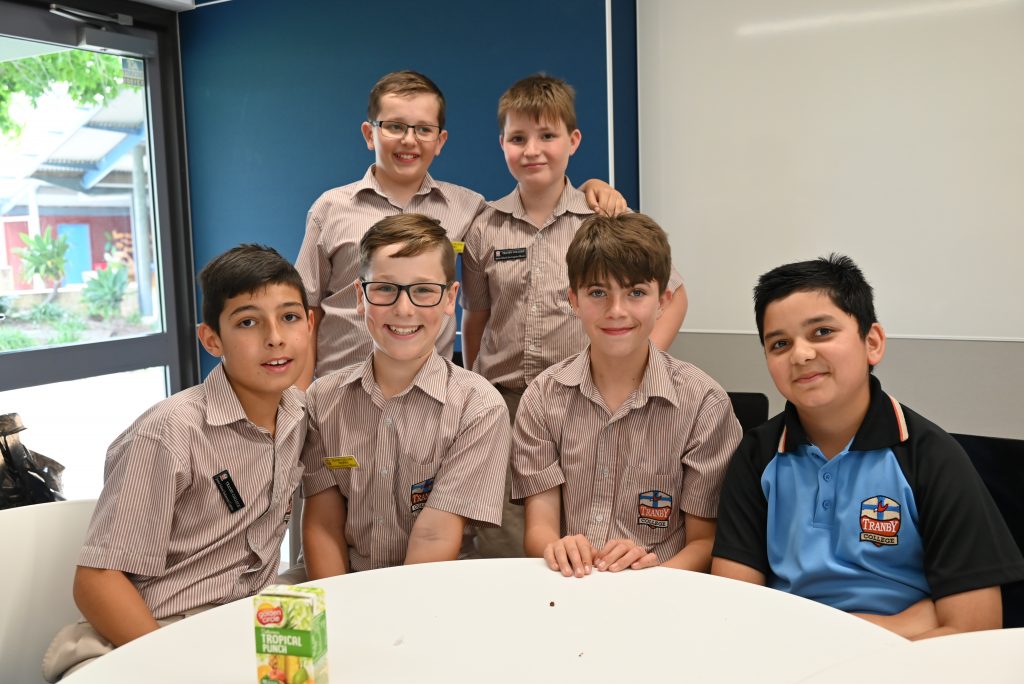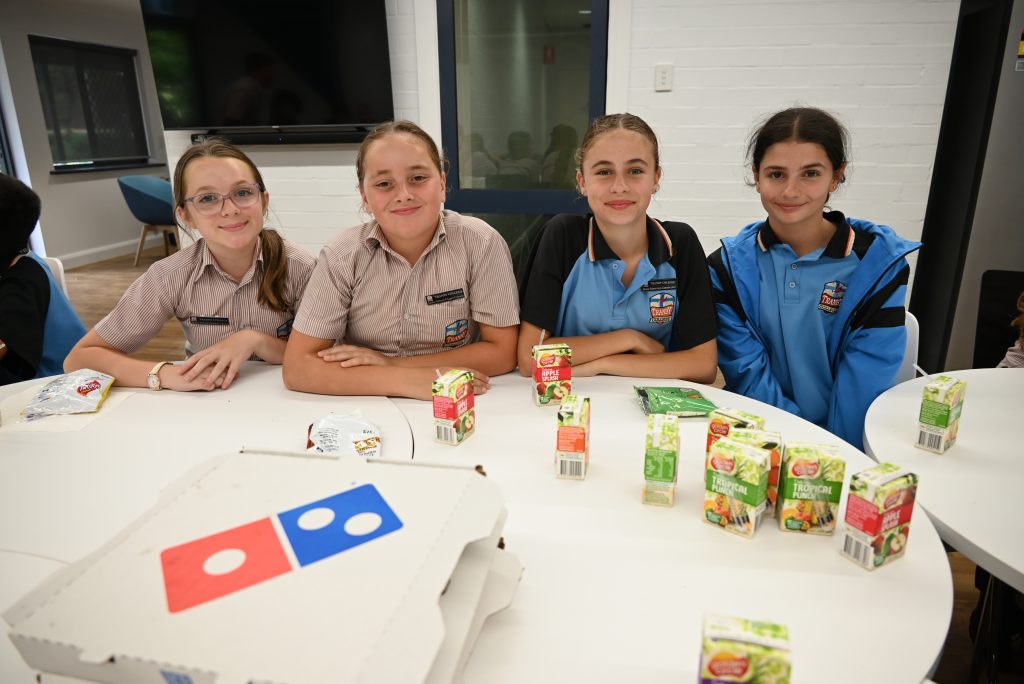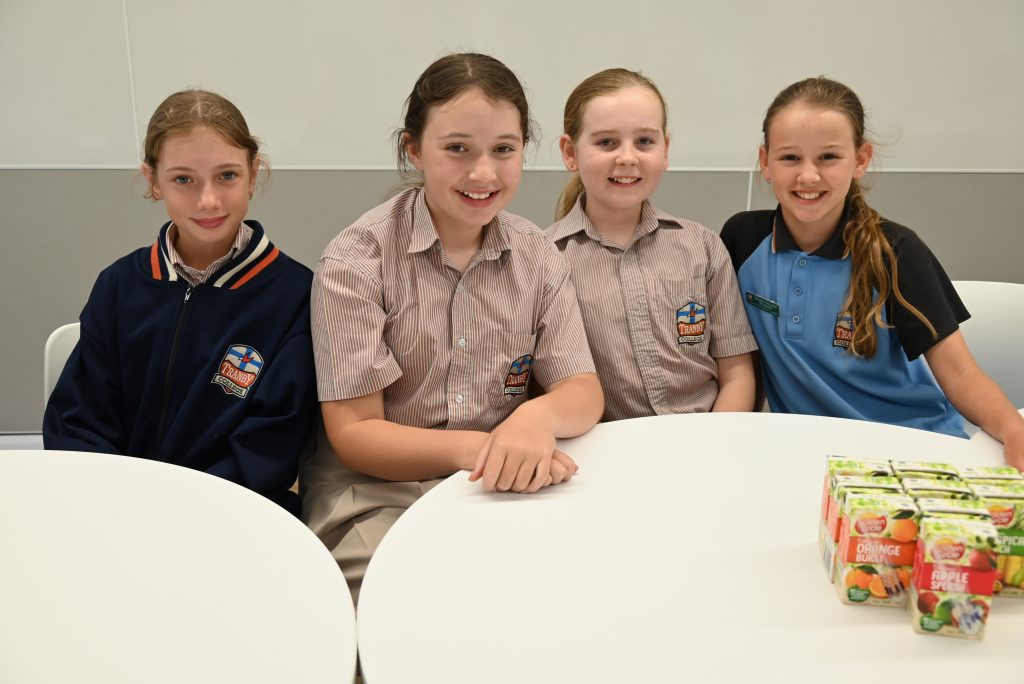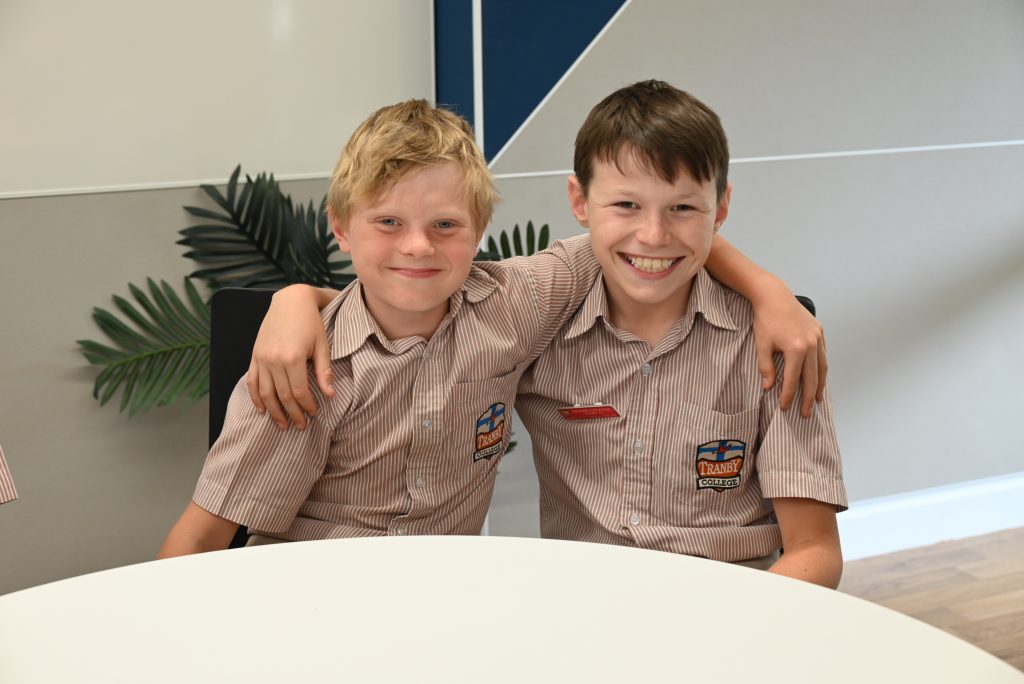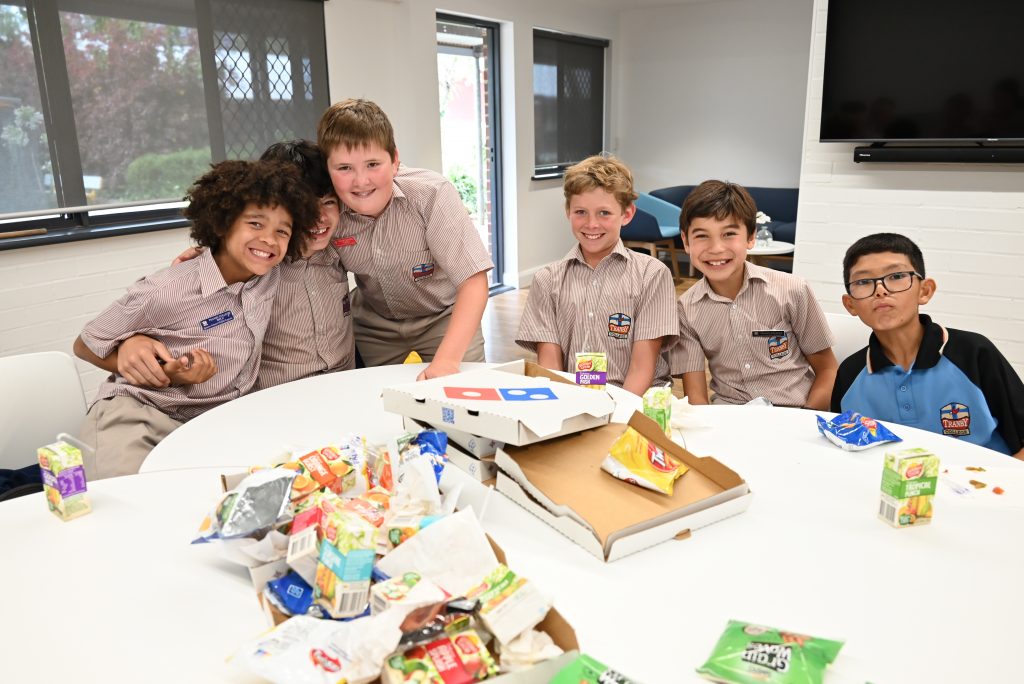 Junior School Presentation Assembly Photos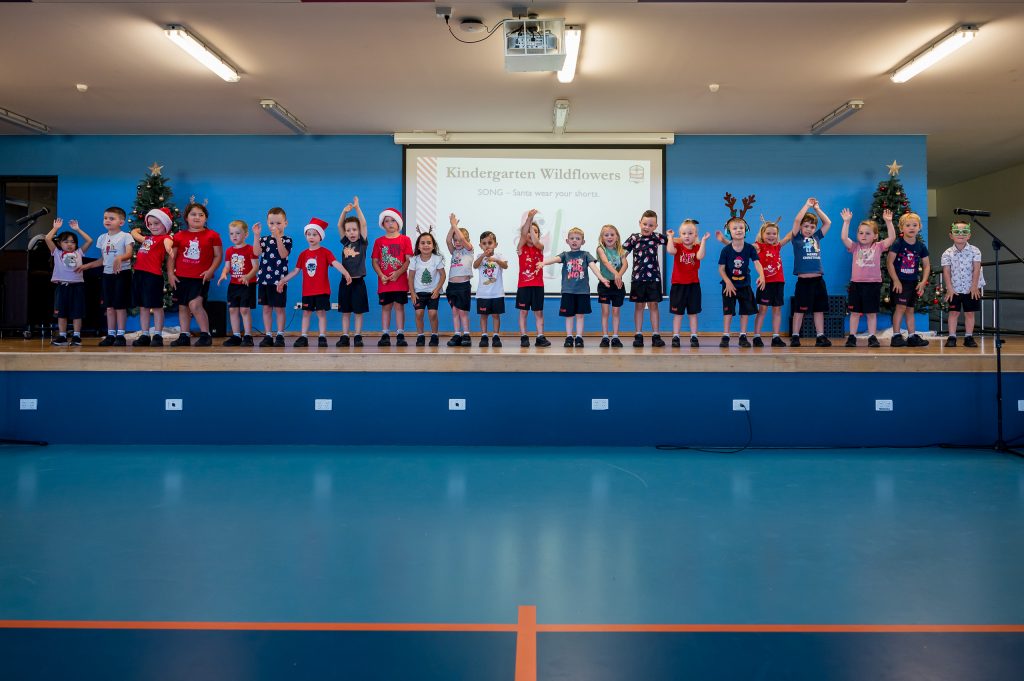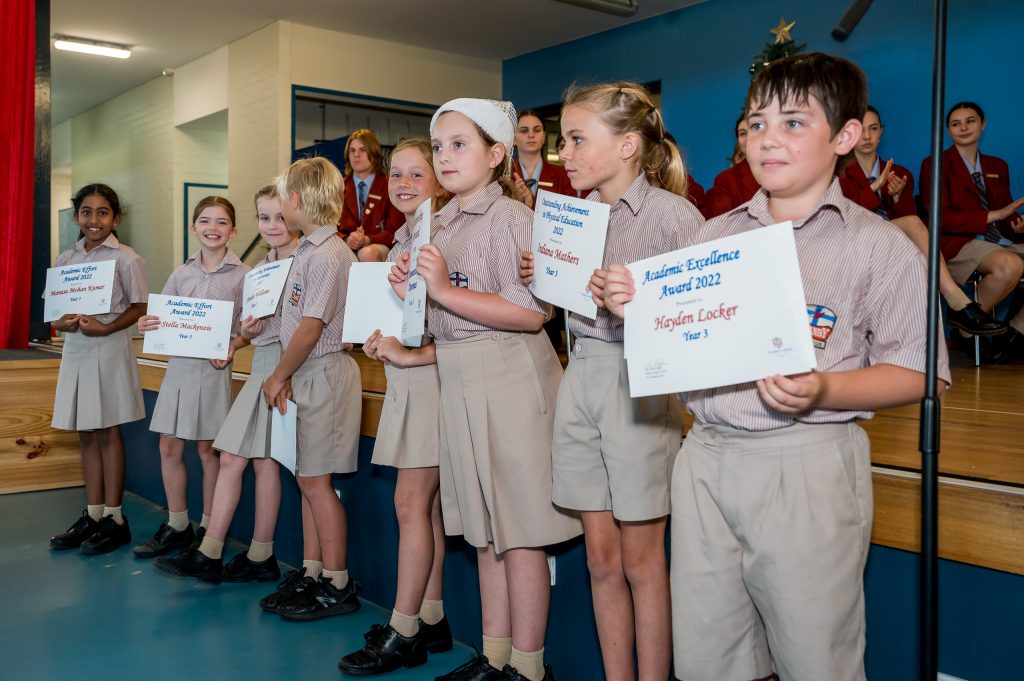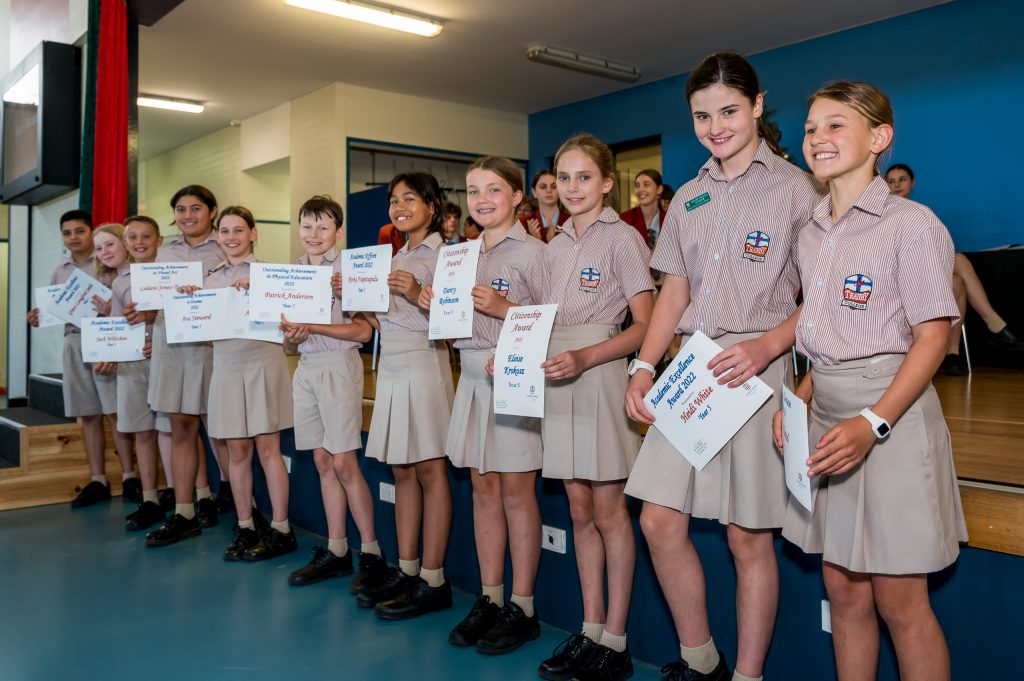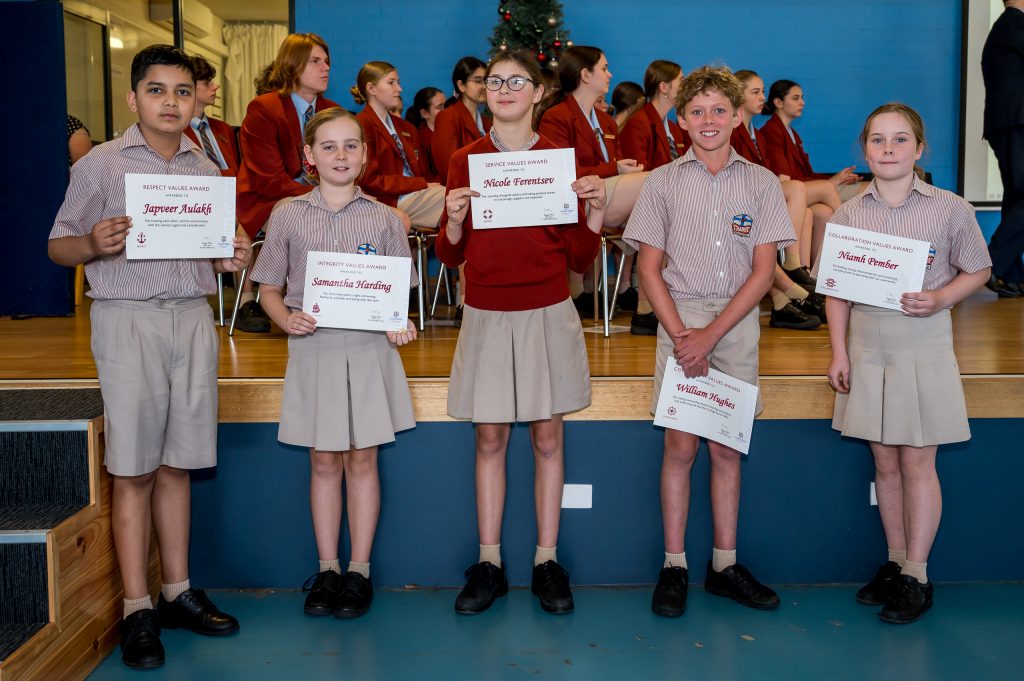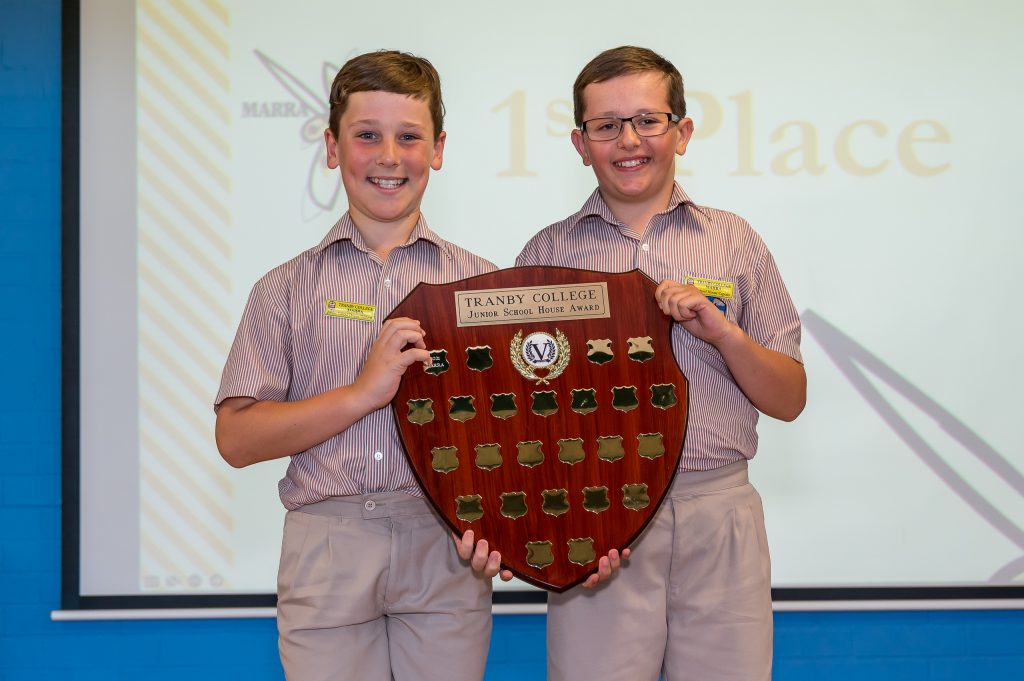 Deputy Head of Junior School
Tranby Day Colour Run
Many students across Kindy – Year 12 signed-up to participate in the Tranby Day Colour Run, which was held on the last day of Term 3. The goal was to come together as a community and to fundraise for Tranby College. Subsequently, a significant amount of money was raised of which the proceeds will go towards Outdoor Play Equipment in the Junior and Senior Schools.
Last Friday, saw our fundraising students receive their prizes and the excitement in the air was palpable!
Congratulations to Year 1M for their achievement as the highest fundraising class. A certificate was presented to them for their collective effort. It was a double celebration for 1M as Calvin Cook was also awarded as the top fundraiser, jointly with his brother Lucas from Year 3B. As the top two fundraisers, each was awarded a certificate and medal, and they were able to claim a variety of prizes, some of which they donated. As you can see from the photos, we had many other prize recipients with anyone raising over $10 able to claim prizes for their efforts.

A massive thank you must go to all our families who generously donated their prizes to the Uniting WA Christmas Appeal. Your thoughtful act of kindness is a testament to our community practising – Gratitude, Empathy and Mindfulness (G.E.M).
I want to take one last opportunity to thank everyone who supported this event, through fundraising or participation. It was truly an amazing day for our school, and we should all be proud to be a part of this amazing community we call Tranby College.
In Pre-primary we have been learning about important places and how they can be cared for. We invite you to view Zavier, Teddy and Oscar's work:
The Library is never closed!
Did you know you can access our eBooks and audio books 24/7 through our Sora App and our Story Box library?
You can download these app to any device. Brilliant for long car trips or those moments when you hear "I'm bored!"
For Sora eBooks and audio books, search for Soraapp.com, find Tranby and use the student login. Alternately, this can be accessed via our library Catalogue: Oliver.
Story Box – for Australian picture book videos being read aloud by actors and authors.
Username: Tranby
Password: Tranbytest1
A very Merry Christmas from the Tranby library staff!
Louise Moreton, Jane Stanton, Julie Elliott & Emily Rainsford
Congratulations to all our Values Award recipients (detailed below) and thanks to our community for participating in nominations. 
FRINGE WORLD FESTIVAL – THE PERFECT CHRISTMAS GIFT!
As you have no doubt heard, FRINGE WORLD is coming to Tranby College on Friday 3rd and Saturday 4th February! We have been inundated with interest from performers and acts and so the event is shaping up to be a brilliant occasion. Within the next few days, the FRINGE WORLD website will be updated to include shows from dance companies, comedians, musicians, theatre performers and more! The event also includes two original productions featuring Tranby students ('Class Act' and 'Spotlight'). So, why not support our event and purchase tickets!
To see what's on or to book tickets, CLICK HERE.
Amelia McKenzie from Year 4 won 1st Place with her Lyrical Solo at her last few competitions. She's been competing amongst 10-15 other dancers each competition in the Under 10 Division.
Amelia will compete in the Open Section in 2023. She's looking forward to debuting a Classical Ballet Solo next year.
Congratulations Amelia.
Tranby students win National Statistics Poster Competition
During Term 4, Maths 10A and Year 11 Mathematics Application students participated in Statistical Society of Australia's 2022 National Schools Poster Competition. Students used statistical thinking processes to pose an investigative question affecting the society, collected data or obtained secondary data, and used statistical analysis to answer their question.
We are delighted to inform you that Taima Kealley and Jocelin Grosse were winners of the Years 11-12 Division for their investigation and poster entitled "Is unemployment in Australia on the rise?" The winning team and the school will receive $200 as a prize.
Additionally, we had number of teams receive honourable mentions in the Years 11-12 Division:
I would like to congratulate the teams and their teachers, Miss Carla Booth and Mr Luis Palumbo.
Saad Parekh – Maths Teacher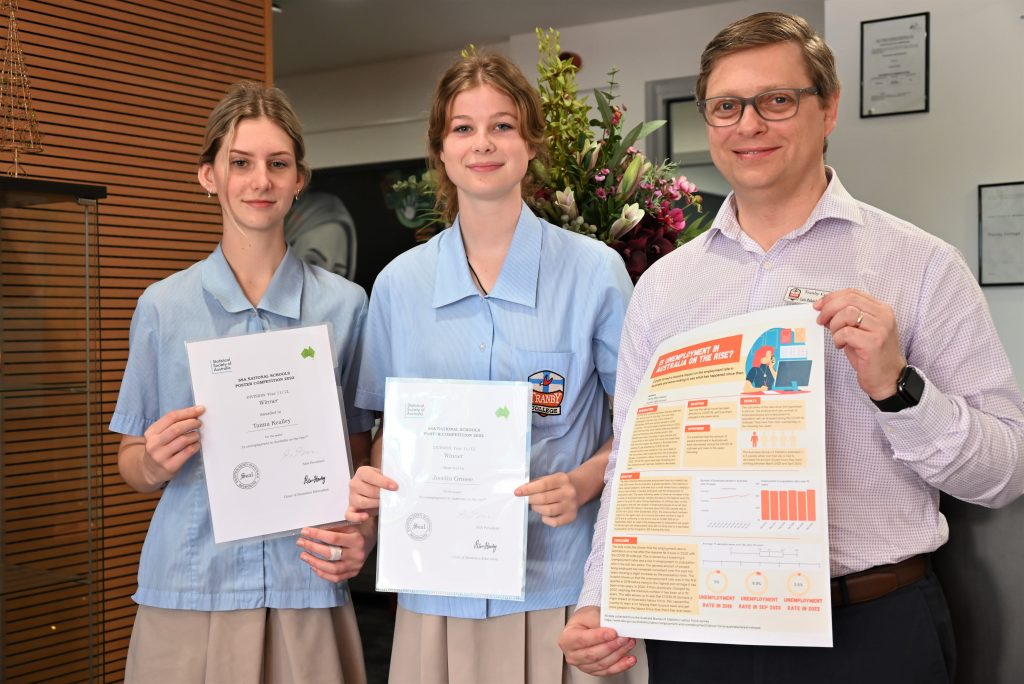 Cameron Burford, Year 8 won a Bronze Medal on the weekend, at the Australian National Taekwondo Championships in Bendigo for his division.
He was very excited, as this was his first time representing WA in a National event.
Well done Cameron.
As we close our College Canteen after another very busy school year we would like to thank you for your support.
This year we welcomed Cath to our team, she has experience working as a chef in a local restaurant. During Term 4 we have been trialling new menu ideas for 2023, which our students and staff being willing taste testers!
Once again, we would sincerely like to thank our volunteers who have given their time, sometimes at very short notice, Michelle and Mel you are troopers, to Simone, we thank you for helping in Terms 1 and 2.
We look forward to serving you all in 2023, with many new items on our menu for you to enjoy.
Have a relaxing break.
Nicola, Kat & Cath
Cadets thoroughly enjoyed their end-of-year excursion at Swan Valley Adventure Centre having a day of water-based activities.
They kayaked on the Swan River and built their own rafts, which proved a lot more difficult than expected, but it was very entertaining for us to watch.
Well done Cadets on always having lots of fun, even when you're challenged.
Kerrie Miller – Cadet Leader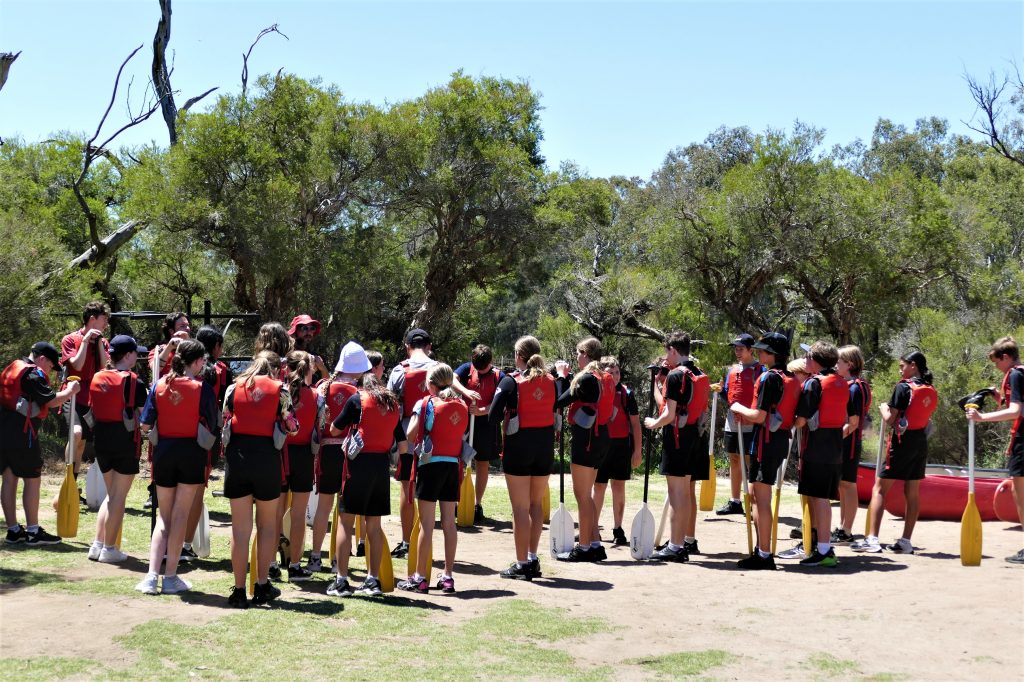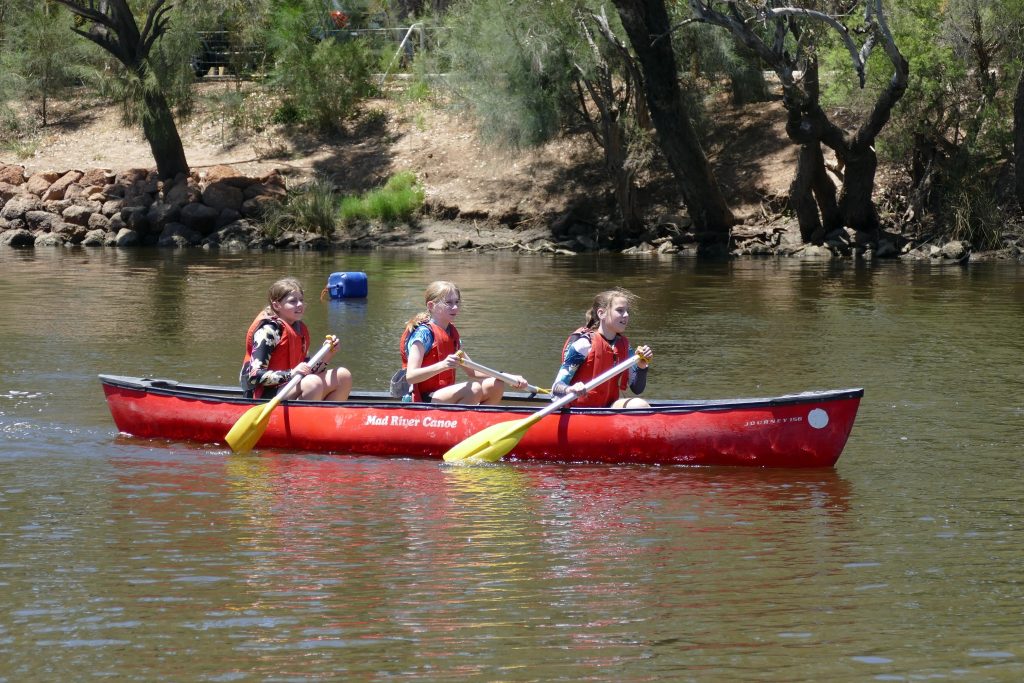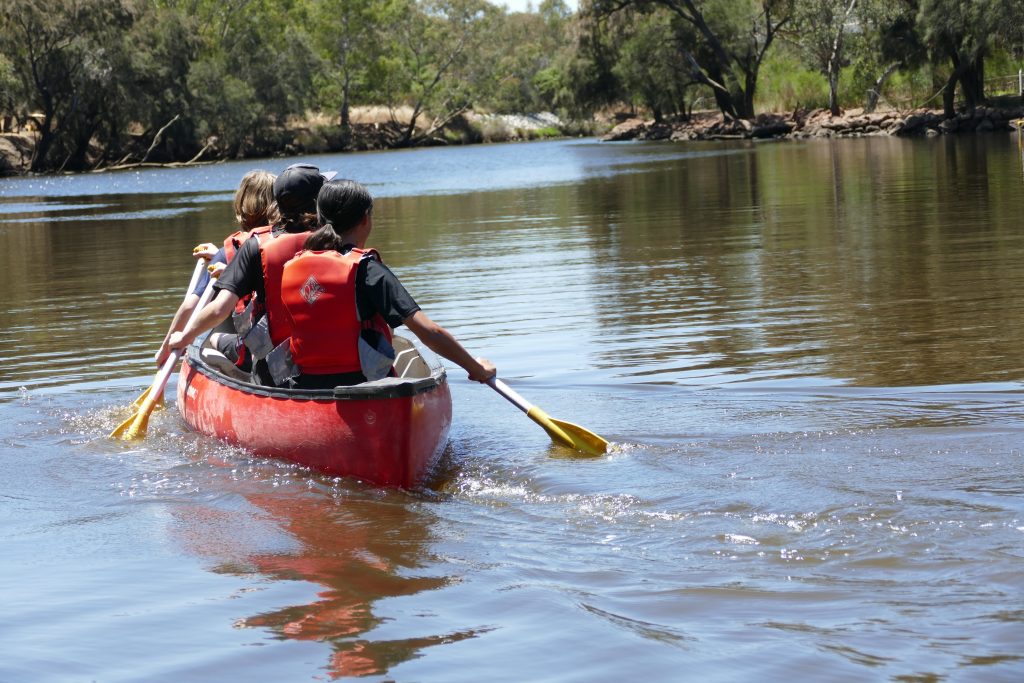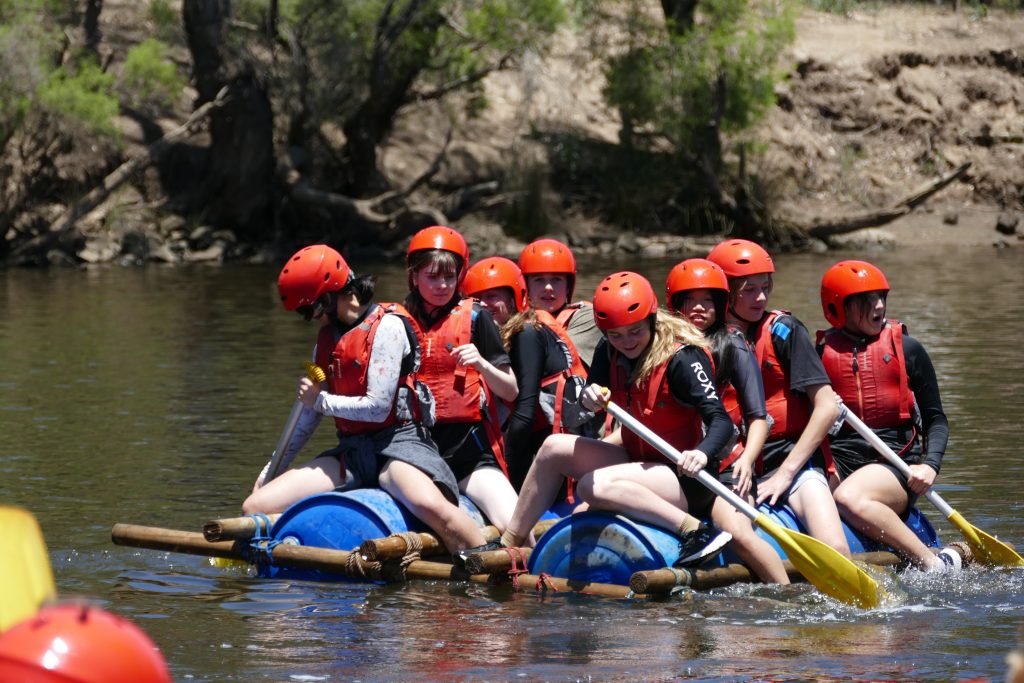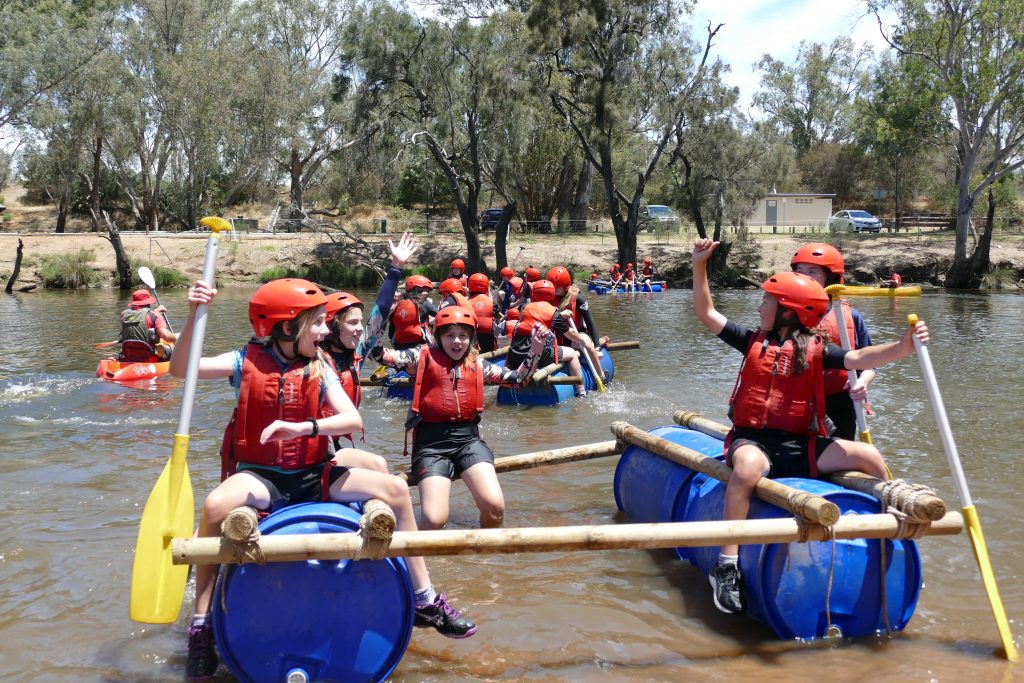 Uniform Shop Holiday Opening Details
The hours for back to school are as follows:
BOOK AN APPOINTMENT DURING THESE DAYS & TIMES ONLY:
Wednesday 18th January – 8:00am – 12noon
Thursday 19th January – 8:00am – 12noon
Friday 20th January – 8:00am – 12noon
Monday 23rd January – 1:00pm to 4:30pm
Tuesday 24th January – 1:00pm to 4:30pm
Should you like to book an appointment please click on the following link: Perm-A-Pleat.
PLEASE POP INTO THE UNIFORM SHOP DURING THE FOLLOWING DAYS & TIMES:
Wednesday 18th January – 1:00pm – 4:00pm
Thursday 19th January – 1:00pm – 4:00pm
Friday 20th January – 1:00pm – 4:00pm
Monday 23rd January – 8:00am – 12:30pm
Tuesday 24th January – 8:00am – 12:30pm
Monday 30th January – 8:00am 12:30pm (closed for lunch) 1:00pm – 5:00pm
Wednesday 1st February 8:00am 12:30pm (closed for lunch) 1:00pm – 4:00pm
Friday 3rd February – 12noon – 4:00pm
If you have any queries please contact the Uniform Shop on 9523 3119 during their open times.
Bricks 4 Kidz Holiday Fun
This Summer School Holidays we are running Workshops with LEGO® and Coding with Robotics. Our holiday programs are designed for kids aged 5 -12. We have many themes to inspire creativity and fun.
Online enrolment is at the following link: Holiday Bricks 4 Kidz Program
Our Summer School Holiday Workshops are located at the following locations:
• Mary Davies Library and Community Centre @ Baldivis
• Providence Christian College @ Southern River
2023 School Service Changes
VacSwim - Enrolments Now Open!
Primary School
Enrolments are now open for VacSwim swimming lessons during the summer school holidays. VacSwim offers fun lessons at beach or pool locations. They are a great school holiday activity, and they teach valuable safety skills to help keep your child safe in the water. Enrol at: education.wa.edu.au/vacswim
Secondary School
If your child has turned 14 years old or will be turning 14 years in the same calendar year of the course, you can enrol them in VacSwim so they can get their Bronze Medallion during the summer school holidays. They'll learn advanced survival, rescue, and resuscitation skills to help keep them and others safe in the water. Enrol at: education.wa.edu.au/vacswim