24th March 2023 (Week 8 Term 1)
Saturday 25th March – Disabled Surfing – Leighton Beach – 8.30am – 12.45pm
Tuesday 28th March – Thursday 30th March – Year 5 Camp
Thursday 6th April – Last Day of Term 1
Wednesday 26th April – Term 2 Commences
Friday 5th May – Pre-primary – Year 12 Cross Country Carnival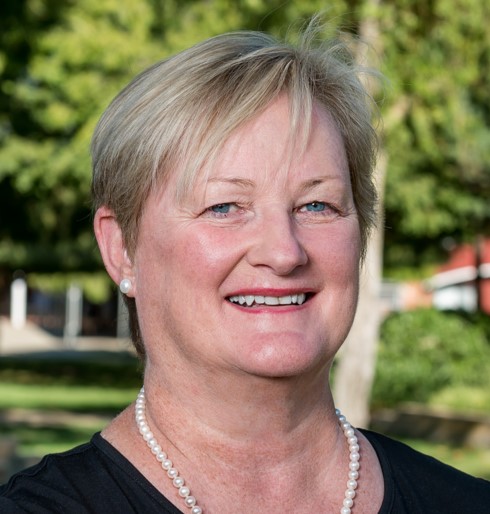 Twilight Picnic – 17th March
It was literally a joy to behold the Tranby community out in force on Friday evening for our Twilight Picnic. I was impressed by the preparedness of families who arrived kitted up with blankets, baskets of picnic food and folding seats ready to enjoy the entertainment and myriad activities. We were blessed with benign weather and able to relish the act of simply coming together and catching up with friends and relatives. A highlight for me was the performances of staff in their newly formed band (talent and bravado on show) and student performances through dance, instruments, and song. I would like to give a special shout out to Ms Steele's junior musical stars who performed 'Like a puppet on a string', its cuteness and quality were memorable indeed. It was also a special opportunity to celebrate Mr Kenny's 70th birthday while he was at the microphone, performing his role as Master of Ceremonies with his usual aplomb. The College Board and I wish to thank all the staff who attended and those who worked behind the scenes to make the picnic such a success.
ACC SWIMMING VICTORY
Last Friday was a day of positivity all round with our fresh ACC Swimming Carnival, Division F victory. Congratulations to our swimmers who gave their all on the day providing Tranby with many consecutive victories and places. Huge thanks to Ms Holtham and Mrs Lewis for managing the squad and to all other staff who attended, providing great motivation and care for our swimmers. As we move towards the end of term, I look forward to more occasions to chat with you about the College and its progress.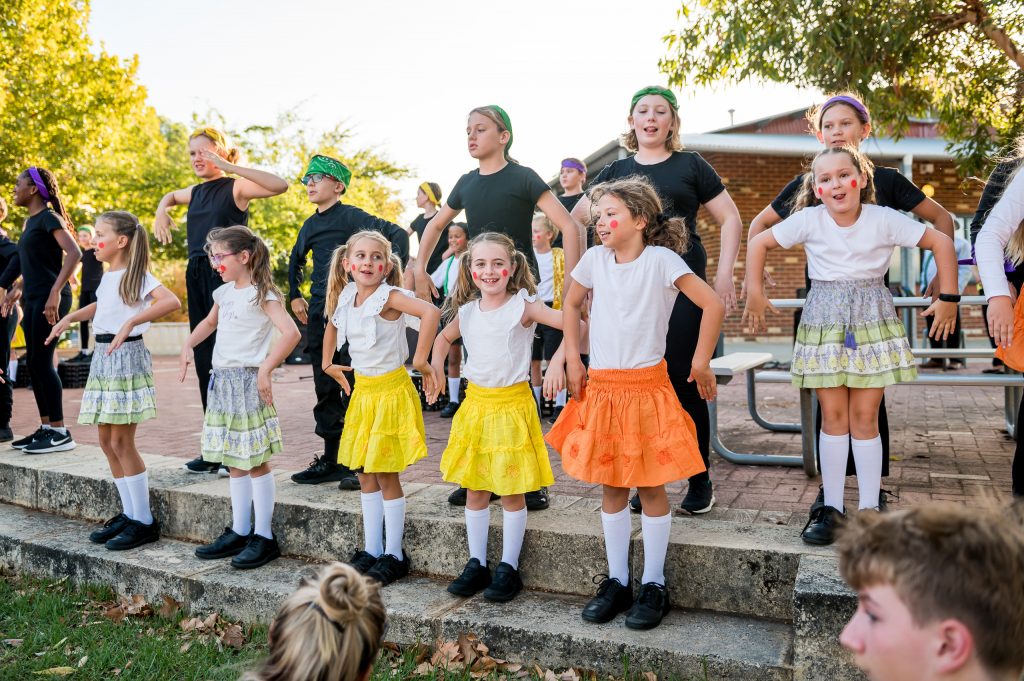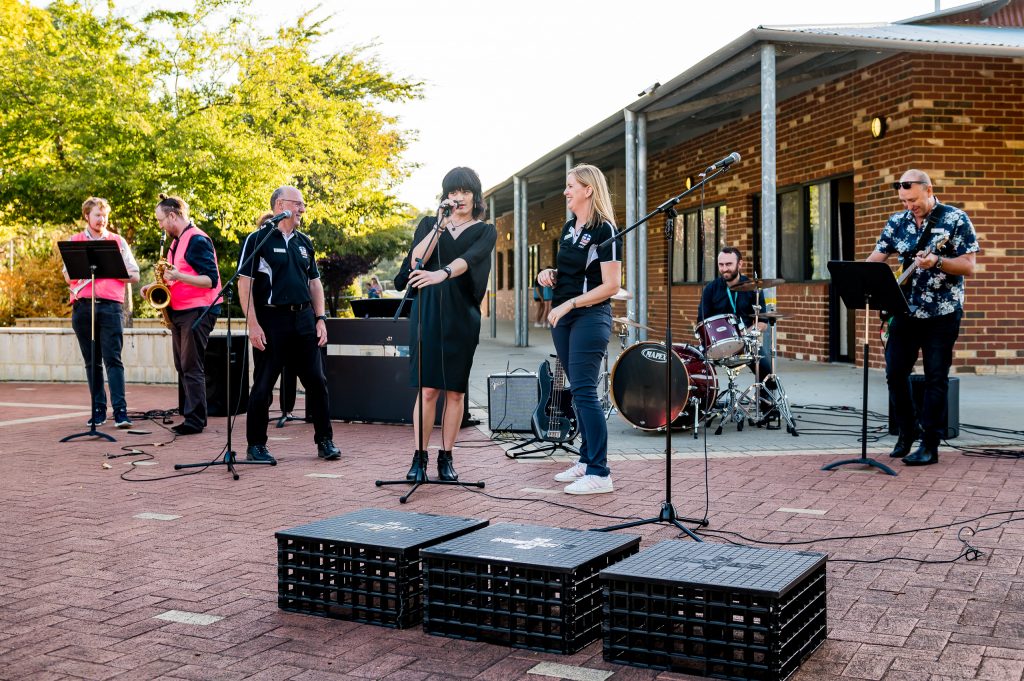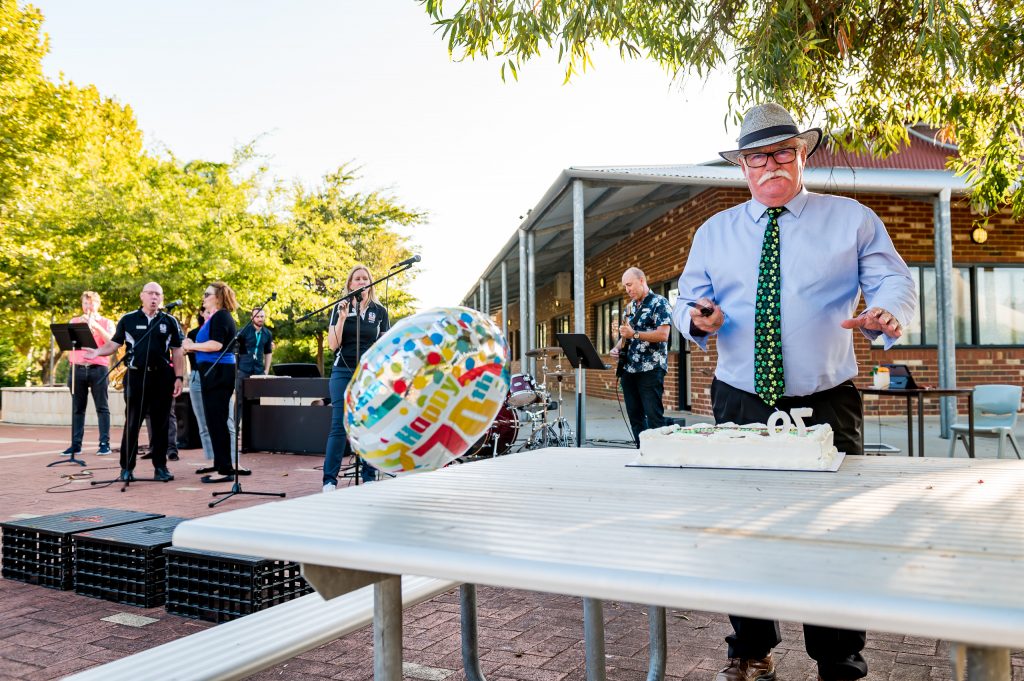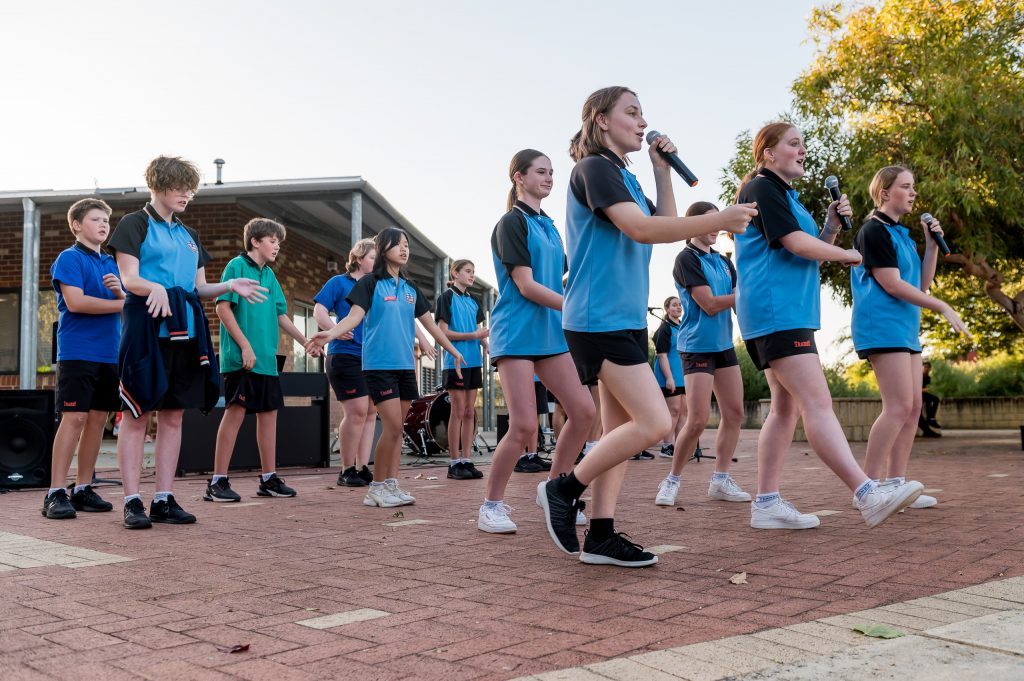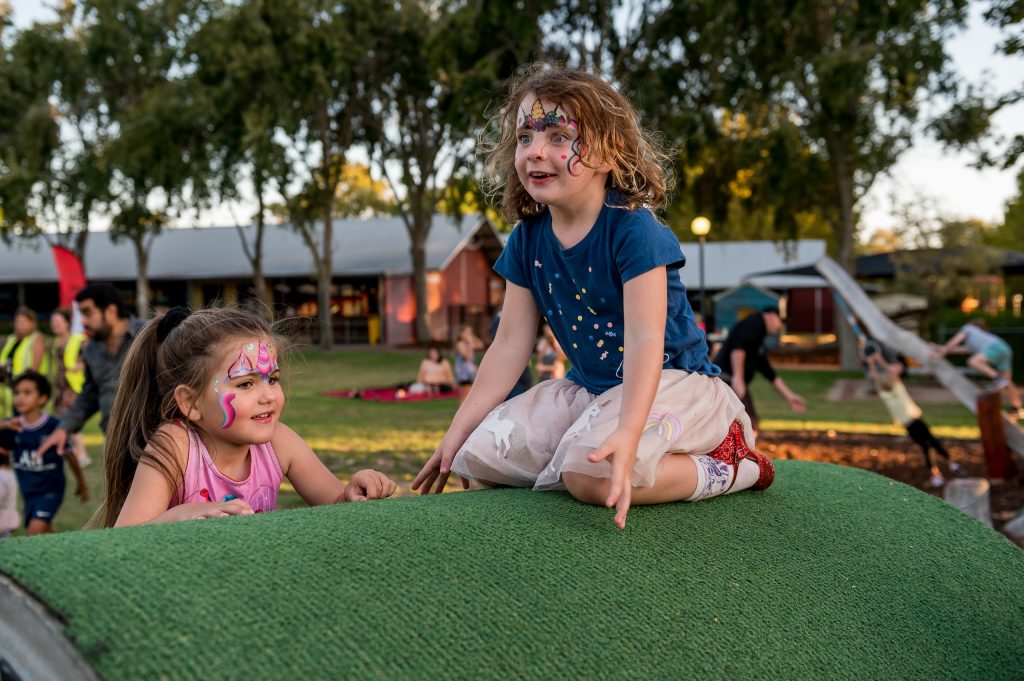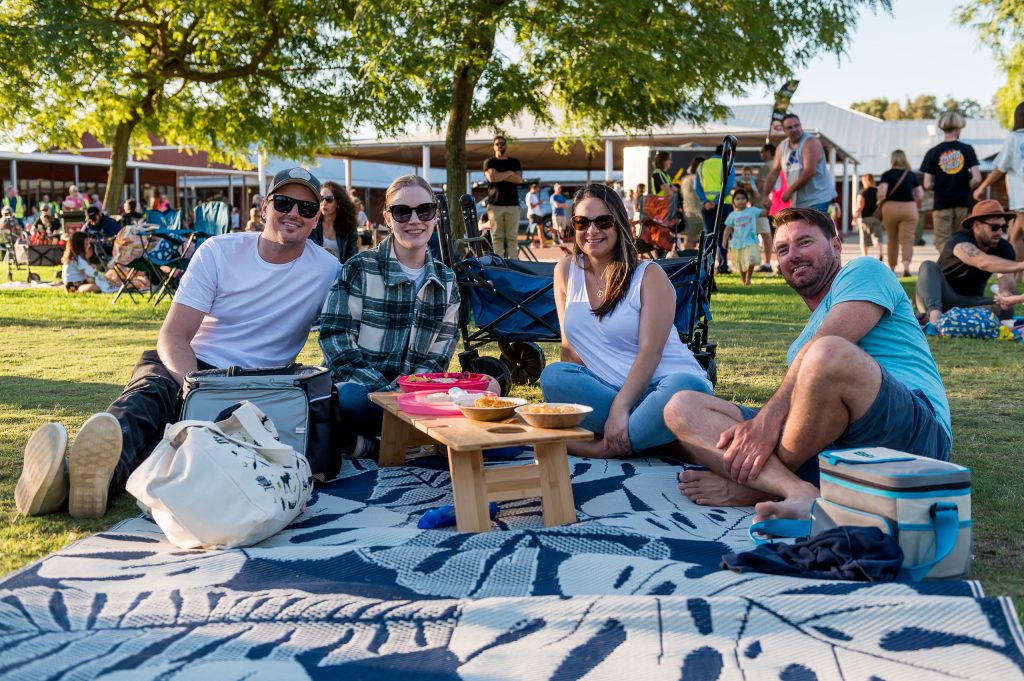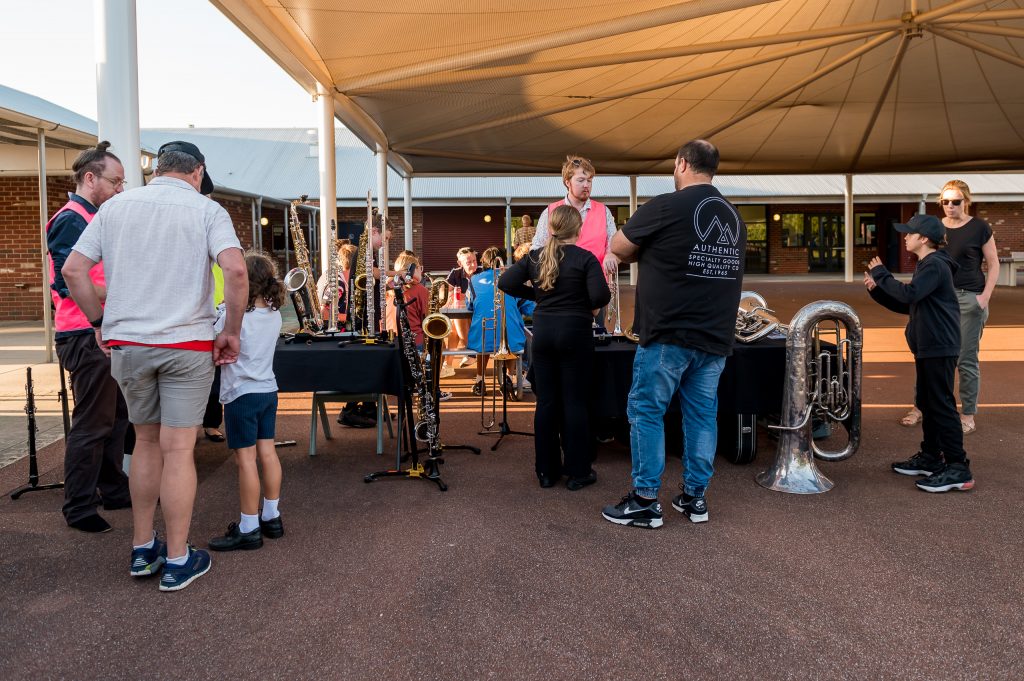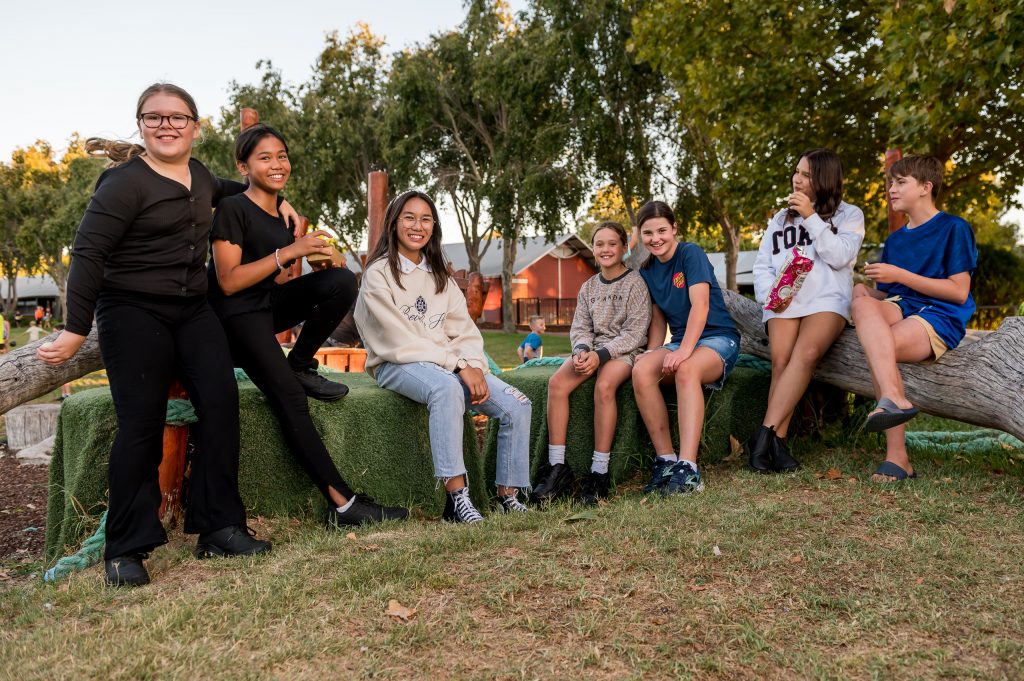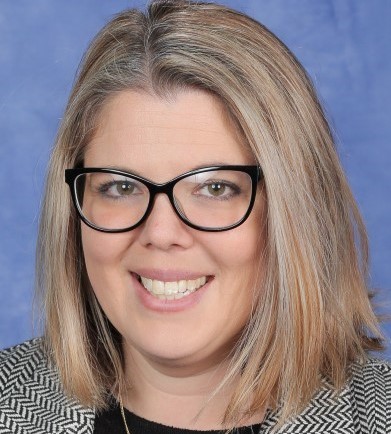 The Resilience Project
As part of our comprehensive wellbeing program, Tranby College is pleased to continue the implementation of The Resilience Project across all year levels from Kindergarten (commencing Term 2) through to Year 12. This marks the second consecutive year that the College has integrated The Resilience Project into the curriculum. This evidence-based program has been designed to promote resilience, mental health and wellbeing among both children and adults alike.
The program is based on three key pillars: Gratitude, Empathy, and Mindfulness (GEM). These three pillars are integrated into the curriculum to promote positive mental health, emotional literacy and wellbeing for students and staff.
Gratitude is paying attention to the things we have right now, and not worrying about what we do not have. We can practice gratitude by noticing the positives around us.
Empathy is putting ourselves in the shoes of others so we feel what they are feeling. We practice empathy by being kind and compassionate towards other people.
Mindfulness is intentionally paying attention to what you are doing while you are doing it. It can be helpful for some people to schedule in formal mindfulness or practice mindfulness in everyday activities.
Emotional literacy is being able to recognise and name our emotions. If we can label our emotions, we can start to understand the why and begin to problem-solve to work through what we are going through.
Through the program, our students learn about the importance of gratitude, empathy, and mindfulness. They participate in activities that promote positive thinking, teamwork, and problem-solving. These activities help our students develop resilience and emotional intelligence, which are essential skills for success in all areas of life.
We are excited to continue our journey with The Resilience Project and look forward to the positive impact it will have on our school community. We encourage you to learn more about The Resilience Project at https://theresilienceproject.com.au/.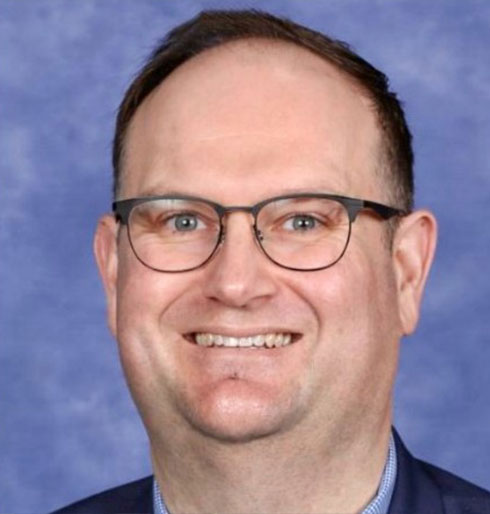 Director of Teaching, Learning and Innovation K-12
I am excited to share with you the remarkable workshop I recently attended with Professor Yong Zhao, a globally recognised education scholar, author, and speaker, hosted by the Australian College of Educational Leaders (ACEL). Alongside fellow education leaders from leading innovative schools in Perth, I had the privilege of learning from his inspiring perspectives on education.
Professor Zhao presented us with research that showcased how artificial intelligence can now surpass more than 90% of students in various forms of standardised testing that were traditionally used to place students into various programs. Furthermore, AI has already begun to replace several traditional jobs, even for those with university and post-university degrees. This fact may be overwhelming for some, but Professor Zhao believes education should be about developing individual talents and strengths, fostering creativity and innovation, and preparing students for the future. He emphasises that education should not only focus on academic achievement but also on developing the whole person.
In his book, "World Class Learners," Professor Zhao argues that traditional education systems can stifle creativity and innovation with a narrow focus on testing and academic achievements. Instead, he advocates for a more personalised, student-centred approach to education that allows individual talents and strengths to be developed. He quoted the famous Finnish educator, Pasi Sahlberg, who said that education often does the 'wrong thing more right'. This made us all think deeply about how we can transform education for the better, and I am glad to say that Tranby is already on that journey.
At Tranby, we wholeheartedly share Professor Zhao's vision for education. We believe that every student is unique and has the potential to achieve greatness in their own way. That's why we are committed to finding ways to ensure that our curriculum, teaching, and learning are flexible and adaptable to each student's needs and interests. In addition, we aim to address emerging challenges to schooling, such as the impact of AI and preparing future leaders who can shape their communities and the world.
As a leading progressive school, we embrace the lessons we can learn from thought leaders in education, such as Professor Zhao. We will continue exploring and incorporating innovative insights and ideas into our teaching and learning practices to prepare each student for their future.
Thank you for your continued support and partnership in educating the next generation. Let's work together to inspire our students to reach their full potential.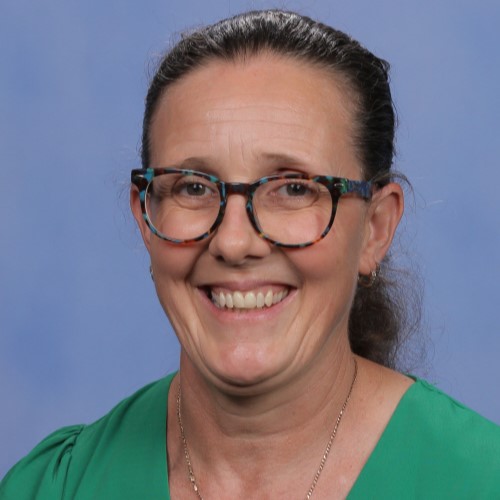 Acting Head of Senior School
It's hard to believe that we are already nearing the middle of Term 1! Amidst the ever-increasing opportunities for our students, their ongoing enthusiasm and perseverance has been admirable. As students start to settle into the rhythm of the new school year, I wanted to recognise the significant number of changes that they have adapted to – new staff, adjusted times, new initiatives as well as the return to full co-curricular activities.
The College saw a return to our Inter-house Swimming Carnival this week, held at Aqua Jetty. I'd like to take this opportunity to congratulate our students who embraced a new format inclusive of competitive races and novelty events running concurrently. Whilst there were several PB's swam in the competitive pool, it was the constant laughter and excitement of the novelty events that really added to the carnival. My thanks to the Tranby Senior School staff for their continued professionalism and delivery of a great carnival, whilst also taking time to thank the parents for their attendance. It is also timely to recognise the efforts of Ms Prinsloo and her team of Service Learning volunteers who cooked throughout the day, raising funds for our nominated charity. The generosity of these initiatives is what drives our community culture. Please note, final awards on both a team and individual basis will be presented at the Senior School Assembly next Wednesday.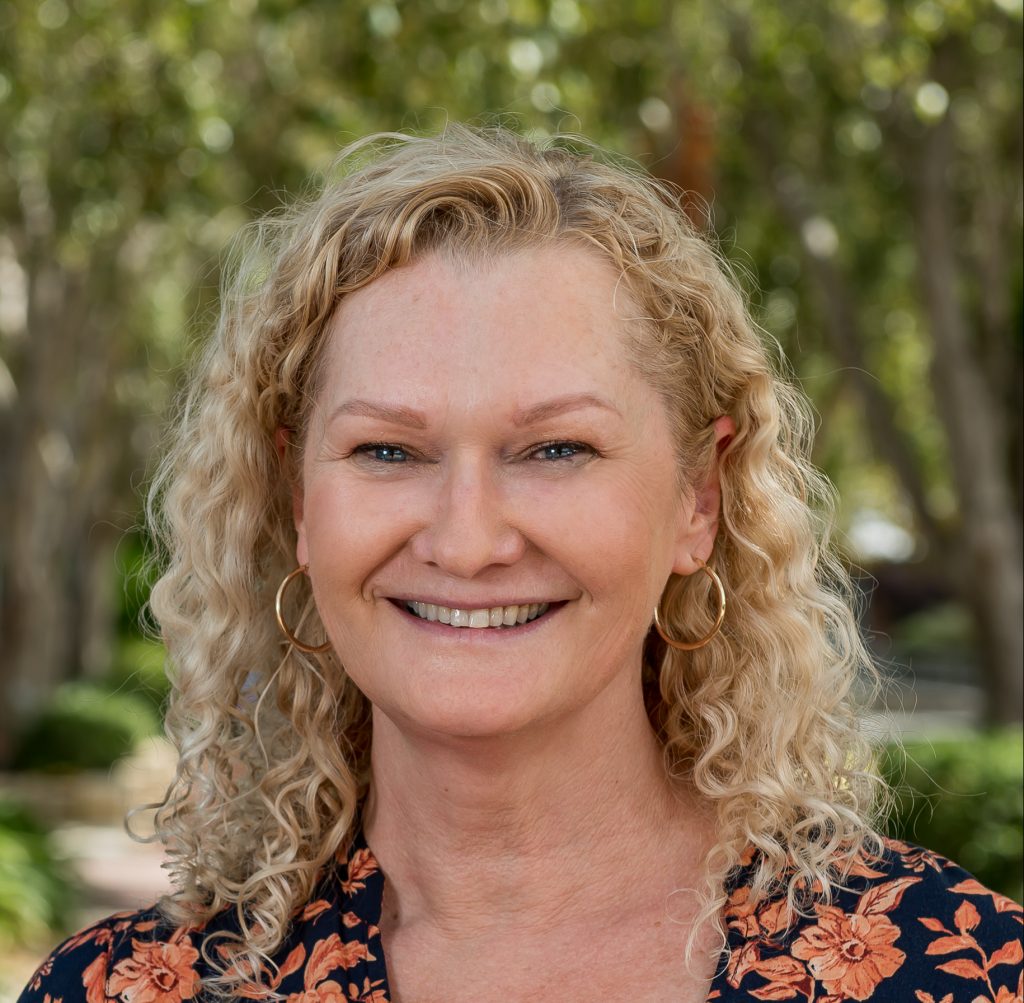 A Great Start!
What a whirlwind the beginning of the year has been! We are now at the halfway mark of Term 1 and the students are settled and very busy. Our first major sporting event for the year, the Junior School Inter-house Swimming Carnival, was held on 1st March and it was a fantastic day! The students demonstrated their great swimming skills, cheered on teammates, and showed the true Tranby spirit by just trying their best and having a go, no matter what their skill level. This week, selected students participated in the IPSHA Swimming Carnival at Wesley College. It was wonderful to hear that the Tranby spirit was out in full force on the day. Our students' encouragement of each other and their positive attitude was noted by other schools. I was very proud to hear that once again our students had returned from an Inter-school event with such positive feedback. Congratulations and well done to each and every student who participated on the day, and a very big thank you to Mrs Barber for organising and facilitating these opportunities for our students.
The second half of this term will be just as busy as the first. Our clubs and activities continue, students in Years 3 and 5 will be participating in NAPLAN and our Year 5 students will be attending our first Junior School camp of the year.
As always, we have so much to look forward to and the Twilight Picnic is fast approaching on Friday 17th March. I hope you will support this wonderful event. I look forward to meeting with as many of our families as possible, as we come together as a community.
Deputy Head of Junior School
The College has been a hive of activity in comparison to this time last year, when we had restrictions due to COVID-19. It has been a pleasure to see our students being able to immerse themselves in all that Tranby has to offer.
There really has been something for everyone such as – weekly early morning surfing lessons at Secret Harbour Beach, the Ricky Grace Basketball Program, a range of different clubs (before school, lunchtimes, and afterschool), wheelchair basketball incursion, Inter-house & Inter-school Swimming Carnivals, and most recently our community Twilight Picnic. Speaking of the latter, what a great way to end a busy week. This whole school event showcased a few performances from students and staff. The relaxed atmosphere allowed our community to connect, grab a bite to eat and possibly a sneaky ice cream (or two)!
Our last assembly was hosted by our lovely Year 4 students and staff. It was such a well thought-out and executed assembly. Students performed 'The Papaya That Spoke' and this performance showcased just how well the Talk for Writing Program is assisting our students to develop their writing skills via spoken activities. As part of our socio-emotional program (The Resilience Project), the cohort focussed on Gratitude by asking students and staff 'What are you thankful for?' It was evident in their responses, that we have so much to be grateful for. We then acknowledged the first recipients of our GEM and Merit Certificates for 2023. Congratulations once again, to all students who have received these awards by actively modelling our values.
Budjar was presented with the House Shield after winning the recent Inter-house Swimming Carnival. Bilu's relentless support for their peers did not go unnoticed, and subsequently they were awarded SPUD, the spirit bear. However, everyone who attended and supported their peers on the day should be extremely proud of their efforts, in and out of the pool. I cannot wait for the Inter-house Cross Country in Term 2!
Our students in Years 3 and 5 completed the annual NAPLAN assessment over the past two weeks. This national literacy and numeracy assessment provides a snapshot of the skills that students are learning through the school curriculum, which allows parents/carers to see how their child is progressing against national standards over time. The reporting of results has also changed, to enable a clearer picture of how a child is achieving in comparison to other children in Australia. Additionally, the process of assessment has now moved to being online, and I am happy to report that the process was smooth. A huge thank you to all staff involved in making this a success.
Next week, I will be in Busselton on the highly anticipated Year 5 Camp. This will be our first Junior School camp of the year and if last year's camp was anything to go by, our students are in for a real treat! Thank you to staff who are attending and Mrs Barber in particular, for all her efforts in the lead-up to ensure our students have an awesome time exploring and learning about Geographe Bay and it surrounds.
As we head into the last few weeks of term, students are getting tired, and standards can often slip. I ask that parents encourage their children to continue to apply themselves fully to their learning and to wear their uniform with pride. Thank you for your continued support, it is greatly appreciated.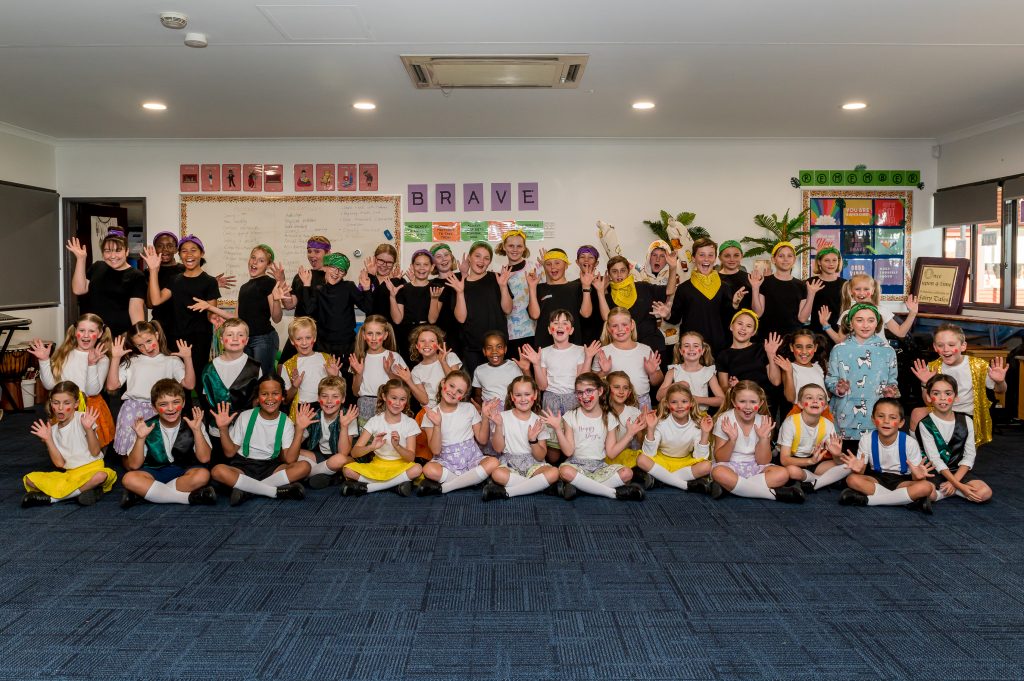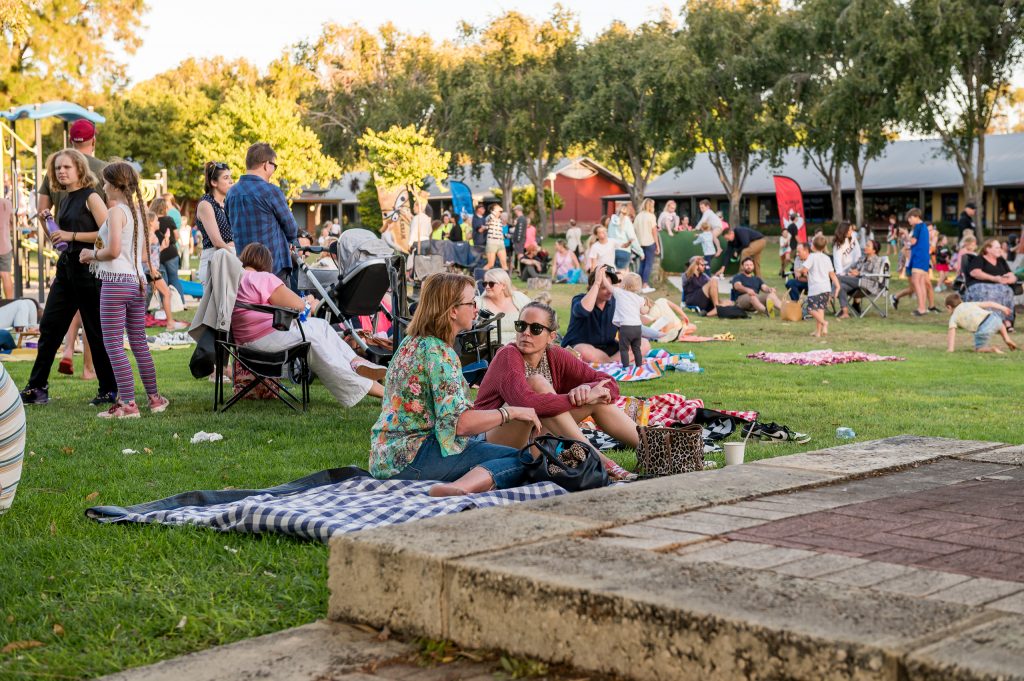 Bunnings Garden Incursion
On Wednesday 22nd March, Mrs Williams and her co-curricular Gardening Club were very lucky to have Brianna from Baldivis Bunnings visit us. Brianna brought in supplies of plants and equipment, which were kindly donated by Baldivis Bunnings. She helped the Gardening Club plant, and shared knowledge on how and why to plant certain plant varieties. The students planted broccoli, beans, cucumber and watermelon, which the students will now care for over the next few months and hopefully get to sample. Brianna will be back next term showing us how to set up a worm farm! Thank you, Bunnings Baldivis!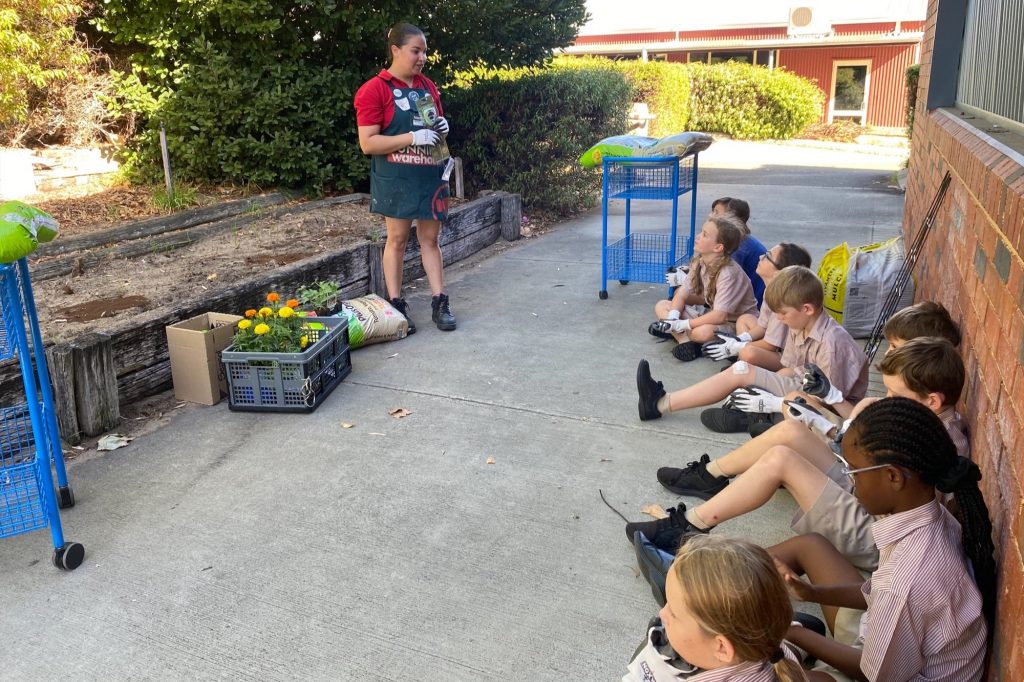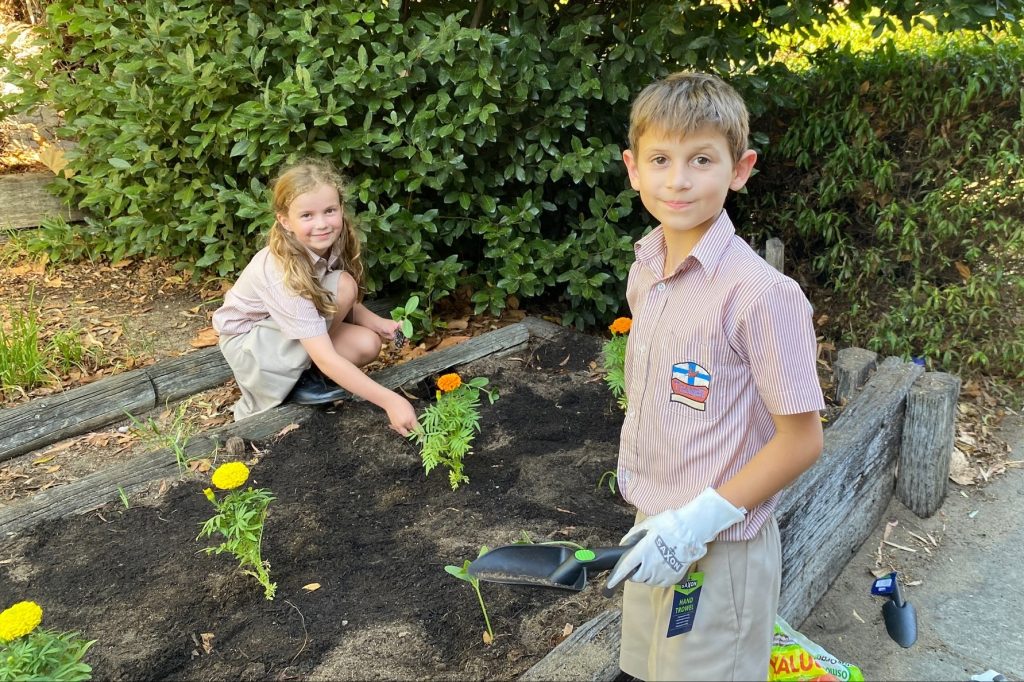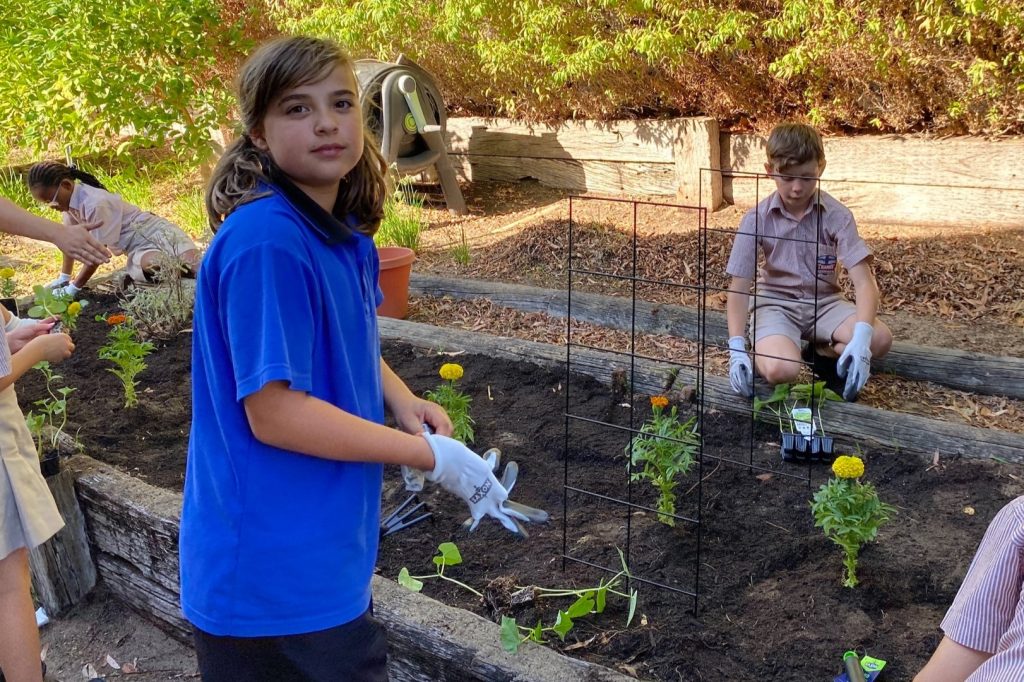 Kindy Einsteins Incursion
On Tuesday 14th March, the Kindergarten children became scientists with the help of Danni from Einsteins Australia. The children explored some sensory science by getting their fingers icky sticky in slime, creating supplementary snow and erupting volcanoes by using special ingredients. We mixed, moulded, hypothesised and observed lots of magical science. The children were mesmerised by the experiments and we were lucky enough to take home our slime and snow creations!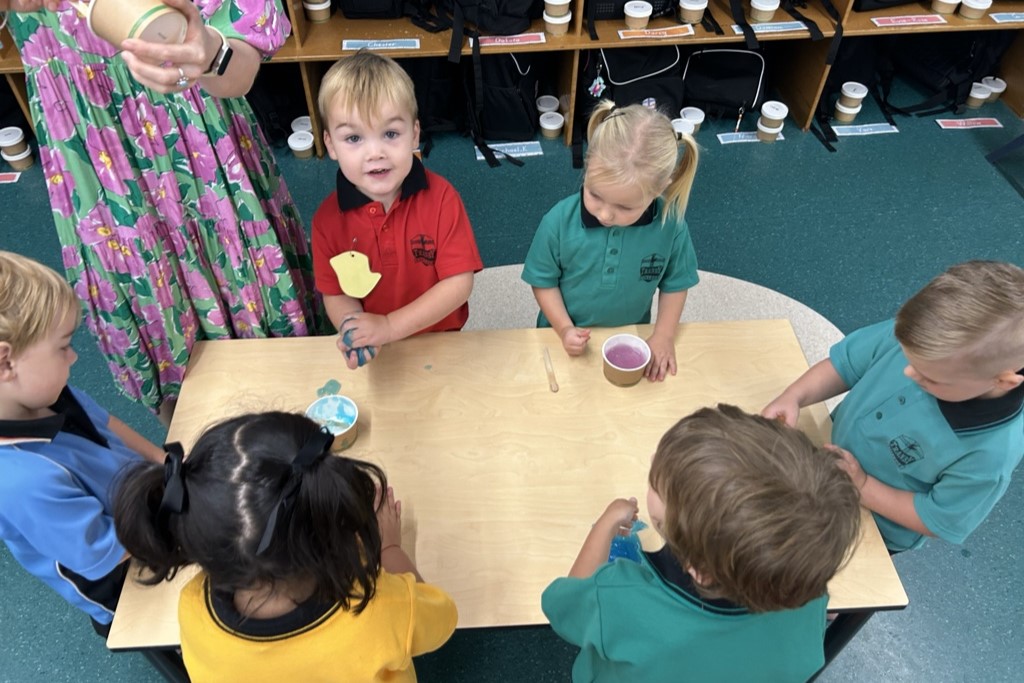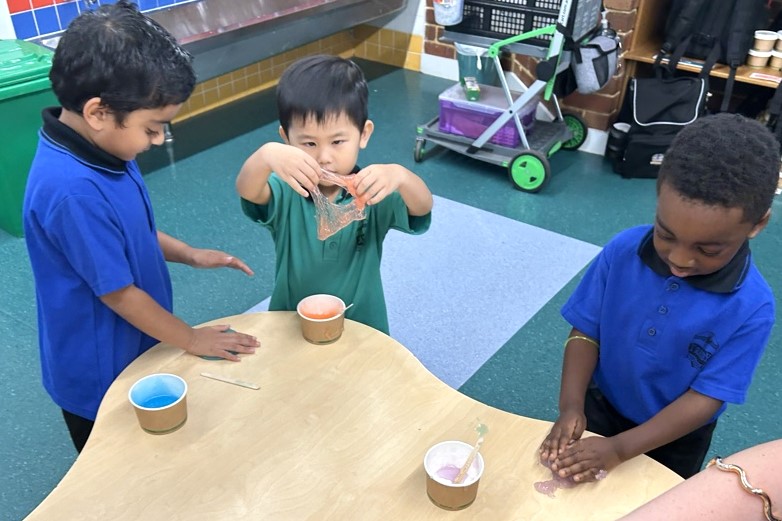 The World's Greatest Shave
On Tuesday 14th March, Tranby College students participated in The World's Greatest Shave to fundraise for the Leukaemia Foundation. Fourteen brave students have been busy raising funds over the past 5 weeks for the big day.
Congratulations to Kian Diamond, Ivan Irau, Adam Cass and Alfie Parker who shaved their heads as well as Makayla Peddie, Catherine Lyndon-Smith, Olivia Morris, Catherine Algie, Makayla Murray, Katie Lang, Jolie Nguyen, Leah Fryer and Emily Vaughan for donating their ponytails for wig-making. Together, these students raised $7,708.97 collectively.
A number of other students were also involved in baking brownies that were for sale on the day and helping colour hair by spraying students' hair for a gold coin donation. It was a fun experience for all involved. Even Chaplain Steve had his hair coloured in red and green. Mr Kenny stepped into the role of MC and played some of his favourite music during the event.
Thank you to Scissor and Stone Hairdressers in Rockingham, who volunteered four of their staff to come along and do the shaving and cutting. It is great to have an alumni student, owner Elle Tumelty, still involved in Tranby College where she used to attend.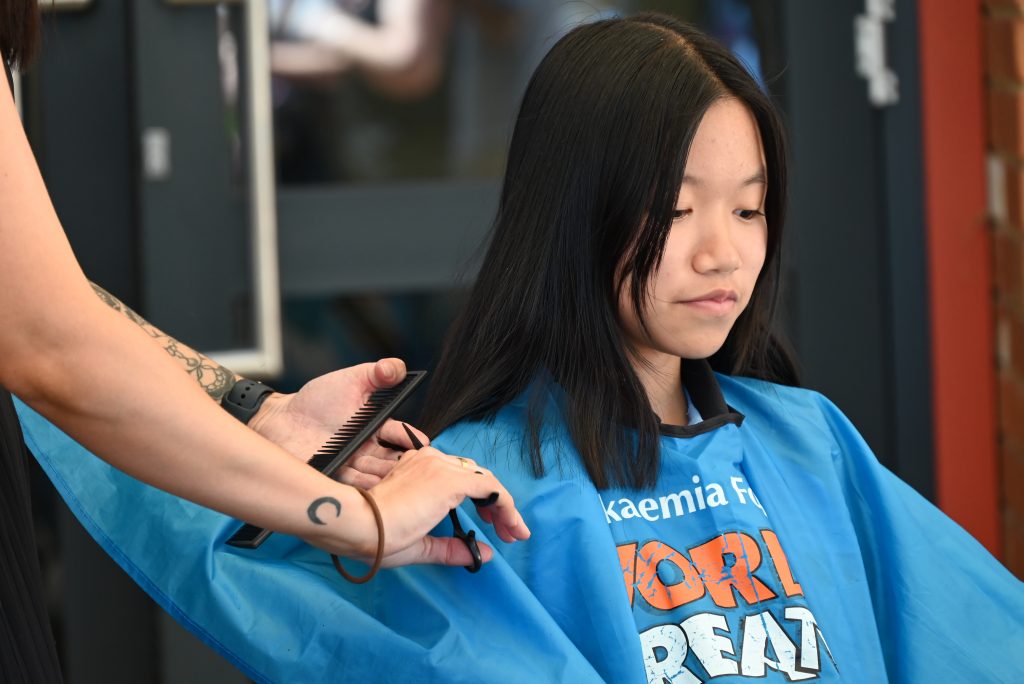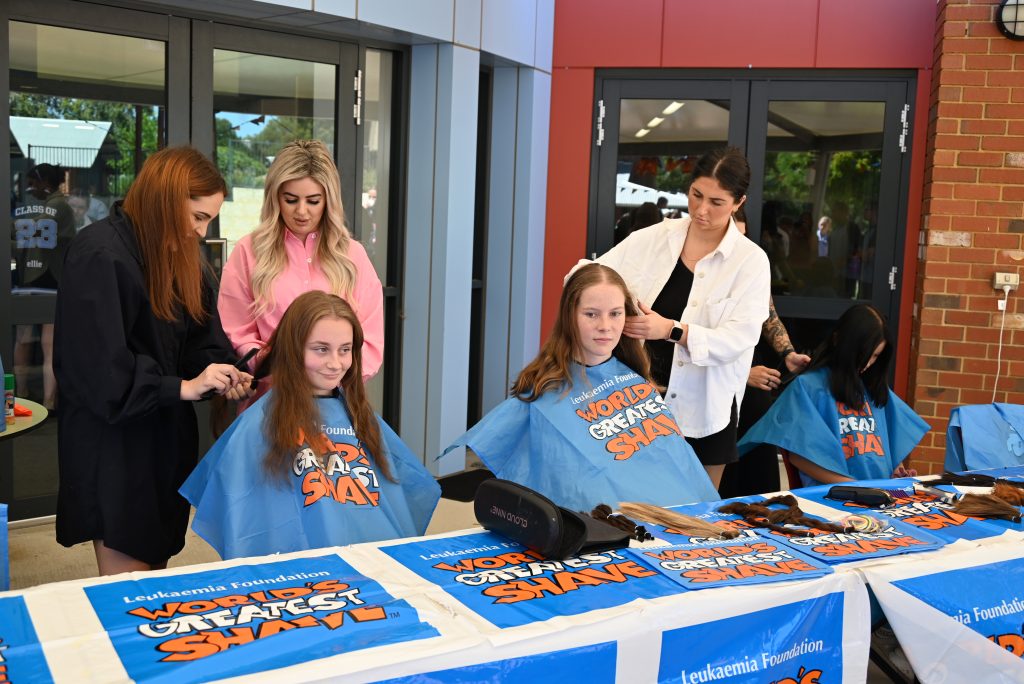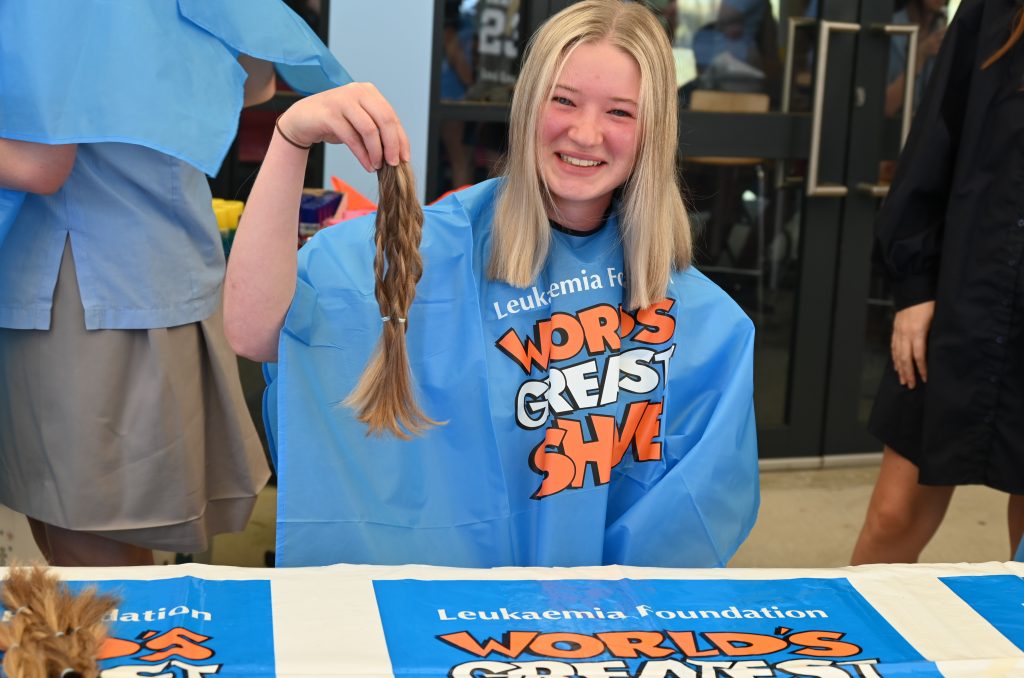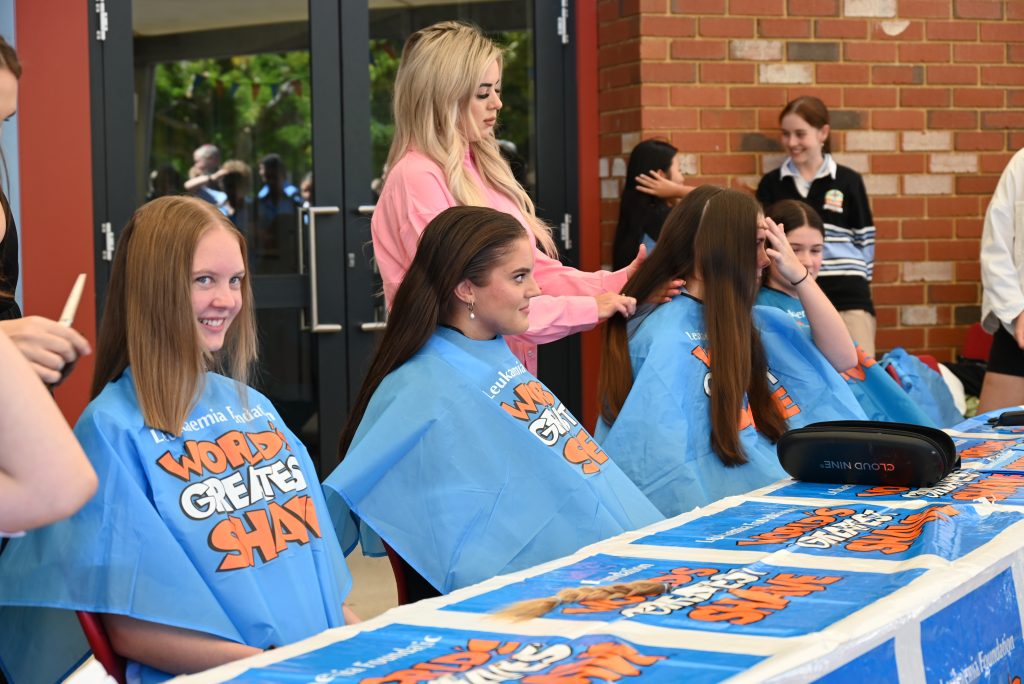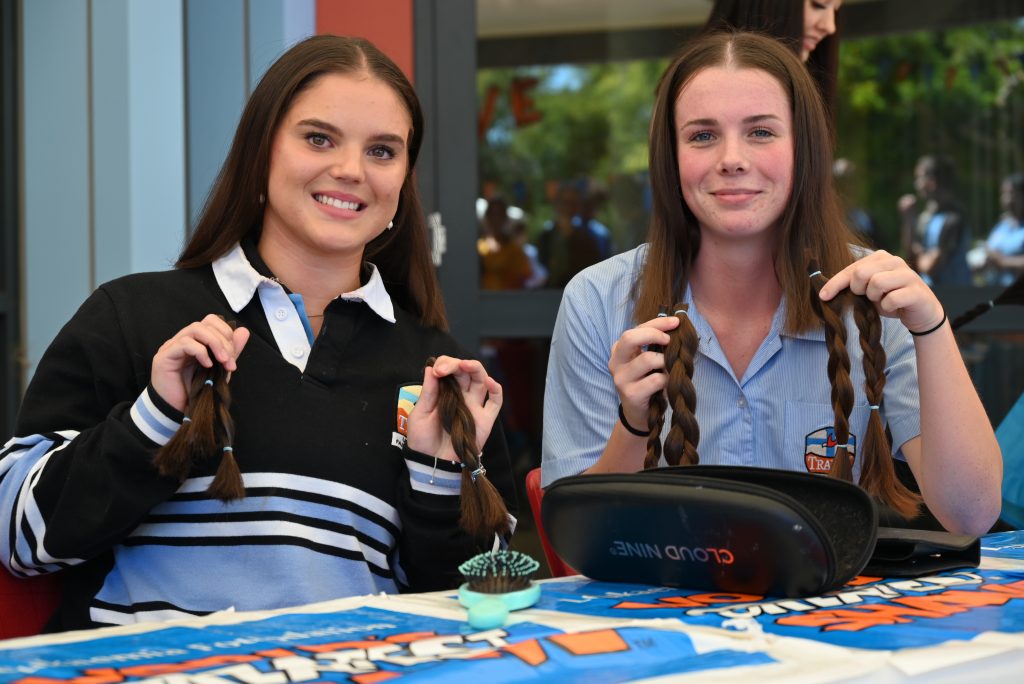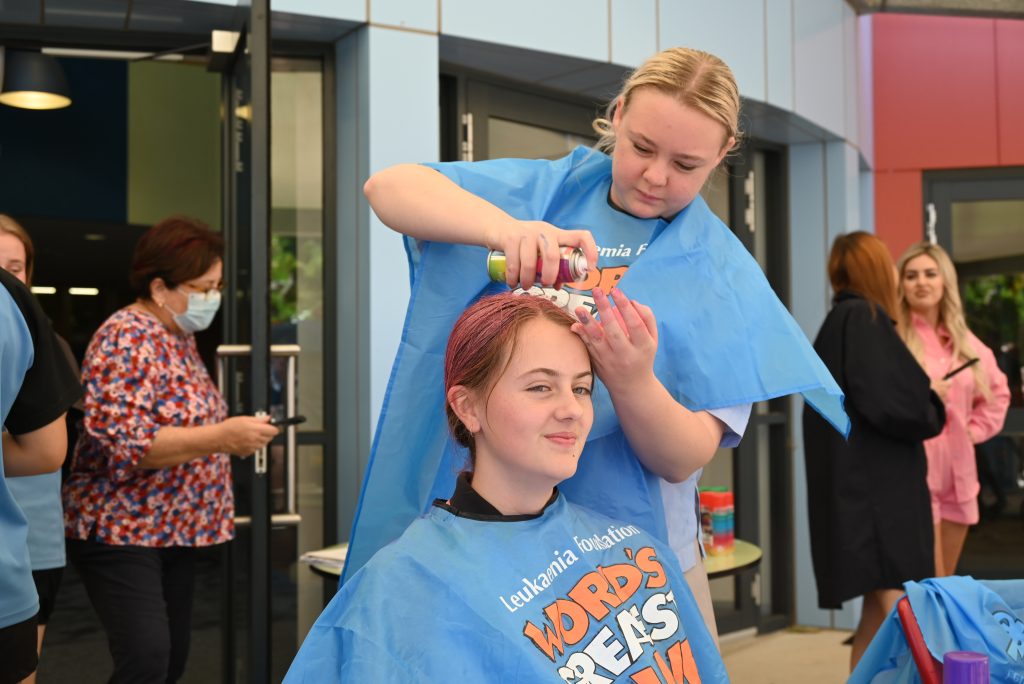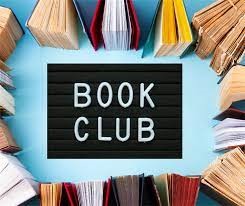 Senior School Library News
A brand-new Year 7 Book Club is forming. Meeting times are Tuesday lunch time in the SSAB library.
We have special permission to eat for clubs, so bring your lunch and your favourite book and let's talk books! 
2023 KIC Youth Art Awards
Congratulations to Sumit Yadav, one of our talented Year 12 2022 Visual Art General students, who was Runner Up in the Visual Arts 3D Category at the annual KIC Youth Art Awards for his artwork 'Time's Up'. Congratulation also to Morgan Shawyer, Year 12 2022, who received a Highly Commended in the 3D Visual Art category for his artwork 'Window of the self. With 12 participating schools and over 110 artworks entered for the exhibition this is a huge achievement and a fantastic reward for their hard work and dedication.
Other students who were selected for the exhibition and had equally impressive work on display were former student Kelsey Waddington, alongside current students Lucca Kent, Jasmine Whareaitu and Hannah Awang.
Congratulations to all the students.
The Lester Prize Youth Awards
Year 12 student Lucca Kent's artwork 'Death and Decadence' a self-portrait completed for ATAR Unit 1 has been selected as a finalist in The Lester Prize Youth Awards!! This is a huge achievement and very exciting for Lucca.
It is a testament to her talent, and to Mrs Hardwick, our wonderful Art Teacher for being so supportive.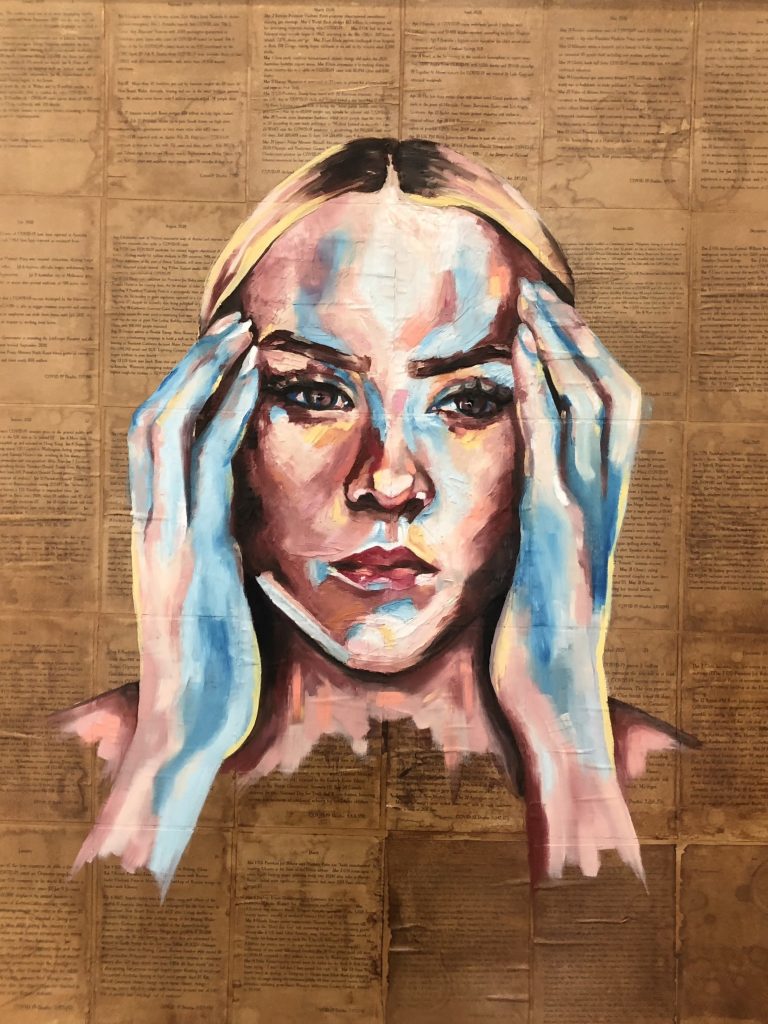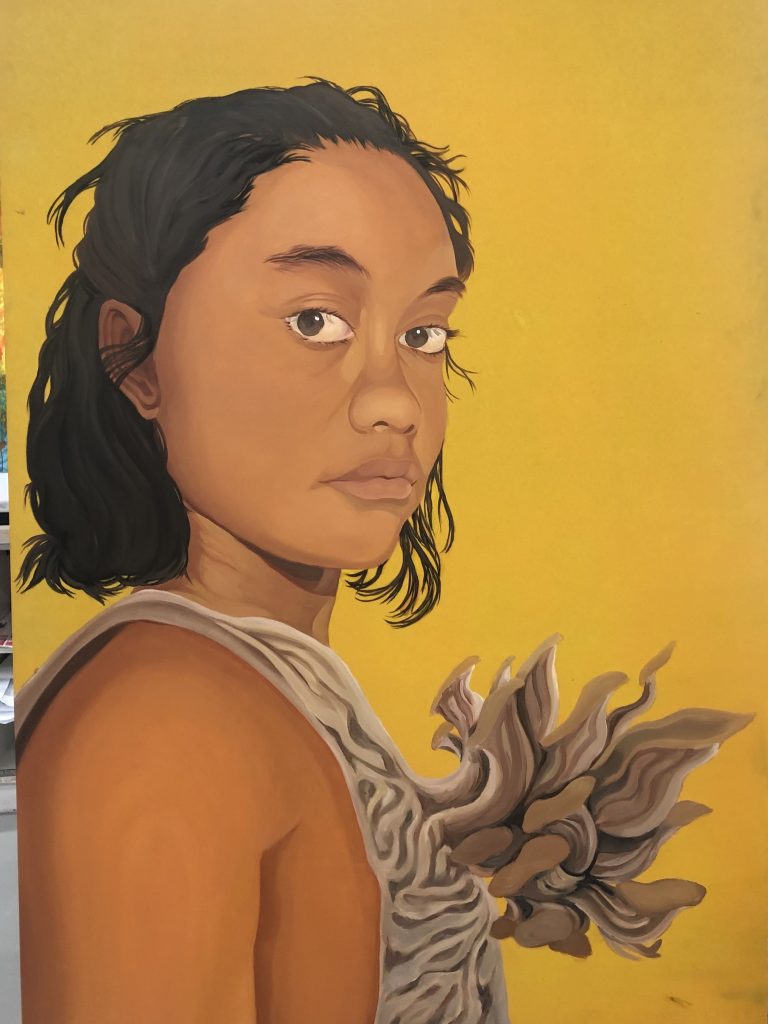 Carpark Updates & Reminders
Kiss-n-Drop Guidelines
When using the Kiss-n-Drop, please stay in the zone for no more than 3 minutes and note that there is no pick-up access before 3.15pm.
Please abide by our 5km/h speed limit.
Please give way to pedestrians and ensure that young children are supervised.
No bikes, scooters or e-scooters are to be ridden on/through school grounds. Please dismount.
Arpenteur Drive Shared Carpark
The existing pedestrian gate at the southern end of the Arpenteur Drive shared carpark, has been closed for your safety.
As previously suggested, we strongly recommend that you use the Tranby Drive 'Kiss-n-Drop'.
For more information on parking and Kiss-n-Drop safety, please visit our website Parking and Traffic Flow Guidelines.
A parking guard is provided for the safety of our students to help guide traffic.
Thank you for your continued support when it comes to keeping our community safe.
Wednesday lunch time is Chess Club in the Senior School library. Build your skills and enjoy competing with like-minded chess players.
To support Tranby College and have access to lots of amazing deals in WA please open the following link to the 2023 Entertainment Book.
Murdoch University After School Programs
The Murdoch University After School Program in Mathematics and Physical Sciences provides classes in Physics, Chemistry and Mathematics. For 2023 Term 1 we also have a Study Skills class running.
Each subject runs for 2 hours each week from 4:30pm to 6:30pm starting the second week of school term. Students are welcome to attend 1 to 3 times a week depending on their interests.
Please see the attached flyer for: