25th November 2022 (Week 7 Term 4)
Wednesday 30th November – Year 5 Art Gallery Excursion
Thursday 1st December – Year 10 River Cruise
Friday 2nd December – Year 6 Assembly – 8:50am & Morning Tea – 10am
Friday 2nd December – Year 6 & 7 Excursion – 11:15am
Monday 5th December – Cadet Excursion
Tuesday 6th December – Kindy Party Day
Wednesday 7th December – PP – Year 6 Party Day
Thursday 8th December – Kindy Presentation Assembly – 9am – 10am
Friday 9th December – Pre-Primary – Year 2 Presentation Assembly – 9am – 10am
Friday 9th December – Years 3 – 11 Presentation Assembly – 10:45am – 12:15pm
Friday 9th December – FINAL Day of Term 4 – ALL students dismissed at 12:30pm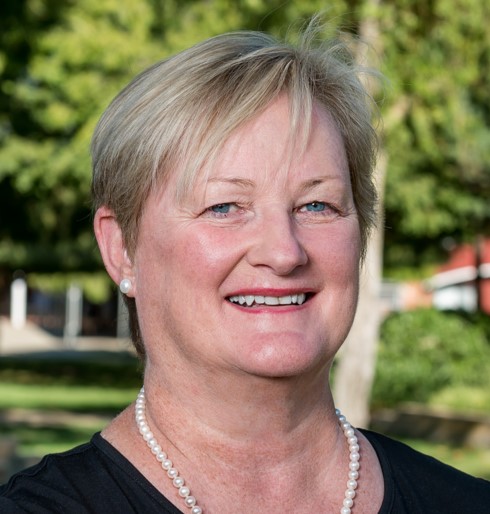 I am writing this article in advance as I am away on leave. Family circumstances in the 'East' require my family and I to travel back for the week. The reasons are positive and mean that we can reconnect for a series of significant milestones, which we have not been able to do for a few years.
In my absence, I know that there is much happening at the College, and I do hope students and families are enjoying the variety of events, such as our wonderful musical production, Gifted and Talented Exhibitions and the Year 11 Dinner Dance. I am sorry I am not there myself to enjoy them with you.
NEW CHILDCARE CENTRE PLANS
We are excited to share news of our plans to build a state-of-the art Childcare Centre to replace our current premises.
The proposed development was approved by the College Board last week, with its location to be in the south-east corner of Arpenteur and Tranby Drive. The centre will have a capacity of 150 places – 100 x Long Day Care and 50 x Outside School Hours Care.
You can watch a fly-through animation of our plans HERE. 
As with any new development, there are several processes that need to be completed before building works can commence. We require approval by the City of Rockingham (in progress), formal finance approval and satisfactory costing in response to a building tender. As such, we have not yet awarded a contract for construction, however, if everything goes to plan, the new centre will be ready by the end of Term 1, 2024.
This development is an exciting prospect for our College and families that will use its facilities. It promises to offer a safe, stimulating, and environmentally friendly space, where our littlest students can flourish in their early years. We look forward to sharing more details.
FRINGE FESTIVAL 2023
Thanks to the tremendous efforts of Senior School Drama Teacher, Erin Hutchinson, Tranby College has been successfully listed as an official FRINGE WORLD venue for 2023. Great work, Erin!
The event, which will run over two days in early February, will feature acts and performances from both Tranby students and local artists. Tickets for these performances will be advertised on the FRINGE WORLD website. (Search Tranby and you'll see our shows!)
For more information about FRINGE WORLD and our involvement, or if you would like to perform at the event, please read our NEWS ARTICLE on the College website.
COMMUNITY CHRISTMAS SERVICE
We have made the difficult decision to cancel our annual Community Christmas Service. This decision has been based around the need to reschedule so many events from earlier in the year to Semester 2, due to COVID-19 restrictions, impacting staff availability across year levels.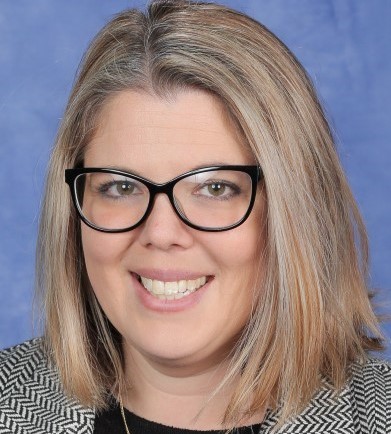 Madagascar – A Musical Adventure Jr.
On Wednesday I was lucky enough to watch the matinee of the Junior School Production of Madagascar JR. As I entered backstage upon arrival, the flurry of activity was a sight to behold. Students were putting the finishing touches on their costumes, staff were finalising arrangements, and parent helpers were busily readying students for their performances. Makeup was being applied, buttons resewn, and microphones positioned.
The performance itself was thoroughly enjoyable, and I was exceptionally proud of our student and staff efforts. I know that our Pre-primary, Year 1, and Year 2 students that attended the same performance were absolutely captivated!
The opportunity that performances such as Madagascar JR provides allows our students to expand their comfort zones, engage with the arts in a meaningful manner and encourages our students to grow in such diverse ways. I wish to thank all the cast, crew, staff and volunteer parents for their magnificent efforts in the lead-up to, and production of, this event.
Rest and the end of the term
I think we can all agree that at about this time of term, when there are still a couple of weeks left, taking time to relax and rest is important. Although our programming at the College continues right up until the end of the year, it is essential that students take the time to 'fill their cup' with things they enjoy and that they obtain a good night's sleep. Without this rest, students can struggle to navigate the last days of the school year. Lack of sleep can result in poor concentration, irritability, aches and pains in the body, and a weakened immune system – Beyond Blue 2022.
The following websites have some great tips and tricks for those struggling to achieve a good night's sleep:
I wish you all a restful end of term.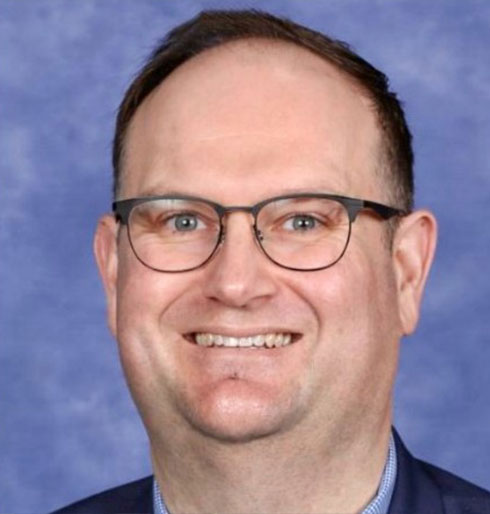 Director of Learning and Innovation
Future Leaders Program and Innovation in Education Festival
Hopefully our parents are aware that Tranby College is considered one of Perth's leading innovative schools. We are recognised as by various organisations such as Curtin University, the Australian College of Educational Leaders, and other schools. A couple of weeks back, Ms Jenny Florance (Head of Karla House and HASS Subject Lead Teacher) and I joined our peers from Perth and across the country at the Innovation in Educational Festival. I was invited to participate in the inaugural Innovation in Education Round Table with other leading schools, researchers, and companies to discuss future trends and best practices in education. It was great to share what we have been doing and hear how other schools are innovating teaching and learning.
Another part of this year's festival was the inaugural Future Leaders Program at UWA. Tranby was invited to take nine students to join nine other schools to talk about what it means to be a future-focused leader. Our students engaged in various thought-provoking activities to generate solutions to problems that face our young people. Tranby's students considered how to make access to study materials and resources more equitable. They then undertook a personal branding workshop where they identified their key values, strengths, and dreams to write their personal mission statement. In addition, they heard current young leaders talk about their work. The presentation on the metaverse was interesting, and I cannot wait to see what it will allow us to do in education and the wider world, even if I don't quite understand it all yet.
Senior School Booklists
This is a reminder to all our families that in 2023, Tranby will continue our journey into using more digital resources. A part of our move is to adopt the Box of Books platform to ensure a seamless experience for our students, as they move from hardcopy paper textbooks to digital resources. As textbook publishers transform their industry, we are seeing more and more titles move to digital only. In doing this, we have access to richer interactive resources, regular updates to content and more engaging activities.
Parents and guardians you need to go to Box of Books and sign in to access your child's 2023 Booklist to purchase the required materials. If you need help, please go to How to Purchase Resources.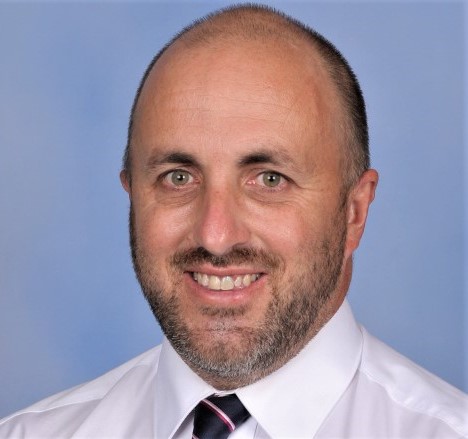 Dear Parents and members of the Tranby College Community, as we embark on the final few weeks of the year, I wanted to share with you some essential information regarding Term 4 for our students in the Senior School.
Social Events
In the coming weeks, a number of our students will have the opportunity to participate in various social events as we celebrate the school year. These events are designed to culminate the year and recognise the social development of our students. It is a timely reminder that students are expected to demonstrate behaviour consistent with the College values, as well as personal conduct reflective of the classroom. At all our events, associated staff will be in attendance to ensure the safety of our students. Please note, individual communication for families will be distributed in due course for these events.
Assessment
I wanted to congratulate our students as the examination and assessment period comes to a close in the coming days. These assessment pieces are designed to assess student progression within a unit of study and aid our teachers in designing learning opportunities moving forward. For our students, this can be a stressful time and, as such, it's important that they are given an opportunity to balance their studies with co-curricular activities as well as time with family and friends.
Whilst the end of the year is enticingly close, it is important to note that students will be actively learning for the remainder of their classes. As such, it is an expectation that all students arrive at class with all necessary items and engage in the various activities. Please note, in the final days of term, students will be given an opportunity to clear their lockers and finalise IT requirements. Information regarding this process will be released in the coming weeks.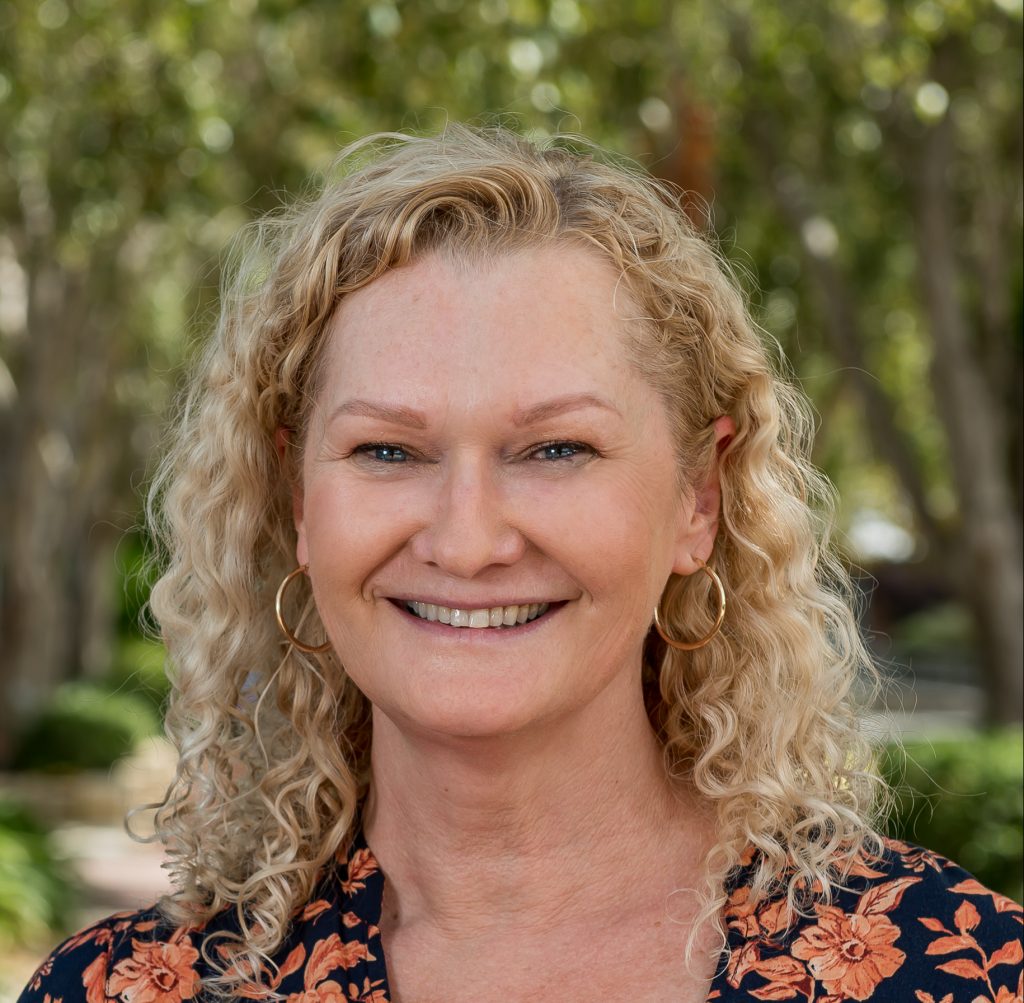 Shining Stars of – Madagascar – A Musical Adventure Jr.
This week our Performing Arts students in Years 5 and 6 took us on a magical musical adventure. Alex the Lion, Marty the Zebra, Gloria the Hippo and Melman the Giraffe took us on a journey to explore the world. Our lovable characters met some amazing and interesting personalities along the way as they discovered the power of friendship and teamwork.
I know each time I saw the performance, I left with a huge smile on my face. I felt so proud of our students and staff, and of the standard of work that was achieved. The dedication and commitment of all involved was evident and a credit to each and every person who contributed their energy and time bring the production together.
My heartfelt thanks goes to all the staff involved for their commitment and passion. From props, costumes and makeup it was amazing to see them work behind the scenes, and what was produced was a credit to them all. In particular, I would like to take this opportunity to thank Brooke Steele, Amanda Davison and Cassandra Curulli. Their vision, direction and expertise was unwavering throughout the many hours spent meeting, organising and rehearsing.
In addition, a show like this would not be possible without the support of our families. From organising your children with costumes, to the pick-ups and drop offs and everything else in between, your support is most appreciated.
Of course, my final and biggest thank you goes to the shining stars of the show, our students. Each and every one of them, whether backstage or playing a character, shone brightly during the performances. Whilst they all had their own parts to play, their support of each other was the highlight. We are all so proud of what they achieved together, and they truly encapsulated the meaning of Madagascar through their support of each other, their friendship and their ability to work as a team. Well done and congratulations to each and every one of you!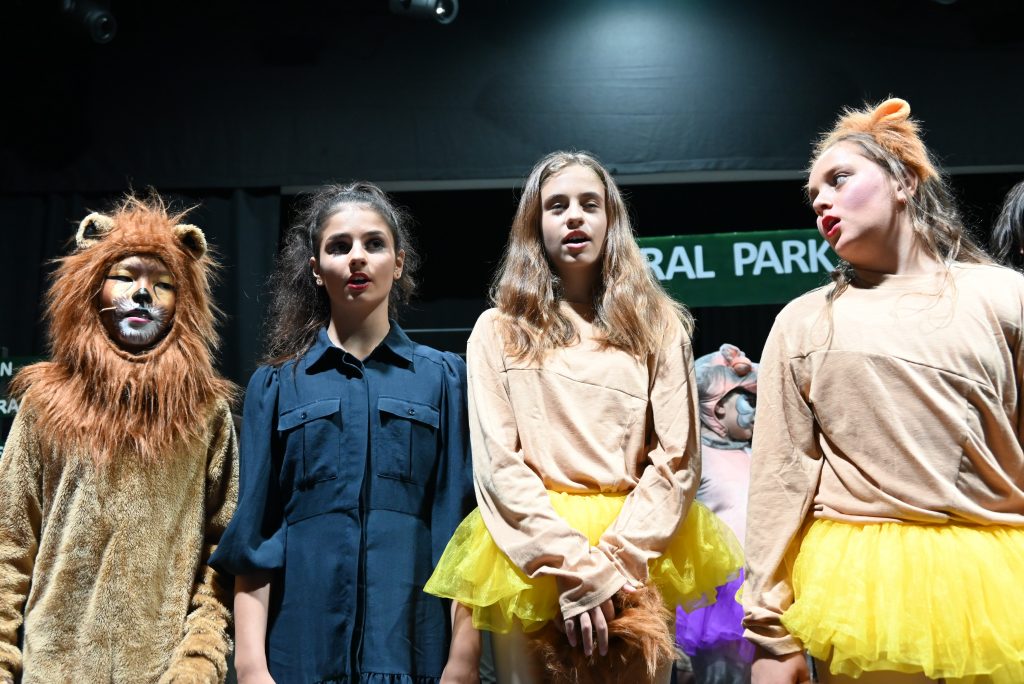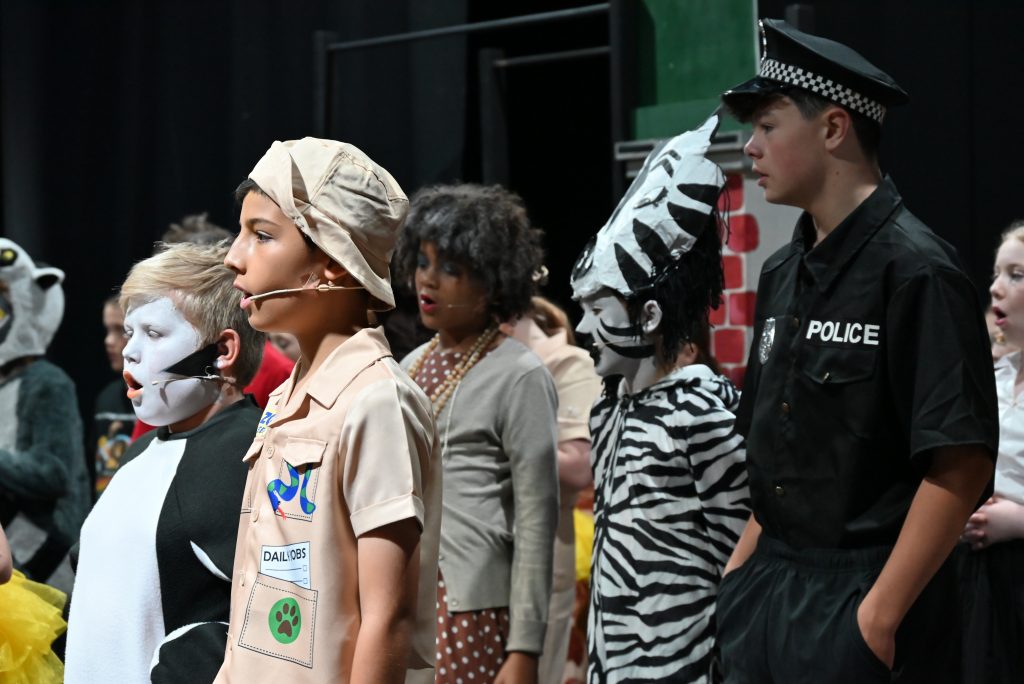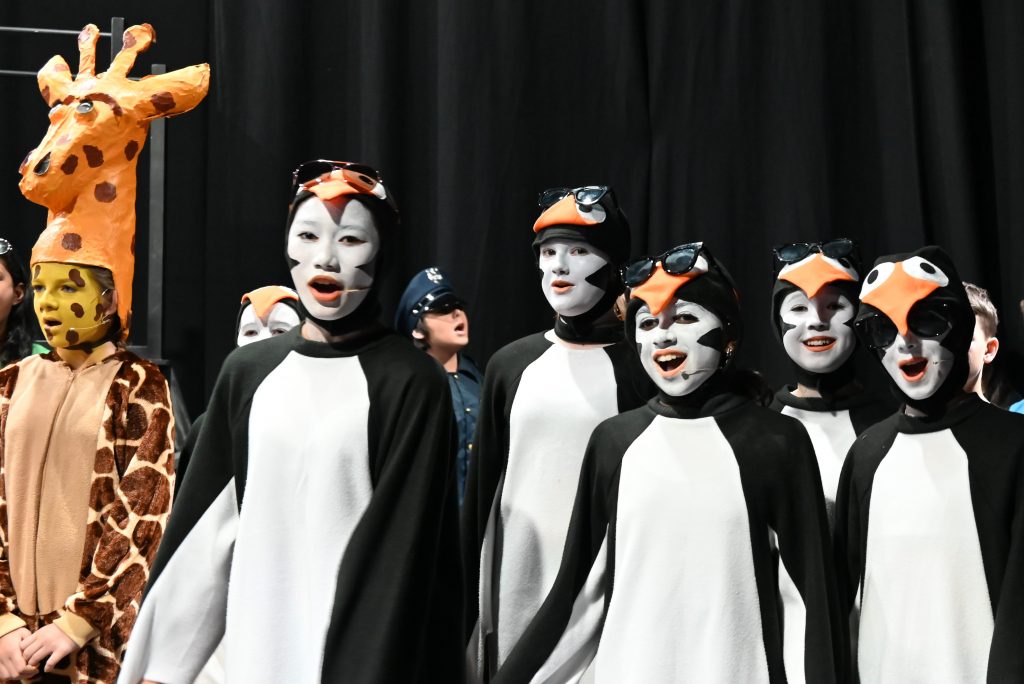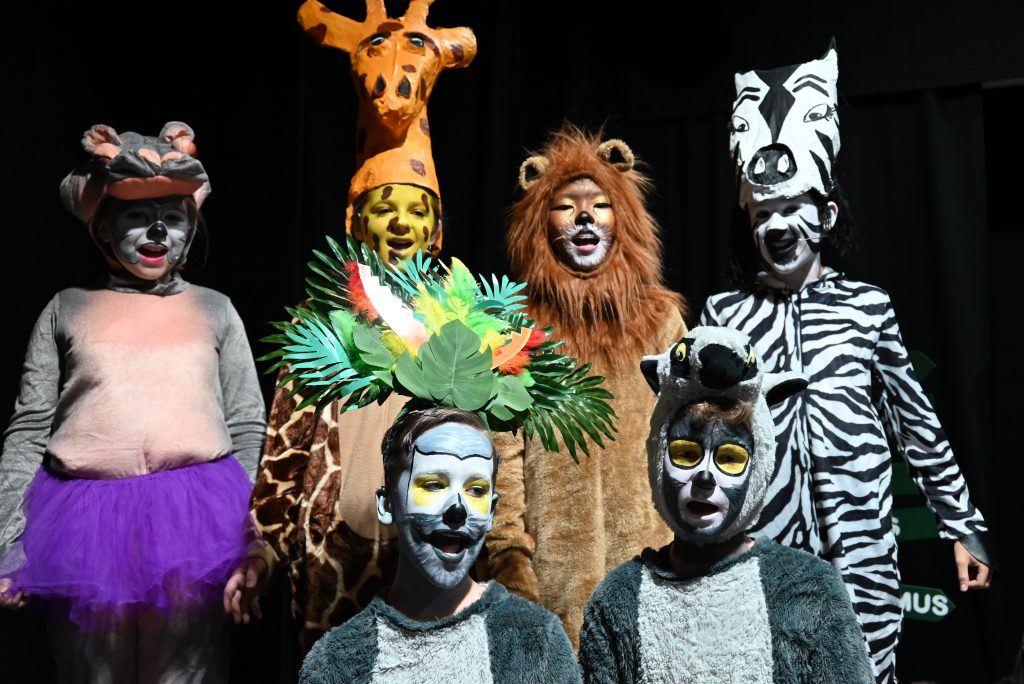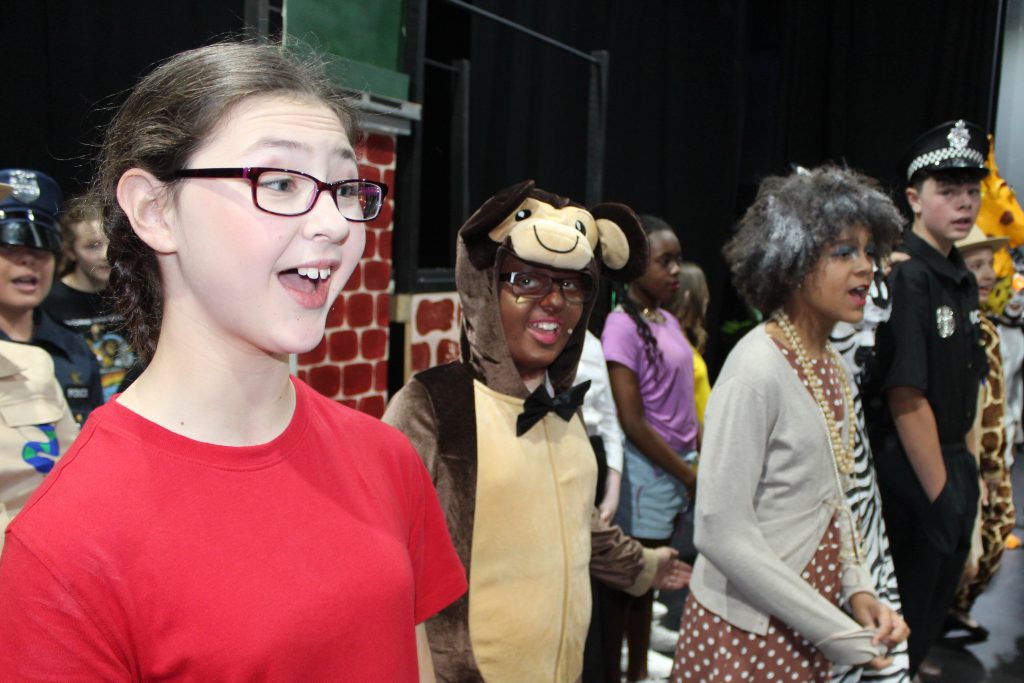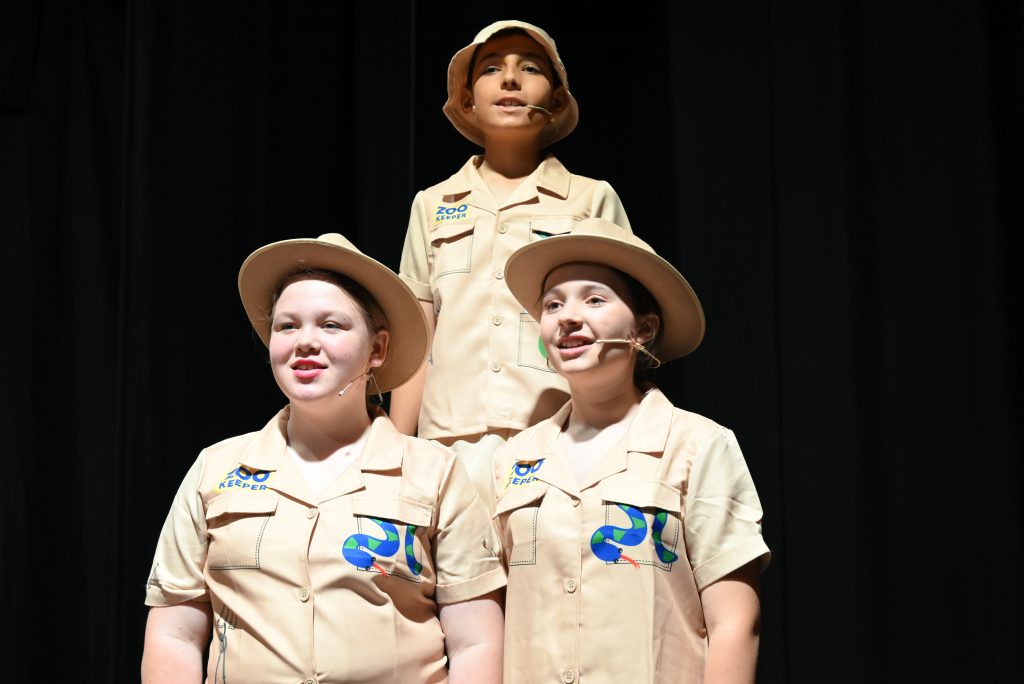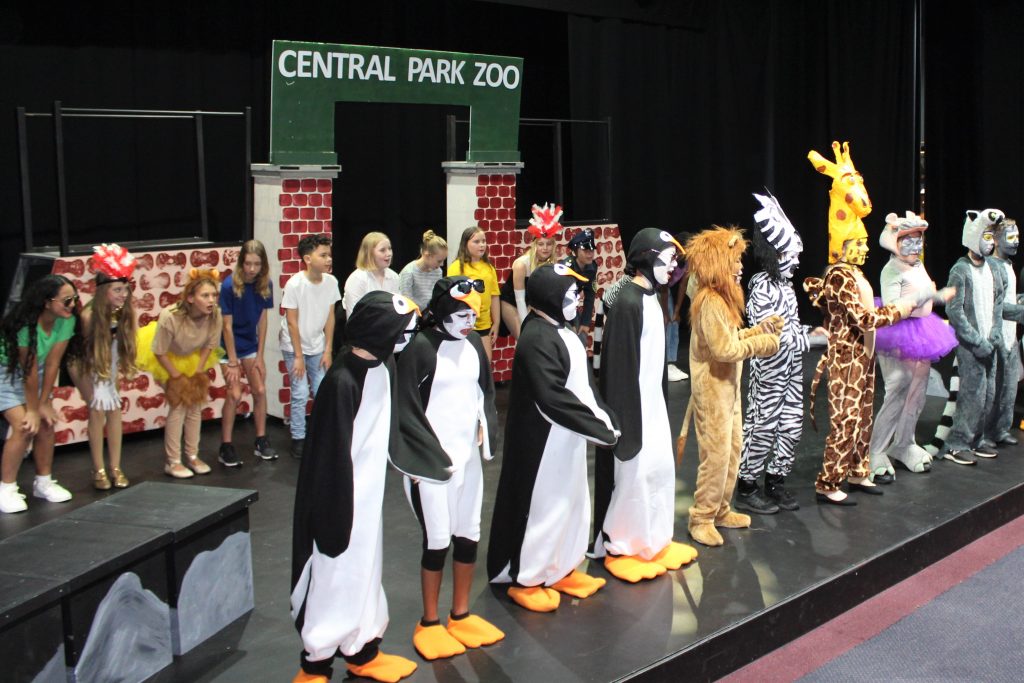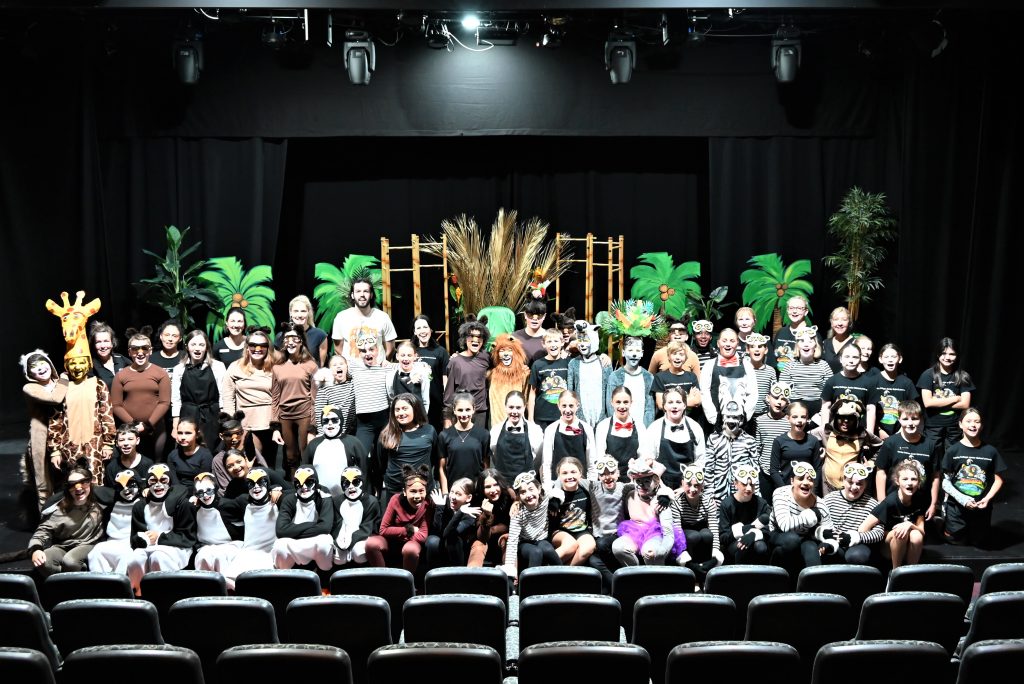 Deputy Head of Junior School
Tranby Day Colour Run
Many students across Kindy – Year 12 signed-up to participate in the Tranby Day Colour Run, which was held on the last day of Term 3. The goal was to come together as a community and to fundraise for Tranby College. Subsequently, a significant amount of money was raised of which the proceeds will go towards Outdoor Play Equipment in the Junior and Senior Schools.
Last Friday, saw our fundraising students receive their prizes and the excitement in the air was palpable!
Congratulations to Year 1M for their achievement as the highest fundraising class. A certificate was presented to them for their collective effort. It was a double celebration for 1M as Calvin Cook was also awarded as the top fundraiser, jointly with his brother Lucas from Year 3B. As the top two fundraisers, each was awarded a certificate and medal, and they were able to claim a variety of prizes, some of which they donated. As you can see from the photos, we had many other prize recipients with anyone raising over $10 able to claim prizes for their efforts.

A massive thank you must go to all our families who generously donated their prizes to the Uniting WA Christmas Appeal. Your thoughtful act of kindness is a testament to our community practising – Gratitude, Empathy and Mindfulness (G.E.M).
I want to take one last opportunity to thank everyone who supported this event, through fundraising or participation. It was truly an amazing day for our school, and we should all be proud to be a part of this amazing community we call Tranby College.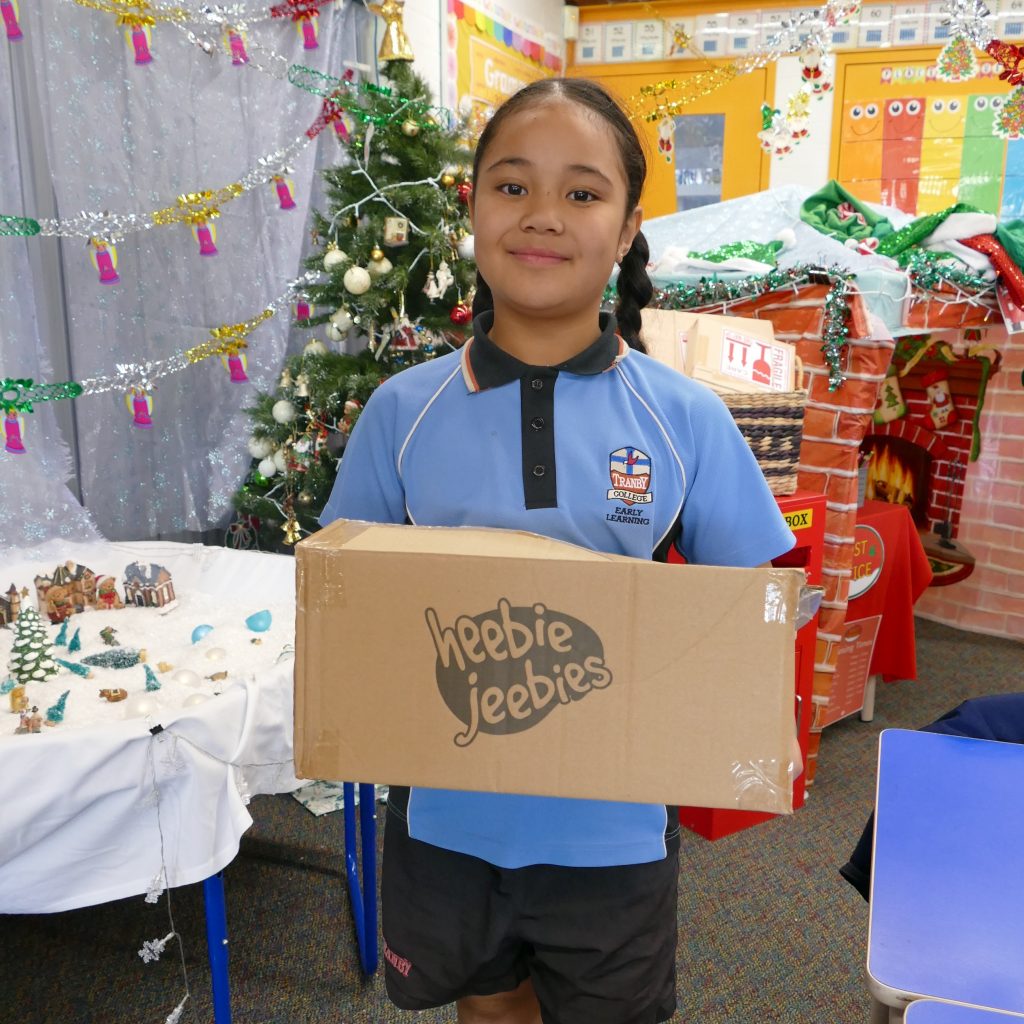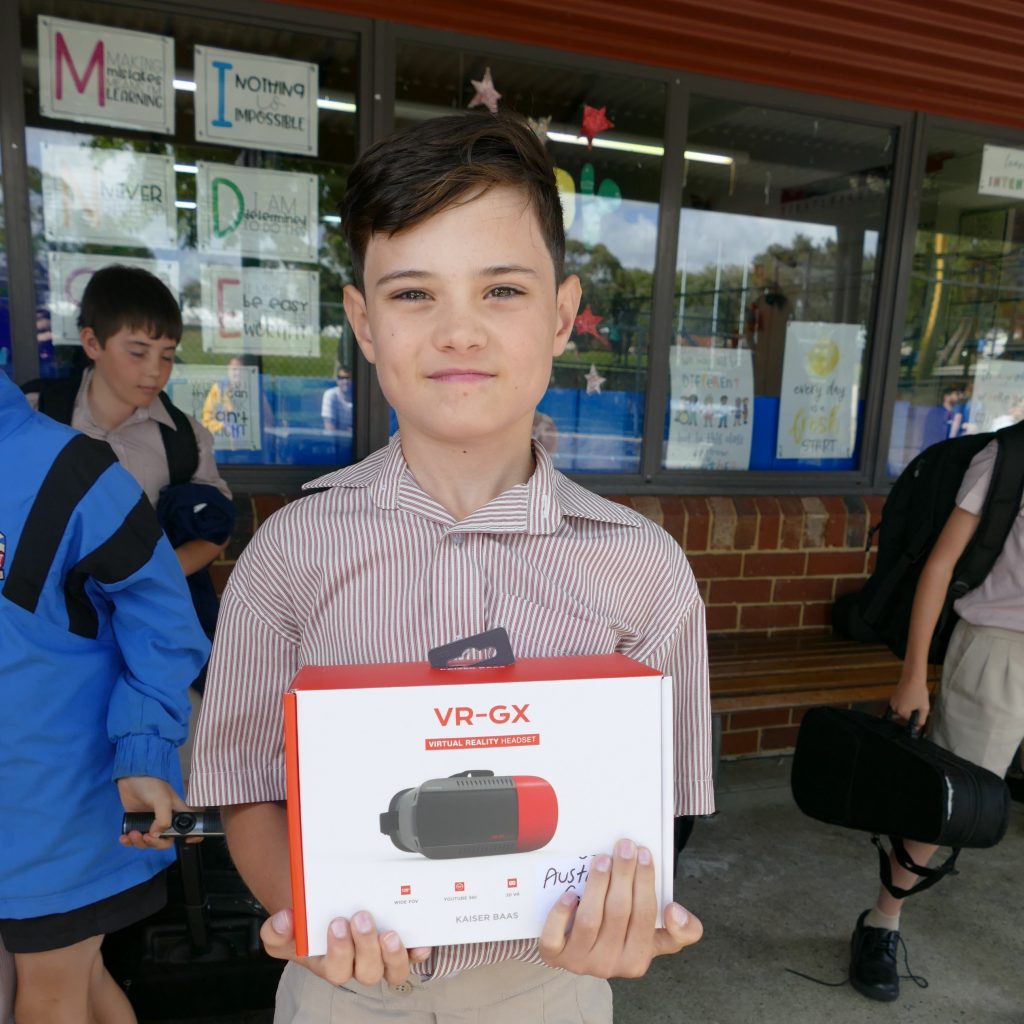 "It's starting to look a lot like Christmas" in the Junior School Art room. Students from Pre-primary to Year 4 have been busy making decorations ready to send home to adorn their trees. Well done, students!
Last week saw the College host its annual Book Fair in the Junior School Library. We had a steady stream of eager customers all week, selling a total of $6,500.00 worth of books. It was such a delight to see so many children leaving with a book in their hands.
Proceeds from the Book Fair will be used to donate to the Story Dogs program, to enable other schools to experience the joy of having a Story Dog visit their school. We will also have a lot of new books to process, ready for the children to borrow next year.
A big thank you to our two Library Captains, Sammy Harding and Kai Chester for their help during the week, and to Mrs Simone Rowe for volunteering to assist us. Last of all thank you to all the families who supported our 2022 Book Fair.
Jane Stanton
Teacher Librarian
We all love being read to – even when we are good at reading ourselves! Research consistently points to Reading Aloud as one of the most effective methods of luring students young and old into the wonder of books, while developing a raft of literacy skills, reducing stress, and helping to foster a community of readers.
As Neil Gaiman writes: 'We have an obligation to read aloud to our children. To read them things they enjoy. To read to them stories we are already tired of. To do the voices, to make it interesting, and not to stop reading to them just because they learn to read to themselves'.
So parents; please keep reading to and with your children. Even teenagers love being read to! Reading is the skill that underlies every other learning area. Reading ability can go backwards if not practiced, so it is essential over the long summer break.
Louise Moreton – Teacher Librarian
Congratulations to Year 8 students Noah Alves and Elliott Riley who both competed at the State All School Athletics Championships in Perth recently, representing Tranby College. Both students achieved impressive PB's over the weekend event, with Noah taking out a Gold Medal in the Triple Jump, a Silver Medal for 400m sprint and a Silver Medal in the Long Jump. Noah has qualified for the National Finals and will travel to Brisbane next month to represent Tranby; we wish him the best of luck.
Uniting WA Christmas Appeal
Thank you to all the families who have so generously supported Uniting's annual Christmas Hamper Collection Appeal. Gifts of non-perishable foods and Christmas treats have been flowing in this past month, along with with some very special donations from Tranby students who donated prizes from their recent Colour Run fundraising efforts. 
Collections close Thursday 1st December so the donated items will be collected ready for packaging and distribution.
French Students 'Vont au Théâtre'
Yesterday, our Year 9 and 10 French students enjoyed an immersive experience by watching a play in French. The play, Pinocchio (presented by Perth French Theatre at Dolphin Theatre, UWA,) was performed in French with English subtitles. What a fantastic fantastic opportunity for our students to practice their listening and comprehension skills. 
Home and Away Cricket Series
YEAR 7 & 8 CRICKET – HOME AND AWAY SERIES v KENNEDY BAPTIST COLLEGE
Over the past two weeks, our Year 7 & 8 Cricket Team played a home and away series against Kennedy Baptist College (KBC). On Wednesday 9th November we hosted KBC at the Meadow Springs Sporting Complex as our home match. After winning the toss and batting first, Tranby finished 147/6 after 35 overs, thanks largely to an unbeaten 51 from Isaac Diamanti, which was well supported by Toby Hughes, also unbeaten on 37. In reply, Tranby managed to hold KBC to 138/4 with Luca Diamanti the pick of the bowlers taking 2/12 off his 5 overs and Rhys Betley and Tyler Mitsopoulos both claiming a wicket each. Mia Cristodero had the task of closing out with the last over in a high-pressure finish. She kept her nerve and executed well to ensure Tranby sealed the 10 run win.
Then on Monday 21st November we had our away fixture, we played at the Murdoch University playing fields. Winning the toss, Tranby College elected to bat and finished 135/6 after 35 overs. Luca Diamanti top scored with 44 and was well supported by Isaac Diamanti who scored 32. In reply, KBC slumped to 60/8 before amassing an unbeaten 76 run 9th wicket partnership to win the match and level the Series 1 – 1. Credit must be given to the two KBC batsmen involved in the partnership, who both, playing very different roles, combined superbly to take what looked like a very unlikely victory. Jesse Diamanti returned the figures of 3/8 off 3 overs with Tyler Mitsopoulos and Luca Diamanti both taking two wickets each. Archer Slomp provided a strong wicket keeping performance, taking early catches off both the opening bowlers.
The highlight of the series was the students support and positivity for each other, regardless of the match situation.
With a tied series, we're already looking forward to next year's matches, as well as the launching of our High-Performance Cricket Program.
Brendon Diamanti – HPE Teacher
Uniform Shop Holiday Opening Details
The hours for back to school are as follows:
BOOK AN APPOINTMENT DURING THESE DAYS & TIMES ONLY:
Wednesday 18th January – 8:00am – 12noon
Thursday 19th January – 8:00am – 12noon
Friday 20th January – 8:00am – 12noon
Monday 23rd January – 1:00pm to 4:30pm
Tuesday 24th January – 1:00pm to 4:30pm
Should you like to book an appointment please click on the following link: Perm-A-Pleat.
PLEASE POP INTO THE UNIFORM SHOP DURING THE FOLLOWING DAYS & TIMES:
Wednesday 18th January – 1:00pm – 4:00pm
Thursday 19th January – 1:00pm – 4:00pm
Friday 20th January – 1:00pm – 4:00pm
Monday 23rd January – 8:00am – 12:30pm
Tuesday 24th January – 8:00am – 12:30pm
Monday 30th January – 8:00am 12:30pm (closed for lunch) 1:00pm – 5:00pm
Wednesday 1st February 8:00am 12:30pm (closed for lunch) 1:00pm – 4:00pm
Friday 3rd February – 12noon – 4:00pm
If you have any queries please contact the Uniform Shop on 9523 3119 during their open times.
Bricks 4 Kidz Holiday Fun
This Summer School Holidays we are running Workshops with LEGO® and Coding with Robotics. Our holiday programs are designed for kids aged 5 -12. We have many themes to inspire creativity and fun.
Online enrolment is at the following link: Holiday Bricks 4 Kidz Program
Our Summer School Holiday Workshops are located at the following locations:
• Mary Davies Library and Community Centre @ Baldivis
• Providence Christian College @ Southern River
2023 School Service Changes
Cosy Toes Winter Appeal Update
Budjar House were very fortunate to welcome Harry Stacey, ex Tranby College Captain 2017 and loyal Budjar House Member, to address the House Meeting last Wednesday.
Harry shared his experiences post Tranby and his determination to follow his dreams of becoming an actor. He is now in the final stages of completing his studies at NIDA and will shortly be out in the acting world.
He spoke fondly about his time at Tranby and how he made the most of every opportunity including sport, academics, productions and the Arts, leadership and service, but on reflection, he wishes he had not worried so much about what others thought of him whilst at school.
Harry told us how he had tremendous support from his teachers and peers throughout his schooling but it wasn't until he left that he really appreciated how non-judgemental and supportive the significant people were to him.
After showing a video clip of the moment in a dance class in NIDA when it dawned on him that he just had to throw himself into dancing and performance, to make the most of the opportunity; Budjar students really understood his message. "Make the most of every opportunity and don't be afraid to give things a go".
After the talk, some students took the opportunity to speak to Harry and asked him some insightful questions.
We would like to thank Harry for coming to speak to the House and we wish him every success in his acting career.
VacSwim - Enrolments Now Open!
Primary School
Enrolments are now open for VacSwim swimming lessons during the summer school holidays. VacSwim offers fun lessons at beach or pool locations. They are a great school holiday activity, and they teach valuable safety skills to help keep your child safe in the water. Enrol at: education.wa.edu.au/vacswim
Secondary School
If your child has turned 14 years old or will be turning 14 years in the same calendar year of the course, you can enrol them in VacSwim so they can get their Bronze Medallion during the summer school holidays. They'll learn advanced survival, rescue, and resuscitation skills to help keep them and others safe in the water. Enrol at: education.wa.edu.au/vacswim