11th November 2022 (Week 5 Term 4)
Sunday 13th November – Combined Service at Rockingham Uniting Church – 9.30am – 10.30am
Monday 14th – Friday 18th November – Book Fair – Junior School Library
Thursday 17th November – Transition KG to PP Orientation and Q & A for Parents – 3.30pm-4.00pm
Monday 21st November – Junior School GATE Exhibition – 9.00am-10.30am
Wednesday 23rd – Friday 25th November – Madagascar – A Musical Adventure JR
Friday 25th November – Year 11 Formal Dinner
STRATEGIC PLAN AND MASTER PLANNING WORKSHOP UPDATE
At the end of August and during early September, a number of workshops were held with students, parents and staff. A summary of what was presented and the outputs of these workshops are detailed in a special article available on our website. To review the update, please click here.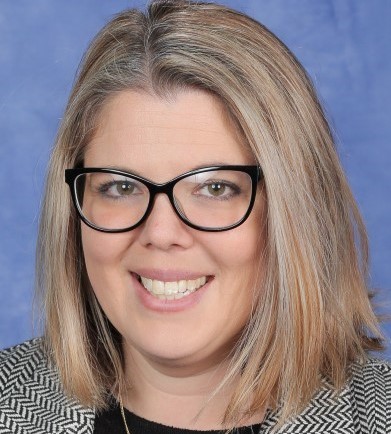 Device Usage and Social Media
With the increasing use of devices and social media platforms by our children, it can be quite tricky for parents to navigate which apps children can access at what point in their lives. Social media proved itself to be a great connector during the pandemic, allowing children to connect to family both nationally and internationally, and it provided a source of entertainment. However, as we are all aware, there are certain pitfalls and dangers in relation to social media usage.
There is a plethora of resources available, so much so, it is often overwhelming to know where to look. Listed below are a few websites and resources that are particularly helpful in navigating this space.
eSafety Commissioner
The eSafety Commissioner has a website full of resources for parents, students, and schools to use https://www.esafety.gov.au/. Additionally, they have produced The eSafety Guide which provides an overview of popular social media and gaming platforms https://www.esafety.gov.au/key-issues/esafety-guide. Another useful resource produced by the eSafety Commissioner is a webpage for parents containing information related to questions to ask when deciding if a child is old enough for social media (please note that most social media platforms have a required age to be able to sign up to use) https://www.esafety.gov.au/parents/issues-and-advice/are-they-old-enough
Susan McLean
Susan McLean, a national leader in the Cybersafety space, has put together a fact sheet for parents around internet safety https://www.cybersafetysolutions.com.au/downloads/Internet-Safety-Tips-for-Teachers-Parents-and-Caregivers.pdf. Additionally, she has many other resources available for parents and schools available through her website https://www.cybersafetysolutions.com.au/schools/
It is important to remember that there is not a one size fits all model in this area, and that each individual family needs to make decisions as to how to best manage social media and devices within their own family unit.
As always, please do not hesitate to contact the College should there be any issues of which you feel we need to be aware of.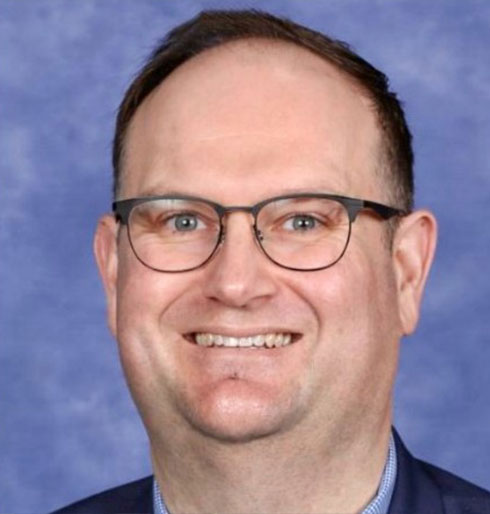 Director of Learning and Innovation
Year 12 exams commence
Commencing on Monday, our Year 12 ATAR students will commence their external written examinations. On behalf of the College Community, I wish our ATAR students the absolute best for their examinations. May their hard work pay off, and they achieve admirable scores and ATARs that give them scope to enter the university course of their dreams.
Good luck!
In addition to these examinations, our performing arts and French students underwent their practical examinations over the recent school holidays.
Our Year 12 UniReady students successfully completed Curtin Universities preparation course and are now eligible to enter a range of courses at Curtin. Congratulations to these students!
The General and Vocational Education and Training students have worked hard to complete their courses and meet the requirements of the many VET Certificates.
As you can our students have completed various courses; here at Tranby, at TAFE, and other Registered Training Organisations, training from Certificate II to Certificate IVs. Many of these students have successfully obtained employment in their vocational area. We are also immensely proud of our students who secured apprenticeships in various large industrial and mining companies. Well done!
Tranby is proud of each student and we look forward to hearing about their successes and the future impacts they will have on our local and global communities.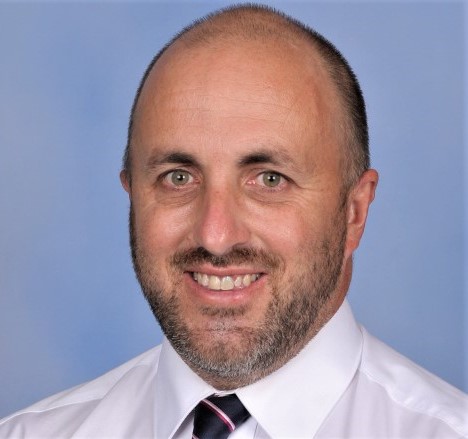 Dear Parents and members of the Tranby College Community, I thank you for your support so far and I am eager to share with you some essential information regarding Term 4 and the health and wellbeing of our students in the Senior School.
Construction Training Scholarship Program
I had the pleasure of attending the Construction Training Fund Scholarship Program Graduation Ceremony at Mineral Resources Park recently to witness several WA (Western Australia) Year 12 students graduate with a pre-apprenticeship in their chosen field. Whilst schools place an importance on WACE examinations, it is also imperative that we celebrate the successes of our increasing number of students opting to take hybrid or TAFE/Workplace pathways. Congratulations to Joshua Grubelich, Charlie Ogden, and Ciaran Murphy o n their achievements within this pathway and on your graduation.
WACE Examinations
Over the past two weeks, our tertiary pathway students have been completing their final WACE examinations. It has been great to see them on campus in their final formal requirements and involve themselves in additional study opportunities with the subject teachers. I encourage them to keep up the great work as this final exam period ends in the coming weeks.
Vaping
As Tranby parents, you will be increasingly aware of the challenges that impact your adolescents' health. Medically and socially, there is a growing concern about the harmful effects vaping has on young people. The incidence of vaping by students in Years 7-12 is increasing, with research currently suggesting that 13.5% (1-vaping-fact-sheet_teachers-v8.pdf (education.wa.edu.au)) of secondary students have tried an e-cigarette. With many varying styles, flavours, and styles of vapes, they can be difficult to spot. The biggest misunderstanding about vapes or e-cigarettes is that they are harmless compared to cigarettes. This is unfounded. Vapes are not safe.
Vaping facts:
Many vapes contain nicotine making them highly addictive.
Vapes contain toxic chemicals, they just do not advertise this.
Vapes contain the same harmful chemicals found in cleaning products, nail polish remover, weed killer and bug spray.
Vapes can leave young people at increased risk of depression and anxiety.
The nicotine in one vape can equal fifty cigarettes. Depending on the size of the vape and nicotine strength, this can be much higher.
Vape aerosol is not water vapour.
Is your child vaping?
Signs that your child might have commenced vaping are the usual symptoms of nicotine addiction such as feeling irritable or anxious. If they are vaping, encourage them to stop and let them know that you are there for support. Stopping can sometimes be hard and they may need advice from a GP or another healthcare professional.
What can you do as a parent?
Please take the time to talk to your child about vaping and help them understand all the risks associated with it. They may see it as a normal thing to do, which is not the case. Try to start the conversation with your child in a relaxed and easy-going way, using this newsletter item as the cue, and, importantly, have your facts ready Vaping Facts.
In Western Australia, e-cigarette devices and their components can't be sold by tobacco or general retailers. It is also illegal to sell vapes to friends at school, or in the community. It is illegal to sell, supply or possess nicotine vaping products (or any liquid that contains nicotine) without a prescription from a doctor, including products imported from overseas. If you suspect someone is selling vapes or e-cigarettes, you can report it to the Department of Health by emailing TobaccoPolicy@health.wa.gov.au.
My intention is not to startle you, but to give you facts and information so that we can work together as a community. The following link has some vital information about vaping and is written by a Perth company, The Behaviour Change Collaborative. Health Worries Lifting the Cloud on Vaping – READ HERE.
For further information on the health risks of vaping, please follow this link to a Queensland media article. Gen Vape – why some of the children in our care vape – READ HERE.
Thank you sincerely for your consideration of the ideas I raise.
Reference: E-cigarettes and vaping (healthywa.wa.gov.au)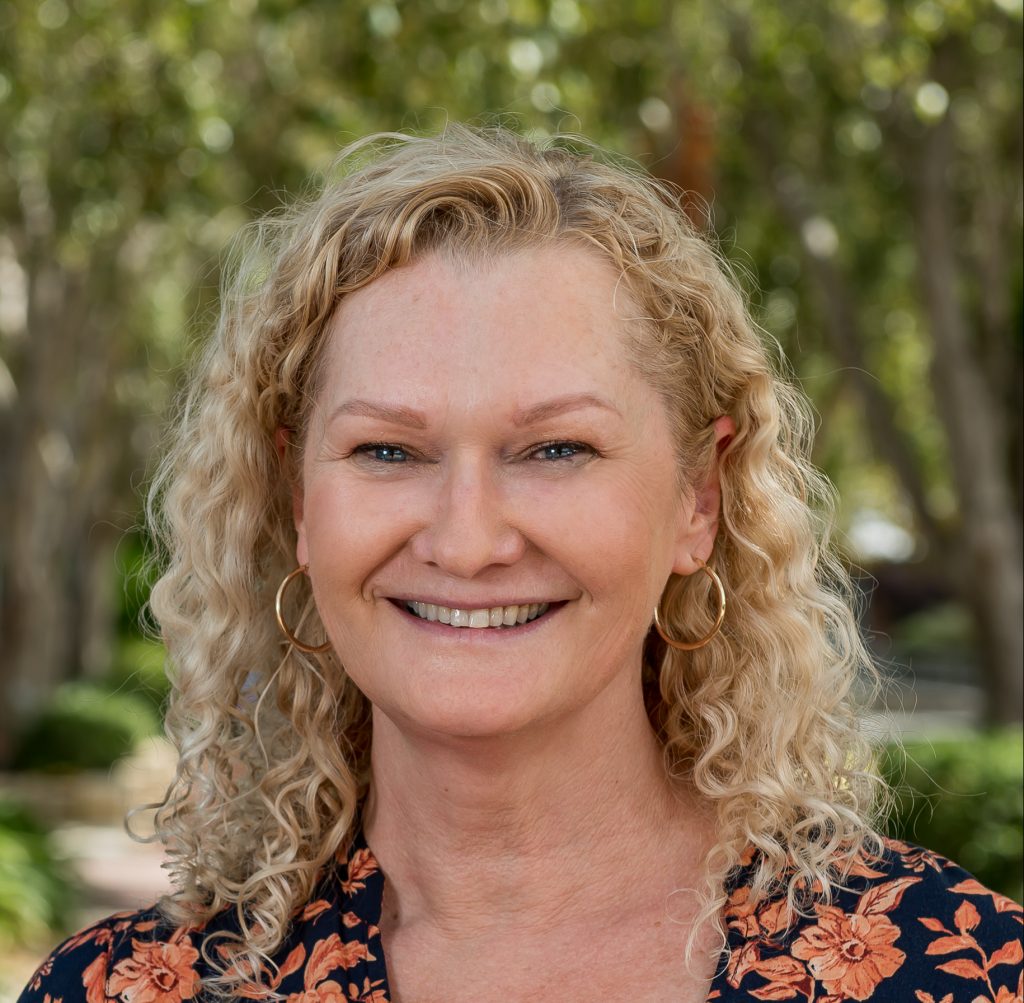 It is difficult to believe we are now past the halfway mark for this term with only four weeks remaining! The Junior School has been a hive of activity, and yet there is still so much to look forward to in these remaining weeks.
Our students have been busily involved in a wealth of activities from camps, sporting events and excursions, and this week, we held our annual Dancesport Social for students in Years 4 – 6. This is one of the highlights of the year, where we see our students come together to show off their wonderful skills learnt through the Dancesport program.
We also conducted the Junior School Orientation, where we welcomed the new students who will be joining us next year. This was a great opportunity for the students to spend time with their peers in class, and to be involved in some fun, 'getting to know you' activities.
During all this busyness, our Performing Arts Team have been working tirelessly on our Junior School production of Madagascar – A Musical Adventure JR. A production is a huge undertaking and requires considerable commitment and dedication. I thank all staff involved for their many, many hours of work. In addition, I would like to thank our parents in advance for their support, ensuring your child is committed to the task and is at each rehearsal, ready for the upcoming performances.
There is still so much more to look forward to this term. Whilst the excitement of holidays and Christmas is beginning to fill the air, it is important that we continue to encourage our students to remain focussed, to work hard and of course, to have fun along the way. Parents, I ask that you support us by ensuring your child continues to wear their uniform with pride, that they continue to remain committed to their work by ensuring they complete their home learning tasks, and that they arrive at school each day prepared.
The next few weeks will be extremely busy with many events and activities still to come.
Hold on to your hats everyone!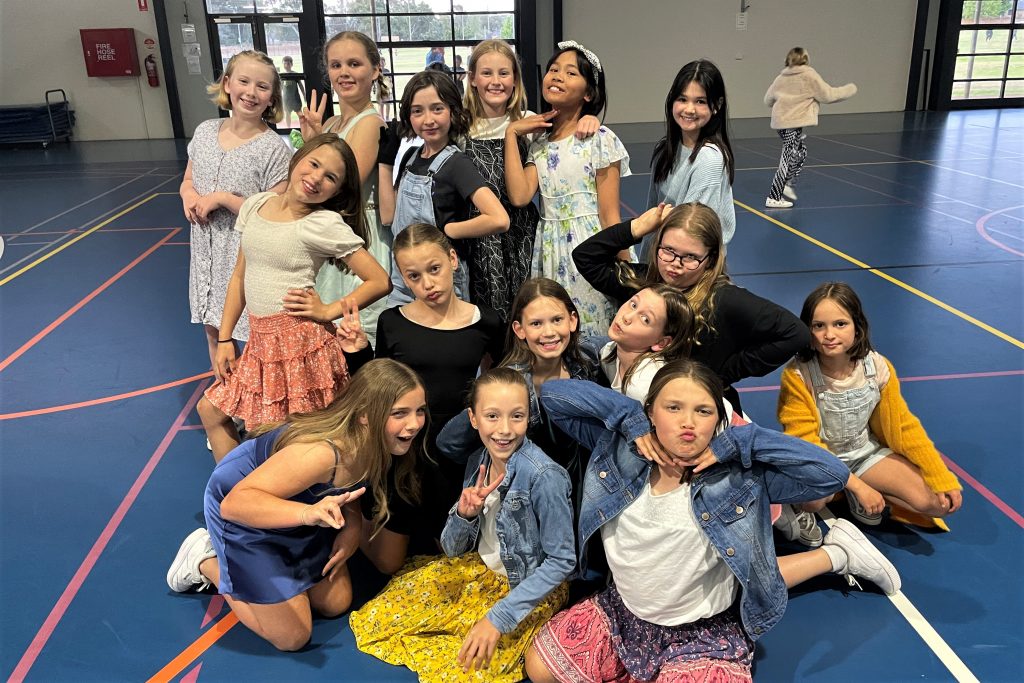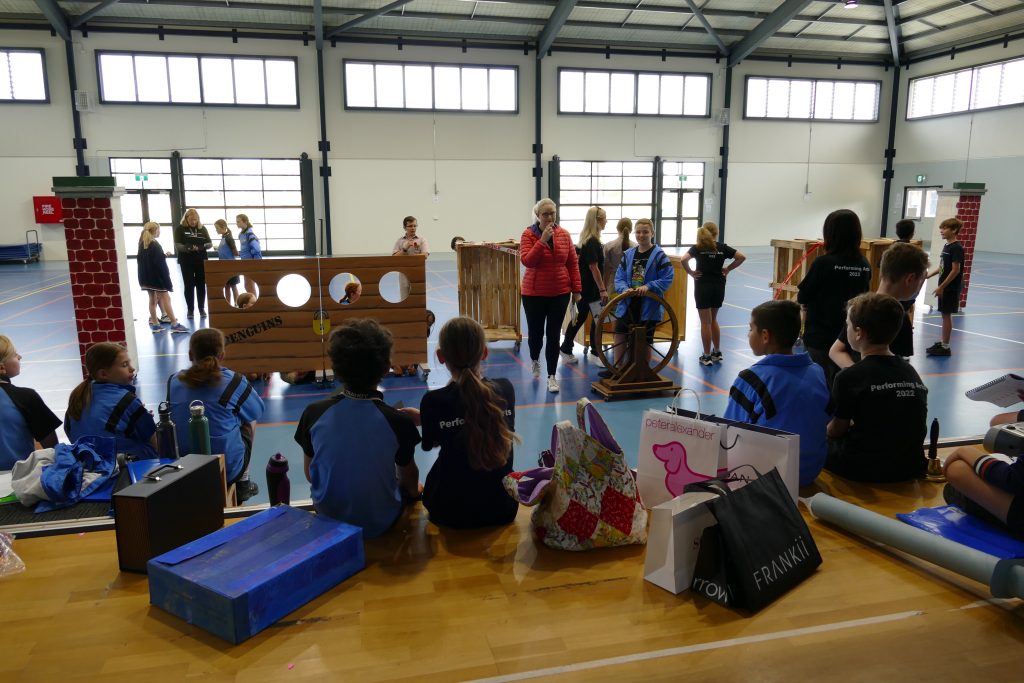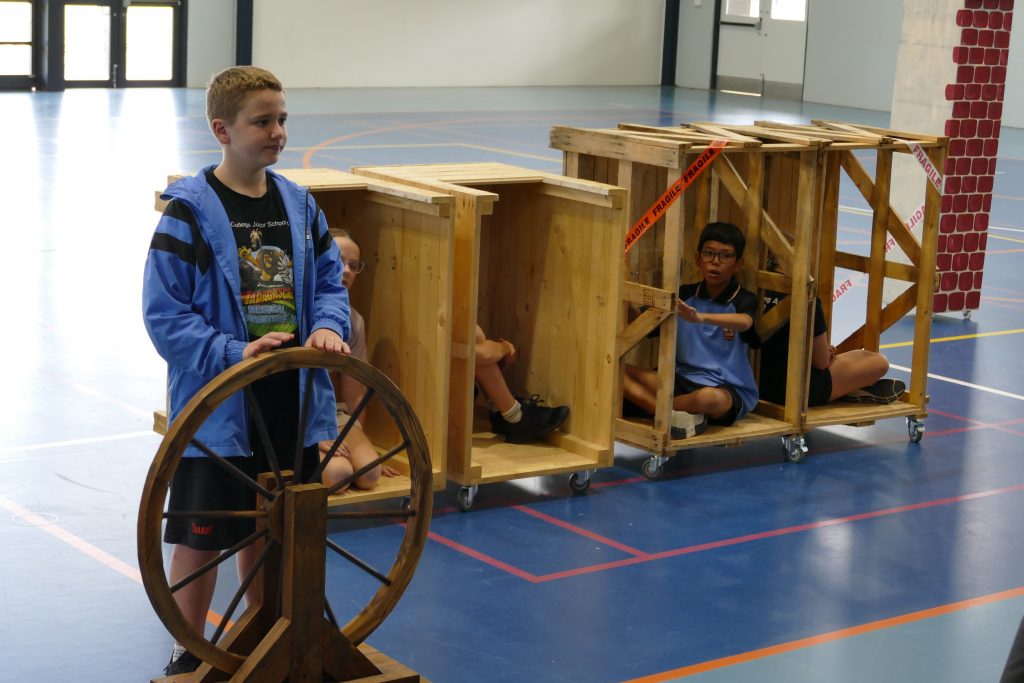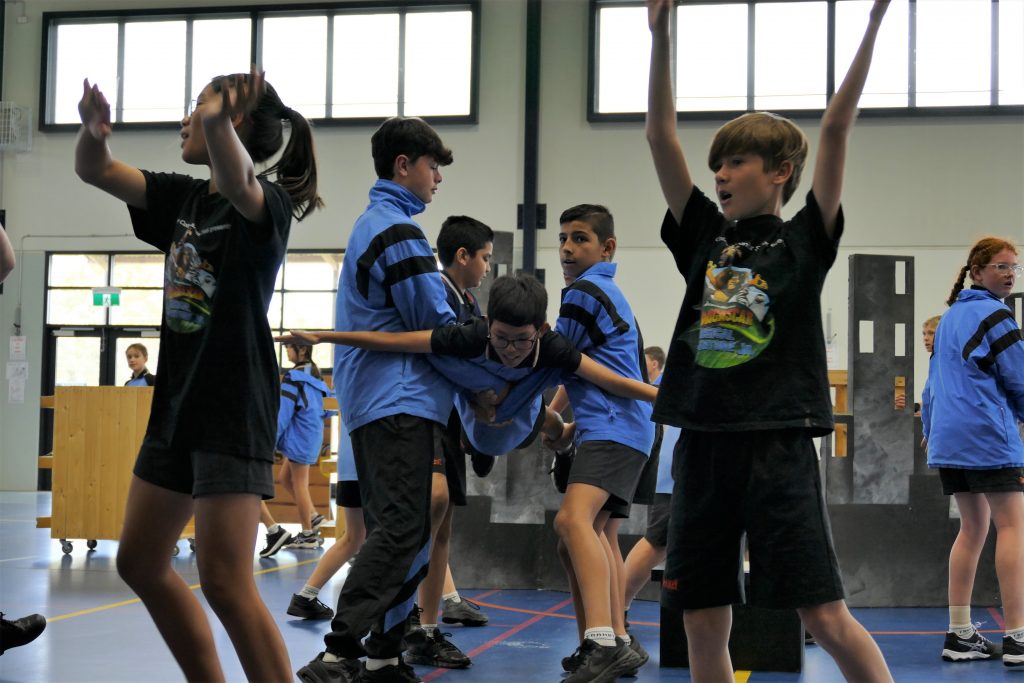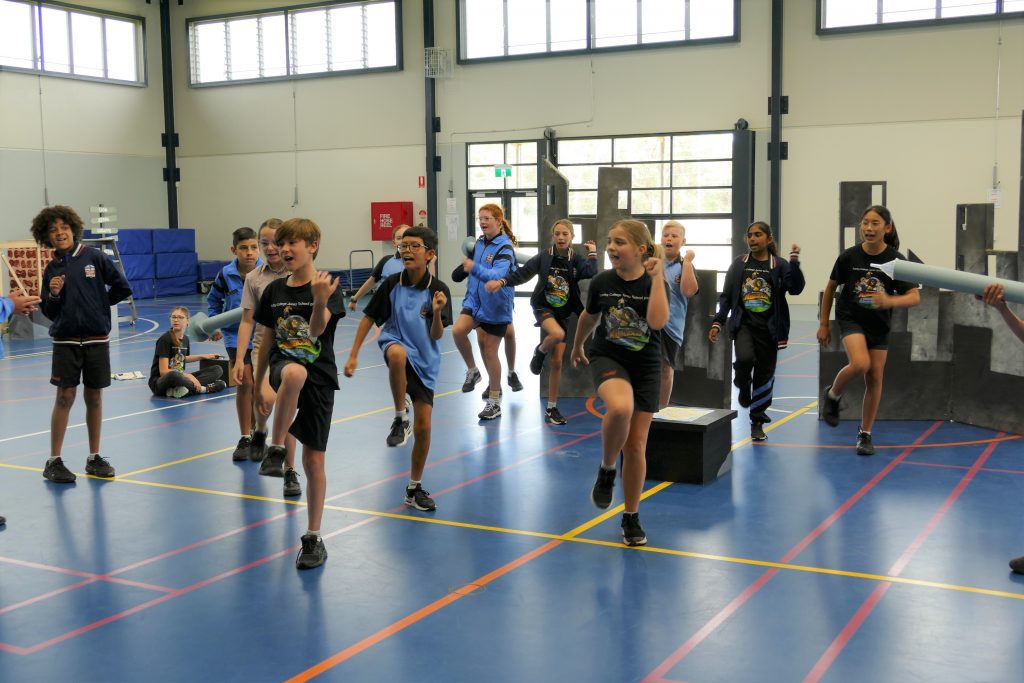 Deputy Head of Junior School
Dear Parents and Guardians,
It is hard to believe that we are already in Term 4 with the Christmas holidays just around the corner. However, until then, we still have many exciting events to take place across the school such as, the Years 4-6 Dance Sport Social, Madagascar a Musical Adventure JR production, various camps and excursions.
Speaking of exiting events, I had the privilege of going on Year 5 Camp to Busselton last week. As a parent myself, it is often difficult to let go of our children to attend camps, especially at such a young age. However, experiences such as this can be invaluable to a child's social emotional development. I am extremely proud of our students who have represented us respectfully throughout the week by displaying our College values of Respect, Integrity, Service, Collaboration and Commitment. Not only did they have an absolute ball, but students also showed resilience when challenged or pushed out of their comfort zone. It certainly was a jam-packed week, with Mrs Barber ensuring that there was something for everyone! I would also like to acknowledge the staff who attended the camp and thank them for their efforts and camaraderie. The rapport you have with the students was great to see and our students are lucky to have you as their educators.
This term, I would like all students to focus on our College value of Commitment. It is often difficult to remain committed to all aspects of our schooling, especially so late in the year. However, it is essential that we maintain our high standards across the board. It is expected that students adhere to the Uniform Guidelines by wearing the correct hairstyle and earrings, as well as the correct uniform on the day. Please be reminded that all black shoes are required in Early Learning and predominantly black (with white trim only) to be worn in the Junior years. This will allow us to feel a sense of accomplishment and to end the year on a positive note.
I look forward to seeing you around our beautiful campus.
Junior School Sport Update
IPSHA Inter-school Athletics Carnival
On Thursday 15th September, selected students travelled to All Saints College to compete in the annual IPSHA Inter-school Athletics Carnival. There were a total eight schools who participated in the carnival, and I am pleased to announce that our Junior School team performed extremely well on the day. I would also like to announce that two of our Year 6 students set new records across a number of events.
New IPSHA records:
Year 6 Girls (A division) 60m Hurdles – Emiliyah Urbano 0:10.49s
Year 6 Girls Triple Jump – Martha McClements – 9.05m
Year 6 Girls Long Jump – Martha McClements – 4.33m
Year 6 Girls High Jump – Martha McClements – 1.38m
Congratulations girls! We are extremely proud of your efforts.
Thank you to Mr Diamanti, Mrs Hooton and Mrs Mathers for helping our students at the carnival. Well done Tranby!
Years 3-6 Surfing Lessons – Salt and Mantra
After COVID put an end to our fun early in Term 1, our Junior School students are back in the water catching waves down at Secret Harbour Beach. Students have been practising their technique and learning how to recognise particular surf conditions in order to remain safe at the beach. The students are improving each week, and with a few lessons still remaining there is much more fun to be had. A big thanks to Az and Doug for all of your support this term!
Years 4-6 Golf Program
This term, selected students from Years 4-6 have been waking up early every Monday morning and heading down to the Secret Harbour Golf Course. Mitch Roberts, Golf Pro and coach, has been helping our students improve their golf swing, whilst also teaching them about Golf etiquette. This has been a great opportunity for our new golfers to learn more about the game of Golf and the skills required to be successful. It has also been amazing to witness the continued development of some of our experienced golfers, as they have improved their technique each week. Thank you to Mitch and Mr Diamanti for their help and support with the Golf Program.
Years 3-6 Ricky Grace Basketball
This term also sees the return of the Ricky Grace Basketball Program for students in Years 3-6. The students thoroughly enjoy learning new skills, how to be a leader and what effective teamwork looks like each Friday morning with Ricky and Jerami. If you are interested in any of the co-curricular sports that are on offer, please contact Mrs Barber regarding availability for next year.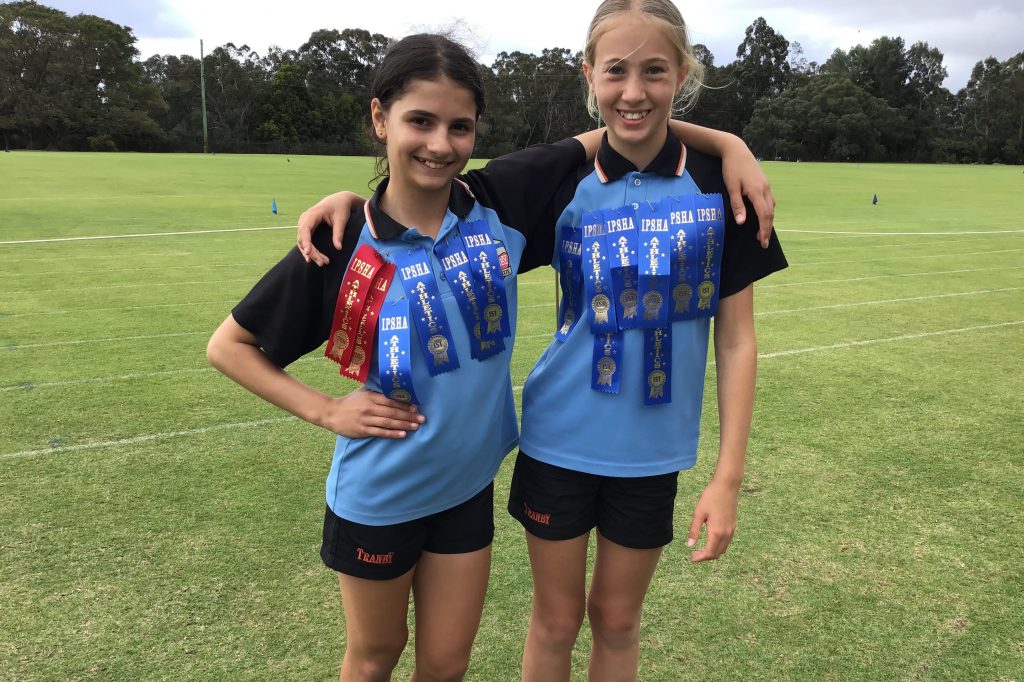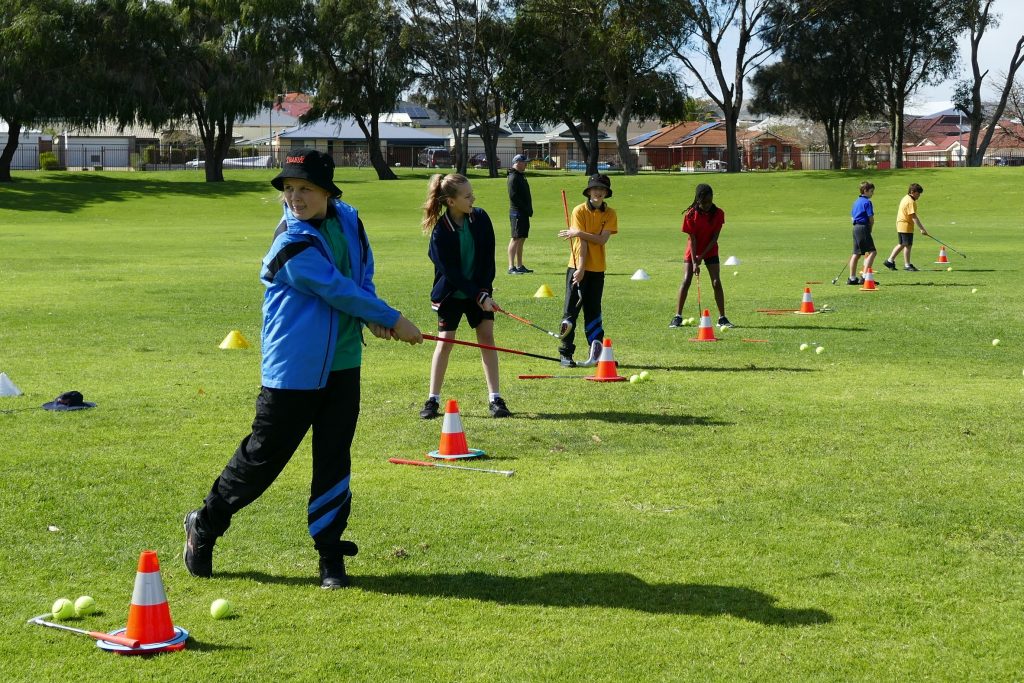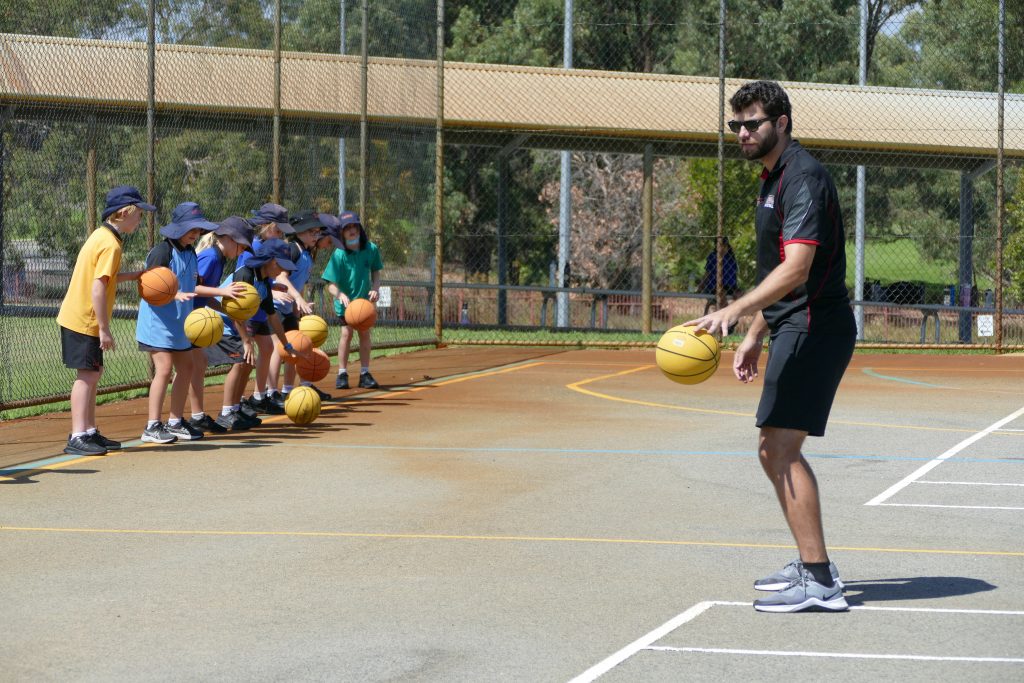 Tuesday 15th november - Friday 18th november
As a fundraiser for our Story Dog Reading Program, we will be holding our annual Scholastic Book Fair in the Junior School Library.
The Book Fair open times are:
Tuesday 15th November – 3.15pm – 4.00pm
Wednesday 16th November – 8.00am – 9.00am and 3.00pm – 4.30pm
Thursday 17th November – 8.00am – 9.00am and 3.00pm – 4.30pm
Friday 18th November – 8.00am – 9.00am and 3.00pm – 4.30pm
We look forward to you popping in and hopefully finding some early Christmas presents.
Jane Stanton
Teacher Librarian
Too many Australians spend time every day wondering where their next meal is coming from. We call this food insecurity, which means that there isn't enough access to good, healthy, culturally appropriate food. It's a really big issue.
YOUR gift of non-perishable food for this Christmas will relieve the stress and worry for many Australian families.
Please drop your donations to either Junior School or College Reception by Friday 25th November.
Move it, Move it! Get your tickets today!
Performing at the Koorliny Performing Arts Centre (Kwinana) in just two weeks' time, our cast and crew of around 60 Junior School students (from Years 5 and 6), will delight you with colourful characters and adventures galore. Shows are on at 11.00am and 7.00pm
Tickets:  $24 Adults. $18 Student/Children under 16
Grandparent's Lunchtime Special: $15 (quote 'MUSICAL' as the promo code)
Year 8 Indonesian and French students enjoyed a great night of sharing international cuisine and cultures to celebrate languages. The French students performed a role play and the Indonesian students performed a traditional Indonesian dance called Gaba-Gaba dance. Some brave parent volunteers were also blindfolded to taste test some interesting Indonesian snacks.
Thank you to all those who came and participated in this fun and interactive event!
Madame Nadege Chabbert and Ibu Jenai Lee
Parent Comments
"A lovely evening of culinary delights served by our children, along with wonderful performances. It was a joy to take part in what was a casual and relaxed setting, yet informative evening to showcase what they have learnt so far! Bravo!"
"Well done to everyone, it was an enjoyable evening and wonderful to see what the students are able to achieve through their studies of language in Indonesian and French."
"Thank you for the invite. I enjoyed it and it was a good peek at the students' learning journey."
"Thank you for providing such a fun and inspiring event that both parents and students could enjoy!"
French Students 'Vont au Théâtre'
Yesterday, our Year 9 and 10 French students enjoyed an immersive experience by watching a play in French. The play, Pinocchio (presented by Perth French Theatre at Dolphin Theatre, UWA,) was performed in French with English subtitles. What a fantastic fantastic opportunity for our students to practice their listening and comprehension skills. 
1st XI Cricket v Mandurah Baptist College
On Wednesday 2nd November, our College cricketers headed to Meadow Springs Sporting Complex to play against Mandurah Baptist College's 1st XI. Due to the unavailability of some senior students, we fielded over half a team made up of Year 7 and 8 students.
Tranby captain, Blake Jonas, won the toss and elected to bowl first. MBC finished their 40 overs at 198/7. Wickets were shared with 6 individual bowlers taking a wicket each.
In reply, Tranby compiled a very respectable 172/9 with Isaac Diamanti top scoring with 66 not out and Brock Burns playing well for his 39. It was a great day and a very good effort from our students playing against a much older team.
Congratulations to Year 11 students, Behrad Kamran, Matthew Bickley, Levi Smith and Mathew Bradley, who all completed their Barista training in 'Fundamentals: Espresso & Milk' at Five Senses Barista Academy. As part of the training they learnt about the various countries from which coffee beans are sourced, the various ways in which coffee is processed and they had lots of practice to refine their coffee making skills and the correct way of warming the milk and making foam.
A friendly reminder that Term 4 school fees are now overdue. All payments details are on your statement.
If you have any queries or would like to make a payment, please contact the Finance Department on 9523 3108.
Prime Ministers Spelling Bee
We had a record number of Year 7 and 8 students sign up to compete in the first round of the online spelling competition, The Prime Minister's Spelling Bee – a national competition that tests speed and accuracy.
Well done to all the students who competed in the first round, and good luck to Matilda White, Year 7 and from Year 8, Mia Cristodero, Declan Williams and Zac Harvey for advancing to the state finals! We wish you all the very best of luck.
Cosy Toes Winter Appeal Update
At the end of Term 3, Annette Boyle from Uniting WA (pictured here with Lauren Mossman, Yr 12) collected all the socks donated by the College's community for the Cosy Toes Winter Appeal. In total, the donation amounted to 373 pairs of socks with an estimated value of $1,865, and a significant number of these came from Coles Baldivis. Thanks again to Coles Manager, Rohan and Tranby College parent and Coles Online Department worker Jane Burrows for arranging this donation (as shown). 
Budjar House - Special Guest
Budjar House were very fortunate to welcome Harry Stacey, ex Tranby College Captain 2017 and loyal Budjar House Member, to address the House Meeting last Wednesday.
Harry shared his experiences post Tranby and his determination to follow his dreams of becoming an actor. He is now in the final stages of completing his studies at NIDA and will shortly be out in the acting world.
He spoke fondly about his time at Tranby and how he made the most of every opportunity including sport, academics, productions and the Arts, leadership and service, but on reflection, he wishes he had not worried so much about what others thought of him whilst at school.
Harry told us how he had tremendous support from his teachers and peers throughout his schooling but it wasn't until he left that he really appreciated how non-judgemental and supportive the significant people were to him.
After showing a video clip of the moment in a dance class in NIDA when it dawned on him that he just had to throw himself into dancing and performance, to make the most of the opportunity; Budjar students really understood his message. "Make the most of every opportunity and don't be afraid to give things a go".
After the talk, some students took the opportunity to speak to Harry and asked him some insightful questions.
We would like to thank Harry for coming to speak to the House and we wish him every success in his acting career.
VacSwim - Enrolments Now Open!
Primary School
Enrolments are now open for VacSwim swimming lessons during the summer school holidays. VacSwim offers fun lessons at beach or pool locations. They are a great school holiday activity, and they teach valuable safety skills to help keep your child safe in the water. Enrol at: education.wa.edu.au/vacswim
Secondary School
If your child has turned 14 years old or will be turning 14 years in the same calendar year of the course, you can enrol them in VacSwim so they can get their Bronze Medallion during the summer school holidays. They'll learn advanced survival, rescue, and resuscitation skills to help keep them and others safe in the water. Enrol at: education.wa.edu.au/vacswim