6th April 2023 (Week 10 Term 1)
Wednesday 26th April – Term 2 Commences
Wednesday 3rd May – Senor School Revealed 5.30pm – 7.00pm
Friday 5th May – Pre-primary – Year 12 Cross Country Carnival
Thursday 11th May – Saturday 13th May – Senior School Production – Little Shop of Horrors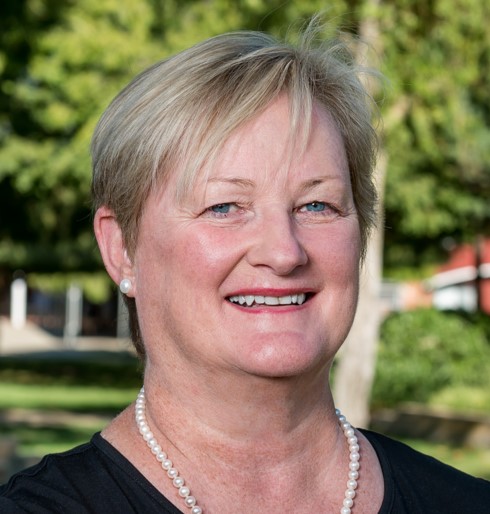 Ready for Easter's Renewal
If families are feeling that they are ready for a break, then I am not surprised. Term 1 has been invigorating, exciting and deeply demanding. In a post-pandemic context, where COVID still features as part of our lives, learning to get back into a normal workflow has been challenging for our staff and students. What unites us all is our delight in learning and seeing progress being made on so many fronts.
This week I had the special pleasure of adjudicating aspects of the Inter-house Arts Cup with Mr Britza, Ms Goforth and Ms Ribeiro, we were feted with some hilarious moments of entertainment. The dramatic renditions of well-known folk tales, Hansel and Gretel, Snow White, Cinderella and Rapunzel had us in stitches with displays of inspired comic touches and cameo performances by students who might not otherwise be involved in performing arts. I was also impressed with the courage of students who performed rock music numbers and I took delight in seeing how our new music staff inspired our students to step out of their comfort zones. Congratulations to all students who created media presentations, visual arts, made cakes, wrote creative stories, and played instruments – you are to be commended for your enthusiasm and courage! Finally, I would just like to comment on the development of a new tradition, the 'Battle of the Choirs', which saw each House perform a song of their choice. I was so proud of each student who sang in their House Choir and impressed with how much the students had taken control over the musical and artistic decisions. Well done to each House and a special pat on the back to Karla who showed the power of collaboration in their upbeat version of Dancing Queen.
I wish you all a restful and peaceful Easter break and hope that you too can renew and rejuvenate through the holiday period.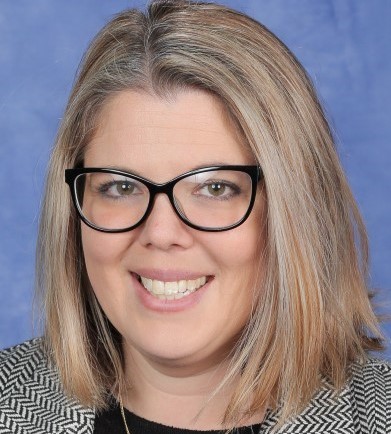 A few reminders and pieces of information at the end of Term 1:
Uniform
As we head into Term 2 and the cooler weather sets in, the College moves to winter uniforms. The winter uniform is worn in Terms 2 and 3 and involves students in Years 3 and above wearing the appropriate tie or tie bow, and a Blazer in Years 10 – 12. For a full list of uniform requirements, please see the Uniform Guidelines available through the Uniform Shop component of the College website: Uniform Shop Guidelines and Price List.
Haircuts
Just a reminder that haircuts obtained over the break need to adhere to the College guidelines from the first day of Term 2, 2023. Please ensure that your child's haircut adheres to these guidelines: Uniform Guidelines.
Paperly
The College has introduced Paperly to manage excursion permissions, co-curricular bookings and music lesson enrolment. This system has replaced Consent2Go as our permission platform for excursions. Please ensure that you keep an eye out for emails from this provider.
Student code of conduct
The Student Code of Conduct is a set of rules and regulations that define students' acceptable behaviour and actions at Tranby College. It is an essential tool for maintaining a safe, positive, and productive learning environment. Our Student Code of Conduct ensures that all students are aware of their responsibilities and are held accountable for their actions. It sets clear expectations for behaviour, helps prevent conflicts, and provides a framework for addressing disciplinary issues when they arise. Students in the Senior School have been reminded of the Student Code of Conduct this week. If you would like to view a copy for yourself, please use the link on the College website: Publications and Policies.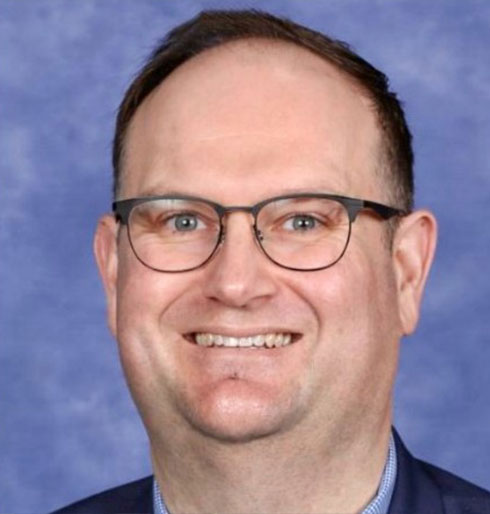 Director of Teaching, Learning and Innovation K-12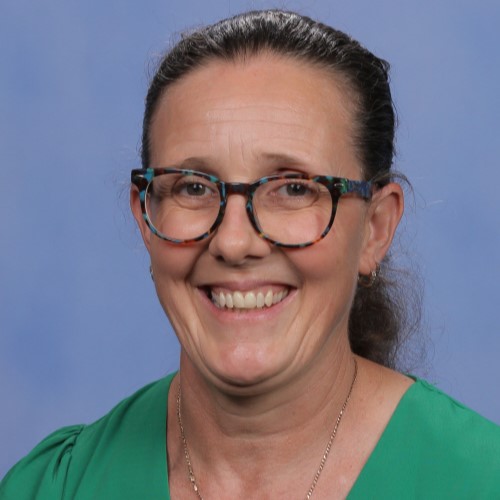 Acting Head of Senior School
What a term it has been in the Senior School, we have had Inter-house Swimming Carnival, the belated Year 10 River Cruise, Year 12 Outdoor Ed Camp, RKAS, ACC Swimming Carnival, Arts Cup and so much more! It has been fantastic to see the students embracing all of the wonderful opportunities that we have to offer.
Last week we had a belated Harmony Day Assembly, recognising not only Australia's cultural diversity, but of course Tranby's. I would like to thank Sarah Varghese Kunnathu for her beautiful performance of a song in Malayam.
At this assembly we also recognised and congratulated two Year 12 students who both received their The Duke of Edinburgh's International Award – Bronze Award, congratulations Matthew Bickley and Makayla Peddie. 
This week we saw the culmination of the term's work on the Arts Cup, where every student was involved in something Arts related, whether that be Drama, Art, Media or Music. The participation of the students was outstanding, showing their ability to step outside of their comfort zones at times and 'give it a go' was commendable.
At the beginning of next term our Year 7s will venture out for their ELP Camp at Dwellingup, with Marra and Bilu attending Wednesday 26th – Friday 28th April, followed by Karla and Budjar from 1st – 3rd May. We wish them well on this worthwhile experience!
A reminder next term sees Year 10 – 12 in Blazers (leavers jackets for Year 12s). A reminder to revisit our Uniform Guidelines to ensure for the start of Term 2 all students are compliant.
Finally, I wish all of our community a Blessed Easter and a safe and restful holiday.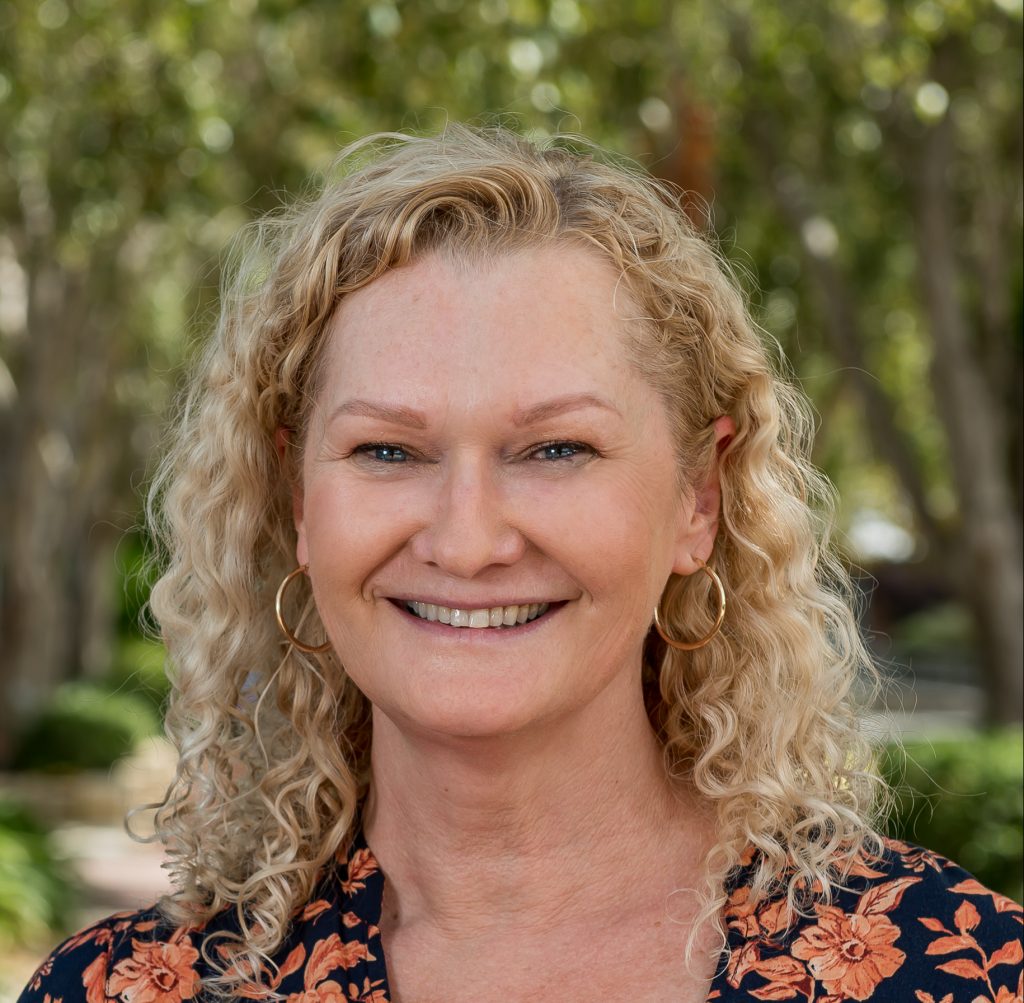 As we head into the Easter holiday break, I would like to take this opportunity to thank you for your continued support. It has been a very busy term and the students have been involved in a variety of activities both in and out of the classroom.
The Year 5 Camp, held at Busselton last week was a wonderful experience. When I welcomed the staff and students back on Friday afternoon it was obvious that although exhausted, the excitement of those who attended was still evident. Camps are a huge undertaking, and I would like to take this opportunity to thank the staff for their commitment and care of each individual student. The staff attending were extremely positive about the experience, but I know a good night's sleep was sure to be a top priority when they got home. A special thank you to Mrs Barber for ensuring every activity was well planned and organised, so everything ran smoothly. In addition, our very clever Mr Viviers spent time creating a snapshot video for the students and families to enjoy, please open this VIDEO LINK to view it. I am sure you will appreciate the work that has gone into producing the video and that it will provide some wonderful memories for the children.
Next term, I will be away on Long Service Leave. During this time, Mr Ben Viviers will be the Acting Head of Junior School. I know Mr Viviers will do a wonderful job in my absence and I look forward to catching up on all the Junior School news on my return.
I wish all our Tranby families a lovely Easter and holiday break and a positive start to Term 2.
Deputy Head of Junior School
The College has been a hive of activity in comparison to this time last year, when we had restrictions due to COVID-19. It has been a pleasure to see our students being able to immerse themselves in all that Tranby has to offer.
There really has been something for everyone such as – weekly early morning surfing lessons at Secret Harbour Beach, the Ricky Grace Basketball Program, a range of different clubs (before school, lunchtimes, and afterschool), wheelchair basketball incursion, Inter-house & Inter-school Swimming Carnivals, and most recently our community Twilight Picnic. Speaking of the latter, what a great way to end a busy week. This whole school event showcased a few performances from students and staff. The relaxed atmosphere allowed our community to connect, grab a bite to eat and possibly a sneaky ice cream (or two)!
Our last assembly was hosted by our lovely Year 4 students and staff. It was such a well thought-out and executed assembly. Students performed 'The Papaya That Spoke' and this performance showcased just how well the Talk for Writing Program is assisting our students to develop their writing skills via spoken activities. As part of our socio-emotional program (The Resilience Project), the cohort focussed on Gratitude by asking students and staff 'What are you thankful for?' It was evident in their responses, that we have so much to be grateful for. We then acknowledged the first recipients of our GEM and Merit Certificates for 2023. Congratulations once again, to all students who have received these awards by actively modelling our values.
Budjar was presented with the House Shield after winning the recent Inter-house Swimming Carnival. Bilu's relentless support for their peers did not go unnoticed, and subsequently they were awarded SPUD, the spirit bear. However, everyone who attended and supported their peers on the day should be extremely proud of their efforts, in and out of the pool. I cannot wait for the Inter-house Cross Country in Term 2!
Our students in Years 3 and 5 completed the annual NAPLAN assessment over the past two weeks. This national literacy and numeracy assessment provides a snapshot of the skills that students are learning through the school curriculum, which allows parents/carers to see how their child is progressing against national standards over time. The reporting of results has also changed, to enable a clearer picture of how a child is achieving in comparison to other children in Australia. Additionally, the process of assessment has now moved to being online, and I am happy to report that the process was smooth. A huge thank you to all staff involved in making this a success.
Next week, I will be in Busselton on the highly anticipated Year 5 Camp. This will be our first Junior School camp of the year and if last year's camp was anything to go by, our students are in for a real treat! Thank you to staff who are attending and Mrs Barber in particular, for all her efforts in the lead-up to ensure our students have an awesome time exploring and learning about Geographe Bay and it surrounds.
As we head into the last few weeks of term, students are getting tired, and standards can often slip. I ask that parents encourage their children to continue to apply themselves fully to their learning and to wear their uniform with pride. Thank you for your continued support, it is greatly appreciated.
Year 5 Camp was an insane experience, and you don't get to do it often. Even though we had to drive 2 hours away it was worth it. We did so many activities before we even got to camp!
The Ngilgi Cave was our first stop of the camp. We learnt so much, and our favourite part was the tunnel of doom. It was scary at first but once we went down a few times it was so much fun. We then left to visit the Cape Naturaliste lighthouse. We learnt a lot about the history of the Cape and the lighthouse. Did you know that the lighthouse was made in 1904? It has 59 steps, and the light flashes every 7 seconds. It was so bright that you could see the lighthouse from our campsite at night. At the end of the day we went and checked out our accommodation and settled in to our dorms before having burgers for dinner – YUM!
On day two we rotated between a portable high ropes course and team building activities. We had a sausage sizzle for lunch before starting our raft building activity. In our teams we had to complete a few challenges to build and sail our raft. First we had to cross the volcanic river, we then had to walk the plank (tightropes) before working together as a team to collect our raft equipment from the swamp. We then raced to build our rafts and tested them in the water. Later that night we had pasta bake with ice cream for dessert.
On day three we went to the beach and had a sand sculpture competition. Mrs Barber said that we had to design a sandcastle all about Year 5 Camp. Some groups chose to build a lighthouse, the dorms, the cave and more! We then packed our things and hopped onto the bus. We stopped at the Busselton Jetty for lunch and a play and then made our way to Forest Adventures for high ropes and archery. These activities were hard, but when you try them multiple times, you get the hang of it. Everyone was very brave, and we spent the afternoon climbing within the trees. That night we were treated to PIZZA, it was delicious!!
The next morning, we packed and cleaned the dorms and headed home and I was very excited to see my family again. We did so many amazing things on camp and it was so much fun, I wish I could go to the camp again.
Ethan Urbano, Harper Rhoades and Olivia King – Year 5J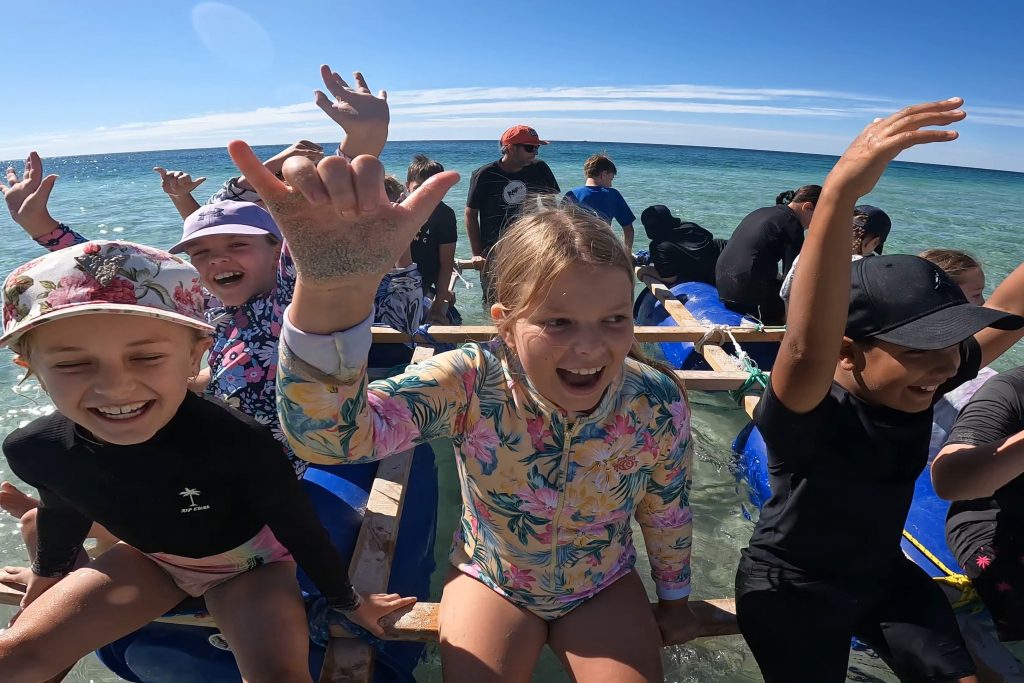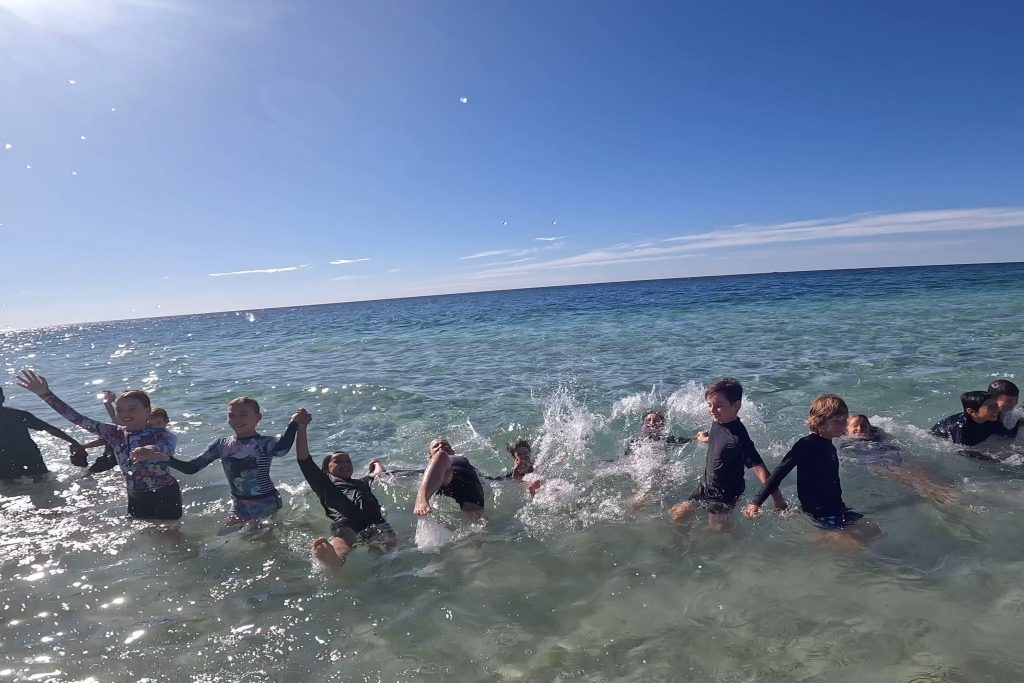 During Term 1, the Year 5 students, researched, designed, and created arcade games using mainly recycled materials. They included a range of mechanisms and trialled different design techniques using the engineering process. They collaborated with a team to test and improve their design. Once completed, we held an arcade morning where the Junior School students were invited to play the Year 5 games. The students all had an exciting morning sharing their games and prizes with peers.
Below are some responses from Junior School students:
The Ring of Fire was my favourite because it looked cool and had good prizes.
SpongeBob Splat was my favourite because it was my sister's game, and her and Mali worked very hard on it!
Year 5 Team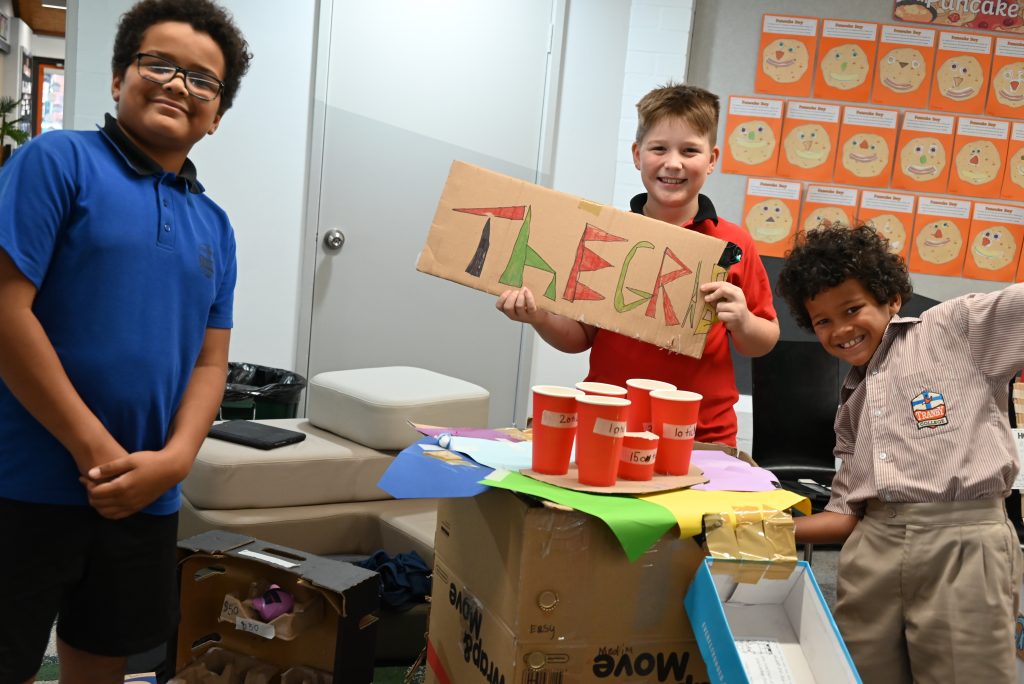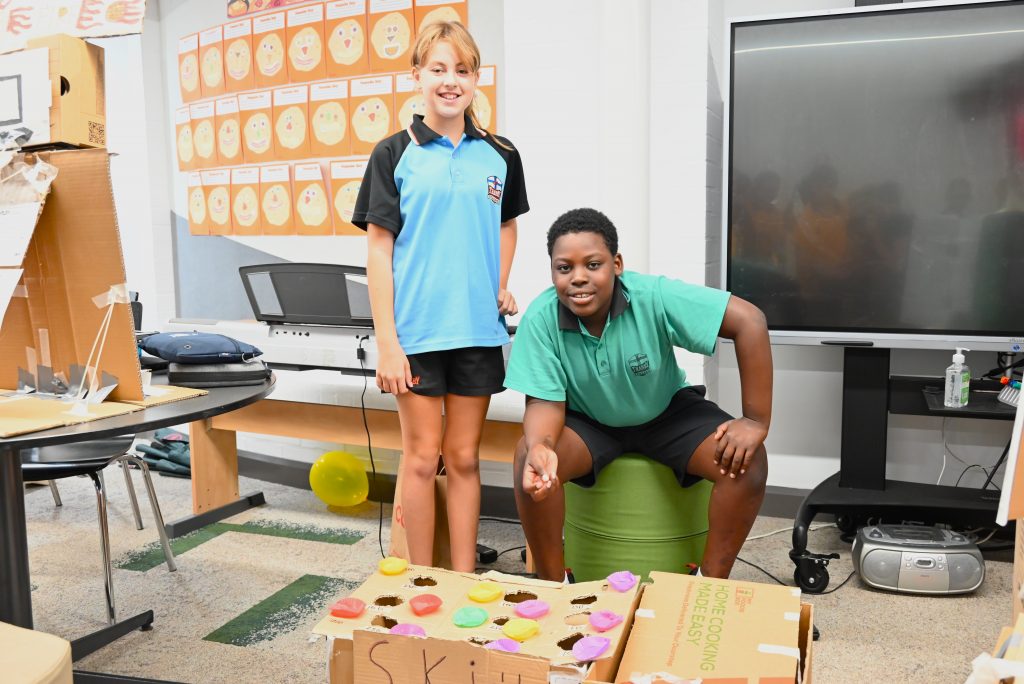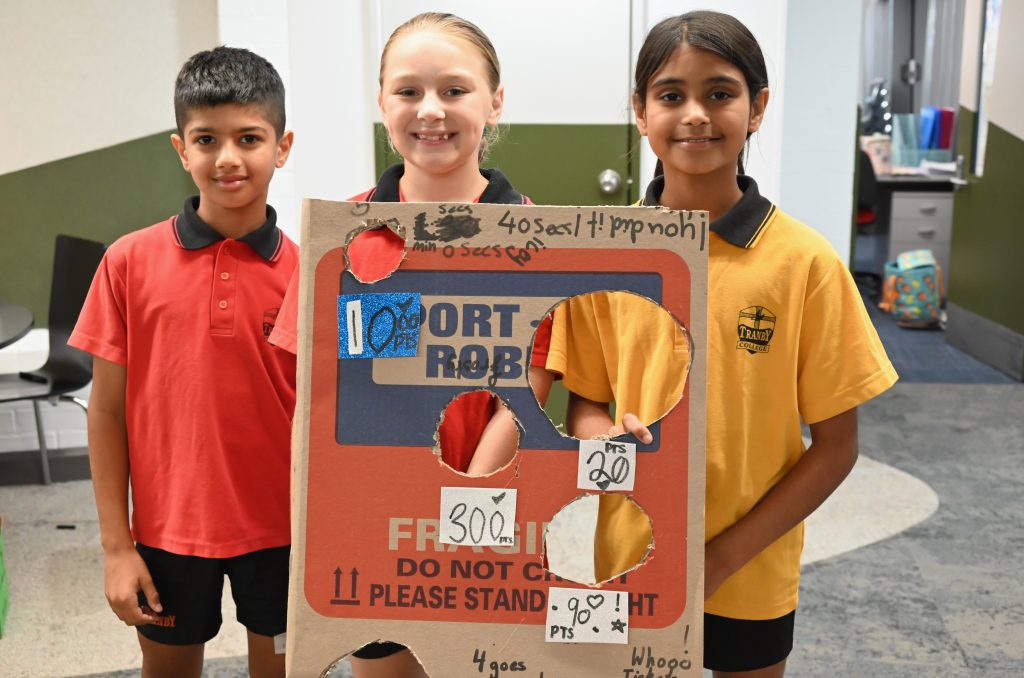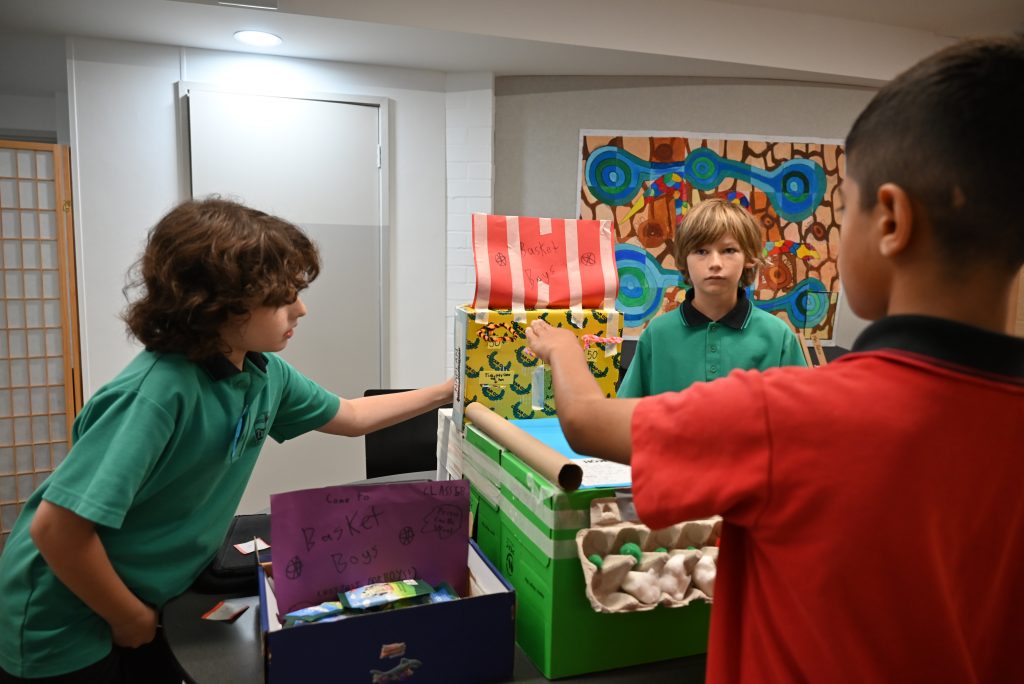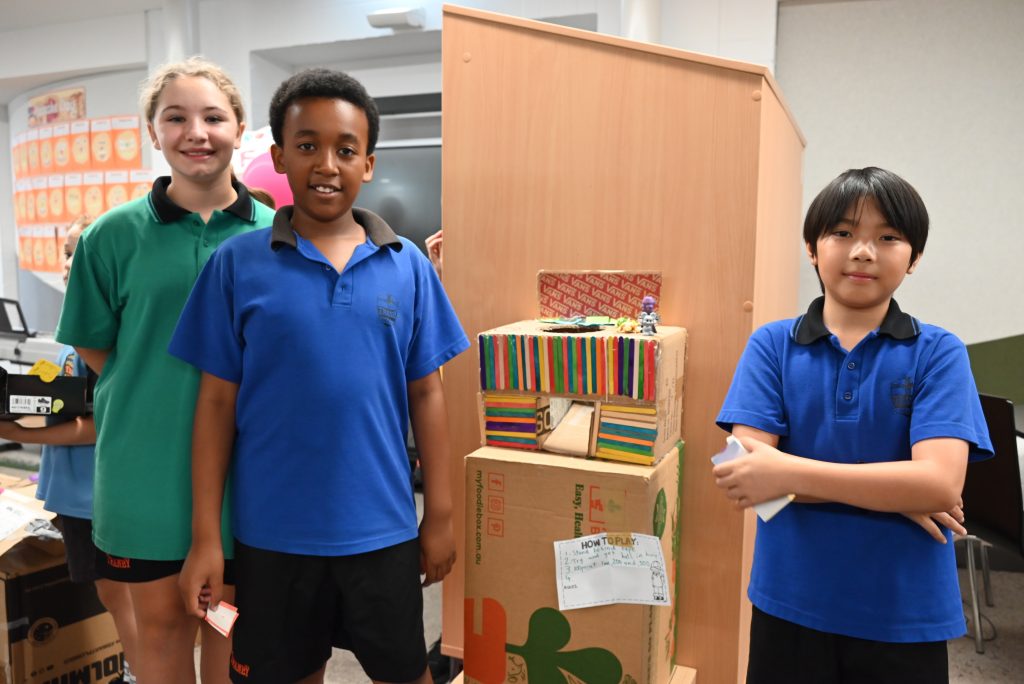 Year 5/6 Inter-house Basketball Competition
During Year 5/6 Sport this term, students have been competing in a round-robin style Inter-house Basketball competition. Students were split into teams across three divisions and competed within their Houses. Each week teams played 4 x 10 minute halves to see which House would be victorious and take out the Inter-house Cup.
Karla and Budjar both started the competition strong across all divisions, however, Bilu made lots of ground in the last few games, and Marra's division three team seemed to be unbeatable. It was great to see the passion that our students within the Junior School have for the game of basketball and levels of participation were at an all time high! Well done to the following Champion Teams and the overall winning House.
Division 1 Champion Team:
1st Place – Bilu, 2nd Place – Budjar, 3rd Place – Karla, 4th Place – Marra
Division 2 Champion Team:
1st Place – Budjar, 2nd Place – Bilu, 3rd Place – Karla, 4th Place – Marra
Division 3 Champion Team:
1st Place – Marra, 2nd Place – Bilu, 3rd Place – Karla, 4th Place – Budjar
OVERALL CHAMPION HOUSE:
1st Place – Bilu – 113 points
2nd Place – Budjar – 104 points
3rd Place – Karla – 89 points
4th Place – Marra – 73 points
Our Music Tuition Program is expanding! As you may have seen at the Twilight Picnic, we have availability starting Term 2 for individual or small group lessons on flute, clarinet, saxophone, trumpet, trombone, and voice, with six new peripatetic teachers at the College.
For more information on this or other instrumental availability, please contact music@tranby.wa.edu.au or register interest and enrolments on Paperly.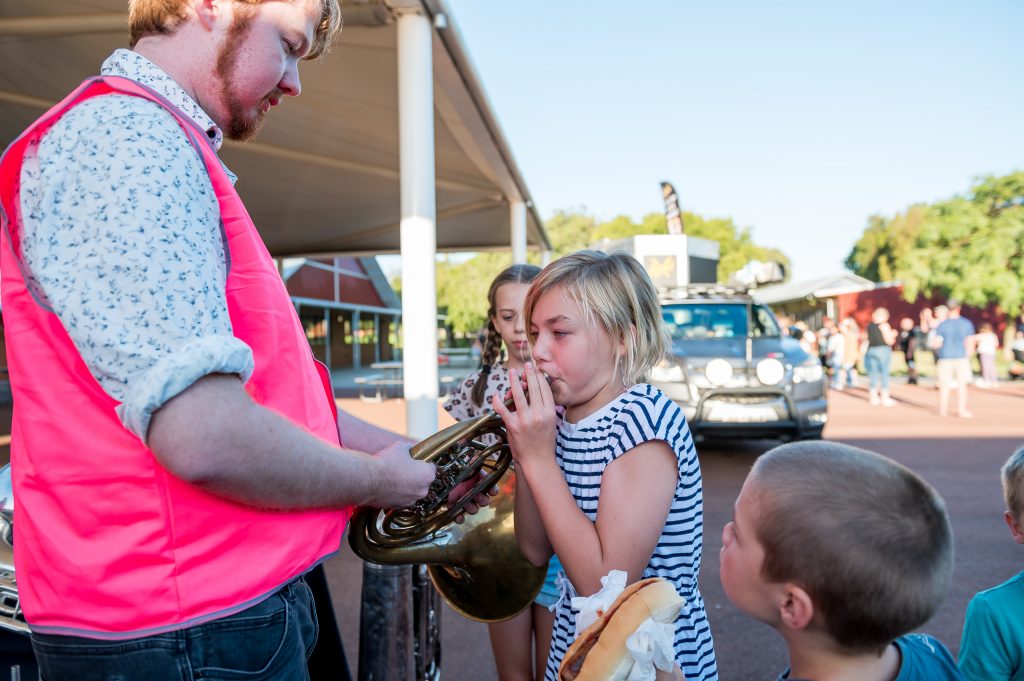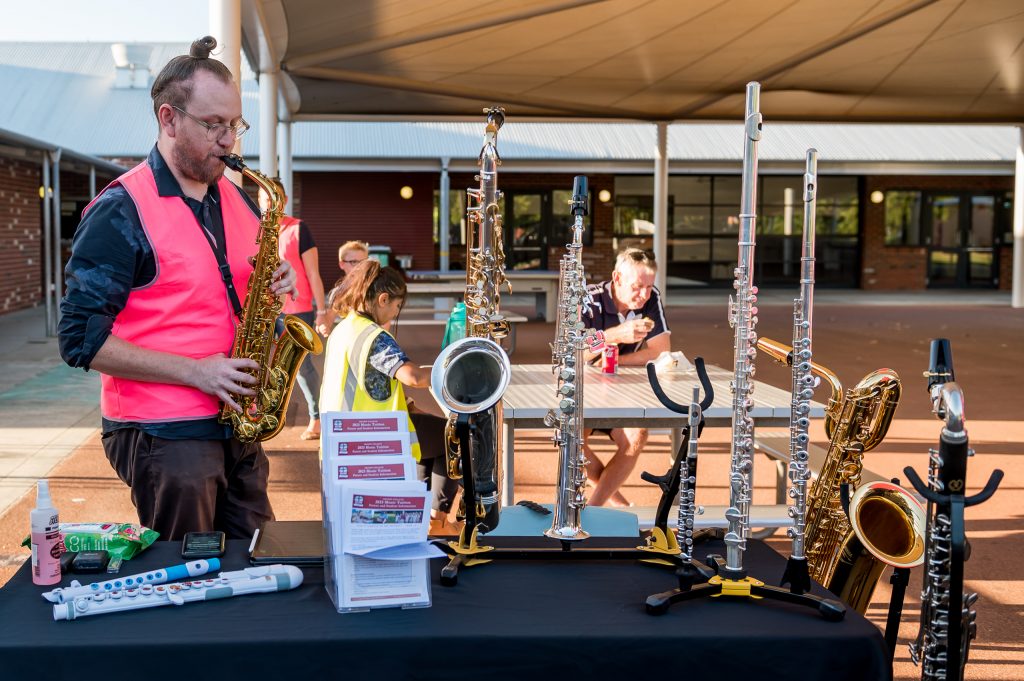 2023 Senior School Production
LITTLE SHOP OF HORRORS
SAVE THE DATES: 11th May – 13th May 2023 – ticket sales coming soon.
The Senior School Performing Arts students have been hard at work this term, rehearsing for the upcoming production of 'Little Shop of Horrors', a delectable sci-fi horror musical by Alan Menken and Howard Ashman.
After discovering a strange and unusual extra-terrestrial plant, Seymour Krelborn's life changes for the better. As the plant grows, so does Seymour's fortune and fame, but is the price of an ongoing supply of human blood too great a cost? With a rock score performed by a live band, students will be bringing this show to life on stage early in Term 2. Keep an eye out for more information and ticketing!
Years 7-12 Inter-house Arts Cup
This term, students in Years 7 – 12 have been participating in the Inter-house Arts Cup. Students worked over four sessions to produce creative work in a range of performing and visual arts, and included artistic approaches in mathematics, media, food and technologies, and creative writing. On Tuesday, all Houses presented a song of their choice, and we were treated to enthusiastic and energetic performances demonstrating fabulous House collegiality and achievement. With adjudication still underway, we look forward to presenting the certificates and announcing the 2023 Arts Cup winning House in Term 2.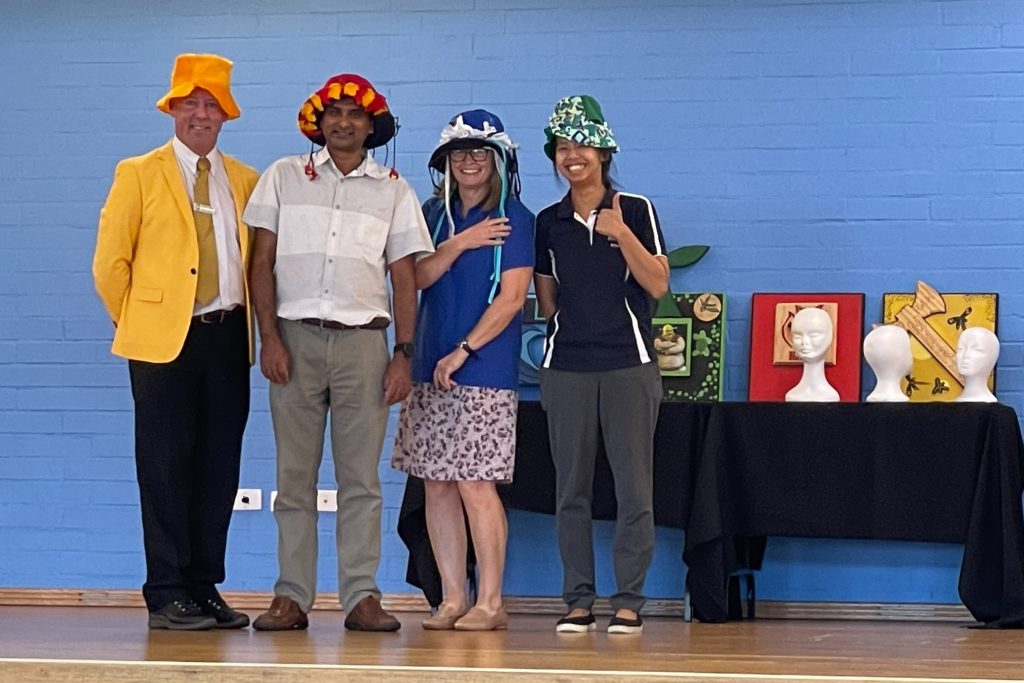 On Saturday 25th March, a group of 18 students and 6 staff members participated in surfing with people living with disabilities.
The students and staff braved the water at Leighton Beach in Fremantle, helping them onto surf boards and assisting them into the water to experience the freedom of movement and a splash of sea water.
Our students found the event 'cold' but very rewarding, knowing they have made a difference in someone else's life.
Our College Service Captain, Catherine Lyndon-Smith, reflected:
"I loved the Disabled Surfing event, and it was a great way to serve the community. My favourite part was when a young boy (only about 10 years of age) was nervous to surf, but he did it anyway, and he loved it and kept going. The look on his face was priceless. I would do this event every weekend if I could."
Year 11 student Isobel Radclyffe-Smith commented:
"Volunteering for Disabled Surfing was a fun and rewarding experience. Being able to help those who have disabilities participate in the event is something that I will always remember. The highlight for me was seeing everyone's smiling faces and excitement when they got the opportunity to get on the board."
At Tranby, we aim to foster a mindset of volunteering and serving the wider community. Our students are becoming more and more involved in the various events that are on offer, with students learning compassion and care for others. We are very proud of our students' participation and commitment to events such as this.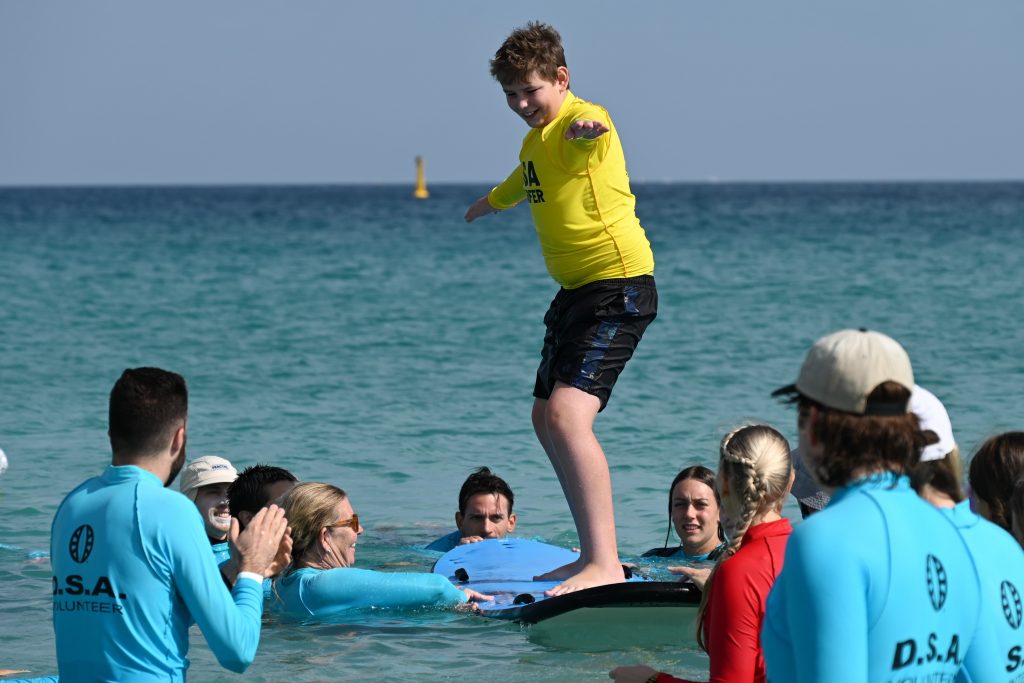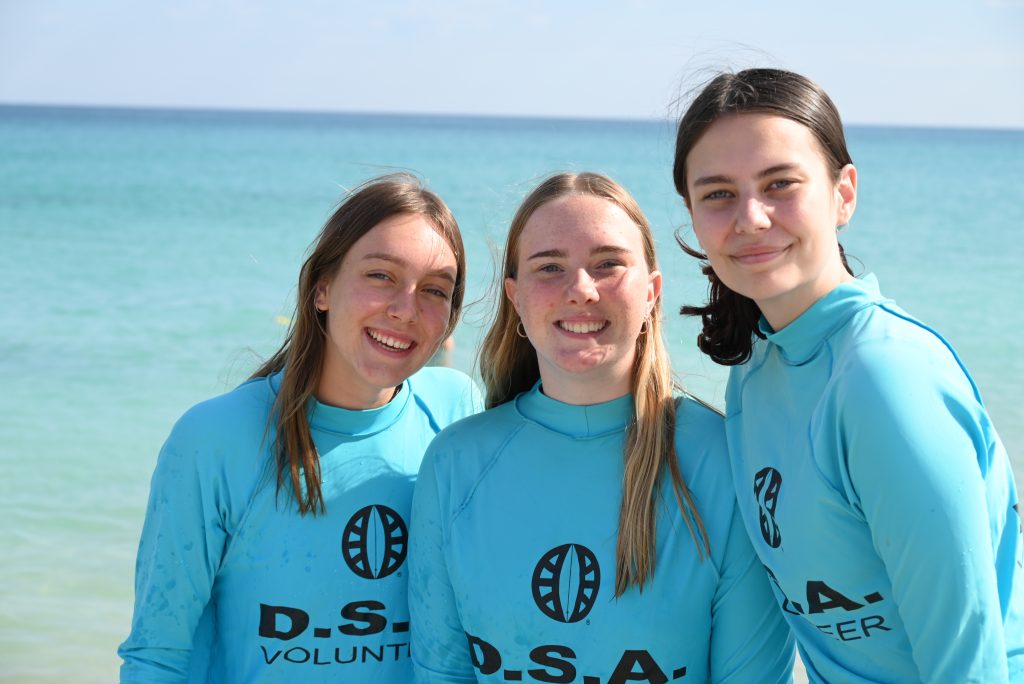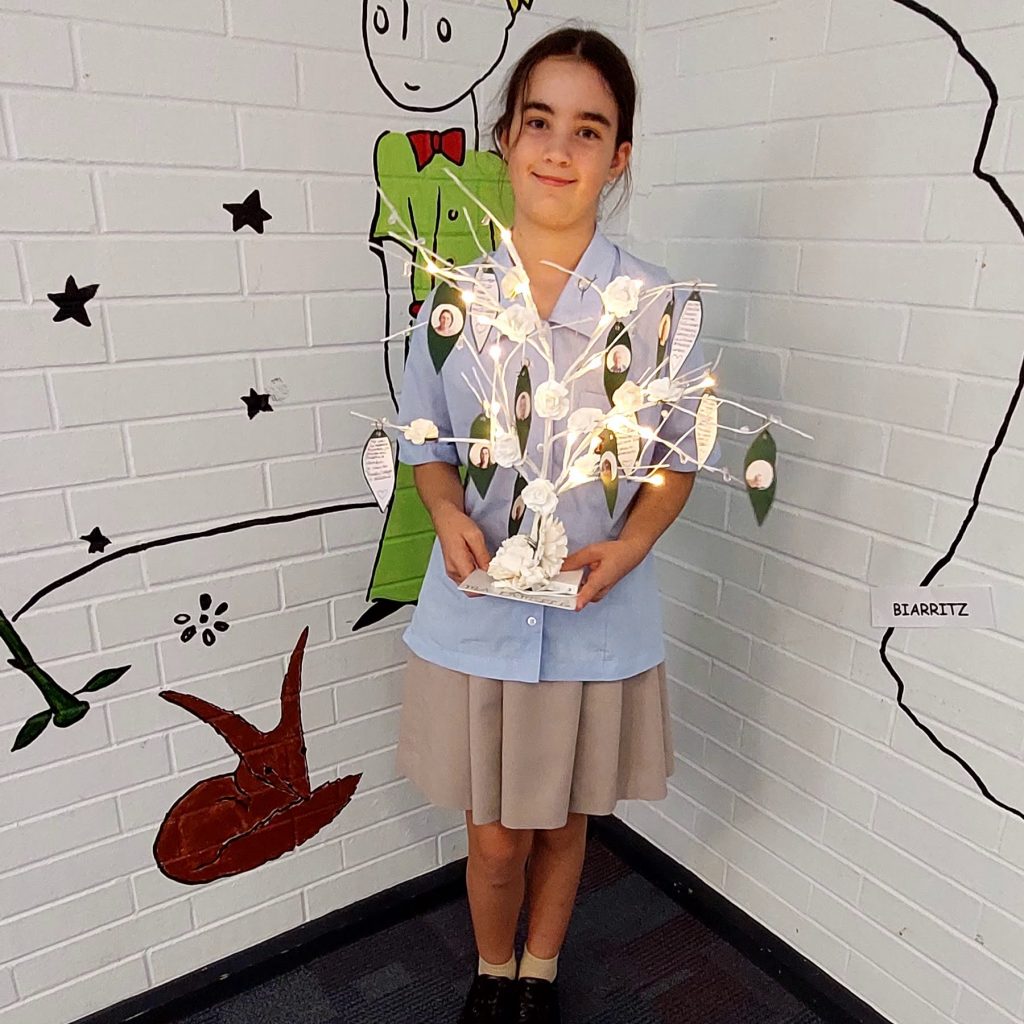 Year 7 French 'My Family Tree'
Student testimony:
"It was a great experience for me to be able to create a Family Tree. I guess it helped connect me more to my family as I got them all together to come over for photos and I had to write about them in French! I really enjoyed working on it, and my mum was a great help as she bought the materials and was ready to help me if it was hard." Aryanna Young
The Year 11 ATAR psychology students had fun building a neuron as they study the brain this term. The winning neuron was done by Charlee Jones.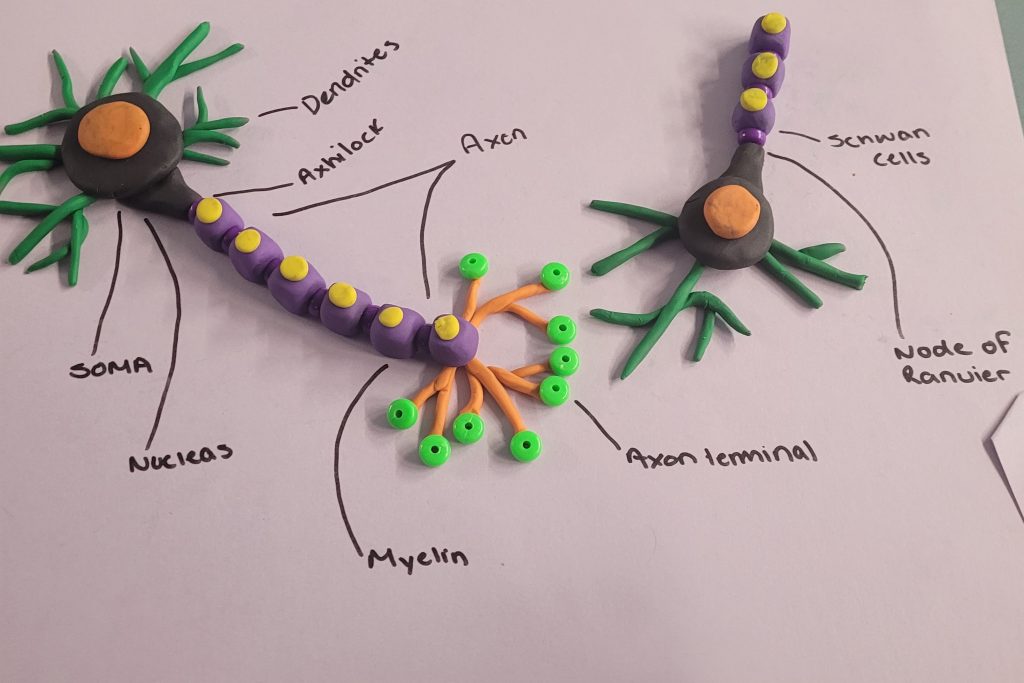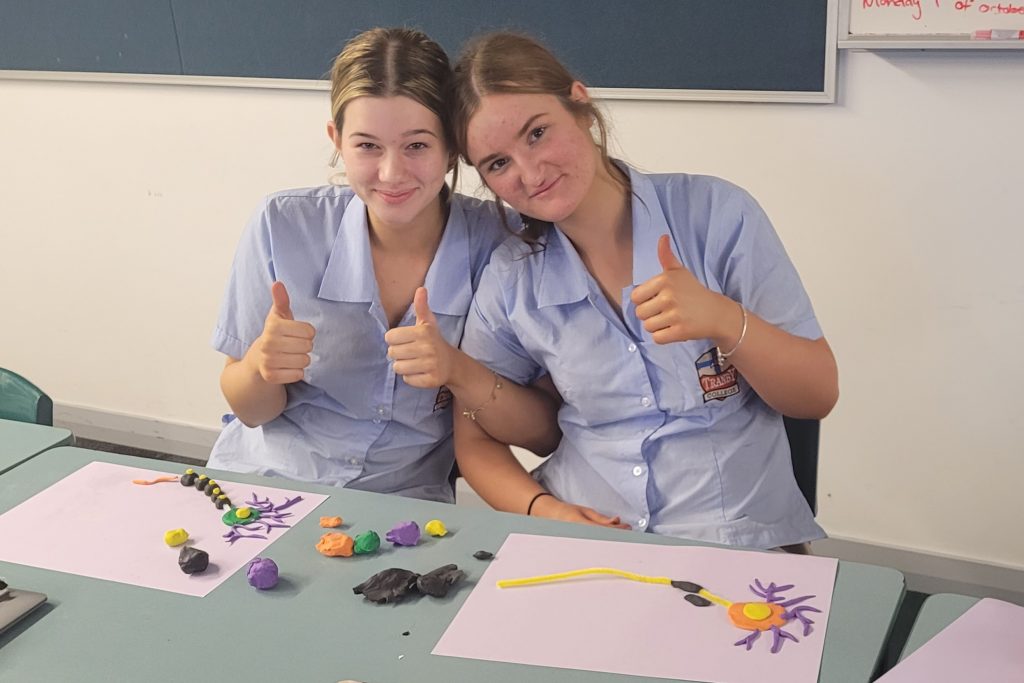 Bunbury Big Bash
Lat week our College cricketers attended the Bunbury Big Bash, a Year 10 T20 Cricket Carnival for specialist cricket schools across the Perth and Bunbury areas. We sent a young team, mainly comprised of Year 7-9 cricketers, to have the experience of being challenged playing against older players.
The team had a very enjoyable few days and walked away with plenty of learning and memorable experiences. Highlights included an unbeaten 134 run partnership between Isaac Diamanti (74* from 53 balls) and Sam Haskell (53* from 57 balls) against John Forrest, a final ball tie with Bunbury Catholic College, a final ball win against Dalyellup College in a match where Isaac Diamanti scored a century, finishing with 101. Diamanti finished as the competitions leading run scoring, amassing 320 runs and an average of 53 including four 50+ scores (56, 74*, 101, 50).
RESULTS
Round 1 v Kennedy Baptist College
KBC 6/135 – I Diamanti 3-12, E Ugle 2-10
Tranby 4/90 – I Diamanti 56
Round 2 v John Forrest Senior High School
Tranby 2/142 – I Diamanti 74*, S Haskell 53*
John Forrest SHS 4/143 – H Betley 1-21, L Diamanti 1-22
Round 3 v Kent Street Blue
Tranby – 10/53
Kent St – 0/54
Round 4 v Bunbury Catholic College
Tranby 10/76 – I Diamanti 27
Bunbury Catholic College 8/76 – I Diamanti 2-10, L Diamanti 2-19
Round 5 v Dalyellup College
Tranby 6/149 – I Diamanti 101, S Haskell 20
Dalyellup College 5/148 – T Hughes 2-17, L Diamanti 1-9, T Hooton 1-13
Round 6 v Kent Street Red
Kent St 6/167 – T Hughes 3-33
Tranby 10/35
Round 7 v John Forrest Senior High School
Tranby 8/88 – I Diamanti 50
John Forrest SHS 1/89 – E Ugle 1-20
Monday 27 March – Tranby Year 8-10 v Kennedy Baptist College
Batting first, Tranby's innings closed on 167 thanks largely to Isaac Diamanti's 64 runs. In reply, the game remained in the balance for most of Kennedy Baptist College's innings, where they managed to secure a win with one over remaining. Sam Haskell was the pick of the Tranby bowlers finishing with figures of 3/21 off 7 overs.
Tuesday 28 March – Tranby Year 6-8 v Mandurah Baptist College
Tranby won the toss and elected to bat, finding themselves in early trouble losing four quick wickets. Elijah Ugle and Shlok Sonar combined for what would prove to be a match winning partnership to steady the Tranby innings. Ugle finished with a match high 69 runs and was well supported by Shlok Sonar and Jaxon Fothergill, with Will Hughes providing some late innings hitting. In reply, Mandurah Baptist College fell 12 runs short to see Tranby record the win. Tyson O'Brien was the pick of the bowlers, returning figures of 2/5 off 4 overs and was well supported by Luca Diamanti 1/5 off 4 overs and Zac Sobey 1/9 off 3 overs.
Congratulations to Jesse Diamanti, Year 6, who has been named as a non-traveling reserve for the SSWA State 12's Cricket Team to attend the National Championships in June in Darwin. He will continue to train with the squad and will provide injury/illness cover if required and will be young enough gain selection again next year.
To support Tranby College and have access to lots of amazing deals in WA please open the following link to the 2023 Entertainment Book.
Murdoch University After School Programs
The Murdoch University After School Program in Mathematics and Physical Sciences provides classes in Physics, Chemistry and Mathematics. For 2023 Term 1 we also have a Study Skills class running.
Each subject runs for 2 hours each week from 4:30pm to 6:30pm starting the second week of school term. Students are welcome to attend 1 to 3 times a week depending on their interests.
Please see the attached flyer for: