Sunday 17 September
Tranby Day Award nominations close 
Friday 22 September 
Tranby Day & Tranby Day Award announcement 
Friday 6 October  
Uniform Shop holiday trading day (9:00am – 2:00pm)
Friday 20 October 
Year 12 Valediction Day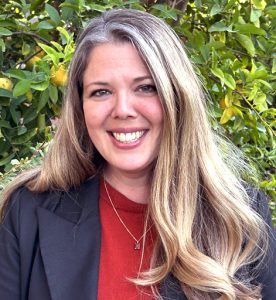 From the Principal (Acting)
On Friday 8 September, at a service at the Uniting Church in Floreat, The Uniting Church of Western Australia welcomed its newly installed Moderator, Dr Ian Tozer.
This service marks the start of a new three-year cycle in the Church and fills the Church with excitement for what is to come and gratitude for what has been. This service was attended by College Chaplain Steve Francis, Chair of the Board, Pip Rundle and myself, all coming together to usher in a new era guided by the theme for the triennium, "Being with Jesus in Ministry." It reminds us that our faith calls us to walk alongside Jesus, embodying His teachings in our actions. 
This theme is not merely a tagline but a profound reminder of our mission as a Uniting Church school.
In the Moderator's sermon, he discussed the significance of the word performance in relation to ministry and the origins of the word. However, I also felt, that the word, in its true sense, had exceptionally strong links to what we do as educators within a school environment.
To understand the connection between 'performance' and education, we must explore the etymology of the word. 'Performance' traces its roots to the Latin word 'performare', a combination of 'per' (through or thoroughly) and 'formare' (to shape or form). Originally, 'performance' meant carrying out a task thoroughly and according to a specific form or standard.
In the context of teaching, the idea of performance has evolved. It is no longer solely about achieving a specific form or standard but rather about the act of delivering knowledge and guidance effectively. Teachers 'perform' when they engage their students, impart wisdom, and create a dynamic learning environment.
As we celebrate the installation of Dr Ian Tozer and give thanks for work of the past Moderator Susy Thomas, let us remember that our 'performance' is not a show but a genuine commitment to living the mission, vision and values of Tranby College.
I hope to see you all at Tranby Day next week!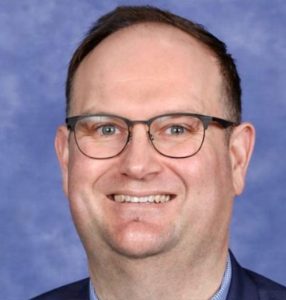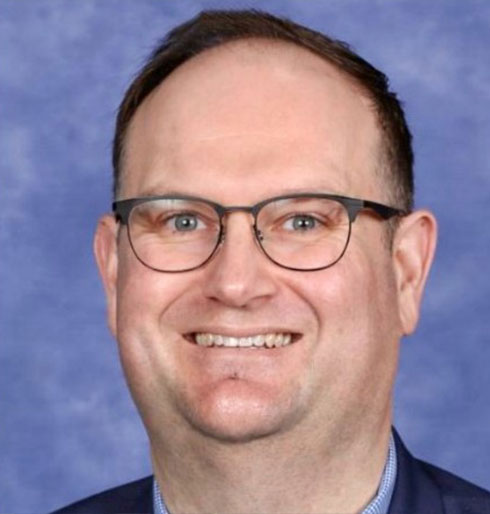 Deputy Principal (Acting)
At Tranby College, we take pride in our commitment to nurturing the potential within each of our students, helping them achieve their hopes and dreams. Central to this mission are the core values of Respect, Service, Integrity, Commitment, and Collaboration that guide us on this journey.
Our College Prayer speaks to the essence of these values, reminding us to 'work together for the common good'. This collective effort, founded on shared principles, truly defines us as a progressive school of the Uniting Church in Australia.
To ensure a safe and respectful environment for all members of our community, we have established Codes of Conduct for all Community members – one for staff and volunteers, one for students, and one for parents and guardians.
These codes serve as a roadmap for constructive engagement and support for all students' learning journeys. They play a crucial role in guiding our interactions within our vibrant Community. We understand that sometimes people can get frustrated by certain situations. Still, by using our values as our foundations and the Codes of Conduct as our guide, we can navigate our differences and resolve them to meet the needs of our students best.
Respectful interactions extend to all College members, including students and staff. Our commitment to these values extends beyond our school to our aspiration to be the employer of choice for innovative, skilled, and passionate teachers. Fostering a Community and environment that is safe, respectful, and rewarding is a fundamental part of achieving this goal.
Parents play a pivotal role in setting an example for their children.
In my Year 12 Psychology ATAR class, we explore the theory of Observational Learning. This theory teaches us that children learn by watching. Key to this process are role models, and parents and guardians are often the most influential role models in their children's lives. Children observe and imitate their parents' behaviours and actions. They also note the rewards their role models receive as a result of their behaviour.
Children are more likely to follow suit if adults exhibit respectful behaviour towards school community members. If they see their role models being rewarded for poor behaviour by getting attention, they will act poorly also to be rewarded. Therefore, parents and guardians must model behaviour that aligns with our College values, reinforcing the importance of respect, kindness, and responsible interactions.
In today's digital age, social media and artificial intelligence can be great tools for creativity and learning. However, we are beginning to see instances where poor choices in their use are creeping in. We encourage all members of our Community, including parents and guardians, to have open and honest conversations with their children about responsible behaviour and interactions within our College Community.
Additionally, we recommend that staff, students and families alike use the THINK acronym when interacting with one another and in their online presence:
T – Is it TRUE?
H – Is it HELPFUL?
I – Is it INSPIRING?
N – Is it NECESSARY?
K – Is it KIND?
By embracing these principles, adhering to our Codes of Conduct, and maintaining respectful interactions, we can ensure that our actions and behaviours align with our College values, contributing to a positive and respectful Community.
In nurturing a supportive, instructive, and affirming environment, we hope to continue building a strong and united Tranby Community. Together, we can create a space where every student has the opportunity to thrive, and every member feels valued and rewarded.
Thank you for being a part of our Tranby College family.
Your commitment to our values is what makes our Community truly special.'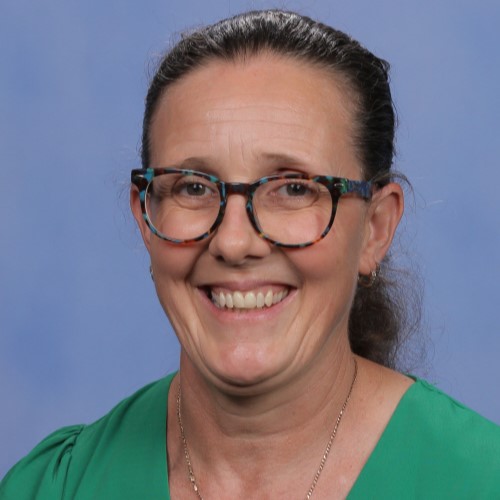 Head of Senior School (Acting)
We hope this newsletter finds you well and ready to embrace the upcoming events and milestones on our calendar.
Two weeks ago, we witnessed an outstanding display of talent, dedication, and sportsmanship at our annual Athletics Carnival. It was a resounding success, and we were thrilled to announce the champions and runners up at our Assembly last week. I want to extend our heartfelt congratulations to all participants who displayed sportsmanship, teamwork, and a commitment to excellence.
This week was special being Wellbeing Week, we had many events for students and staff to participate in. Wellbeing Week is a time when we prioritise mental and physical health, coming together as a College Community to engage in activities that promote wellness and connection.
On R U OK Day, Thursday 14 September, we encouraged everyone to check in on friends and families. Students wore a splash of yellow in recognition of an important day.
Looking ahead, we have Tranby Day approaching on Friday 22 September. It's a day we celebrate our College's culture, diversity, and the sense of unity that defines us. All of the information about our special activities and how students can be a part of this memorable day are on our website.
As the end of the Term draws near, we can't help but anticipate the upcoming holidays. It's a well-deserved break, a time to recharge, and an opportunity to spend quality moments with family and friends. We encourage everyone to make the most of this time to relax and rejuvenate.
For our Year 12 students, there's no rest just yet. The Year 12 Exams are set to begin on Monday 2 October. We have full confidence in our students as they prepare for this important step in their academic journey. Their commitment, hard work and determination will pay off.
As we navigate through the upcoming events and challenges, let us remember the values and camaraderie that make Tranby College a special place.
Stay well, stay connected, and keep embracing the Tranby spirit!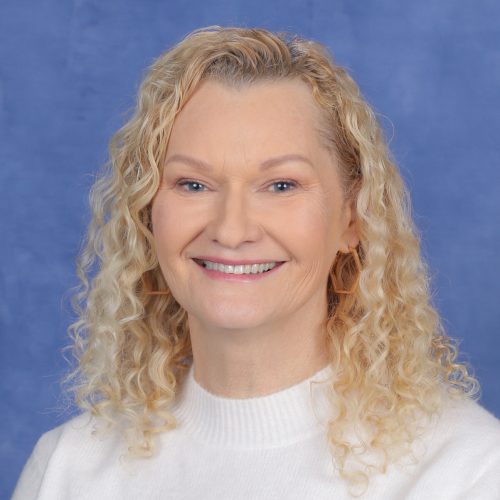 What a wonderful way to end the Term!
On Friday morning  we were all thoroughly entertained by the Pre-Primary students as they led the last Junior School Assembly of Term 3.  The students spoke confidently into the microphone, sang beautifully and the costuming and backdrops were amazing! 
Of course, this doesn't just happen. Our team of dedicated and creative teachers and education assistants work together to prepare and support the students for these events. I sincerely thank them for all they do. Thanks also needs to go to our families for assisting with costumes – The students certainly looked wonderful!
As I shared in my address at the Assembly, we have so much more to look forward to next week. 
Firstly, we have the Dancesport Social for our students in Years 4, 5 and 6 on Thursday evening. The Dancesport Social is a fun and exciting evening where our students get to dress-up, put on their dancing shoes and to show-off their skills. We encourage all our students to attend, and we look forward to seeing them shine on the evening!
The much-anticipated Tranby Day follows on the Friday 22 September. Many exciting events and activities are planned for the day including the Junior School Learning Journey. This is when our families have an opportunity to visit the classrooms. 
Students love sharing their learning experiences and this is a wonderful time for them to share all the work they have been doing in class before heading off to enjoy the Tranby Fair!
Tranby Day & the Tranby Day Award
Tranby Day is next week!
We're excited to welcome you to the most exciting event of Term 3 & announce our 2023 Tranby Day Award recipient. Nominations for the awards are open until midnight Sunday 17 September 2023 & you can RSVP here for the event.
FOUNDATION ASSEMBLY 9:00am
We invite parents and guardians to join us for our Foundation Assembly commencing at 9:00am in the Multi-Purpose Hall. You can expect to hear about our rich history, the travels of the brig Tranby and enjoy performances by our students.
GRAND RELAY 9:50am
Our Grand Relay is a fun and exciting race involving students, staff and families on the main oval. We would be delighted to have parents and guardians join us after Assembly to cheer on our runners.
LEARNING JOURNEY 11:30am
Come with us on a journey through our Junior School! On your travels students will proudly show you their incredible work and achievements. Please note that unfortunately, our Year 7 learning Journey has had to be cancelled this year.
TRANBY FAIR 12:30pm
Students and teachers are working together to provide a range of activities and food stalls for all to enjoy. All money raised will be donated to a charity of the Uniting Church.
We are also very excited to have Hon. Reece Raymond Whitby MLA join us at the College from 2:00pm to announce the winner of the scooter raffle, which he has kindly donated.
See you there!
This week staff and students participated in Wellbeing Week as part of the College's broader approach to overall wellness.
The Blue Tree Project, visits from the Wellbeing Dog, RUOK Day and Tranby Just Dance were just some of the activities happening around the College.
We were also joined by a range of professional institutions such as Zero2Hero who spoke to students about the range of services available to them throughout their lives.
Thank you to everyone who played their part in an important week and let's keep the wellbeing conversation going!
Culinary adventure with Year 9 and 10 students of Indonesian!

Our Year 9 and 10 students of Indonesian recently embarked on an exciting culinary journey themed "Masterchef Indonesia." They visited our local Lakelands Fresh Asian grocery store, where the fun began.
Many challenges awaited them including hunting for ingredients while managing a budget, singing "Panjang Umurnya" (Happy Birthday) while holding an Indonesian tropical fruit, and photographing any items displaying the Indonesian language. These activities brought the Indonesian culture to life.
Back at the College, the students transformed their ingredients into a mouthwatering feast, including mi goreng (fried noodles), kupuk (prawn crackers), nasi kuning (yellow rice), dadar gulung (pandan-flavored coconut pancake), and jus nangka dan alpukat (jackfruit and avocado smoothie).
In the end, it wasn't just about cooking, it was about exploring, learning, and celebrating the rich tapestry of Indonesian culture through food.
Recently our Year 6 students visited the Fremantle Maritime Museum on their excursion.
They spent their time learning all about the topic of migration, exploring what changed for migrants when they came to Australia and what stayed the same. They also explored the reasons behind migration and the impact moving had on their lives.
Great job Year 6!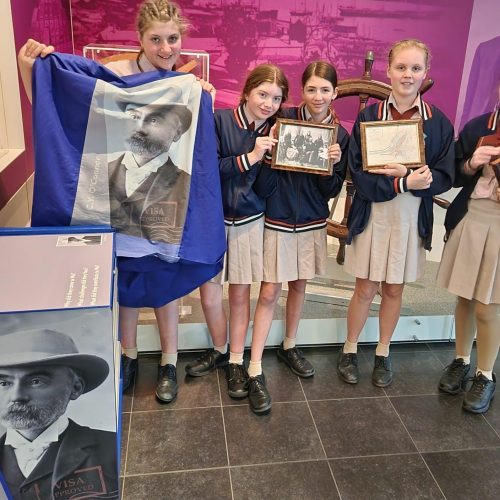 This Term the College's Yarning Club has been busy exploring crafts using yarn.
They have created friendship bands and a macrame wall hanging and they have learnt to crochet, French knit and make pom poms.
Look at this this Term's club members with the pom pom animals they created.
Great work, team!
On Wednesday 30 August Year 3 students went to Scitech Discovery Centre in West Perth. The students spent the day experiencing Scitech shows and exploring the exhibitions.
In the Planetarium, the students watched Tilt which explored how the four seasons are caused by the tilt of the Earth's axis combined with the Earth's orbit around the Sun.
In the Science Theatre, the students enjoyed the show Knowledge by Nature which explored and explained how we have always lived with nature and the ways in which we have been inspired by plants, animals, and natural forces to make our lives better as well as create technologies that help us.
A wonderful, educational experience was had by all!
Congratulations to the incredible Tranby Netball Club Teams who have made it to the GRAND FINALS!
The Juniors Teams will compete on Saturday 16 September and Seniors Teams on Monday 18 September.
Good luck everyone – we know you'll do us proud.
Our Juniors: Pixies 12E, Terrors 12B, Coolcats 14D, Icebreakers 16E, Tornadoes 16D & Galaxy 18B
Our Seniors: Titans Division 4 & Opals Division 8
 In the second week of next Term, our Tranby Year 7s will be treated to a special incursion for a double lesson with Graphic Novelist – Aska!
She is a published novelist who is highly skilled in conducting workshops in schools. She offers informative, hands-on talks and workshops and all with an extra blast of inspiration and a huge serve of fun.
This will be a brilliant introduction for Year 7s to a unit of work on Graphic Novels. They will be reading and analysing graphic novels, comparing different types of graphic novels and then creating their own. 
Aska will be giving her hints, tips and her own examples on the art of writing a graphic novel and workshopping these with the students.
We can't wait to meet Aska!
Tranby Community Achievements
Has your child, or group of Tranby students made a significant achievement outside of our regular College activities? If so, we would love to hear about it – we believe the achievements made by our College Community should be celebrated!
It could be a competition, sporting event or significant milestone. If you think it's exciting please send it through to WeListen@tranby.wa.edu.au and it might feature on our Social Media or Newsletter!
Have a fantastic week and
see you on Tranby Day!
Remember, if you have any feedback at all
you can email us any time.