Sunday 17 September
Tranby Day Award nominations close 
Friday 22 September 
Tranby Day 
Friday 20 October 
SAVE THE DATE for Year 12 parents and guardians
Year 12 Valediction Day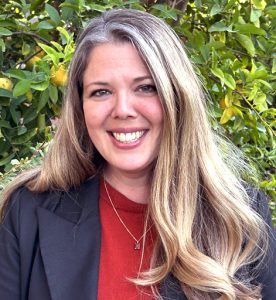 From the Principal (Acting)
On the back of Book Week in the College last week, I thought it appropriate to delve into the benefits of reading with the Tranby Community. However, before I get to that, I would like to thank all staff, particularly our wonderful Library staff in both the Junior and Senior Schools, students, parents and guardians for their involvement in Book Week.
It was a wonderful week full of engaging activities and excitement.
In a world saturated with technology and instant gratification, the simple act of reading can often take a back seat. However, its profound benefits remain as powerful as ever. Beyond the escape into captivating stories and informative texts, reading offers a plethora of advantages that contribute to personal growth, mental stimulation, and overall wellbeing.
Reading is a workout for the brain.
It engages various cognitive processes such as comprehension, critical thinking, and problem-solving. Whether it's navigating intricate plots in novels or analysing complex arguments in non-fiction, reading challenges the mind, keeping it sharp and active.
Studies have even suggested that regular reading can help delay cognitive decline as one ages (Stern, 2012).
Each book is a gateway to new worlds, ideas, and information. Whether you're reading a historical account, a science fiction novel, or a self-help book, you're bound to gain insights and facts that broaden your perspective. Additionally, reading consistently exposes you to a rich vocabulary, enhancing your language skills and communication abilities.
Getting lost in a good book can be an excellent way to unwind and reduce stress. The immersive experience of reading mentally transports you away from daily worries – creating a temporary escape. It has been shown that just a few minutes of reading can lower heart rate and reduce muscle tension (Lewis, 2009).
So, I challenge everyone in the Tranby community to pick up a good this weekend and reap the rewards that come along with reading!
References
Lewis, D. (2009), Galaxy Stress Research. Mindlab International, Sussex
University, UK.
Stern
Y. (2012). Cognitive reserve in ageing and Alzheimer's disease. Lancet
Neurol. 11(11)1006-12. doi 10.1016/S1474-4422(12)70191-6
Deputy Head of Senior School (Acting)
Parliament House Visit and Lunch
This week the Hon. Reece Whitby invited a group of our Year Twelve students to Parliament House. After a brief tour that included entry to the amazing library and the Legislative and Assembly Council Chambers, students discussed local issues with Mr Whitby over lunch.
This was a great experience, and all were a credit to the College. They respectfully raised issues and listened well to the discussion that followed. Perhaps there were some future politicians in the group?
KIC iWOMEN and iMEN graduation
Congratulations to Lucas Helwig, Amelia Toms and Summer Hancock – three of our Year 10 students who successfully graduated from the Kwinana Industry Council (KIC) project last week. They toured a number of sites on the Kwinana Strip, participated in mock interviews and team building activities and learnt about the importance of Health and Safety in the workplace.
There is a final opportunity for Year 10 students to be involved in a KIC project. The iSCIENCE project is running in Term 4 for ATAR-bound students interested in a science career pathway.
Looking Forward to Wellbeing Week
During Week 7 there will be a number of activities for Wellbeing Week for students in the Senior School. These will include each House running a Wellbeing Expo, students joining in the Tranby 2023 Just Dance and Tunes on the Lawn by Nathan Landsdale.
For parents and guardians, there will be a Wellbeing Information Session by Youth Focus representatives on Tuesday 12 September at 5.30pm. An invitation will be sent soon to parents and guardians
This workshop increases awareness around common mental health issues young people face and aims to help parents, guardians, friends, teachers and people in the community understand more about good mental health and mental illness and assist them to have the conversation and find appropriate help.
Deputy Head of Junior School
Wow, I cannot believe that we are already in Week 7 of Term 3, and what a busy fortnight it has been.
We've had some amazing activities across K-6 these past weeks – DanceSport, Spare Parts Puppet Theatre, Hockey and Golf clinics for Years 3-6, a visit to the College from The Hon Madeleine King MP, Book Week and the much-anticipated Indonesian Assembly.
The highlight of the last fortnight was the Year 3-6 Indonesian Assembly. I'm sure all who attended would agree that the performance was an amazing display of student talent.
Students dressed up in vibrant traditional costumes and shared a glimpse of what they have been learning with their teacher, Ibu Indah. They performed an Ondel-ondel dance from Jakarta, spoke the Acknowledgement of Country in Indonesian and shared songs in Indonesian, Noongar and AUSLAN. Each presentation reflected the inclusion of a range of diverse abilities, skills, language, cultures and strengths.
The Assembly concluded with a moving performance, where everyone from Pre-Primary to Year 6 sang together the welcome song Wanjoo by Gina Williams in Noongar, Indonesian and AUSLAN.
It shared the beautiful message that all languages, cultures and people at Tranby College are honoured and are welcome.
A big shout-out must go to Ibu Indah for co-ordinating this event, her ability to put together a 'mini production' is something to be proud of. In addition, a massive thank you to Mr Nathan Lansdell for playing the guitar, Mrs Vesna Bullock who came in early in the morning to help with make-up for the dancers, as well as a myriad of other tasks.
A recording of the event can be viewed on the Tranby YouTube channel at visit.tranby.wa.edu.au/Indonesian-Assembly
We also celebrated Book Week with the theme 'Read, Grow, Inspire.' and got dressed up in our Pyjama's for Books on Blankets – where parents, guardians, teachers and older students read to our little ones. Thank you to Mrs Standton for coordinating all aspects of this much-loved calendar event.
I am so proud of all our students and staff for their commitment to all that we do. Tranby College is truly a place where our students have the opportunity to recognise their gifts and talents.
Here at Tranby we celebrate Children's Book Week in style.
We started activities with a visit by local author Cristy Burne. Not only did she promote a love of literature with the students, but she also stunned her audiences with some incredible science experiments.
Book Week Kahoots took place in the Senior School Library classes for fun book knowledge competitions.
Wednesday saw another author visiting Senior School students – comic book writer Shane McCarthy.
Shane has work published with DC and Marvel comics including Batman, Star Wars, Deadpool and Transformers. Students were impressed that as he called out various superheroes, he was able to immediately write them in a timeline as to when they were created.
On Wednesday afternoon, Pre-Primary helped us find "Wally" in the Junior Library.
Thursday was our ever-popular Books on Blankets. We were thrilled to see a large number of families enjoying some special reading time together. The students and teachers of the Junior School enjoyed wearing their pyjamas for the day.
All the Senior School staff and students who dressed up as a book character met in the library for cupcakes and photos and for the winners to be announced.
Costumes showed great imagination and effort. Well done to everyone!
The student winner for the best costume was Aaron Rocke as The Joker and the runners-up were the Minions: Eloise Richardson, Cooper Carr, Chloe Symonds, Kayla Fairman and Eva Lowe.
The staff winner for the best costume was Mrs Bullock for the kind witch from book Room on the broom and Ms Spice for Queen of Hearts from Alice in Wonderland.
Our Library staff really enjoyed sharing their love of literature with everyone.
Continuing the Book Week celebration, students from Pre-Primary to Year 6 were entertained by Blueback a performance by the Spare Parts Puppet Theatre.
This was a special event and opportunity for all students who enjoy Performing Arts at Tranby to experience the magic of live theatre.
Blueback is a play adapted by Peta Murray, based on the novel of the same name written by West Australian author, Tim Winton.
It depicts the life of a young boy, Abel, his mother, their relationship with the environment and their desire to protect and preserve the natural habitat of the place they call 'home'.
Our thanks and gratitude is for all Tranby's Education Assistants in this Education Assistant Week, and always. Their kindness, compassion and support for our students and teachers is invaluable.

While they often work quietly in the background, rarely seeking the spotlight, we take this moment to say a heartfelt thank you for their integrity, dedication and commitment.
We truly appreciate you!
We are thrilled to welcome Jacq Chorlton to Tranby as our Junior School's Artist-in-Residence.
Jacq is a local artist whose imagination intertwines reality with a touch of whimsy. 
Her ceramic art is a vivid blend of natural inspiration and warm childhood memories – a perfect fit for our young creatives.
She is a professional artist with many exhibitions and art projects to her name, locally, across Australia and overseas.
You can see more of her work at FunkyDory.com.au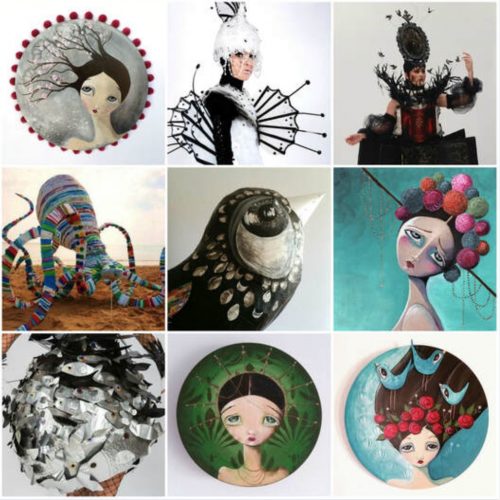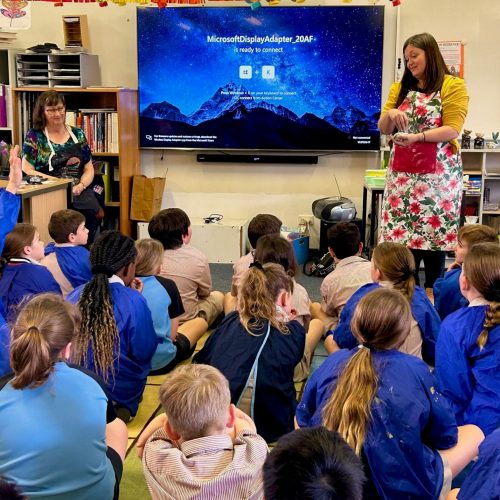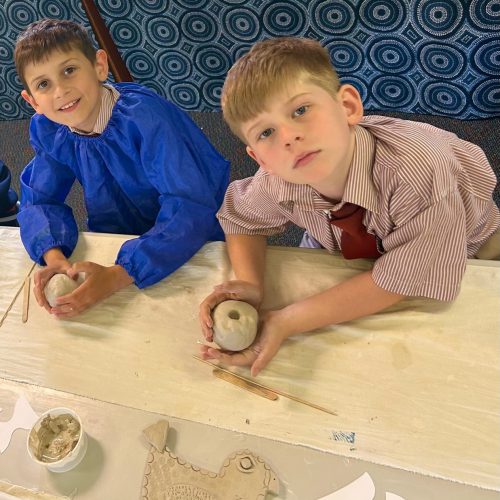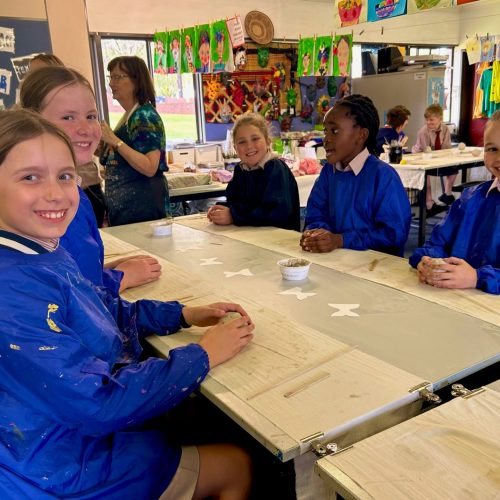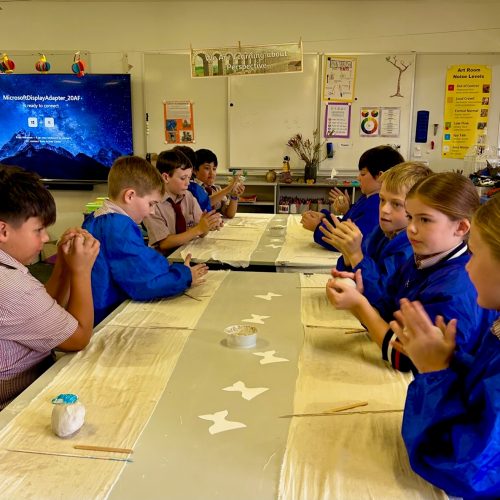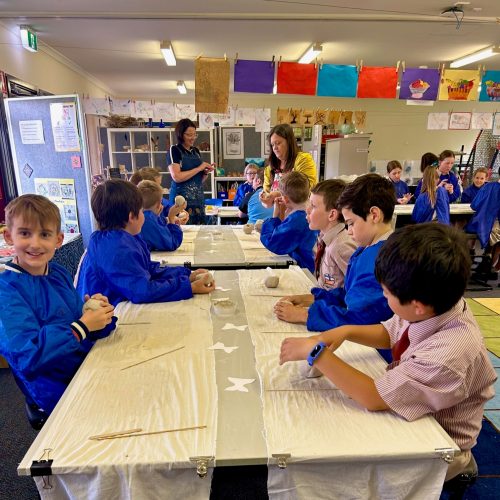 Thank you to those of the Tranby Community who participated in the MMG Education survey on behalf of the College.
It has provided us with valuable feedback on how well you think we are doing and areas that need improvement.
If you are interested you can read a summary of the key results in the Voice of Tranby factsheet.
Later in Term 4, we will be holding Tranby Community engagement sessions with parents and guardians, to discuss your feedback in more detail.
If you are interested in participating, please email us via WeListen@tranby.wa.edu.au
Students from Years 5 and 6 have been entertaining their teacher and class audience with monologue performances this week.
Each student is given a different script, memorises their lines, plans and prepares the stage setting and costume and then performs solo to the audience.
The quality and effort shown in this week's performances have set the standard high.
We are looking forward to seeing the rest of the students come to life on stage as brand-new characters!
Last week our Defence School Mentor organised a fun event for our Australian Defence Force (ADF) families at Mug n' Brush in Rockingham.
Baldivis Gardens Primary school were also invited to attend. It was wonderful to have families from both schools enjoying themselves together and meeting people from local ADF support groups "Marilla House" and "Open Arms".
Events like this are important to foster within our school to create connections between our ADF families, provide support and build relationships within our wider community.
We are very grateful to the Defence School Mentor Program for funding our program and the activities it supports.
Are your bookshelves full to overflowing?
Do you have a children's book that need a new forever home?
Donate it to the Tranby Day Book Stall for another young mind to read and cherish. Donations can be left  at the Junior or Senior Libraries and at the Junior School Reception or Main Reception.
Fuel to Go & Play Basketball Slam Series
Selected students from Year 6 travelled to the Mandurah Aquatic and Recreation Centre to participate in the Fuel to Go & Play Basketball Slam Series.
There were many schools in attendance from the surrounding Mandurah and Peel regions. It was an extremely tough competition and a great experience for our students who demonstrate their talent and passion for basketball.
Overall, our boys' teams came away with two wins out of five games and our girls' team impressed winning four out of five games. Both teams made it through to the finals.
A massive 'thank you' to our coaches Jordyn Darcey (Year 12) and Marcus Lehtinen (Year 12) for their assistance on the day and to Mrs Russell and Mrs Barber for attending.
Well done Tranby!
Junior School Tennis Club
Our brand-new Junior School Tennis Club is up and running and it has been awesome!
Selected students from Pre-Primary to Year 6 participate in the program, either on a Monday or Wednesday afternoon with coaches Iveta and Terresa.
Students work on developing the fundamental skills of tennis and practise their forehands, backhands and volleys. We know they have enjoyed themselves and we are looking forward to continuing the program next term.
There is currently a wait list for Term 4, but we always want to hear from students keen to learn and play. Please send all Tennis Club enquiries to Mrs Barber via barberc@tranby.wa.edu.au.
Tranby Trackstars – Junior School Running Club
Thursday morning's Junior School Running Club has welcomed the warmer weather with open arms.
It is great to see our students coming each week to complete their laps, even if it means running in their pyjamas (during Book Week)!
We commend all participants on their dedication towards completing milestones and their commitment to attending each session throughout the Term.
Congratulations to the following students on their recent achievements at Running Club:
BLUE 10km – Annika Ether, William Whateley, Harrison Smart, Austin Suckling, Seth Willems, Tyler Willems, Sheyon Sriperambuder, Deegan Meldrum, Fiona Wallace, Indi Pearce, Flynn Schmid, Hunter Suckling, Zoe Wallace, Alayla Schmid and Xavier Bogg
BRONZE 20km – Noah Townsend, Elsie Austin, Kai Storer, Flynn Schmid.
Junior School Athletics Carnival
We recently held our annual Junior School Inter-House Athletics Carnival. As soon as the sun peered through the clouds and the races were underway, we knew we were in for a spectacular day.
The Carnival began with sprint races before we broke for some tabloid and team games.
The sponge relay was a hit amongst the Early Learning students, while the Years 3-6 Flag Races were more competitive than ever.
To top off an already amazing day, our Houses battled it out in a tug-of-war competition.
This year we also had two, (that's TWO!), College records broken! Congratulations to our new record holders and to our Champion and Runners-up. Read more about the results in the Inter-House Athletics Carnival 2023 Results sheet.
We also loved having Tranby families there on the day, cheering us on and joining in the fun.
To all the Tranby Dads, Pères, Papas, Naans, Abeojis, Tatas, Fars, Bàbas and other special father-figures in our Community – we wish you all the very best for Father's Day 2023.
Our Junior School students had an extra-special program of events this week with a Father's Day Stall and Father's Day Afternoon Teas, that included making ties, paper planes, paintings, drawings, playdoh, lego and even a shaving station!

IF YOU HAVE ANY QUESTIONS, SUGGESTIONS OR FEEDBACK PLEASE LET US KNOW.